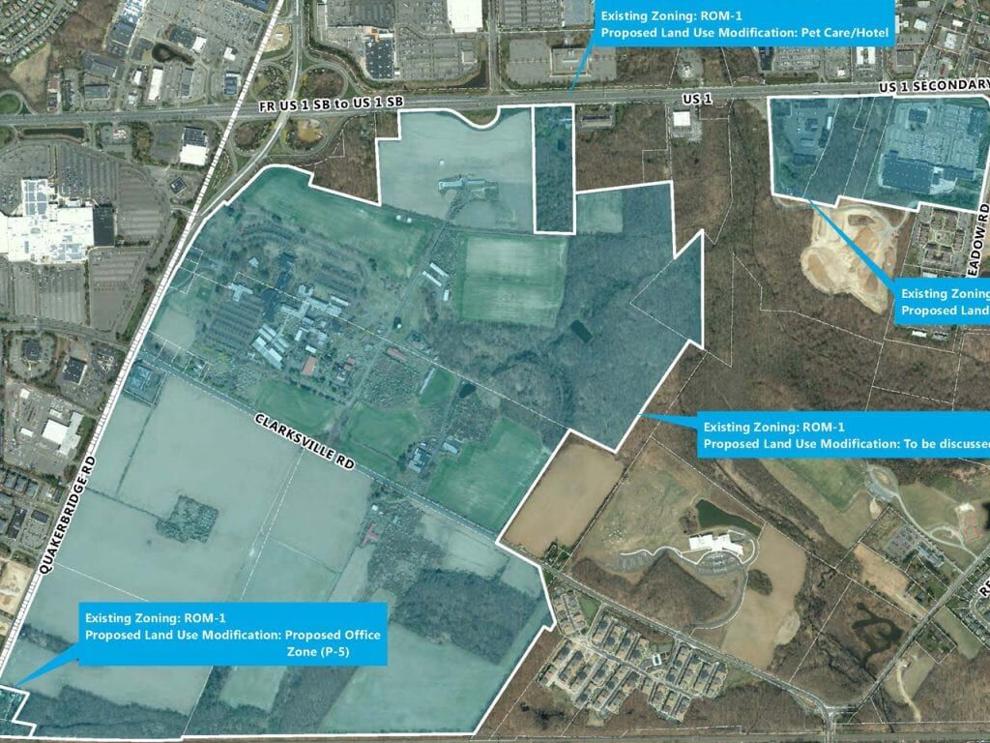 Atlantic Realty has no plans to build houses on the Howard Hughes tract.
That's what the developer, who purchased 658-acre property last year, is telling West Windsor Township officials.
Atlantic purchased the tract—the former American Cyanamid site—from the Howard Hughes Corp. for $40 million in October.
Before its sale, the tract was the subject of an ongoing lawsuit by Howard Hughes against West Windsor, challenging its zoning. The developer was pushing a plan to build a mixed-use project with up to 2,000 residential units, retail businesses and commercial offices.
The township has long been opposed to any residential on the site, which is located at the corner of Route 1 and Quakerbridge Road. The property is one of the largest contiguous undeveloped parcels on the east coast and has sat vacant since 2004.
Mayor Hemant Marathe said that he met with officials from Atlantic after the sale to discuss their intention for the property.
"We had a very open and positive meeting with them," Marathe said. "They know that we are not looking for any new housing, because I believe we have too much to begin with, and that will put too much strain on the schools."
The township is currently in the process of approving an amended master plan. Marathe said Atlantic is looking at uses that are consistent with the new master plan.
Those uses include research and development labs and pilot plant facilities; corporate and professional offices; data processing and computer centers; limited manufacturing; warehousing; distribution centers; conference centers; hotels; banks with or without drive-throughs; limited retail establishments; health clubs, fitness centers, and indoor-outdoor recreation centers; veterinary offices; urgent care and out-patient surgical facilities; and gas stations with convenience stores.
The master plan also recommends that no more than 150,000 square feet of retail space be permitted on the tract, and that big-box retail and strip retail developments "are strongly discouraged in this district."
"Atlantic is talking to various people to put something there that won't involve kids," Marathe said. "They haven't come back to us yet with a concrete proposal, or anything saying XYZ is interested in the property, but they were very positive with the changes we have done in the master plan."
Marathe said the commercial development of the site will help generate tax revenue to offset an influx of school-age children being generated by a spate of residential development throughout the town, much of it spurred by the need to provide court-mandated affordable housing.
"It also means that the property will be occupied so we don't have to worry about it in the next round of affordable housing in 2025," Marathe said.
Council president Virginia Manzari said that Atlantic agreeing to only build commercial is an important development for the township.
"They (Atlantic) were really amenable," she said. "They said, 'We know what you want, and we know what you don't want, and we want to be respectful of that. We want to work with you guys and, we want to move this thing forward.'"
Manzari said that she believes the hard line the township took against housing on the tract worked in their favor in the long run. "You have probably seen other townships where they say, 'Okay, we'll rezone for just senior housing or for just a small amount of housing.'
"The problem with that, is then you lose your strength in court," she said. "Then the developer can come back and say, 'I can't really do this based on X number of homes. I need five times that,' or, 'I can't really do what I need with senior housing. I really need market rate housing,'" she said. "Then you get yourself into a situation where you've shot yourself in the foot."
She said that the township "drew a line in the sand" and stuck to it. "I'm glad we did, and it looks like it's going to work out great."
It's a great piece of property—it's on the edge of our township, right there where all the highways are, and it's a big piece of land, so it can be buffered so that when people drive by it's not going to look like a little city."