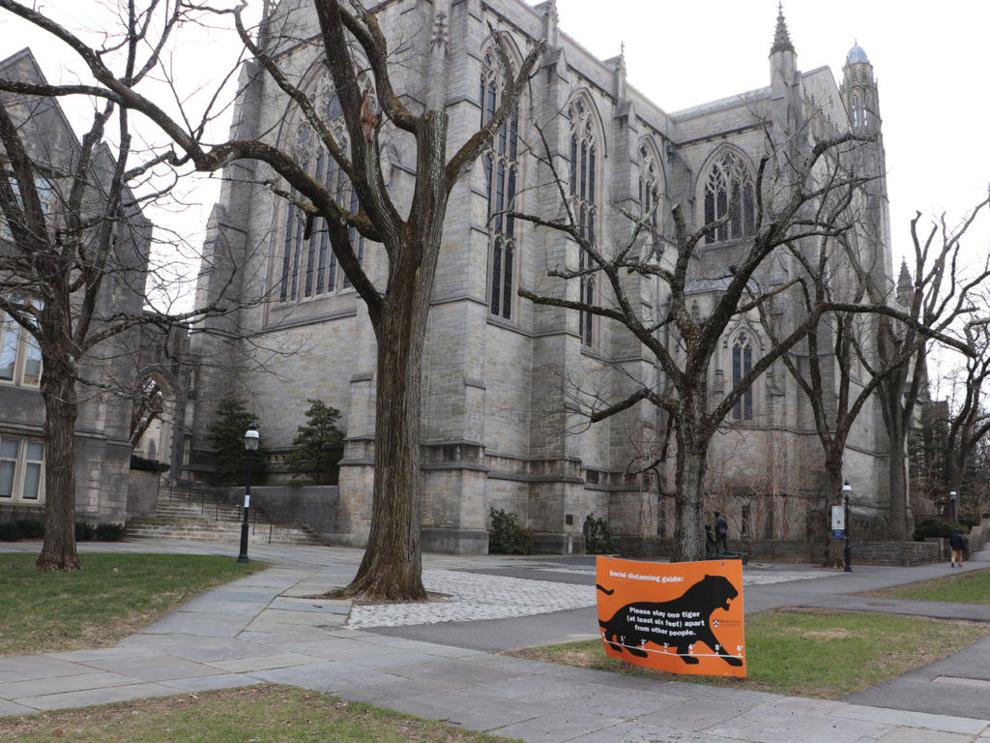 Nearly 11 months after Princeton University told its students to go home for spring break and not come back, the school is welcoming its full undergraduate student body back for the spring semester.
But campus life will be far from normal as the semester gets underway on February 1.
While all students were invited back, students were not required to return, as most classes are still being conducted virtually. Those who did elect to return were each assigned a single sleeping space. Students also had the option to live off campus in Mercer County or Plainsboro and maintain limited access to campus facilities.
In his note last fall announcing the university's spring reopening plans President Christopher Eisgruber wrote that based on experience with the limited population on campus for the fall, "we have concluded that, if we test the campus population regularly, and if everyone on campus rigorously adheres to public health guidance about masking, social distancing, and other practices, we can welcome a far greater number of students back to Princeton."
Rigorous testing started on arrival: Students were required to arrive at least seven days prior to the start of the semester, and their first stop was at Jadwin Gymnasium for a PCR-based COVID test. That initial test was step one of a seven-day "arrival quarantine" procedure. Students were not permitted to leave their sleeping spaces other than to use the restrooms until they received a negative result from that first place (an isolation protocol is in place in case of a positive test result).
After the initial test, students were required to complete a daily symptom-tracking questionnaire and complete two more saliva-based tests. Students who tested negative on the original test were permitted to leave their sleeping spaces to retrieve meals and packages and to deposit saliva tests in campus drop boxes. They were also permitted a daily hour-long walk during which they were not permitted to leave campus.
Of an undergraduate student population of just over 5,200 students, 2,887 returned to on-campus housing and 670 chose to live nearby, the university reported on January 25. Among those returning students, there were 12 positive COVID tests upon arrival.
Daily symptom-tracking and regular testing will continue to be required throughout the semester. In addition to conducting its own testing, the university is also planning to serve as a vaccination site for members of the university community. "By hosting on-campus clinics for our community, we may help relieve some of the burden on other medical facilities and healthcare providers in the state," John Kolligian, the executive director of University Health Services, said in a statement.
The university has also compiled an online "Princeton Playbook" that explains the four Ps that Princeton is using to maintain a safe campus environment: prepare, protect, participate, and persist. Students are required to abide by a "social contract" in which, among other things, they pledge to adhere to rules for face coverings, social distancing, limits on indoor gatherings, and restrictions on travel outside of Mercer County or Plainsboro.
And while a return to dorm life may feel like a change from the home-based learning of the fall semester, much learning will continue to take place from the bedroom. Professors were given the choice to continue teaching entirely online or to operate on a hybrid model in which students on campus attend class in-person while students who chose to remain at home attend online; while some courses require a hands-on component, the vast majority continue to be entirely online.
Campus extracurricular activities moved to a virtual format in the fall and will continue in that form for the spring, as campus spaces that are typically used for rehearsals, meetings, and the like remain closed to students.
The eating clubs — the mansions on Prospect Avenue where many juniors and seniors traditionally eat and socialize — are also remaining closed. All students will instead have meal plans that allow them to eat in the campus' dining halls. Students are also allowed to visit restaurants and other businesses in downtown Princeton provided they obey all public health regulations.
Among the activities that are canceled — at least for now — are sports. The Ivy League, of which Princeton is a member, elected not to compete in the winter sports season. The start of spring sports, which include lacrosse, track & field, baseball, softball, and others, has been delayed until March at the earliest.
Meanwhile, the campus resources best known to the general public remain closed to students and visitors alike. Visitors to campus are not permitted in any campus buildings and must wear masks at all times, including outdoors.
The Princeton University Art Museum has been closed since the spring and continues to offer online access to its collections and virtual programming including guest lectures and art classes.
Richardson Auditorium, which typically hosts the Princeton University Concerts series, is also closed, and the concert series has been replaced by online offerings of playlists and virtual concerts. University libraries are also closed to the public.
For more information visit covid.princeton.edu or spring2021.prince­ton.edu.