[caption id="attachment_85906" align="alignright" width="300"]
Brad Jenkins worked for Barack Obama and for website Funny Or Die. He recently started his own company, Enfranchisement Productions.[/caption] Brad Jenkins has lived a pretty good life so far, but not because he really set out for it. "I've never made intentional choices," Jenkins said. "I just went along fawith the flow." See if you think that approach has worked out: Jenkins got a pretty good gig in the financial world, despite not really knowing anything about it; he got hired for a job in San Francisco, though he didn't seek it out; he worked at the Obama White House, despite the fact that he and his wife had just wanted to make friends with Obama supporters; he hobnobbed with celebrities while producing one of the most popular web shows in history, despite not even knowing what a producer did; he has a Wikipedia page, even though it still surprises him to no end; and he now runs a business that could help reshape how political candidates and causes communicate, despite that he'd never really considered running his own company. Jenkins' story could be a useful fable for anyone who wonders how a guy from Hamilton might ever contribute to the world at large—and how putting a little effort into high school could get you someplace in life.
* * *
The unapologetically left-leaning and left-cause activist Jenkins attended Steinert High School in the 1990s. Life was eventful for him then, too. He played basketball with another Steinert grad with a Wikipedia page, Dahntay Jones—a former NBA player who won a championship for the Cleveland Cavaliers alongside some other guy named LeBron. Jenkins said the game plan back then was simple: "Get the ball to Dahntay." His less-than-starring role on the Steinert boys' team gave him more time to concentrate on school, where he took part in the Government And Law Related Experiences program, which introduces students to the world of politics. GALRE has become one of the whistlestops for New Jersey's political candidates, and it clearly came in handy for Jenkins' eventual job with Barack Obama. But Jenkins didn't have any designs on going into politics, despite the class. He graduated in 1999 and went to the University of Virginia to study English and theater. He had a plan to be an actor. So after he graduated from UVA, he moved to New York City. "The only job I could get was this job at a law firm at World Financial Center," he said. The plan, such as it was, was to go on auditions while he worked as a legal assistant for a boutique firm named Richards Kibbe and Orbe LLP that specialized in trading.
'I told my then-girlfriend, 'I don't think they know that I don't know much about this.'
"It turned out I really, really liked the job," he said. "And there were a lot of kids like me, with a liberal arts background who took the job to live in New York City." His acting career was progressing well enough to get him a promotion at the law firm. He found himself running a whole team doing the back-office stuff on trades. He also found Marina, whom he married, and who, herself, is now the litigation director for Eric Holder and Barack Obama's National Democratic Redistricting Committee. Jenkins, who "took maybe one economics class" in college, did a good enough job at RK&O to get a new one at JPMorgan, to work with hedge funds. "I told my then-girlfriend, 'I don't think they know that I don't know much about this," he said. But he worked there for a couple years, until Marina got into law school at Stanford. So, west they went, and Jenkins found a job at another hedge fund. Because they were new to the Bay Area, and because they both "really dug Obama," they volunteered for the future president's campaign—not at all expecting that he'd be a real contender. Their motivation? "Let's go to this thing and meet some people," he said. "Then we drank the Kool-Aid. We fell in love with all of it." [caption id="attachment_85907" align="aligncenter" width="1280"]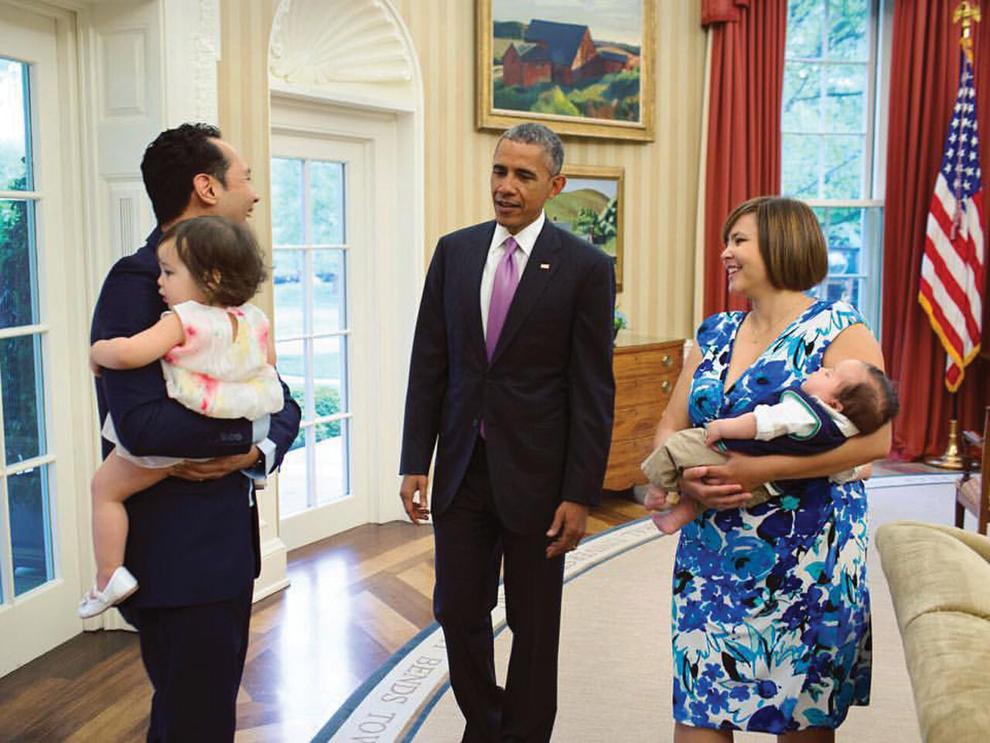 Hamilton native Brad Jenkins (left) and family stand with President Barack Obama in the Oval Office. Jenkins worked for the Obama administration.[/caption] One of the stipulations for being active at "Camp Obama" was to host a house party to help spread the word. Unintentionally, Brad and Marina ended up being the top organizers in Silicon Valley. And with a healthy base built among tech pros, angel investors, and activists, the Obama movement grew on the idealism of its 100-percent-volunteer staff. Now, in case you're still wondering whether someone from Hamilton can find a life path with national and global implications, let's talk about a phone call Jenkins got from an old friend. When Obama locked up the nomination for the Democrats, a Steinert (and GALRE) classmate, Mike Moffo, called Jenkins from Chicago. Moffo was Obama's deputy field director for Chicago, and he wanted Jenkins to be his own deputy. So Jenkins left the hedge fund and moved to Illinois (while Marina finished law school) to help build a campaign to entice the youth vote. They put together programs and events that involved text message campaigns, appearances, online registration, celebrities, and street art. That soon took Jenkins and Moffo, and Moffo's brother, Chris, another old friend from Steinert and who worked on the Joe Biden side of the campaign, to Washington.
'I didn't even know what a producer was. He said, "somebody who makes sure the project doesn't die, is what a producer is."'
"We ended up working at the White House for Mike's boss," Jenkins said. That was Valerie Jarrett, who ran the Office of Public Engagement and Intergovernmental Affairs for Obama. Jenkins' job was to liaise with celebrities, businesspeople, artists, and activists. That included getting to know Mike Farah, who ran the website/show "Funny or Die." Ever seen Zach Galifanakis on the show "Between Two Ferns?" Well, that's Funny or Die, and Jenkins' most standout moment from his time in the Obama White House is when he finally helped get the president between those two ferns. "I really, really pushed initially for him to do this," Jenkins said of Obama. Getting it through was a significant cultural moment that had bigger effects on policy. See, this was still in the time when the healthcare overhaul, a.k.a. Obamacare, was fresh and the White House was looking to convince young, healthy people that they needed to buy into the system too, or else it wouldn't work. Jenkins and his bosses and coworkers had actually been trying to do that through the healthcare.gov website, but the rollout was badly flawed, and things didn't go so well for about two months. So to reach the young, healthy and hip, Jenkins pushed to put the president on a web show that usually got 10 million to 20 million views per episode. When Obama did appear, on the 17th episode of Season One, he plugged healthcare.gov, which helped convince many of those young, healthy and hip viewers to enroll.
That episode, by the way, is roundly considered the most memorable of the series and has more than 25 million views on YouTube today. You can also read Jenkins' own version of the story of this episode in the book West Wingers: Stories from the Dream Chasers, Change Makers, and Hope Creators Inside the Obama White House, edited by Gautam Raghavan. The book was released in September. What came out of the Obama episode for Jenkins was, he found out he was a producer now. "Mike Farah told me, 'You're a wired producer,'" Jenkins said. "I didn't even know what a producer was. He said, 'Somebody who makes sure the project doesn't die, is what a producer is.'" So with another new job he hadn't anticipated—or even understood before he got it—Jenkins went on to produce several projects for Joe Biden and Michelle Obama, and other episodes of Funny or Die featuring celebs like Christina Hendricks talking about equal pay and Kristen Bell talking about minimum wage. "Mike (Farah) looked at me and said, 'We essentially built this new line of business for Funny or Die,'" Jenkins said. It was a different concept. Not just short funny videos. Not sponsored content. But branded entertainment. That concept itself had existed in music and TV, but not in politics. Jenkins and Farah realized they had something new—a way, Jenkins said, to do social good through smart, funny videos.
* * *
Post-Obama, Jenkins stayed with Funny or Die, and still lives in Washington, although now his wife has joined him and the two are raising their two children. His latest big splash in the political comedy realm was the effort to "Glam Up the Midterms," a campaign featuring comedian Billy Eichner. The campaign sought to convince people of the importance of voting by "glamming up" the usually unsexy reality of elections. Nobody's sure exactly what measurable effect the campaign might have had on voter turnout, but the 2018 midterms for sure did see a lot of it. Jenkins, however, said the campaign got "tens of thousands" of voters to commit to going to the polls, whoever they voted for. By this point, you should be less than surprised to learn that Jenkins has found another avenue he hadn't set a course for. As a result of his work with politicians and entertainers at Funny or Die, more serious project pitches started coming in. "They were less Funny or Die and more documentary-style," he said. "They didn't make sense for Funny or Die." Jenkins wanted to do more straightforward projects that carry some social good—like a project he's working on now that discusses civil rights issues for sexual assault survivors featuring Amanda Nguyen, a 2019 Nobel Prize nominee for her work to get laws concerning sexual assault investigations and access to rape kits passed at the state level in about 20 states. That project is under the auspices of Enfranchisement Productions, Jenkins' own production company. That was another suggestion from Mike Farah, he said, to take on the more serious projects that weren't right for Funny or Die. "Mike told me, 'You should just start your own agency,'" he said. Enfranchisement Productions is up to four projects so far, though Jenkins is closing out two outstanding ones with Funny or Die. What he wants to do with his company is, ironic as it might sound, tap into what Donald Trump has managed to do—connect with people on a fundamental level through new media. While he's not a fan of Trump—though his parents are, which makes for lively conversation, he said—Jenkins said that Trump was able to tap into the bubbling feeling among millions of people that the status quo wasn't working anymore. Someone needed to set the house on fire and spark change. Whether you think it's been good or bad change is another discussion, but it's hard to find anyone who feels indifferent about politics in 2019. And that's the energy Jenkins wants to capitalize on, that motivation to get out and do something. Will it work? Well, Jenkins doesn't have a crystal ball. But then, he's never been one to plot things out too far ahead.