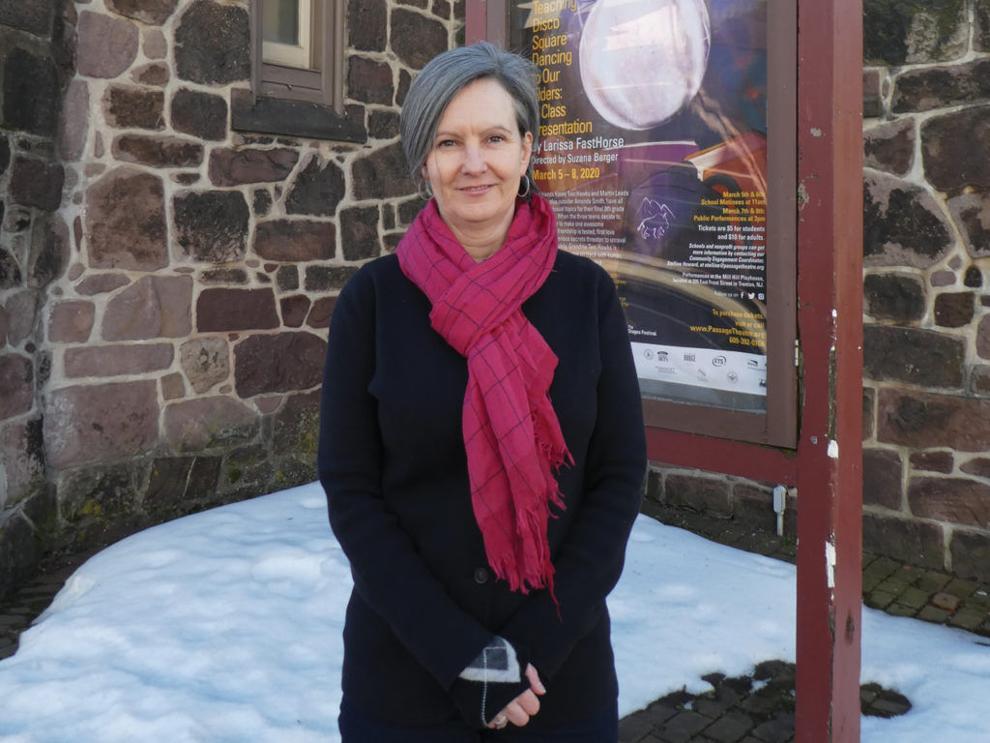 One year after the pandemic disrupted Passage Theater's schedule, board president Carolyn Wylie is keeping the faith for the capital city's only nonprofit professional theater —fittingly housed in an old church.
"I think the staff has done an amazing season given the restrictions and how they reinvented theater," says Wylie during a recent Zoom interview from her home in Trenton's Mill Hill section.
With recent news that the company received a Princeton Area Community Foundation New Jersey Arts and Culture Recovery Fund grant, Wylie's upbeat assessment may seem like predictable business spin, but there is a twist.
Like nonprofit board members throughout the region, Wylie is a volunteer.
So, along with her full-time job as an Educational Testing Service principal research scientist/research director, she has taken on the responsibility of leading a group of other volunteers in raising funds for an inner-city arts organization during one of the grimmest business seasons in memory in a city suffering from state and business closures.
"We had planned a season that was split," she says about the planning that went into effect last spring. "October to January was to be online. The spring plan was to be back in the building. But we had to make a decision at the end of the year that it was would be online."
And while she says the digital presentations will have improved production values and not be "just Zoom online," watching plays online just isn't the same as being in theater.
But in the meantime, she and the board are busy keeping the company together.
"There is always a funding challenge for small theater," she says, adding that one of the surprises to her when she got involved was learning that ticket sales are just a small amount of a theater's income.
The difficulty also comes with the theater's mission. "Passage is committed to creating and presenting new works and continuing to identify stories that are meaningful."
That also means "identifying works that aren't just new works but resonate with Trenton — that's a core part of the theater's mission."
As an example, she mentions Passage's "OK Project," a new documentary-style work being built around the actual story of a group of young Trentonians creating a sculpture — a giant hand giving the OK signal — that became a social and political hot topic after the police and city administration connected it to gangs and censured it.
"It is exciting to see these (new works) come to fruition — interviewing and bringing that team together," she says. "But it is expensive to workshop and present them. And there are two workshop projects going on this year."
Therefore, she says, Passage benefits from donations from individuals as well as funding organizations designed to support cultural organizations and new work.
To help with Passage maintain its current budget of approximately $370,000, Wylie credits the Dodge Foundation for providing "a series for boards and basic rules about what it means to be a board member and how do we think about diversity, equity, and inclusion."
She also says the NJ Theater Alliance has been sharing information regarding how theater professionals are responding to COVID-related situations.
And she adds that Passage "has also been fortunate to have a part-time grant writer, New Hope-based consultant Julia Bumke," who served as Passage's interim artistic director when current artistic director, C. Ryanne Domingues, was on maternity leave.
"It is an interesting role. It's not like it's my job," she says about leading the board at this time. "The people who are doing the hard work are the Passage staff. As board president I'm there to be a support to them.
"And for the board, we are advocating for Passage. It's a thing we volunteer to do, and it is a commitment. We formed a COVID committee to give the staff that extra support because they had to make plans and had to remake plans.
"It is hard to redo all these plans. Especially since they want to see the audience and hear the audience response. It is an important part of the job this year to just be encouraging."
Wylie's passage to becoming the president of a small professional theater in Trenton is not without its own plot twists.
The daughter of a farmer and farm equipment and fertilizer sales representative father and an English teacher mother, Wylie was born and raised in the Northern Irish town of Omagh, in County Tyrone.
She attended Queen's University in Belfastm where she received a bachelor's of science in physics (1992), a post graduate certification in education mathematics/informational technology (1993), and a doctorate in educational assessment (1996).
Her studies related to teaching standards and assessments paved the way for her long term involvement with the University of North Carolina Greenberg's National Board Teacher Assessment Program.
When the program moved to the Educational Testing Service campus in Lawrence Township, Wylie became a likely candidate to staff it, and she moved to New Jersey in 1997.
"ETS gave me a contract for two years. I was on a three-year visa and said I may as well stay a few years. So I said I would stay for a second run of my visa," she says.
About her becoming part of the central New Jersey community, she says, "I came to take a job at ETS, and 23 years later I'm still there.
"More recently my work has focused on formative assessment — a classroom-based process that teachers and students engage in to elicit evidence of student learning while it is still developing in order to support next learning steps — and kinds of professional learning opportunities that teachers need to develop and deepen their formative assessment practices."
She says her introduction to the Mill Hill Theater, the city-owned property that is also Passage Theater's home, was in 1999, when someone gave her a flyer that announced a production featuring Irish plays.
While not trained in theater and with little experience outside of being a stage manager for grammar school productions, the then-Pennington apartment renter continued to visit the theater and became a Passage Theater subscriber.
She also became a Trenton resident. "In 2006 I heard of some apartments that were going on sale in Trenton, and I couldn't afford Pennington," she says, then adding that since she usually parked near the front of the Mill Hill Playhouse she didn't realize that the places for sale were so close to the theater.
Wylie says she brought a house in Mill Hill, married photographer C.a. Shofed, and got more involved (with Passage Theater). "I was a subscriber and started to volunteer and chair the benefit committee and was eventually asked to join the board," she says.
She became board president in August, 2020, and saw the addition of several new board members: Matthew Cooper, associate provost for the Center for Learning & Technology at Thomas Edison State University; Hope Grant, assistant superintendent of the Trenton Board of Education; Euen Gunn, senior director of research and development for Johnson & Johnson; Rev. Brian Joyce, Trinity United Methodist Church, Ewing; Beth Reddy, retired, section chief, New Jersey Division of Environmental Protection; D. Vance Smith, professor, Department of English Princeton University; and Madhu M. Sonti, senior client advisor of wealth management at PNC Bank.
Asked about the specific skills she brings to president's role, Wylie points to her ETS work in formative assessment and its ability to use information to determine "what is working and what we can do to make it better. If you don't know where your strengths and weaknesses are, you don't know how to improve."
Applying a similar strategy to herself, she says, "I learned the value of theater more when you see it from the inside. Just seeing the amount of work and the infrastructure it takes to put something on the stage and that it looks effortless from an audience perspective. I have appreciated seeing that.
"I've appreciated the opportunity to take the management skills of my work world and apply them, to stretch myself and think about fundraising and other things that require a new set of skills."
Then, thinking larger and more philosophically, she touches on why she and others are volunteering their time for a downtown Trenton project: "It is important to every community to have access to quality theater and to have stories. No one asks about why New York needs Broadway or Princeton has McCarter; it is a given. People deserve to have an opportunity to have stories that resonate with them because it tells a story that is like them or an opportunity to hear stories that don't seem connected then because that is how we learn. We learn through stories about the 'other,' someone not like us. That is how we learn and how we grow."
Looking forward, Wylie says the board is looking at ways to generate more financial support and maintain an annual fundraising event.
Additionally, with plans to expand Passage's education program and work with the Trenton School System, Wylie hopes to see a grassroots fundraising and community awareness campaign that can generate "lots of little donations from Trenton" and "remind people we are here and that we're a resource."
But more immediately, she says, "I would really like folks to visit the Passage website to see what Passage has been doing."
Passage Theater, Mill Hill Playhouse, 205 East Front Street. 609-392-0766. www.passagetheatre.org.