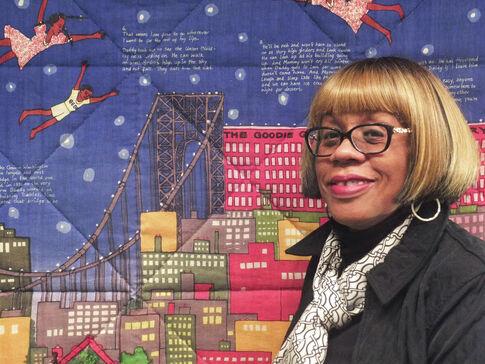 'Trauma is absolutely prevalent in Trenton," says Wanda Stansbury, executive director and founder of the Trenton-based Center for Child and Family Achievement (CCFA). The nonprofit organization attempts to address trauma-influenced behavior by engaging families in social and education programs to promote childhood achievement. The Read to Achieve Program is one of its keystone projects.
"Trauma is what happens to a person after the impact of homelessness, violence, alienation, poverty that a person experiences," says Stansbury. "It has a lifelong impact on the way a person sees himself in the world, on a person's self worth. It plays itself out as a negative force on how people see themselves.
"It's the constant record of what they see their environment — I am black, Hispanic, poor. My parents are unemployed. There are constant sirens outside my house, noise. The negative influence is something that a person cannot walk away from without some form of support. It could be sexual and physical abuse, or being bullied. Often someone who is smart can be bullied by siblings or parents, and that could be traumatic."
Stansbury, originally from Red Bank and now living with her educator husband in Hopewell, writes that the CCFA grew from her "transitional leadership of Trenton Head Start for a year prior to re-branding the organization and its mission as the Center for Child and Family Achievement."
She calls it a "trauma-informed program model and process for addressing the achievement gap for children in grades K to 12." Operations are at 115 Bellevue Avenue.
"When I started this journey in 2012 I watched people interacting, I saw something different — a disenfranchised family interaction. Where people are disconnected from work and have chronic unemployment, where there is a violent life threatening environment."
With a master's in education from the College of New Jersey and BA in sociology from Rider University, Stansbury says she met with area health providers and asked questions, finding an estimated 40 percent of Trenton children habitually remaining indoors because of neighborhood drugs and violence. "(It) creates a tension that has a psychological impact on children. I'm amazed at the number of children in school who are on medication," she says.
Taking a bigger view, Stansbury says, "This is not a Trenton problem but a national one. We see generational trauma and generational impacts. We are still the impact of the (1980s) crack cocaine epidemic. The children (of those who experienced it) are in school today."
Other factors include economic disparity, changes after the recent Great Recession, and a sluggish economic recovery. Yet, she says, "we all win when we connect the whole family and give them a narrative that is larger than themselves. "
Stansbury says her work is based on the ideas of influential American psychologist Abraham Maslow. "Our work mirrors his hierarchy of needs to make people feel safe. Lacking a job creates an unsafe environment. The impact of poverty becomes the system that people become used to in their environment," and see themselves as disconnected and poor.
She says the need to belong and feel safe in a group explains the attraction to individuals coming together in gangs, where anger and depression can be expressed in violent and antisocial behavior that contributes to the cycle of trauma and anger.
A solution, says Stansbury, is to move children and adults into smaller groups and deal with the family and family issues. "We have a responsibility," she says.
The CCFA was developed when the Trenton Head Start lost federal funding and was assumed by the Children's Home Society in 2014. Former staff and board members surveyed previously involved parents who were interested in participating in a family achievement program. Stansbury says the dictating idea was "to create a program where a person is a parent first and then able to step out of a trauma informed environment to one that is self-actualizing (a core Maslow concept). That is how we are going to change the achievement gap, to change the narrative."
CCFA's initial program has a "community partnership" with the kindergarten students attending the Gregory School on Perry Street and North Clinton Avenue. "The plan is to track them through grade 12 and beyond, if we get the funding," says Stansbury.
A recent Thursday morning session provided a glimpse into the operations. At the center's rented headquarters, the lower two rooms of a building formerly used by Head Start and now sporting a "Read to Achieve" sign on the door, about a dozen mothers — a few with children — join to learn strategies on parenting and self-empowerment.
Guest speaker LaWanda Edmonds, a senior manager of Spirent Communications in Eatontown, tells the women that they can learn to control their reactions to others and take responsibility for themselves. The Monroe Township resident and participant in her company's volunteer program tells the group that they need to redefine themselves and build confidence, closing the session with a prayer — a fitting connection to her involvement with Princeton's Nassau Christian Center.
After the session several women share their thoughts. "I just drove by one day, saw the sign, and wanted my granddaughter to start reading," says Doretta Wright-Simmons, who has her own Trenton company, Wright Designs. "There was a program with an introduction that told you what you do and how you do it," she says of how she got involved.
Wright continues, "We're here every Tuesday night for homework clinic. They have educational doctors who volunteer their time. My granddaughter's love for reading and learning has exploded. It doesn't cost us anything, but there is so much that is given and provided. It's priceless. I hope we're able to find funding. Right now I think everyone volunteers."
Miashia Brown, a Trenton mother of four who works in a nursing home, also praises the homework clinics. "Whatever a child is stuck with in school they help them. My children are on the honor roll. And I learned being a better parent. (The sessions) brought me a long way. When my kids came home, I called and asked for help (for homework). Now I help. I may not be a great reader, but I read now and break down the words. And I am positive with myself."
Brown, who got involved in the program after the Head Start transition, says she also learned how to strategize and plan through the use of a Family Vision Board — a CCFA strategy that helped her prioritize needs and hopes. "It helps me big time. It helps me with parenting skills."
Dawn Fletcher, who is on disability, and Denise Jones, a daycare operator, come to sessions as often as they can. "I attend Thursdays to build myself up and learn to be a better parent and learn to help my daughter," says Fletcher. "I hope they can keep it open and keep it running. It is just Wanda and Ms. Josie (Josephine Wright, past human resource director and acting executive director for Head Start) doing everything," adds Jones, whose daughter participates in the program. Both Fletcher and Jones were involved with the Head Start program.
The program also involves a weekly Tuesday evening session where children and parents meet, do homework together, and read, reflecting the Read to Achieve theme.
Other activities include family trips to McCarter Theater and book giveaways, such as the upcoming book event at Gregory School on Friday, June 3. The event includes support from the Boy Scouts of America and Christine's Hope for Kids in Ewing.
Of the program's first year, Stansbury says, "Parents are willing to take a risk. They're willing to transform their homes." They were also interested in finding "positive pathways" for families to follow. "By not having a positive path you have three other pathways: prison, death, or being chronically poor," says Stansbury.
"What really matters is family," she says. "People who are poor and live in urban America need to connect and feel safe. When a family feels safe they can look at choices that are healthy. We focus on reading books and all the parents who talk about going to bed at night with books. One dad who says his life is being transformed says, 'I don't want that lifestyle I want children to read and achieve.'"
"CCFA for me is my legacy work," says Stansbury one afternoon in her Trenton office, where a window looks out on Calhoun Street. "I'm 65 years old. It's what I want to see as a framework for change. I'm taking a risk. We self-funded. And our funding is nearly exhausted." That includes monies raised during the December, 2015, holiday pop-up gallery in the Princeton Shopping Center. It included works by prominent area artists — Judy Brodsky, Mel Leipzig, and Leon Rainbow — as well as the internationally known Faith Ringgold.
Also involved with staffing the project are retired Trenton school principal Kenneth Moore; Leadership Strategies LLC founder Dr. Stephen Payne; fiscal specialist Jeanette Riddle; and others.
The board includes president Ali K. Wilson, president of the Trent House Museum and assistant vice president of underwriting for Zurich North American Commercial Insurance Company; vice president Dr. Patricia Kempton, a teacher and member of the New Jersey Governor's School board and the New Jersey Association of Supervisors and Principals; Cyndi Kunnas, a Rider University development office employee; and Althea Spruill, a former Head Start board member and a Trenton elementary school teacher with more than 37 years of experience.
Stansbury's vision comes from her family, study, and a background in art. "My father was a very hard worker, and education was everything to him. Books were important," she says of the man who was the son of Florida sharecroppers, got a high school education, took a job on a fishing boat to save, and, after coming north during the second wave of the Great Migration, worked for a New Jersey trucking company.
"We lived in an integrated town," she says about growing up in Red Bank. "Polish, Italian, and black. In back of us were a doctor and a dentist who were black. My father didn't want us to live in a neighborhood that was all black. He wanted us to be able to communicate with all people. He would take me out and show me how to talk to people. He preached education and liking people, how to love life, and how to get excited. That has given me a lot of strength."
Her mother was a nurse attendant at Marlboro Psychiatric Hospital and later a certified alcohol and drug counselor. "She anchored us in faith," says Stansbury. "We read the Bible together. She worked hard and was curious about things. I get my curiosity from her."
Calling herself an activist during her high school years, Stansbury recalls, "My parents wanted me to communicate my ideas and be passionate but to make friends." And when she saw civil rights leader Fannie Lou Hamer appear on a television show to talk about poverty, Stansbury says she realized "that is what I wanted to do: end poverty."
Along the way she founded Management Interventions Inc., a woman-minority-owned small business enterprise with which she has been involved since 1981; co-authored a New Jersey bill, "Urban Women's Center Job Training Act," signed into law by Governor Tom Kean in 1985; and served on a number of organizations and committees, including the New Jersey Economic Development Authority and New Jersey Development Authority for Small, Minority and Women Businesses.
Her path involved both academic study and art classes, first in New York and then in Princeton with prominent African American artist Rex Gorleigh. It was he, she says, who would frequently ask, "What is it that you want this painting to look like when you're finished?'" She says she uses the question about her work at CCFA. Her answer: "A model in public education where parents spend time with and work with their children."
Yet to get there, Stansbury says, "We're going to have to address this huge adult illiteracy problem. It is a huge problem in Trenton."
Stansbury then mentions American writer James Baldwin's book "Exile in Paris" and his struggles against racism. "He said, 'I never knew I was a human being until I left Harlem and went to Paris and felt the sunshine.' Everybody has to find a 'Paris.' That's what we're trying to do here, against that." As tears come to her eyes, she adds, "Even if nothing happens (here) tomorrow. I can at least look at kids who found their Parises."
Read to Achieve Book Festival, Center for Child and Family Achievement, Gregory Elementary School, Rutherford Avenue, Trenton, Friday June 3, 9 a.m. to 3:30 p.m. 609-392-6075 or www.ccfatrenton.org.