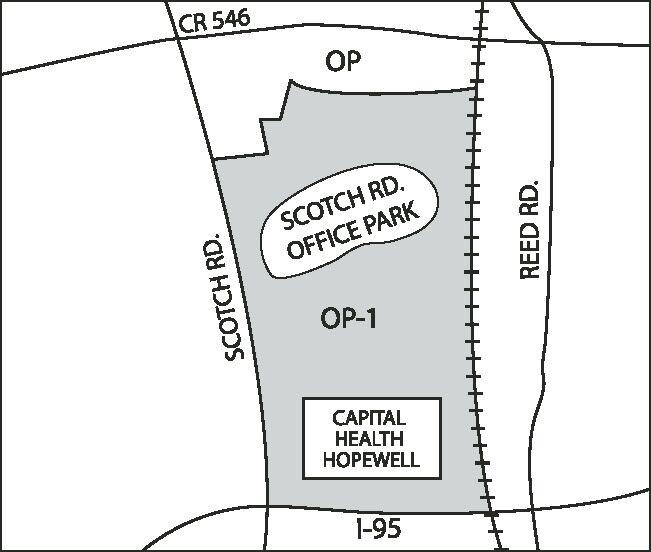 Many Hopewell Township residents look at the rolling farmland and forested ridges of their hometown and feel a sense of gratitude at being able to live in such a beautiful place.
And many see the state's attempts to require all towns to allow for the building of their fair share of affordable housing as efforts to disrupt that beauty.
Township residents have done what they could to stifle the building of affordable housing in the past, notably in 2012 when petitioners stopped a bond issuance that would have given sewerage capacity to parts of the township that currently lack it. Without sewers, areas like township-owned Pennytown and the Kooltronics site can't support significant development.
But with a key state Supreme Court decision expected soonthat could dictate how much affordable housing towns will be required to provide, the planning board took action, voting 6–3 on Dec. 8 to amend the township master plan to allow residences to be built on the east side of Scotch Road.
The area north of Interstate 95 to the east of Scotch Road is prime developable land in Mercer County. It's where Merrill Lynch built a huge campus and Capital Health opened its gleaming new medical center.
The area was already zoned OP, for office park, which permits the development of offices, retail, daycare centers, a community (senior) center, as well as a hotel and a conference center. The amendment introduced a new OP-1 zone, allowing for continuing care uses (independent and assisted living) as well as multifamily housing. Such housing units could be used to meet Hopewell's affordable housing obligation.
The change to the master plan put the ball in the hands of the township committee, which must now introduce an ordinance changing the zoning and, after public hearings, vote on it. Mayor Kevin Kuchinski and committeewoman Julie Blake both sit on the planning board, and while Blake voted in favor of the amendment, Kuchinski voted against it.
Planning board chair Karen Murphy voted in favor. "It was the time to act," she said in a phone interview after the vote. "Most people agree about the concept but are worried about the details. I feel we shouldn't delay it because we're worried about the details. What type of business, where they are, how tall the buildings are, all those things need to be worked out in the zoning."
The reason this is seen as the time to act is because Hopewell may soon find out how many affordable units the state expects it to zone for. And the reason it hasn't known its obligation stems from the ineffectiveness of the state Council on Affordable Housing, which failed to come up with a formula for determining towns' obligations from 1999 until it was shut down by state Supreme Court in 2015.
The court is expected to decide soon if Barnegat Township would be on the hook for all the affordable housing it had not zoned for during the 16-year "gap period," or whether it would be able to simply go forward as if the gap period had never existed. How the court rules will have implications for nearly every municipality in the state.
Meanwhile, the township has been among those in litigation with the Cherry Hill-based Fair Share Housing Center, an organization that advocates for affordable housing and which has said that Hopewell should be required to zone for at least 1,200 units. A Princeton consulting firm appointed by superior court to analyze the FSHC calculations, Richard Reading Associates, recommended that 891 units should be built by the township.
When the Supreme Court shut down COAH in 2015, it effectively put affordable housing in judiciary hands, ordering towns to devise and submit new affordable housing plans to the courts. The Barnegat decision should provide clarity on each town's fair share obligation.
In anticipation of that, Murphy said, the township needs to show the state that it is working on a plan so as not to be seen to be shirking its responsibility. Failure to zone for affordable housing could open the township to builder's remedy lawsuits, by which developers sue to try to get the courts to override local zoning ordinances and pave they way for high density development to begin.
* * *
The master plan amendment wasn't met with approval by everyone. Many residents who live near Scotch Road attended the Dec. 8 meeting to express their opposition to further Scotch Road development. While Murphy doesn't always agree with all the viewpoints expressed at meetings, she said the effort to get the community involved is "a valiant one."
"The community should be involved in the process. It's something that affects everyone," she said. "I wish people were more concerned about everything happening in the township and came to meetings rather than just reacting to what they hear and speculating as to what might be happening."
She said she shares the public's frustration with the affordable housing process. "It is a ridiculous process. They've formed ridiculous rules and everyone is looking at the macro level and not looking at how those rules are applied to individual communities," she said.
With census data showing that Hopewell grew by about 1,200 people from 2000 to 2010, she can't understand how the state could be talking about mandating an additional 1,000 homes to be built by 2025. "Our township does not normally grow at the rate they're pushing growth," she said. "They're talking about communities doubling in size, which doesn't make any sense at all."
That said, Murphy described the area off Scotch Road affected by the master plan change as ideal for the types of development the OP-1 designation will allow for, especially given the proximity of the hospital. "Long-term care, senior living, hospice care—it's the perfect environment to have that type of use, so why not let's allow it? Let's start doing what we really want to have happen in our township as opposed to what we're forced to have happen," she said.
Once the planning board knows the affordable housing number, she said, it will determine if it can meet the complete obligation on one site or will need to find additional sites.
Julie Blake points out that even if affordable housing weren't approved for the site, the site is all but certain to be developed. "Almost all these uses are already approved," she said in a phone interview. "The owners have all the power to create what they want on the east side of Scotch Road."
Given that relatively little of Hopewell has the wastewater capacity to accommodate development, the planning board has an obligation to figure out how the sewered portions of the township can accommodate the expected fair-share mandate, she said.
"The planning board's job is to plan," she said. "Without affordable housing numbers breathing down our back, we can make better decisions about the process now. The way I look at it is, let's be deliberate and intentional and create time to allow as many people as possible to be involved."
* * *
A fear expressed by opponents of Scotch Road development is that the site will become a town center-type development like those recently built in Robbinsville and Plainsboro. These mixed-use developments typically feature townhouses, apartments and/or condominiums as well as restaurants and small retail. While there are some who feel that town centers generate too much traffic, they also provide walkability and a good quality of life for their residents. Town centers also offer towns a way to create inclusive zones in which affordable and market-rate housing can exist together.
A town center was discussed by the planning board in 2014 that would span both sides of Scotch Road, and township planner Frank Banisch even drafted a document laying out the pros and cons of it, but ultimately no action was taken to amend the master plan at that time. This time around, the west side of Scotch Road has not been part of the discussion, although some portion of that property remains zoned OP.
Teri Jover, deputy executive director of New Jersey Future, wrote a 1999 case study about the proposed Merrill Lynch campus before it was built. New Jersey Future is a nonprofit organization that advocates for sensible growth and development.
Jover admits she isn't up to speed on Hopewell's latest issues. But she said many towns are in the same boat in terms of planning for growth in general and affordable housing in particular. And they are dealing with the fact that seniors and millennials both are seeking out walkable centers rather than the car-centric centers that dominate suburbs today.
"If you're thinking about higher densities, about mixed usages and putting that all together in a relatively close spot, you'd be missing a huge opportunity not to consider walkability," Jover said. "The more concentrated and walkable a place is, the more you can bring in services efficiently, especially transportation. Towns should be thinking about walkability on every land use decision they make."
Murphy and Blake stress that whatever happens, the character of Hopewell Township is important and must be preserved.
"I have yet to hear somebody who doesn't love what we have, which is the rural nature of our community," Blake said. "People have chosen where they live—either they grew up here and they stayed, or they moved here. The committee, and I believe the planning board, understand that."
Murphy said the decision not to extend the OP-1 zone up to Washington Crossing Road was guided by the planning board's desire to preserve the character and natural beauty of the area north of the road.
"The views that pop up along the way are a great reminder that this is a rural community, and keeping some of those viewsheds is really important even as more people come to the area," she said.