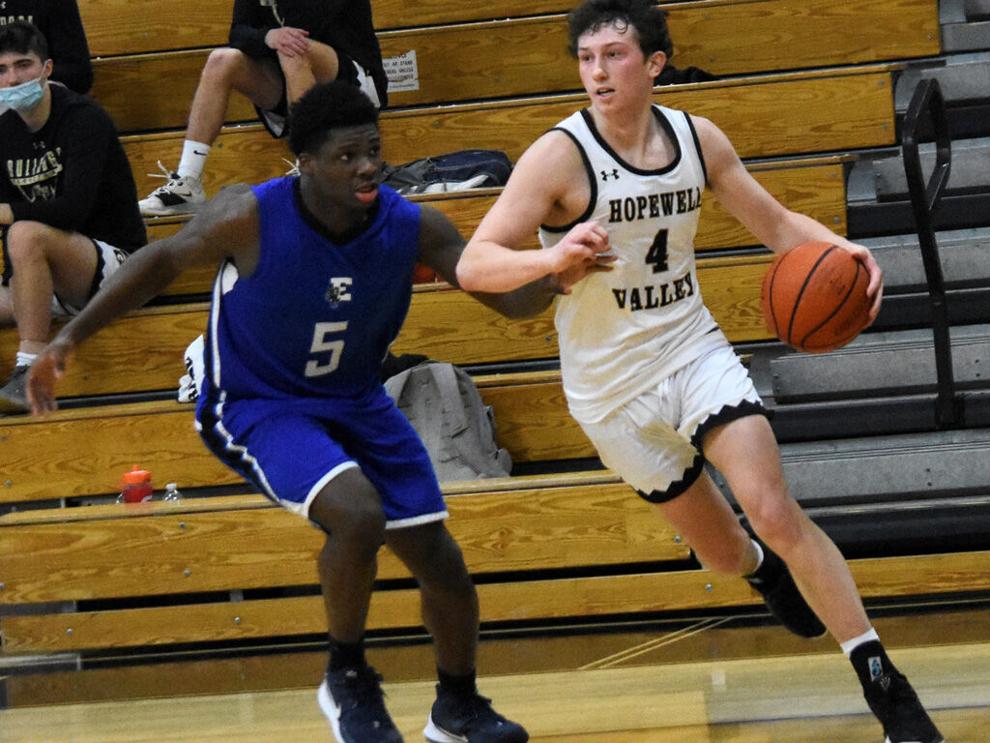 As a freshman, Jake Loughery was the leading scorer on the Hopewell Valley Central High JV basketball team, and his persona was even enjoyed by the varsity players.
It was the 2017-18 season and the Bulldogs were en route to a school record 21 wins behind the likes of seniors Drew Brodine, Alex Mummert and Rob Wiley. When the JV and varsity scrimmaged together, they wanted Loughery in the mix.
"All those seniors actually loved Jake and wanted to get him in that spot on the floor so he could knock down shots," coach Matt Stein recalled. "Even back then, those guys knew he was something special for the program. They were like 'You gotta get him in there,' during the scrimmages."
What made him so appealing?
"They loved his energy," Stein said. "That's what I loved about him too."
It's a natural energy, produced by the intensity of going to battle in the athletic arena.
"It's more with sports," said Loughery, the Bulldogs leading scorer this year. "Once I get into any competition -— it doesn't have to be basketball, it can be any leisure activity — I'm always energized, I want to be competitive, I want to win."
Having a mindset like that made last year pretty brutal for Loughery. After a stellar season on varsity as a sophomore, when he made the All-Tournament team in the Molinelli Tournament, he came back ready to be a scoring force last year as Hopewell graduated a ton of points.
But during the final practice scrimmage before the season opener, Loughery went up for a shot, came down on a teammate's foot and sprained his ankle. What seemed like it might be a nuisance turned into an albatross.
Loughery tried to give it a go the next night against Hamilton and had eight points, four rebounds and three assists. He remained in the lineup for the next 11 games, hitting double figures in six of them and scoring 20 at Princeton Day School. But he was never at full strength.
"I couldn't do much about it. I was doing rehab and it never really got better," Loughery says. "It really affected my play. I couldn't get that first step at all. It wasn't worth it. Every time I stepped I felt there was a sharp pain. It affected every part of the game."
But Loughery kept trying.
"He tried to play on it, and then re-aggravated it and still kept trying," Stein said. "He's a kid who wants to help. After being a sixth or seventh man as a sophomore, he wanted to be one of the main guys last year because he knew his role was to be a scorer after we graduated so many guys."
But with things getting worse, Loughery shut himself down after a 14-point effort against Allentown, figuring he wasn't doing himself or the team any good. He wanted to get a full AAU season in at full strength in order to work on his game and make himself more of an all-around offensive player rather than just a jump shooter.
Mission accomplished.
During this weird, pandemic plagued season in which teams were playing four games in a week, Loughery was leading the Bulldogs with a 14.5 scoring average seven games into the season. He had a team-high 13 3-pointers, but was doing other things as well.
"I was always playing off the ball, getting screens, shooting threes, not doing anything else," Loughery said. "I needed to do more of everything this year. I gotta be able to attack the hole, create a shot for myself. In previous years it was always someone driving and I was just playing off them trying to get an open shot."
Stein feels he has done a nice job in that area. "He's penetrating more this year, he's able to drive and finish around the basket," the coach said. "He took the time in the off-season to line up his schedule to get him where he is now: one of the top guys on the team."
Once his ankle was full strength, Loughery threw himself into lifting at home, going to a training center to work out and hitting an indoor shooting facility in Robbinsville. He switched AAU teams from YSU Elite, where he had played since middle school, to the South Jersey Titans.
And if there's ever a place to work on an offensive game, its AAU.
"It's definitely less defense than high school basketball," Loughery said. "It's more fast break and go, you get your shots at a high pace. You're always playing good people and you can't just sit there shooting threes. You gotta be able to do everything, so I worked on getting to the basket and penetrating more."
Although AAU is a nonstop shootout, the 6-foot-1 guard has no problems playing defense. As a sophomore, whenever Hopewell played a box-and-one, he was the "one" playing man-to-man.
"I definitely took pride in that," Loughery said. "I just liked the challenge of guarding the best player. I wasn't really looking to score that year with Milo (De Los Santos) averaging 20 a game. My main goal was to lock down their best player if we ever needed it."
As Loughery's career winds down and he prepares for Penn State University next fall, he has tried to instill a spark throughout the team. Covid-19 makes it tough for some players to get motivated.
"He just has so much energy he can run around forever," Stein said. "He's not someone who sits around. He's on the go at all times. That's something he brings to this team. He has that energy, plays with that passion and toughness, and he's trying to rub off on the other guys."
After a season of frustration, Loughery was just happy to be on the court, even after a 2–5 start by Hopewell.
"Honestly it feels great," he said. "Staying out there and playing this year is a great feeling, one of the best feelings."