A 2011 graduate of Lawrence High School, Rabiah Asif is one of the many public health officials across the country attempting to slow the spread of COVID-19.
Until last month, Asif worked as the Lawrence Township health department's health educator, also handling the township's COVID contact tracing and contact monitoring. She started as the City of Philadelphia's contact tracing coordinator Dec. 1.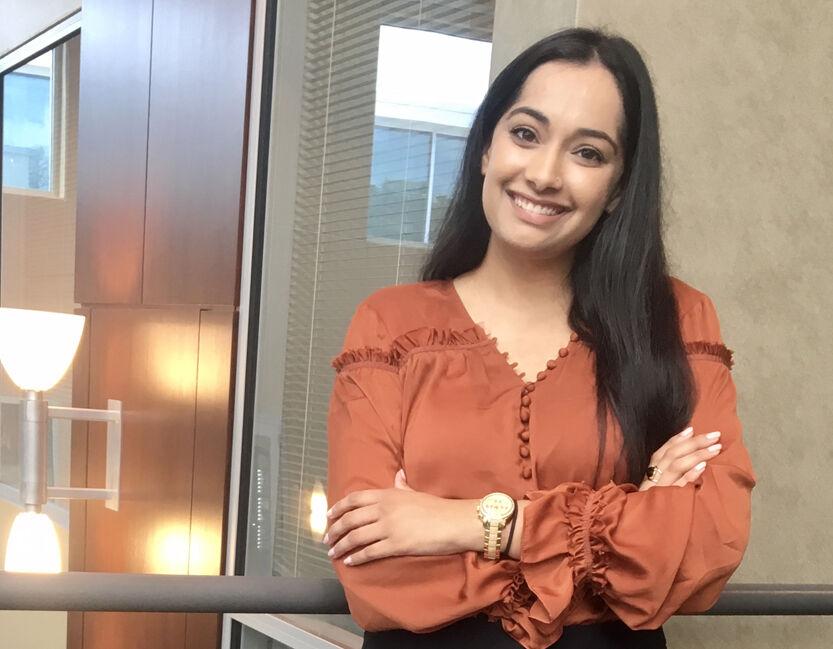 Asif, 28, said she takes a lot of pride in her work to help the community, particularly as a child of immigrants from Pakistan and a first-generation college graduate. She has learned early in her time in government that health is all about community.
"I realized that it's not always about the single person," Asif said. "It's more about the community and how everything is connected and how you realize that there's a bigger picture when looking at health concerns."
As her new title suggests, her primary duty in Lawrence and Philadelphia has been contact tracing—essentially calling residents who have tested positive for COVID-19 to find out what their symptoms were, who they were exposed to and with whom they had been in contact. Contact tracers then would follow up with contacts of the person who tested positive. Close contacts—anyone within six feet of someone with COVID-19 for more than 10 minutes—receive a phone call or text message from the health department for 14 days to make sure they show no signs of having contracted the virus.
The contact tracing effort has been a struggle nationwide as government employees have had to combat a skeptical populace as much as they have the fast-spreading coronavirus. New Jersey Gov. Phil Murphy said, for example, that the rate of noncooperation with contact tracers in his state is 78% as of Dec. 14.
"Remember, our contact tracers are not on a witch hunt," Murphy said a week earlier, during a Dec. 7 press conference. "They are only concerned with stopping the spread of this virus."
Asif said she experienced this in Lawrence, with some people not being open to speaking with her because they did not trust her and believed she might share their personal information. She said she faces the same struggle in Philadelphia.
Contact tracers collect very little data, Asif said, and use it only for contact tracing. Once the 14-day period ends, the health department will conduct a final follow-up call to make sure a person feels OK before closing the case.
"We really just want to make sure that you're doing OK and that your contacts are OK as well, just so we can prevent the spread of COVID," Asif said.
The challenge has increased as cases spike and people become discouraged with the pandemic—and restrictions due to it—still strong nearly a year later.
In fact, in Philadelphia, COVID-19 has become so widespread that there are not enough contact tracers to call everyone with the virus. The city has 134 contact tracers. By comparison, Philadelphia had 1,041 new COVID-19 cases Dec. 11 alone.
Contact tracing works best as a preventative measure when there is a small number of outbreaks, Philadelphia Department of Health spokesperson James Garrow said, so the health department there has opted to simply not call everyone. It is mostly being used right now to get an idea about the state of the virus in Philadelphia and to talk to people about government resources available to them, things like unemployment insurance benefits, food banks and other assistance.
Asif said she also has seen misinformation fueling the spread of the virus, and tries to use her phone calls as an opportunity to educate people about COVID-19. Among the biggest misconceptions is that a person with COVID-19 is no longer contagious once they no longer have symptoms. Even those without symptoms can spread the virus, she said.
Asif said the key to breaking the pandemic is to adhere to strict social distancing and to always wear a mask around anyone who doesn't live in your household, even family members.
"I think that [Lawrence is] doing everything that we're supposed to be doing as a community, as far as wearing masks, keeping six feet apart," she said. "And I think that's really, really important for us to continue to do that. I don't want people to get discouraged. Their efforts are working, and we just have to continue to do what we're doing."
Asif has good reason to care about Lawrence, as it's been key to Asif's journey into public health.
Asif attended Lawrence Township Public Schools, starting with Ben Franklin Elementary School. She graduated from Rutgers in 2016 with a bachelor's degree in public health, making her the first in her family to graduate from college. She went on to Drexel University, where she earned a master's in public health in 2019. After graduation from Drexel, she began working full-time for the Lawrence Township health department. She had previously interned there in 2015.
Although she no longer works full-time in Lawrence, Asif continues to have strong roots in her hometown. She continues to serve on the township's health advisory board, a role she's held since 2016. Her family still calls Lawrence home, with her siblings Hamza, Momena and Abdullah all having graduated from LTPS.