Steven Kuo has spent a good deal of his 50 years working in hospitality. And now he has put that experience into Kuo Social, his highly anticipated restaurant in Robbinsville's Town Center.
The menu features many traditional Chinese favorites, all given a modern spin by Kuo and executive chef-partner Yang Huang. Familiar dishes include fried rice, kung pao chicken, beef with broccoli and mu shu pork.
There is also an intriguing variety of Chinese specialties to try, such as egg flower soup (made with kabocha squash and wild mushrooms), steamed edamame dumplings, Grand Marnier jumbo shrimp, whole crispy red snapper, and grilled Australian rack of lamb.
Kuo Social is also developing a reputation for its bar program. Highlights include mai tais, coconut ginger mojitos, seasonal martinis, Shanghai sangria and more.
Kuo Social opened in October in the anchor spot of Robbinsville's Town Center. It is the fourth restaurant to make a go of it in that space, following Santino's Bar One, Poseidon, and Centro Grille, which occupied the space from 2014 until it closed last year.
"Over the years I've been to that space before, and when somebody mentioned to me that it was available, I was like, 'Hell yeah!'" Kuo says. "I came in and I saw the space and the 30-foot ceilings and I thought, 'This is perfect.'"
As he imagined his restaurant, Kuo had a vibe in mind. He wanted 1920's Shanghai glamour. In those days, some called Shanghai the Paris of the East. "It was very kind of like The Great Gatsby, just everything was a little over the top with crazy fun music," he says. "It was a very different era."
He hired designer Rafael Alvarez to bring his vision to life. Alvarez is responsible for the look of famed New York City spots such as Per Se and Le Cirque.
Kuo says that while food is obviously a very important part of the dining experience, atmosphere and service are equally important, so he wanted to be sure to get the design just right. To help him create his menu of modern Chinese cuisine, Kuo brought on Huang, a veteran of Stephen Starr's restaurant group and the long-time executive chef chef at Buddakan in New York.
"Yang is truly special," Kuo says. "Anybody would refer to him as one of the best Chinese master chefs in the world. He is extremely creative."
Kuo says one thing that sets Kuo Social apart is the attention to detail that is paid to every dish, from the lo mein ($14.95) to the Peking duck ($45.95).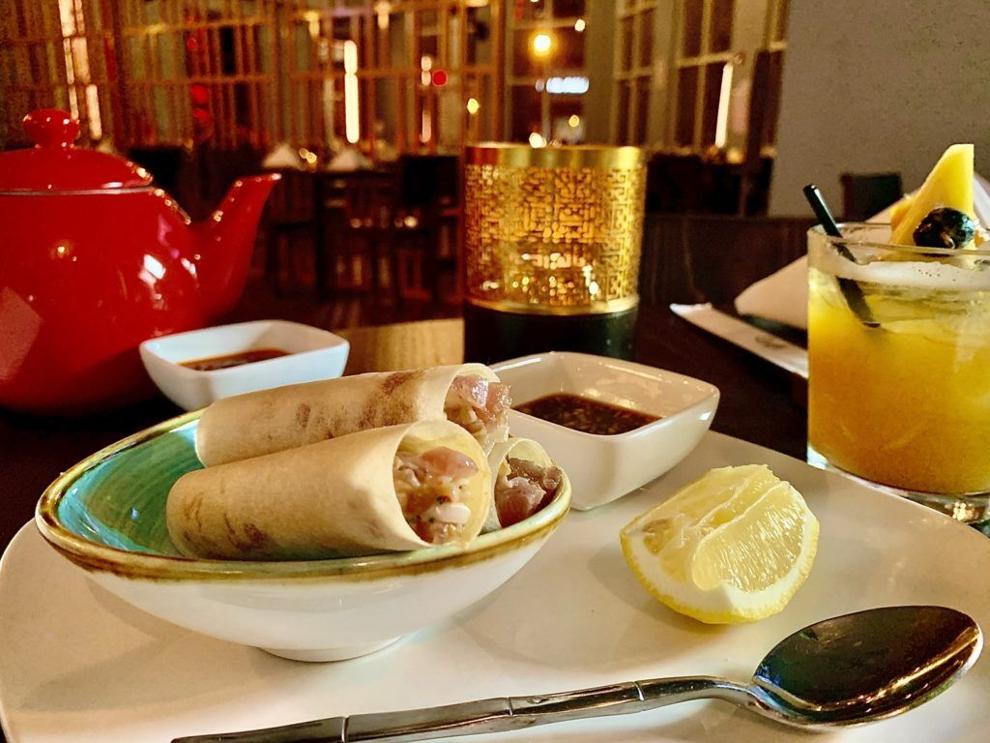 "Lo mein is very easy to make, but it's also very easy to f— up," Kuo says. "You can sauté it in a wok for 60 seconds and throw some soy sauce on it and call it lo mein, but there are different techniques, different herbs and spices we use. When you're making, say, pork lo mein, there is a little bit of grapeseed oil we put in so it doesn't clump together. With our fried rice, we flip it 100 times. We want it to have that golden toastiness with the first bite."
The same attention to detail goes into making what is perhaps the restaurant's signature dish, Peking Duck. It's a dish that is also featured at Kuo's parents' restaurant, Peking Pavilion in Manalapan.
"That duck is very near and dear to my heart because our restaurant is called Peking Pavilion, so our Peking duck better be pretty good," he says.
Kuo says high end Rational Combi ovens give Kuo Social an edge with its Peking duck. "Yang knows how to use those ovens," he says. "He knows how to make that skin really really crispy and make sure the meat is good, not 90%, but 110% of the time."
Kuo says all of these little things add up to making a big difference. "That's why we've been successful, with people who come to the restaurant saying, 'Whoa, that's really good,'" Kuo says. "That's why over the past 45 years, my parents restaurant has been so successful. The consistency that we have been able to do at Peking Pavilion and here at Kuo Social, it means a lot to our customers."
* * *
Kuo basically grew up in the restaurant business. He was born in Philadelphia in 1971. His parents, Mike and Corrina, had emigrated to the United States from Taiwan in 1969.
In 1975, Mike and Corrina opened a restaurant, Peking Pavilion, in Richmond, Virginia. In 1983, they closed the Richmond restaurant and moved to Monmouth County. Peking Pavilion found a new home on Route 33 just west of Freehold Borough, where it opened in 1984 and where it still operates today.
Kuo, a teenager when Peking Pavilion reopened in New Jersey, could hardly help but get indoctrinated into the restaurant business.
"I was just there all the time, you know, the waiters and cooks and hostesses were all basically my babysitters," he says. "My dad had a big office I would go spend time in. My mother studied accounting in college in Taiwan, she did the accounting."
The restaurant was as successful in Manalapan as it had been in Richmond. Kuo went away to study hotel and restaurant management at Penn State University, after which he forged a career working in hotels and restaurants around the world. Stops include Thomas Keller's Per Se, Danny Meyer's 11 Madison Park, the Hotel Shangri-La in Shanghai, the Four Seasons in New York, and of course, Peking Pavilion.
It was while he was working at Peking Pavilion in 2004 that the restaurant suffered a devastating fire. The date was Dec. 26, and he was on his way to Charlottesville (Virginia) with his boyfriend at the time to celebrate Christmas with his boyfriend's family.
"On our way down, our wine salesman called me and told me the restaurant was on fire, in broad daylight, right in the middle of service, The restaurant wasn't packed, but it happened during lunch and there were probably at least 50, 60 people in the restaurant. Thank God the managers were able to get everyone out in time," Kuo says.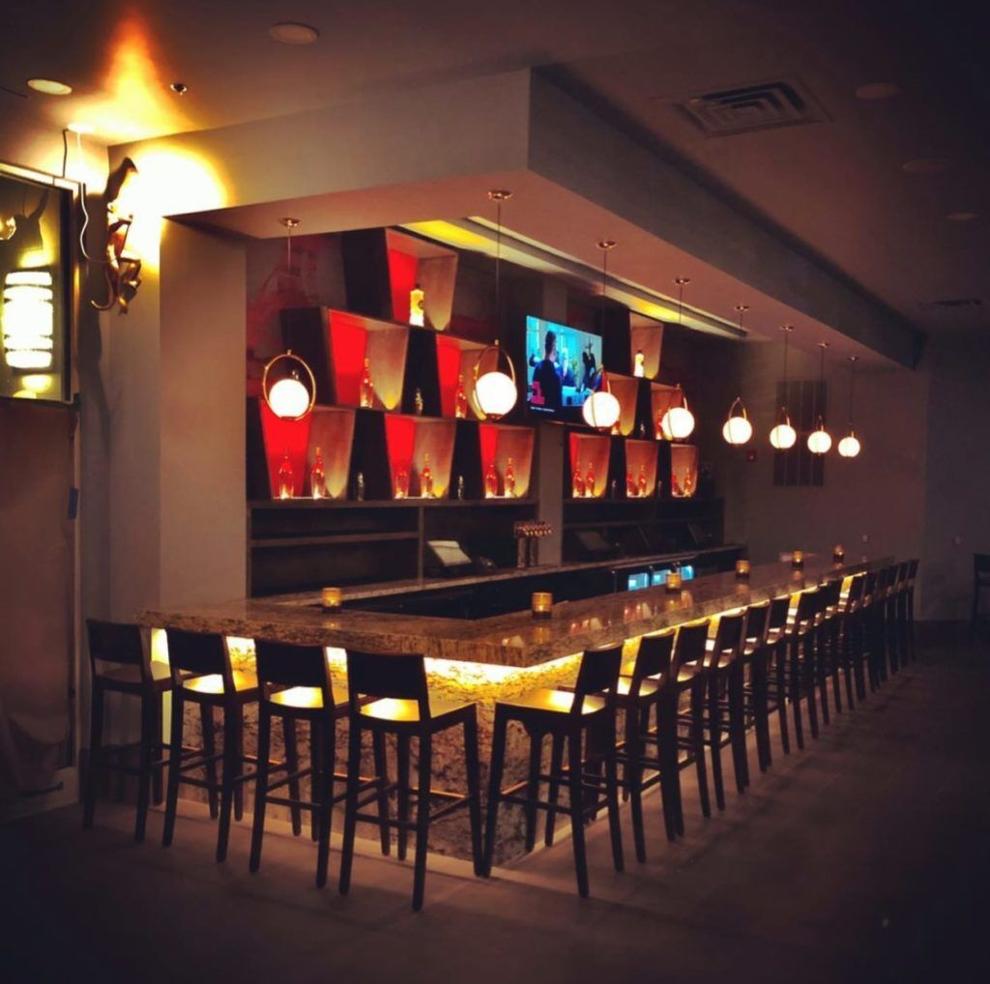 The Kuos hired Rafael Alvarez to redesign the restaurant. Alvarez had designed Shun Lee Palace in New York City, Kuo's uncle's restaurant, and his uncle suggested they hire him for their post-fire renovation.
"We kind of gave him carte blanche," Kuo says. "My dad [told Alvarez], 'It's called Peking Pavilion and I want it to look like a really beautiful, modern Asian pavilion.' And that's what he designed."
When it came time to design his own restaurant, Kuo knew that he would hire Alvarez again. The result is a striking and elegant big-city-style interior, featuring a cool bar, bold prints, gold accents, and monkey light fixtures.
In his career, Kuo has worked in both the front and the back of the house, so he understands the important role that service plays in the dining experience. That's why he brought Mike Cuccia, formerly of Ruth's Chris Steak House in Forrestal Village, to Kuo Social to be his general manager.
"It is super important that there is really great service," Kuo says. "And that comes from the top down. I'm very big on morale. If you have good morale, you have happy servers and cooks who are going to take care of the guests."
Kuo Social, 2360 Route 33, Suite 106, Robbinsville NJ 08691. Phone: (609) 208-9988. Open Monday through Thursday from noon to 10 p.m., Friday from noon to 11 p.m., Saturday from 4 to 11 p.m. and Sunday from 3 to 9 p.m. Takeout, delivery, dine-in.