The dining room at Princeton's Peacock Inn is back in operation, and owners Genesis Hospitality Group are hoping that a new chef and new management team can breathe fresh life into one of the area's few remaining fine dining venues.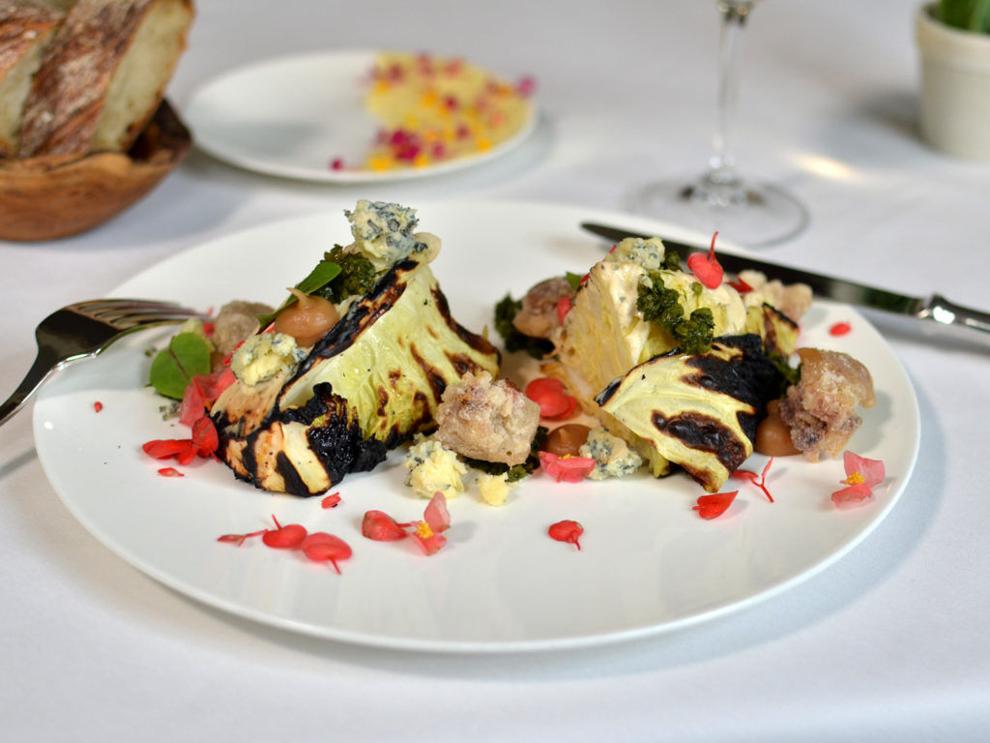 The restaurant, as well as the inn itself, were closed due to the pandemic in the spring, when general manager Michael Rohrbach and Chef Alex Van Dyke came on board. That gave them some time to give the dining room a new identity, and it started with a new name: The Perch at Peacock Inn.
Indoor seating is limited by the governor's coronavirus pandemic restrictions, but The Perch has made ample use of its picturesque back patio as well as the spacious front porch of the converted colonial-era mansion. With the weather turning colder, space heaters now stand reader to fend off any autumn chill.
Hotel business is generally down in the age of coronavirus, and the Peacock Inn has not been immune to the pandemic, booking fewer guests in recent months than would be normal. However, Rohrbach says the inn's guests tend to account for only around a quarter of the restaurant's overall business. It is the local community that sustains the business, in good times and in bad.
Rohrbach has been in the hospitality business for over a decade, including a year and a half spent as the food and beverage manager at Rat's Restaurant in Grounds for Sculpture in Hamilton. He says in the process of relaunching the restaurant with Van Dyke, he spoke to a number of people in the area who were familiar with its prior iterations, to get a sense of what it was missing.
"People said the restaurant had its ups and downs, but one of the main things they said was that it could be a bit stuffy," Rohrbach says. "I'm a firm believer that you can have an incredible meal with great knowledgeable staff and attentive service, but it doesn't have to be stuffy. Long gone are the days where you have to wear a suit to have a great dinner. So we wanted to break out of that mold."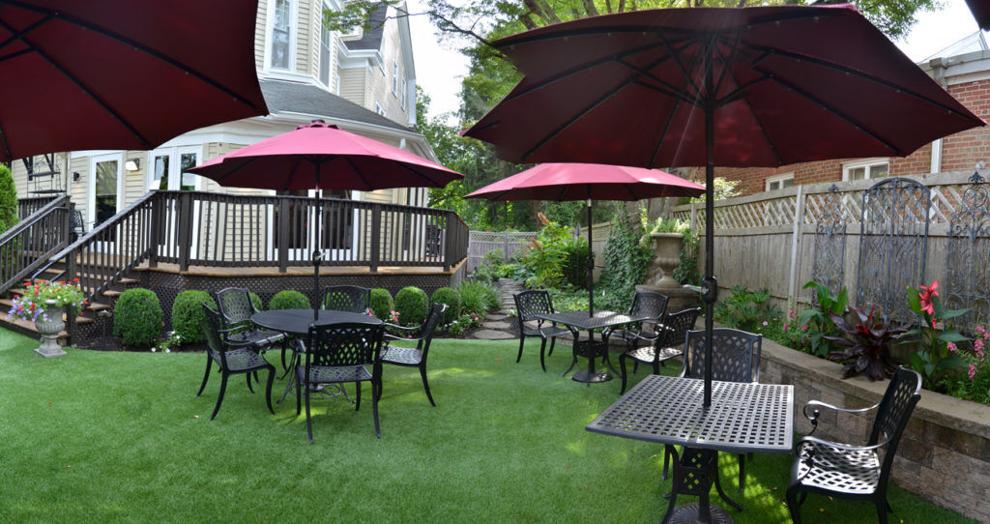 Van Dyke, 28, has been cooking professionally since he was 15 years old. A graduate of Johnson and Wales University in Rhode Island, he did an internship at Daniel Boulud's Michelin-starred Restaurant Daniel in New York before going on to work as sous chef at The Black Bass Hotel in Lumberville, Pennsylvania.
He then spent two years in Tennessee, working for Chef Sean Brock at Husk Nashville, before returning to his native Bucks County to take the executive chef position at the Yardley Inn, also operated by Genesis.
While Van Dyke still takes pride in the classic French techniques in which he was trained, he has said that the time spent in the South has opened the window for some influence from southern cuisine. It shows in his creative use of smoke, as with his barbecued carrots.
Rohrbach says two of his favorite items on the new dinner menu are a couple of first courses: the Lancaster Valley beef tartare ($17), made with ground tenderloin, scallions and lime zest, and the charred cabbage wedge salad ($14), which is Van Dyke's twist on the classic steakhouse wedge salad.
"If you're going to do a classic dish and switch it up, you've got to make sure it works," Rohrbach says of the wedge, which is made with lightly fermented Savoy cabbage instead of iceberg lettuce, then lightly grilled and served with a mild blue cheese dressing, apple butter and crispy pig's trotters in the place of traditional bacon.
Dishes including line-caught black bass, barbecued Griggstown chicken, sunflower porridge with seasonal vegetables and a tomahawk chop for two round out the entrees on the dinner menu.
The Perch is open for dinner Wednesday through Sunday, and for brunch Saturday and Sunday. Rohrbach's favorite menu item from the brunch menu is the butcher's omelet ($18), made with smoked pork jowl and grilled shiitake mushrooms.
Also on the brunch menu are bread pudding French toast, a "smash-style" double cheeseburger, and a smoked fish plate.
"He cooks with so much passion," Rohrbach says. "He loves to use local ingredients, he's very big on knowing exactly where his food comes from and letting the guest know that as well. He delves so deep into each plate and refines it and refines it."
That sort of refinement would always be in keeping with the Peacock Inn's reputation for providing a fine dining experience. Rohrbach says he and Van Dyke want to provide the same great food that the restaurant is known for, but with a more relaxed vibe, and also at a lower price point than in the past.
"We don't want to be the place where you think you are going to spend an arm and a leg," he says. "If you want to have that formal experience you can sit inside, or you can sit back and enjoy a mimosa or some cocktails out on the porch. We give you both of those things."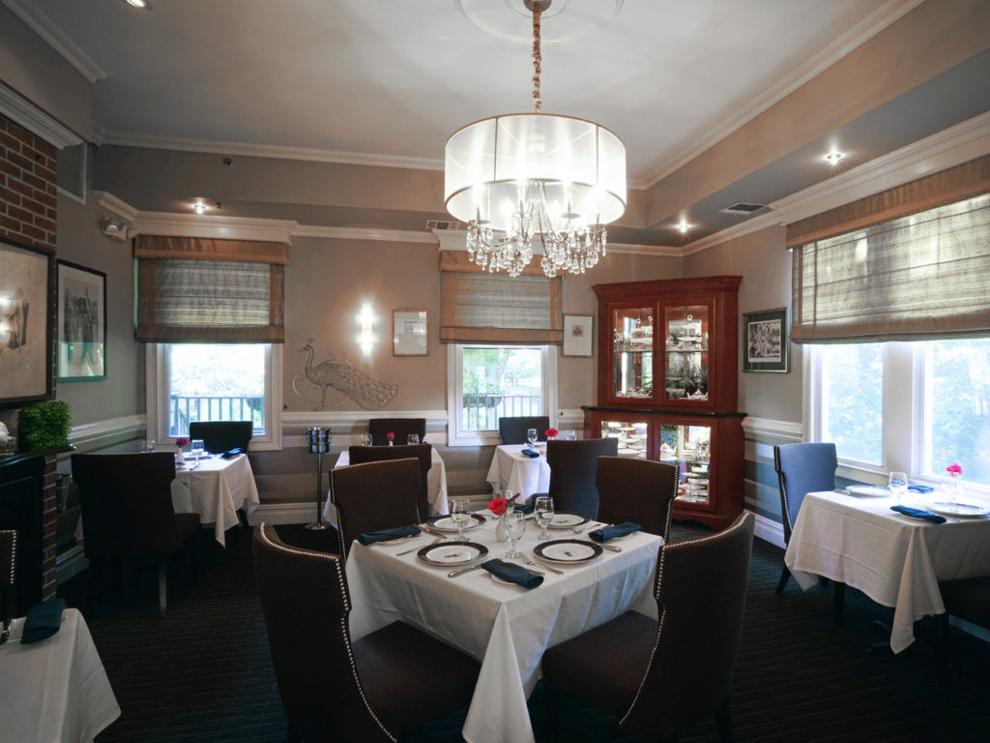 One thing that has not changed is The Perch's well known and extensive fine wine list. And while the bar has limited capacity due to Covid-19, Rohrbach says he and his bar staff have been amping up the cocktail program.
"I don't think we've ever been known as a crafty place as far as drinks, but I think we're starting to get that air about us," he says. "We've got an incredible cocktail list and a great team that wants to jump in and play. There's limited capacity at the bar but people come in and grab a cocktail before they go outside to eat."
The pandemic has also done its part to change the fine-dining scene. At a time when people are eating out less frequently, Rohrbach says, they often seem to be happy just to be out and enjoying a great meal. "Everyone's very understanding, moreso than in the past I would say," he says. "I think that's one of the beauties of what's happened. I think everyone's become closer to family and everyone's become a little more understanding."
The Perch has only been filled to capacity a handful of times since reopening, but Rohrbach says business has been increasing week by week, and he's hoping for the best going into the cooler months. In addition to regular dining, The Perch can accommodate groups of 10 to 12 inside as well as upwards of 20 in the back patio area.
While The Perch has not done a lot of take-out this year, they are planning to offer Thanksgiving take-out packages this year. As long as things don't change in terms of Covid-19, the restaurant will also be taking reservations for dine-in service on Thanksgiving Day. The plan is to be open from 11 a.m. to 8 p.m., serving a three-course meal.
The Perch at the Peacock Inn, 20 Bayard Lane, Princeton. Phone: (609) 924-1707.  Hours: dinner served Wednesday and Thursday 5 to 9 p.m., Friday and Saturday 5 to 10 p.m., Sunday 4 to 9 p.m. Brunch served Saturday and Sunday 10 a.m. to 2 p.m.