Township school board elections are rarely controversial, with candidates spending most of their campaigning time meeting voters and talking about their plans to run the school district.
But in the current Hamilton Township school board election, social media has given voters one more tool with which to scrutinize the candidates, and the picture has devolved into the kind of controversy now associated with national politics: two of the candidates have come under fire for explicitly racist and anti-Muslim posts on their public Facebook pages.
A search through the candidates' public Facebook accounts discovered a lot of predictable online chatter, but it also revealed that accounts belonging to candidates Richard Crockett and Sherry Morency have a history of posts that are offensive or openly racist.
On Nov. 10, 2014, a Facebook account belonging to Morency posted a meme that criticized then-President Barack Obama for inviting Rev. Al Sharpton to the White House. Commenting on Morency's post, Crockett's Facebook account used a racial slur and obscenity, re-printed with asterisks below: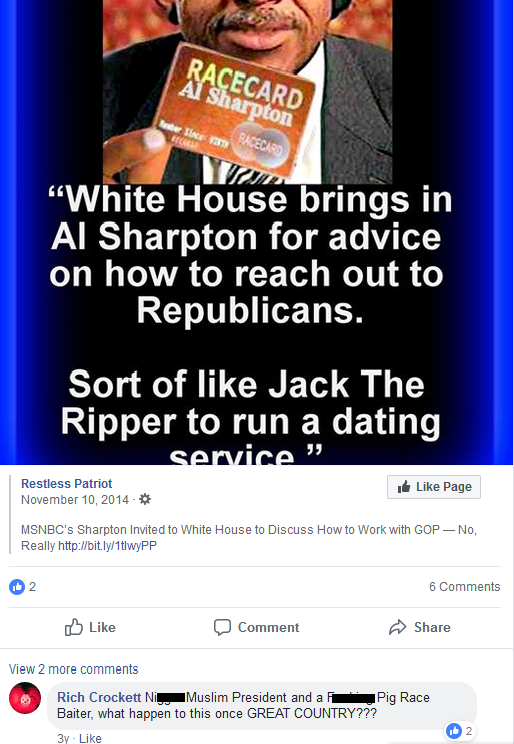 "N****r Muslim President and a F*****ng Pig Race Baiter, what happen to this once GREAT COUNTRY???" Crockett's Facebook account posted in November 2014.
Morency's account "liked" this comment.
Crockett, Morency, and Cynthia Simon are running on a slate together as part of a nine-person race for three open school board seats.
On the same post about Al Sharpton, another person asked Crockett if he was "late for your clan meeting," to which Crockett's account replied, "I'm never late." Morency's account also liked this reply.
In an interview with the Hamilton Post, Crockett denied making the comments and said he has never been to a Ku Klux Klan meeting. "The Ku Klux Klan? Oh my God, of course not," he said.
The Post has confirmed that the account that posted this comment, "Rich Crockett," is the same account that Crockett acknowledged posted on the "Crockett, Simon and Morency for School Board" Facebook page during the current election. Crockett said he does not remember making this Facebook post and that it would be out of character for him. "I wrote that?" Crockett said. "There's no way in freaking heck I wrote that. I would never write something like that. I don't even know what you're talking about. I was not brought up that way."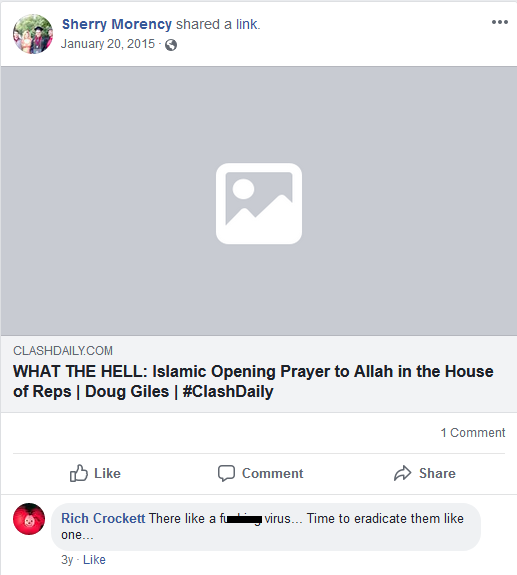 On Jan. 20, 2015, Morency's account posted a link to a story by clashdaily.com, a website run by an anti-Muslim minister. The article carried the headline "WHAT THE HELL: Islamic Opening Prayer to Allah in the House of Reps."
The article refers to an Islamic imam from South Brunswick who was invited to lead the opening prayer for the House in 2014 (he was the seventh to do so since 2000).
Crockett's account replied:
"There like a f*****g virus… Time to eradicate them like one …" Crockett's Account posted to Facebook in 2015.
Asked about this comment, Crockett denied making it. "I feel like nobody should be eradicated," he said. "I have no hostility against anyone."
On Oct. 22, 2015, Morency's account posted a link to a video from CBN News, a conservative Christian website, which shows Muslims praying in the streets of Paris. Morency's account commented, "coming to America." and several of her friends, including Crockett's account, made comments on the article that were hateful towards Muslims.
"F*****g Muslims pigs," Crockett's account wrote. Another friend wrote, "Just in time for snow season to fill in potholes! Anybody feel like they want to drive Bigfoot down that street? I know I do!" [Bigfoot is the name of a monster truck.] Morency's account "liked" the latter comment.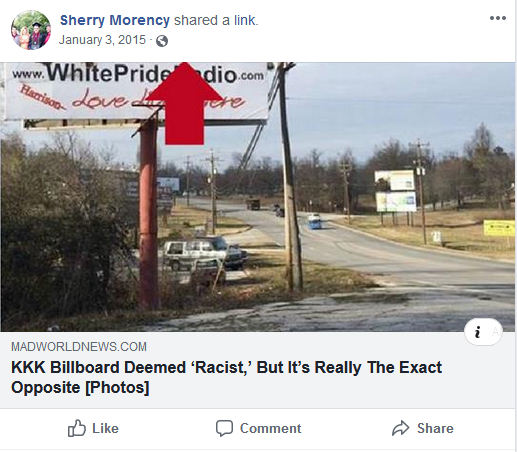 On Jan. 3, 2015, Morency's account shared a link to an article by "Madworldnews" with the headline "KKK Billboard Deemed 'Racist,' But It's Really The Exact Opposite." The billboard reads, "It's not racist to [heart symbol] your people" and shows the URL for a website called "WhitePrideRadio." The article defends the KKK and argues that white pride is not racist.
Morency blamed hackers for making political posts on her Facebook wall.
"I have a lot of black and Hispanic, and also I have Islam in my family. So that's not something that I would want to post on my Facebook page," Morency said.
Asked about the Al Sharpton post that Crockett's account commented on with a racial slur, Morency denied making that post as well. "First of all, I wouldn't put anything about Al Sharpton [online], because I don't even like him. I think he's trouble," she said.
In a later e-mail, Morency said she did not know Crockett in 2014 and Crockett, also in a later e-mail, said he only knew Morency from being asked to run for school board together.
The Post asked Morency via e-mail to clarify the hacking allegations, why she did not delete the offensive posts from her Facebook page if she did not make them herself, and how she and the hacker could have both have had access to the account with neither able to lock the other out by changing the password for four or five years.
Morency said her page was hacked: "I had people check on it for me that were very computer savvy. I was told some Russian troll. It sounds crazy. I always felt it was. That's all I can tell you."
In the end, the Post could not determine definitively one way or another whether the offensive posts on Morency's Facebook page came from hackers or Morency herself. To bolster the hacking claims, Morency showed a screenshot of five posts from her Facebook account in which she complained of hackers over the years. In 2017, she said a hacker put a dozen new posts on her page. On March 12, 2015, she wrote that "I may have been hacked or someone is playing a game posting stupid stuff on my page about my kids." In November 2015, she wrote that someone "hacked my facebook and is putting nasty pics and films on my page I am sorry if anyone can see it. I am trying to remove it."
'I can't defend what I've seen. Those are not views that are reflected by me.'  – Cynthia Simon, Morency's running mate.
Morency acknowledged that more recent posts from her Facebook account, in which she argued about sexual assault, were made by her. As part of a long discussion about sexual assault allegations, Roy Moore and Brett Kavanaugh on the page of a Hamilton resident, Morency criticized parents of sexual assault victims:
"That's where parents should be doing there [sic] job and keeping an eye on there [sic] kids. It's called being a responsible parent" she wrote.
The resident asked if only children of irresponsible parents got sexually molested.
"It's a large part of the problem face it." Morency replied.
In a Facebook post of her own, school board member Susan Ferrara, also a candidate in the upcoming election, criticized Morency's comments as victim blaming.
Morency said her words had been taken out of context. To give readers the complete context, screenshots of the entire discussion are posted below in the photo gallery. The posts were edited to remove the names of individuals not running for school board.
1 of 10