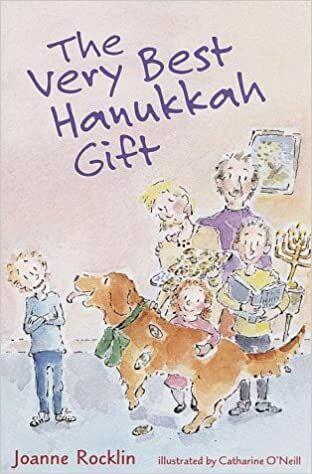 Robin Valentine's twins, Jenna and Griffin, are in college now, but Valentine still has fond memories of a holiday season when they were younger and she made them zucchini latkes.
"I always read them Hanukkah stories," says Valentine, who is a West Windsor resident and the vice president of community at Congregation Beth Chaim in West Windsor. "One year, I read them a book called The Very Best Hanukkah Gift, and the first chapter of the book is 'Green and Gross.' It's about a mom who doesn't make potato latkes for the kids, she makes zucchini latkes.
"The next day, and I wasn't even thinking about it, but I served them zucchini latkes. And my children looked at me and said, 'These are green and gross' and 'Where are our potato latkes?'
"Needless to say, every time I serve latkes to them now, this is a story they will remind me of. And I'm sure they will repeat it when someday I read the book to their children and read the chapter 'Green and Gross.'"
COVID-19 will disrupt holiday plans for many families in 2020, and from what we hear, a lot more people will be cooking for themselves this year than in years past.
So we've got a few recipes for you — some that are more traditional, some that are less — just in case you haven't decided on your special December menus. Happy Holidays!
Click here for Robin Valentine's zucchini latkes recipe
You can eat healthy
The Princeton community lost someone special this year in Dorothy Mullen, the founder of The Suppers Programs. Through The Suppers Programs, Mullen sought to help people change eating habits by teaching them to prepare delicious, healthy meals.
Back in 2018, I asked Mullen for a "traditional holiday meal." Mullen told me that her tradition was to not have a holiday tradition. "Our traditions at Suppers are all around enjoying the holidays to the fullest extent possible without going into the old drinking and eating habits that created your health problems to begin with," she said.
Mullen was diagnosed with stage IV lung cancer in 2019, and died this March at the age of 64. The Suppers Programs maintain her legacy today, and in recognition of her commitment to healthy eating, we present her recipe for wild rice salad, which she called "Christmas in a Bowl."
Click here for Dor Mullen's Christmas in a Bowl recipe
'You gotta have pork'
Fernando Burgos is a chef with Gourmet Dining, a food services company that is contracted to prepare food at Rider University. But he doesn't cook only for students and staff. Since 2019, Gourmet Dining has partnered with Meals on Wheels of Mercer County to make more than 1,600 meals weekly for local seniors in need.
The idea was that students would have an opportunity to volunteer in the Rider kitchens, helping to prepare the meals. But with Covid-19 emptying the campus for the foreseeable future, that means Burgos and the Gourmet Dining staff are currently handling much of the work themselves.
Burgos grew up in the Bronx. He says his family always prepares turkeys for Thanksgiving and Christmas, but because of his heritage, that's not the only protein on the table when they get together.
"I'm a native here, but my background is definitely Dominican Republic, and a big thing is you gotta have the pork there," he says.
When it comes to cooking for seniors, Burgos knows that many have dietary restrictions that must be minded. But he enjoys pushing the boundaries with the Meals on Wheels clients and pork carnitas is one thing he has made for them. "I like to get up with creating ideas to feed everybody and make everybody happy," he says.
Click here for Fernando Burgos' pork carnitas recipe
A considerable TASK
The Trenton Area Soup Kitchen has seen a tremendous rise in demand for its services this year. TASK reports that food service production is up 90 percent over 2019, and "COVID is the number one reason," says associate director of operations, Paul Jensen.
Jensen says the nonprofit organization is serving 8,500 to 9,000 meals a week. To keep staff safe, though, TASK has had to close its dining room. While TASK served food on Thanksgiving, and plans to do so again on Christmas Day, everything will be served to go, as it has been every day during the pandemic.
Despite the rise in demand, and the resulting increase in costs, TASK remains committed to providing tasty, nourishing meals to its clients. For Christmas Day, that usually means prime rib or roast beef, served with potatoes and vegetables.
TASK Chef Adam Livow — who was once a contestant on TV's "Hell's Kitchen" — provided these recipes for garlic and bacon green beans and for stuffing, which may also be on the Christmas Day menu for TASK. To learn about how you can help TASK during this holiday season, visit the TASK website.
Click here for Adam Livow's green beans with garlic and bacon and stuffing recipes
Boris takes the cake
A good holiday meal has to finish with a dessert, and Rory Philipson, pastry chef for The Blue Bottle Café in Hopewell, has one to share with a great story — her hazelnut cake.
"For decades, my mother has fondly reminisced about her foodie lifestyle and lavish dinner parties during her 20's," she says. "Her best friend became my godmother, and several other friends became extended family to me.
"One specific recipe was mentioned countless times over the years, an ethereal hazelnut cake that her Czechoslovakian friend Boris would make for dessert. About 20 years ago while visiting Boris in Prosec — a small village north of Prague — we finally found the recipe. It has been a family tradition ever since."
Click here for Rory Philipson's hazelnut cake recipe