Carnegie Hall. Many musicians dream of performing live and in concert in New York's famed, 130-year-old concert venue.
Alex Otey was all set to do it last April. Otey — a singer, songwriter, pianist and composer — was on a good run. On Feb. 27, he accompanied Grammy Award-winning Hawaiian folk singer Kalana Pe'a in the Appel Room at Lincoln Center.
As April approached, he and other members of a group called the Indie Collaborative were scheduled to give an Earth Day concert in Carnegie's Weill Recital Hall. Then, on March 11, New York City shut its collective doors. All live performances were off because of the coronavirus pandemic.
At the time, Carnegie Hall rescheduled the Indie Collaborative concert for April of this year. But Otey says he recently learned that the concert has been pushed back to 2022. The reason: too many mouths to feed.
When the concert was initially canceled, Carnegie Hall's schedulers would have been hoping they would be shut down for weeks or months at most. By the time concert venues in New York, New Jersey and many other parts of the country are fully open again, a year or more will have been lost. A year in which thousands and thousands of live performances were canceled or postponed.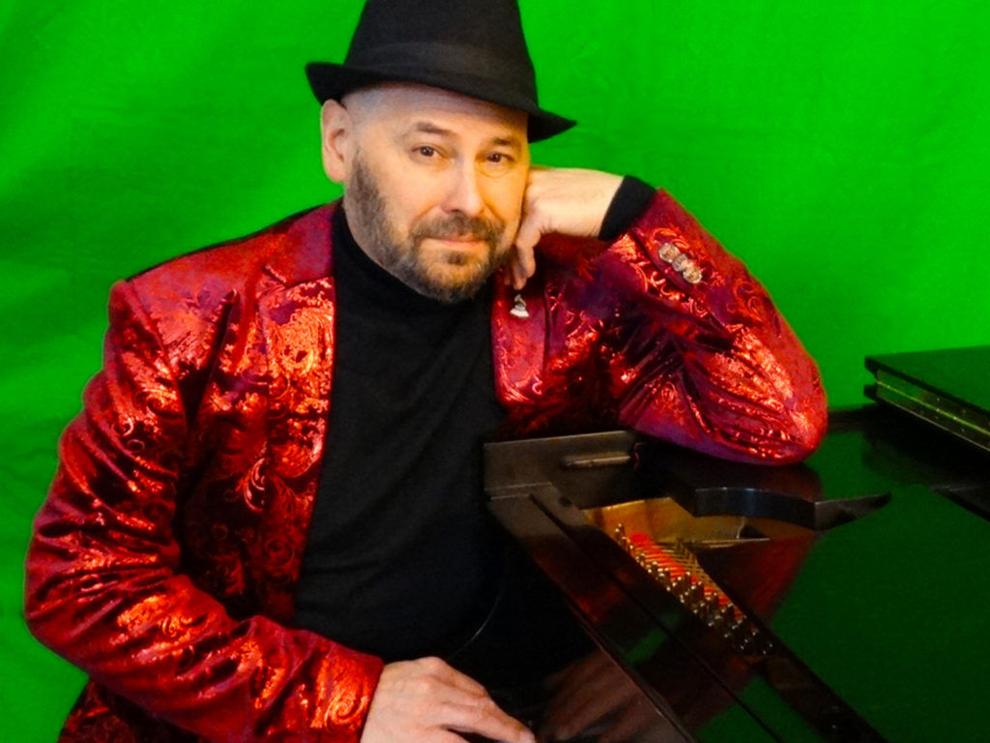 "Once things open up again, it's going to be like floodgates," says Otey, who lives in Ewing. "People who haven't been able to earn money are going to have to get back into the queues to get into the venues. From a musician's perspective, it's probably going to be frustrating finding places to perform."
The past year has been challenging for music venues, which have been unable to host live indoor events at anything resembling full capacity. And it has been difficult for the musicians who used to play those live events. Both groups hope that with Covid-19 vaccines now approved for distribution, things will be different soon.
But even once things return to some semblance of normal, there will still be challenges to overcome, and one of them will be finding ways to get gigs again when just about every musician out there has been equally starved for opportunities.
When the weather was warm, musicians were able to eke out a buck here or there working outdoor gigs. Now that winter — and a new wave of coronavirus — is upon us, some musicians worry that opportunities may be few and far between until spring.
If there is good news, it's that both musicians and venues have been basically forced to innovate to get through the pandemic. And whether that means setting up stages for live streaming, or going on a songwriting and recording blitz in virtual studios, most have had busy years even while the stages have been mostly dark.
* * *
Otey, 60, comes from a musical family. His father, Orlando Otey, was a composer and concert pianist. Alex was accepted into a conservatory at age 18 for trumpet, but decided instead to go into a career in software development and clinical pharmaceutical research. "I would have been a musician, but I was too interested in science," he says.
He never lost his love of music. For many years, he performed live and in the studio, sometimes with his wife, Amy Otey, the popular children's music artist known as Miss Amy.
In 2018, Otey retired from his day job to get a master's degree in music business through Berklee College of Music's online program, and to pursue a full-time career in music. His timing has been a little unlucky, but he says that he is fortunate to have savings from his previous career to help him cope with the financial hit he has taken in the past year.
"Musicians and actors are really struggling," Otey says. "I've heard some say, 'I have to get a day job, I can't live like this.' There have been a lot of challenges, and people have had to be creative. I've been fortunate in that I have savings."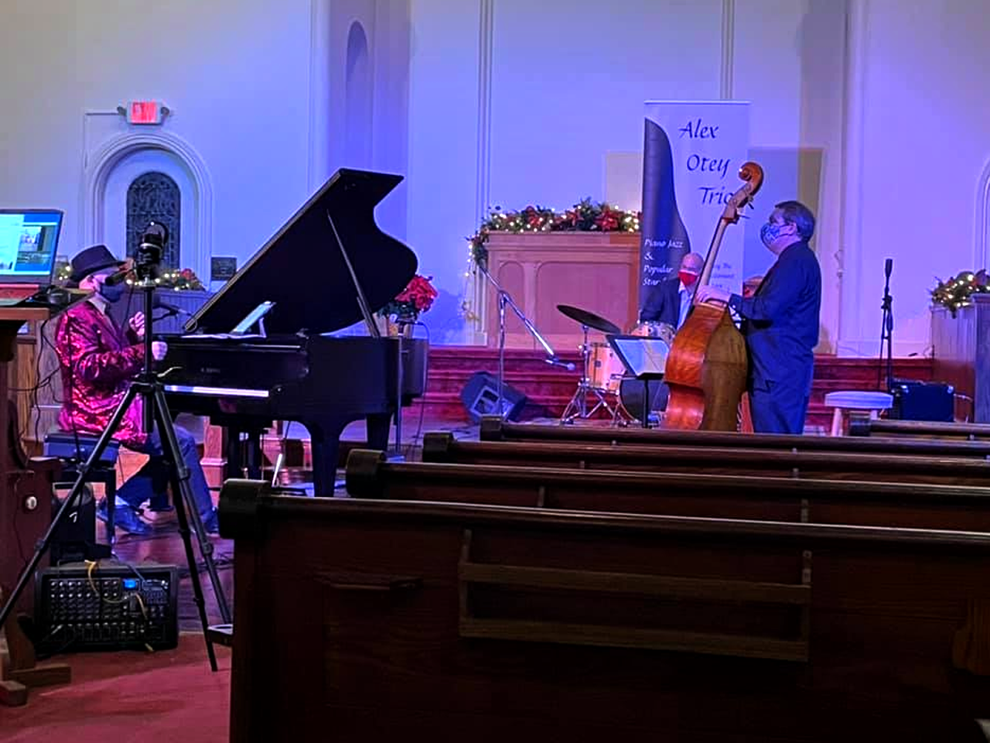 Before the shutdown, Otey had a regular gig at the King George Inn in Bristol, Pennsylvania. That arrangement is on pause during the pandemic.
Some venues have continued to host live shows in front of limited crowds. Like Vault Brewing in Yardley, where Ewing-based Jon Savage and the Classic Rockers, for instance, are scheduled to perform on Friday, Jan. 8 starting at 7 p.m. (Editor's note: This event has been canceled because of new coronavirus restrictions in Pennsylvania.)
But for the most part, artists like Otey are looking for new ways to make music and reach audiences during the pandemic. One such way is to live stream performances on social media outlets such as Facebook.
In December, Otey live streamed a couple of Christmas concerts from the 1867 Sanctuary, one as part of a trio and another a benefit for the Sanctuary with New Jersey-based jazz vocalist PJ Parker.
Bob Kull, a board member with New Jersey Preservation, the nonprofit organization that manages the renovated church, recently installed new wi-fi to ensure the quality of the transmissions, a clear sign that the Sanctuary expects to do more such shows in the future.
"The industry is kind of realizing that for now we have to do this, and then going forward, the good thing that's going to come out of this (pandemic) is that whole online thing will probably continue," Otey says. "Once things do lighten up, there's now another sort of pathway that some venues can use. That's what the 1867 Sanctuary has focused on."
Improving technology is making live streaming more accessible even for independent artists. It's also making it easier for musicians to write and record music.
Many musicians who were unable to get out on stage much in the past year used the down time to compose new music. Otey was able to make music that he has submitted to the Grammy Awards in part because he and other musicians were able to work together even though they were not in the same studio.
"The whole industry is going that way," he says. "You can get recorded content out there, which is good even though it is also frustrating because you can't perform it live."
He compares the creative spurts of many artists in 2020 to George Frideric Handel, the Baroque composer who, "plagued by financial worries and ill health, and abandoned by almost everyone except those closest to him, shut himself away and worked day and night on 'Messiah,'" one of his best known works.
* * *
Which is not to say that there are no more barriers to entry when it comes to online performances. One challenge that remains for the industry is to figure out how to make the same sort of money on live streams that shows bring in live and in person.
The main options are to go pay-per-view, which requires patrons to commit ahead of time to watching the live stream, or to go the donation route, which requires patrons to make the decision to pay for something that they can also watch for free.
Another challenge with streaming involves copyright laws and the various licenses that venues obtain from the American Society of Composers, Authors and Publishers, or ASCAP, which represents songwriters. Some licenses permit the live streaming of copyrighted works, but do not allow for any rebroadcast of the material.
Licenses that do permit recording and rebroadcast of live streams are more costly, which is obviously an issue for venues at a time when their revenues are down substantially.
But musicians are used to having to work for what they get, and many are finding ways to connect with audiences despite the obstacles. Like Ernie White, the legendary local rocker who has become known for the annual holiday concert fundraisers he does for the Trenton Area Soup Kitchen.
This year, White has done multiple live streams via Facebook with other local musicians, including Tom Reock and Mark Sacco to maintain the tradition despite the challenges. The streams have attracted many of White's fans and helped to continue raising funds for TASK.
As much as musicians, venues and music lovers want things to get back to normal, Bob Kull says it will be interesting to see how quickly that happens even once capacity restrictions are lifted.
"There will still be people who will not be comfortable being in a space with people, probably for at least the next year," he guesses. "I think it will be a process. I think the Sanctuary will be able to become active again later in the spring, and I think other places may start a little sooner than that. But the building and the church that resided in it survived the influenza pandemic in 1918, and I understand they never skipped a service during that time," Kull says. "I think if they got through that, we'll be able to get through this OK."
The 1867 Sanctuary has another live stream concert scheduled for this month. Classical guitarist Brad Rau is set to perform on Friday, Jan. 8 at 8 p.m. (Editor's note: this event has been postponed.)
Otey has set up a GoFundMe campaign for the 1867 Sanctuary.