The following article is a paid Community News Advertising Feature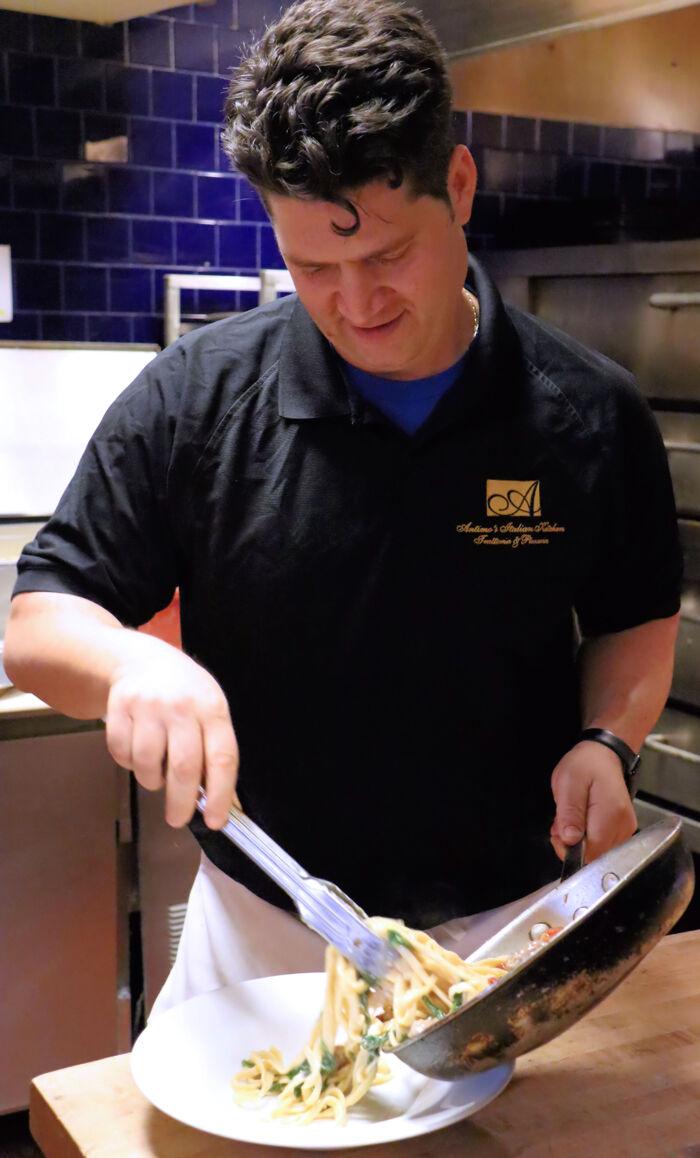 For 20 years, Antimo's Italian Kitchen has offered residents of Hopewell and the surrounding area the finest cuisine of Southern Italy.
Conveniently located in the heart of Hopewell at 52 East Broad Street and famously known for its homemade pasta and dishes made with the freshest ingredients from local farms, Antimo's is the destination of choice for casual, family-friendly setting for family-style foods with indoor and outdoor seating areas. The restaurant seats 80 inside, and another 18 outside during good weather.
Owner Antimo Iovine was meant to be a chef. Born near Naples, Italy, the rich heritage of the flavors and tastes of the region are part of his nature. In fact, his whole family is part of the tradition of hospitality. His wife Daniella and other family members take an active role in providing a hearty welcome to diners. Many dishes are family recipes.
As a young man, he started his career at Rudolfo's in New Brunswick, which had been owned and operated by his father since the 1950s. By 1994, he came to Hopewell to work for his uncles, then the owners of Sansone Brothers. Four years later in 1998, he purchased the restaurant.
Iovine states, "We take pride in buying local. We create dishes using the best fresh ingredients, primarily from numerous local providers such as Terhune's, Brick Farm, Trenton Farmers' Market and Marchese Farm. All our fish is purchased from local vendors so we can be sure our wild-caught Gulf shrimp and wild-caught salmon is as fresh as possible. We also serve Bell and Evans chicken. It is the centrepiece of our popular Chicken Daniella, featuring mixed mushrooms, caramelized onions in a Marsala and cream sauce, served over our own handmade fettuccini. Our wine list includes local Unionville Wines."
While diners can feast on familiar Italian dishes, the stars of the menu are those featuring Antimo's signature homemade pasta. "Our executive pasta chef, Nino Galastro, brings the art of fine pasta making to bear to make specialty dishes such as our signature Lobster Ravioli or Agnolotti in brown sage butter or bolognese sauce."
Antimo's specializes in thin crust pizza in 12" or generous 16" sizes, Brooklyn or Sicilian style pies, and gourmet pies. "Don't forget our Trenton Tomato Pie with fresh plum tomato and our sausage which is made by hand, right in our kitchen," Iovine says smiling.
"Our dining room and outdoor patio are casual and family friendly," says Iovine. "Guests enjoy personalized service from an experienced friendly waitstaff. If a diner wishes to order something special, we'll create it if we have the ingredients."
"For entertaining, our dining room can accommodate private parties. We cater home and office parties too. In fact, we can bring our wood fired pizza oven right to your event. For the holiday season, until January 15th, we offer special menus such as a four course dinner or three course lunch."
Giving back to the community is also a hallmark of Iovine's philosophy. "We recognize the importance of community involvement and charitable giving."
Become part of the Antimo's family and dive into a world of fine Italian dining.