The following article is a paid Community News Advertising Feature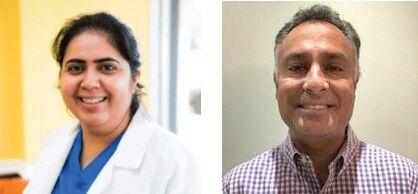 Thinking of a premier dental practice in Mercer County often brings references to the team of Dr. Navleen Kaur Thind, DDS. Dr. Thind is a renowned dental expert in the local community and is trusted by families year on year as a GO-TO provider for all of their dental care needs. Starting from her original practice in Hamilton, NJ – Dr. Thind has expanded her team with the blessing and support of her patients and the community. Today, she offers a complete one-stop-shop for all dentistry related work and the convenience of being able to be seen 7 days a week. Her team of trusted dentists include Dr. Pankaj Puri (Orthodontics), Dr. Steven Reff (Implants and Surgeries), Dr. Gunjan Parmar, Dr. Prachi Shah, Dr. Bhargavi Gogineni, Dr. Jose Gonzalez, Dr. Ruchi Majoo and Dr. Abhishek Desai.
Dr. Thind is a local resident in Mercer County and treats her patients like her own family. She says, "My patients are my strongest support along with my team – and everyone is a large family to me. I am excited to see them at my practice, but many times – I continuously meet them when spending time with my kids in the community, or shopping at the local stores". Her commitment to the community is her primary goal, and she regularly participates in many community events. A big supporter of inculcating the right habits early on – her team meets parents and children at community events. In 2018 thus far, they have distributed over 5000 kids oral care kits to families across the Mercer county.
Managing a practice group that has the right ambition and looks after the best interest of their patients has blessed her team with opportunities to grow organically. Recently, Dr. Navleen Kaur Thind teamed with her colleague, Dr. Pankaj Puri (Orthodontist) to open a brand new, State of the Art, dentist practice in East Windsor, NJ. Applegarth Dental & Orthodontics opened in the Shoprite Shopping Center on Route 130 in East Windsor NJ (www.applegarthdental.com). To dedicate this new facility to the people of East Windsor, Monroe, West Windsor and South Brunswick, many dignitaries attended the Grand Opening and Ribbon Cutting Ceremony on July 18th. Mayor Janice Mironov from East Windsor, Former US Senator Robert Torricelli and NJ Senator Linda Greenstein and many local patrons, friends and family members of Dr. Navleen Kaur Thind, Dr. Pankaj Puri and Dr. Ruchi Majoo celebrated the opening of this new office.
"Building Applegarth Dental & Orthodontics was a dream that started in late 2017, to facilitate easy access to my team for my patients in Monroe, Plainsboro, East and West Windsor. With the right focus, and positive ambition – we knew we would build something beautiful. Construction completed on schedule and we opened almost 6 months later – and the practice looks amazing! It is so satisfying to see my patients enjoy this ultra-modern facility; and their comfort is what drives the smiles on every one of our faces", reflects Dr. Thind on her journey and vision for the practice in East Windsor.
As proud New Jerseyans and colleagues at Applegarth Dental & Orthodontics, Dr Thind and Dr. Puri are both active in the community and volunteer their help to many in need of care – both at the practice and outside. They consistently hear about how a dental visit is an inconvenient, sometimes expensive and often the most ignored health choice by people. Their team believes in long lasting relationships and genuinely seek out to help patients achieve their dream smile. Realizing the barriers to developing trust, and the cost of dental work – they offer participation with most dental insurance networks, and discount coverage offerings. A simple call or visit to Applegarth Dental & Orthodontics can help open the door to great and friendly care.
Their welcoming facility is staged with calming music videos and waterfalls to transform you to a relaxing state – and per Dr. Thind, has successfully transformed many patients who avoided going to a dentist for the fear of the experience and pain. They believe in pain-free and gently dentistry and are open late evenings, plus weekends, to fit your schedule., As a welcome gesture, they are offering a very special offer to new patients where they can receive Exams, X-Rays and Cleaning for only $59. For Orthodontics, Dr. Puri is offering comprehensive Orthodontic treatment to new patients for only $4495 – which is a discount of $1500 for the entire treatment. To experience the difference in quality of the work and customer service, they welcome you to call at 609 300 2033, or visit their website (www.ApplegarthDental.com) to make an appointment.