A Community News advertising feature
In 2005, eight-year-old Alexandra Ruddy stood atop a milk crate in her mother Lisa's new restaurant, Princeton Soup & Sandwich Company, proudly ringing up sales. Now 23, she's back home in Princeton with a degree from the prestigious Culinary Institute of America, two years' experience with a prominent New York catering company, and a passion for bringing her family's popular catering services to a sophisticated new level, offering onsite catering for area events.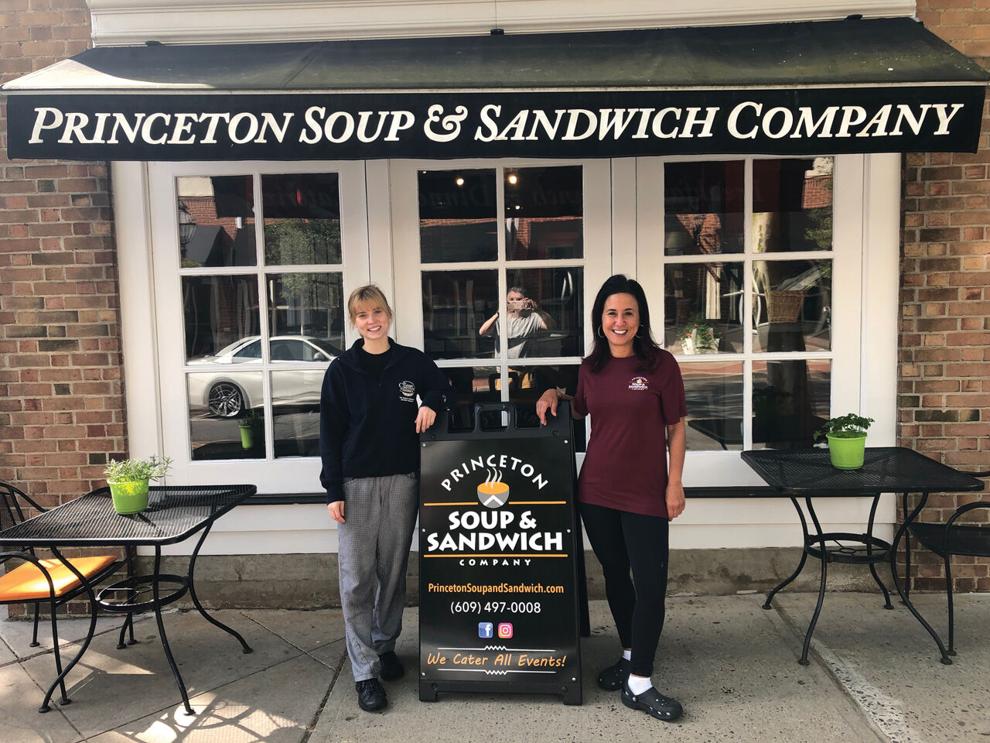 The company's bright red catering truck is a familiar presence at area offices, events, and games, where Princeton Soup & Sandwich provides box lunches for visiting teams. Now Alexandra is experimenting with ways to turn the restaurant's fresh, natural offerings into contemporary cocktail fare, and test runs at private parties have proved highly successful.
Mini versions of the restaurant's sandwiches and salads include Shrimp Po'boys, Chicken on Homemade Waffles, Turkey Burger Sliders, and Hot Dogs, Cheddar Cheese and Sauerkraut Wrapped in Pastry. Garnishes include homemade strawberry jam, cranberry and fig bourbon spreads, mayonnaises, and sauces made in house.
Lobster roll filling appears on edible cracker spoons and a Kale Caesar Salad fills home-baked Parmesan Cheese Cups. Catering menus include the high-quality Boar's Head meat and cheeses found at the restaurant. Alexandra is sampling food from area farms and the family is looking to buy a new kitchen.
The Ruddys had already put their singular stamp on the tiny, 585-square-foot space next to the Nassau Inn, serving 2,000 people per week for breakfast, lunch, and dinner. Lisa Ruddy refers to her "A-plus customer base of regulars, tourists, downtown workers, and shoppers."
A diverse, discriminating group, they are drawn to the freshly made, soups, salads, and sandwiches that include classics like Turkey Club and Italian Wedding Soup and newer innovations such as Baked Goat Cheese Salad, Deluxe Grill Cheese with Havarti, Italian Mama with Prosciutto, and the restaurant's famous World's Best Lobster Bisque.
The Ruddys remain true to their core business — delicious soups, like everything else in the restaurant, made from scratch. With a repertoire of 30-plus soups, clients can choose from 10 different offerings each day including several vegan and gluten-free choices. Guests can grab and go, eat inside or enjoy outdoor dining. They also offer delivery and curbside pickup.
Lisa is vegetarian, and like her customers, wants to know what's in her food. "People are much better educated about food, now," she notes. "They ask questions and demand complete transparency. Because we work so closely together, all our team knows exactly what goes into each dish."
The team has watched customer tastes evolve and concerns about allergens, hormones, sustainability, and "clean" eating grow. "Vegetarians have become vegans and an incredible number of customers are gluten-free," says Lisa Ruddy. "They are committed to this way of eating and we are here to back that commitment with fresh, natural food, prepared daily."
Princeton Soup & Sandwich Company, 30 Palmer Square East. 609-497-0008.