Kids in Lawrence Township elementary schools have been seeing a new friendly face in the halls lately.
George A. Henderson Jr., the school district's newest Class III special law enforcement officer, has been making his rounds at Lawrence's four elementary schools to get to know the population he will be serving in his latest position.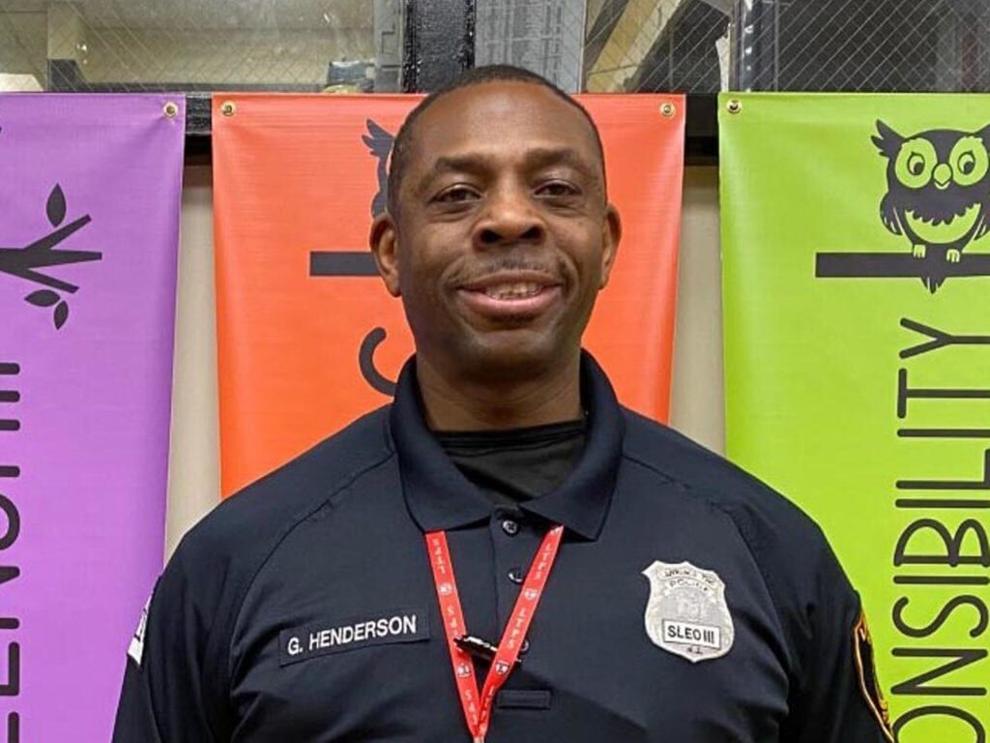 This weekly rotation has allowed the children, grades kindergarten to third, to watch the new officer patrol their school grounds, from the cafeteria to recess, from when they are dropped off and picked up by their parents.
"One important thing when you're doing this Class III program is to pick the right officer for the position," said Lawrence Township Police Chief Brian Caloiaro. "You have to be someone who's a people person, you have to be somebody who works well with kids."
Henderson certainly fits the bill. His years of experience in law enforcement and work with children make him an excellent choice.
The constant visual presence Henderson will offer to his assigned schools has been well received by the school administration, police department and families. Henderson said the parents and staff have been very welcoming.
"The safety of our children is our greatest responsibility and we are dedicated to our students' well-being," said Superintendent Ross Kasun. "We are pleased George has joined our school resource office and other Class III officers as part of our intensified focus on safety and security for the benefit of our students and staff."
The state created the category of Class III law enforcement officer in 2018 as a way to bolster security in schools. They are armed, retired law enforcement officers who previously served as fully trained, full-time officers in the state.
Class III officers do not teach, discipline children or investigate. Their major focus is to be a visible presence in the school and help to keep students and staff safe from outside intruders.
Henderson is the first Class III officer who will be primarily dedicated to the township's elementary schools.
Caloiaro, who is responsible for reviewing applications for Class III officer candidates, described the hiring process as similar to the one they go through when hiring full-time regular police officers. Background checks, drug tests, physical and psychological exams, along with an interview process and training is meant to weed out the mediocre potential hires.
"We're entrusting them to be with our kids in our schools and we want to make sure we have the best person that we can," he said.
Henderson not only brings years of police experience to his position, but a background in military service, retiring as a staff sergeant from the New Jersey Army National Guard, and serving the youth of his community. The Ewing resident of about 27 years is a retired Mercer County sheriff's officer. He retired from the sheriff's office in 2018 after 21 years of service and applied to the Class III officer program around the end of September 2019.
Henderson said that once he became aware of the position, he decided to pursue the job because of his love of service, especially with the youth population.
Aside from his 23 years in the military, 13 of which in the Navy (four years active duty and nine reserve) and 10 years in the New Jersey National Guard, Henderson dedicated four years as a youth worker and counselor for the New Jersey Department of Juvenile Justice Commission.
Asked why he chose a life-long career in serving his community, Henderson simply responded that he wanted to give back and help the community
"It's always good to be able to help," he said. "That was one of my initial reasons. From helping in the military and helping with the kids when my son was in Little League, it's always a pleasure to help."
While at the JJC, Henderson worked with groups of 8 to 10 kids between the ages of 14 to 17. The younger age group he is now responsible for is one he described as still developing and therefore more open to his help and presence than the older children he previously worked with.
"I think it's very important, since I've been working with the youth in the schools for over a month now, that they get more comfortable coming to an officer, letting them know if they need help," Henderson said.
Creating a more approachable environment for children to learn about police officers is just one benefit of the program.
Henderson is married, with a son, daughter and granddaughter who is in fifth grade in Ewing. He hopes the Class III officer program will spread to other towns in the state, knowing that his granddaughter is in a town that does not currently employ the special officers.
Sergeant Michael Whitmore of the LTPD Investigative Division, which oversees the Class III officers and the school resource officer, sees this new position as part of a team-based approach to protecting the children of the community.
"They're kind of the eyes and the ears for us," Whitmore said. "They're on radio, so anything that happens, they're there, they can direct more units into the school, they can give us updates. It's really a game changer for me as a supervisor to have immediate access to know what's going on in any of the schools."
The Class III officer's uniform is very similar to a typical patrol officer. They wear a dark navy pant with a yellow stripe down the side and a police patch. They do have a secondary patch on their right arm, which identifies them as a special officer and a nontraditional, nonsequential badge number.
Caloiaro confirmed that the department is currently looking to hire a second Class III officer for the elementary schools, which Henderson said he welcomes as an extra set of eyes and more assistance for multiple schools at a time.
The department hasn't received any applications yet, but Caloiaro explained that this is due to their policy that applicants must have 30 days of separation from law enforcement or municipal government to be considered for the position. He assumes that a number applications from recently retired officer will start coming in around the beginning of February from officers who retired at the end of last year..
Henderson joins Rick Doldy, Class III officer at Lawrence Middle School and Mike Cseremsak, Class III officer at Lawrence Intermediate School as part of the township's team of officers in the schools.
Suzanne Girard, who is the SRO at Lawrence High School, is a full-time officer on the township's force. Both Girard and Doldy started at their respective schools in September 2018, and Cseremsak started in January 2019, replacing Charles Nemes, who left to pursue another opportunity.
Girard has been with the department for almost 20 years and worked as a deputy court administrator for the Lawrence Municipal Court for five years prior. Several years ago she served as an SRO at Lawrence Intermediate School and Lawrence Middle School. She is married to a Lawrence High School graduate, and they have three children.
Doldy grew up in Lawrence and is an LHS graduate. After first starting in electrical engineering, Doldy changed careers, became a Lawrence police officer and earned a bachelor's degree in homeland security and national preparedness. He retired as a sergeant from the force in 2014. Doldy has high school and middle school-aged children.
Cseremsak retired as a sergeant from the Hopewell Township Police Department in 2017 after 30 years of service. He then became a public safety officer at the Institute for Advanced Study in Princeton. Cseremsak grew up in Trenton and earned an associate's degree in criminal justice from Mercer County Community College, a bachelor's in liberal studies from Thomas Edison State College, and a master's from Seton Hall in Human Resources Training and Development.
While there has been opposition to the concept of having armed officers stationed in the schools in some districts in New Jersey, that hasn't been the case in Lawrence.
"I think the parents like it, the school obviously likes it, we as a department love it," Whitmore said. "The more the better the way I look at it. We can't be everywhere all the time but to have an officer who's trained and has lots of experience…So when something's going down or we need help they know exactly what to do, what to say, and it's a huge help to bridge that gap."