A Community News advertising feature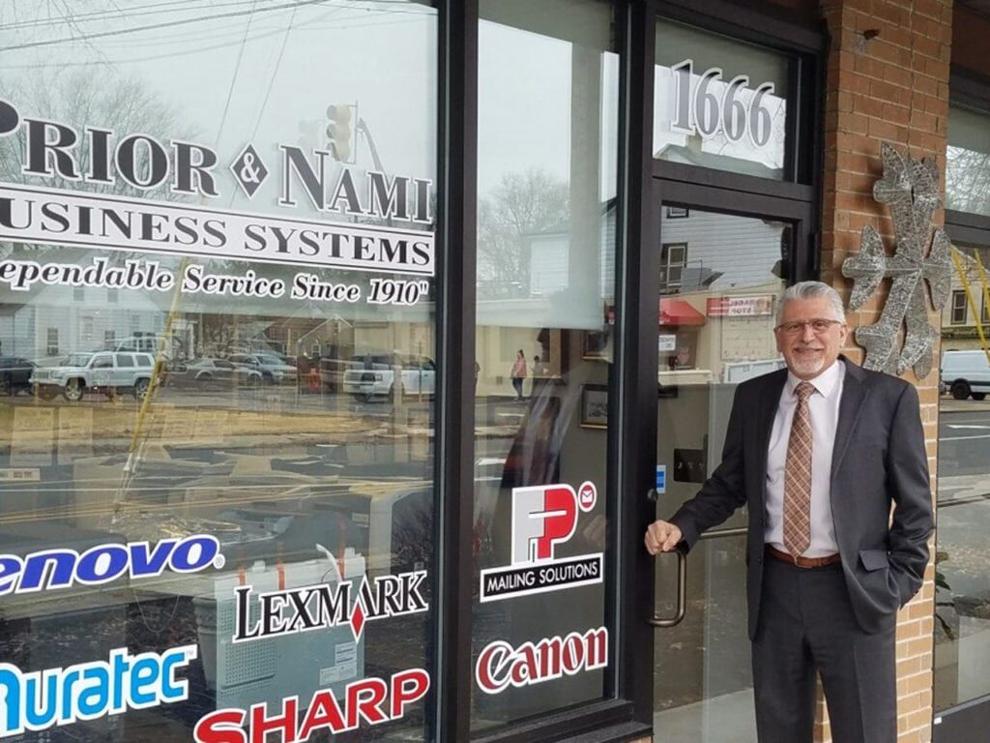 2020 is already shaping up to be a banner year for Hamilton-based Prior & Nami Business Systems. The company is not only celebrating its 110th anniversary, it is also the 25th year of Tony Nami taking over as owner, and the 23rd year of Prior & Nami moving to Hamilton Township from Ewing.
The company, located on Hamilton Avenue since 1997, has, of course gone way beyond the typewriters they were selling at the turn-of-the-century. In the current digital age, the company is an authorized partner for some of the top tech companies in business systems, including a business partnership with Lenovo. "Updating to Windows 10 has been keeping us busy this year for both our residential and commercial clients" says Tony.
Prior & Nami is a respected IT provider in the community, and with the help of their top-shelf IT manager, Chuck Dempsey they offer managed services that includes remote monitoring, cloud backup and virus protection. Prior & Nami also offers a wide range of other products and brands (including HSM, FP, Lexmark, Canon, Sharp and Konica Minolta), laser jet and wide-format printers, networks, copiers, shredders, along with inter-active Digital display screens and the telepresence Robot.
Tony notes: "Our strength is business to business, for small to medium-sized businesses, but we do have a showroom and the local residents sometimes bring in computers for repairs and upgrades, which we are happy to do." Furthermore, Prior & Nami's proximity to the state capitol means that the company provides an array of services to government offices as well.
It's also important that Prior & Nami gives back to the community whenever they can: whiteboards and standup desks donated to the Hamilton Township School District; "Tech Night" demonstrations for Crockett Middle School; and supporting local nonprofits, charity events, and more. "Sometimes it's nothing big, but we do as much as we can, reaching out to help lots of community endeavors," says Tony.
"I recognize that our success is due to this community," he continues. "Which is why I make an effort to hire employees that live locally and utilize the local businesses, like getting our cars fixed in Hamilton, whatever we can do in that regard."
But there's more: Hamilton's Prior & Nami Business Systems is not only the area's gold standard for printers, computers and other business equipment, it is a company rich in Trenton area history.
Back in 1910, Tom and his brother Walter Prior founded the Prior Typewriter Company on State Street in Trenton. As the company flourished, it was recognized as the oldest and one of most successful Royal Typewriter dealers in the nation. In 1914 the company's quota was to sell 4 typewriters a month and by 1957 they were selling over 100 typewriters per month in the Mercer County Region.
1980: Enter Tony Nami. Starting out as an employee at the company, Tony learned the business from the inside-out, eventually becoming a partner in 1990. In 1995, when the Prior brothers retired, Tony bought the business and made it his own, moving the business to his hometown of Hamilton two years later. "It's a win-win for us," says Tony. "As a lifetime Hamilton resident, I love being here."
Prior & Nami Business Systems is located at 1666 Hamilton Ave. in Hamilton. Phone: (609) 584-5252.