The following article is a paid Community News Advertising Feature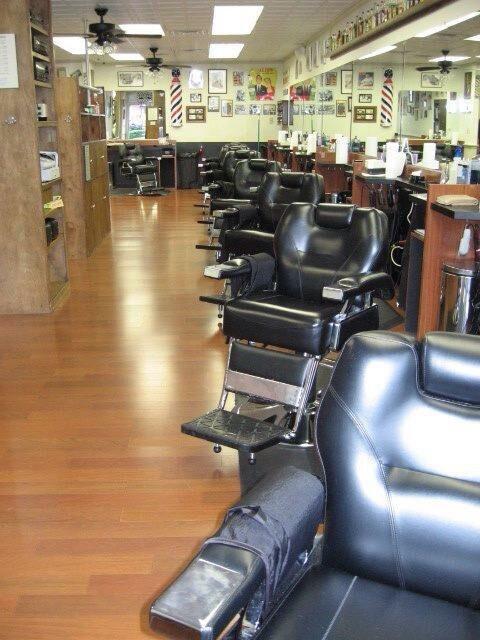 An American icon, the traditional barbershop is a community center, discussion forum, family ritual, and a male enclave of comfort and conviviality. It's also a place to get a great haircut and a close shave. Despite the growth of unisex haircut chains and salons, American men are returning to their fathers' barbershop for customized service, convenient hours and expert cuts and beard trims that are anything but old fashioned.
That storied past is present with a very modern vibe at The Barbershop at Hamilton. Opened in 1983 by Master Barbers Marc Storaci and Chris Jones, the bright, clean and spacious barbershop is a tribute to the profession's history, with antiques and memorabilia going back to the 1850s. With 60 years of professional barbering experience between them, Marc and Chris launched TBS Barbershops, opening barbershops across Central New Jersey. They personally trained a new generation of barbers who ply their trade at The Capital Barbershop in Ewing and the TBS flagship in Hamilton.
Services span the time-honored straight razor shave and haircuts both traditional and on trend. "Today's hairstyles for men are as diverse as our customer base," says Marc, noting that many of the most popular new styles – Fades, Pompadours, Quiffs, French Crops and Mohawks – demand a stylist's eye. "Because we know our clients so well, we can recommend a style that works with their hair, scalp and facial shape," he explains. With the growing popularity of beards, it's also important to recommend a style that complements the haircut. "A shorter beard works best with fuller hair," Marc notes, while a full beard can be balanced with a wavy cut.
Convenient, flexible hours are key in meeting the needs of a clientele that includes kids, students, police officers, businessmen, professionals and retirees. Consequently, the barbershop is open seven days a week. "Our clients are upscale and discriminating," Marc says. "They demand a level of quality, consistency and service that can't always be found at a walk-in unisex salon or haircutting chain."
The shop is all about relationships and community. Marc notes that many of his clients have been coming here since they were children. "Dads bring their own sons, and we make that first haircut a great experience for parents and kids." One regular client, who got his first clip from Marc as a toddler, invited him to his wedding!
A key part of community is supporting local charities. The Barber Shop contributes gift certificates for fundraisers and supports such causes as The Wounded Warrior Project.
Historically, barbershops served as social hubs and today, The Barber Shop at Hamilton continues that tradition. "We strive to be pillars of the community," Marc Storaci says. "That's our heritage and mission."
Located at 1959 Route 33 in Hamilton. Phone: (609) 586-6029. Web: tbsbarbershops.com.