Business was booming at the Farm Cooking School as 2019 turned to 2020.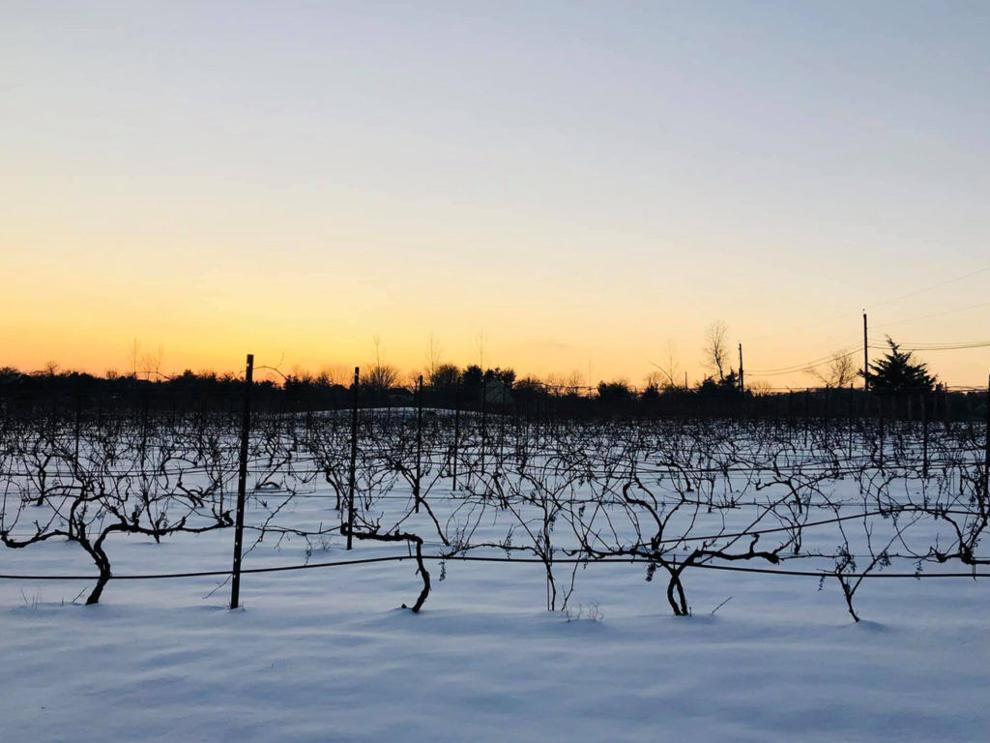 Ian Knauer and Shelley Wiseman, the business partners and chefs behind the small Titusville business, were selling out most of the available slots in their cooking classes, six or seven times a week. They were the hosting several multicourse farm-to-table dinners a week, and selling those out as well.
After years spent working in kitchens and in food media, Knauer and Wiseman have spent the past six years developing a following for their business. "We had had enough time to get established," Knauer says. "It was a thing people were really into and enjoying, which was a super satisfying thing to see."
Hopewell Valley Vineyards is another small business success story. Owners Sergio and Violetta Neri have built up their small winery into a multifaceted enterprise where people go to taste locally made wines, eat wood-fired pizzas, celebrate milestones and even get married.
But when the coronavirus pandemic erupted in March, these businesses and hundreds more throughout the area were forced to close. The impact on the bottom line was immediate — and startling. Sergio Neri says in March and April, the vineyard did 10% of the business it would normally do.
The vineyard started offered curbside pickup for their wines, and packaged the food they usually served with wine to go as well. "It didn't compare to before in terms of sales, but between that and some help from the government, we at least were able to keep the core people of our business employed," Neri says. "We are a small business, not a big corporation. We don't just lay off a million people and move on. We care for our people. We told them we'd do what we can to keep them to employed until better times."
Unable to welcome students to their rustic classroom at Gravity Hill Farm in Titusville, Knauer and Wiseman had to figure out new ways to bring in revenue. Knauer says they were among the first local businesses to offer meals-to-go.
"Right out of the gate, that was super successful, because other restaurants were shut down," he says. "But then other places started to open, that dwindled off to the point that it wasn't worth doing anymore, and we had to pivot the business again."
As 2020 turns to 2021, Knauer and Neri still find themselves waiting for better times to arrive.
"Like so many other businesses, especially in the food industry, we've had to do whatever we can just to keep the lights on," Knauer says. "But small business owners are resilient, and it really helps to be resilient at times like these."
* * *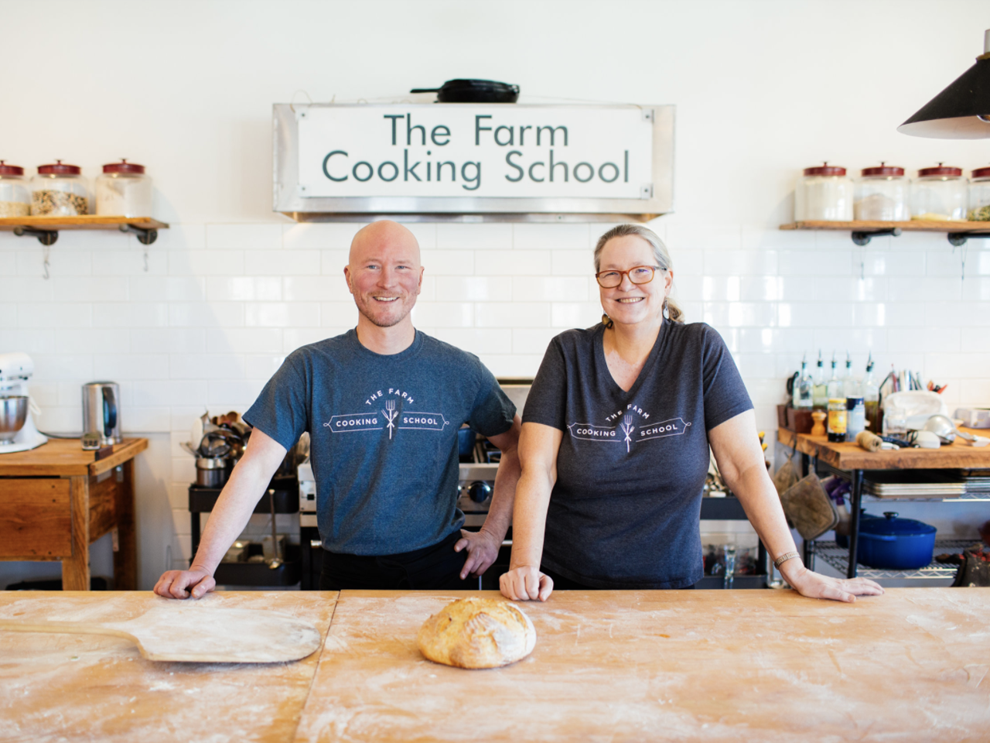 For Knauer and Wiseman, the second pivot was to start offering their classes online. As with the food-to-go, the program was initially successful.
"A lot of the people who had been signing up to do in-person courses were happy to do a class on Zoom," Knauer says. "We had some success with that for another month and a half. Then people started to get Zoom fatigue, understandably, and that also started to be less popular."
In summer, when Covid-19 finally hit its little lull and businesses were able to welcome customers again, the Farm Cooking School got back to its core purpose. They reopened the school, observing social distancing guidelines of course, and once again there was an increase in business.
"That was very successful for two months because everyone had cabin fever," Knauer says. "Through August, September, October, it was warm enough to where we could still eat meals outside, and a lot of the cooking could be done outside as well. With everything, we were being as safe as we could," Knauer says.
Summer also offered a welcome respite for Hopewell Valley Vineyards. Neri says business was actually pretty good during the warm months. The vineyard offers wide open spaces with plenty of room for social distancing. The vineyard hosted live music outside all the way into November, and Neri says they served hundreds of customers on their best days.
Then the weather got cold again.
Neri says sales figures in December were back down to March-April type numbers. In a typical December, Hopewell Valley Vineyards hosts a number of private events in its spacious interior rooms. This December, there was not a single one.
"Right now, people prefer to delay their events," he says. "We have to hope that all the events that are not being done now, people will want to do in the summer, so we hope to recoup in the summer what we lose now."
The winery remains open to the public, and has even been hosting live music, but Neri says both guests and musicians have been cautious about eating indoors.
"We've been making food to go and we have wine to go of course, so that's how we're trying to cope," he says. "But these next couple of months are going to be very very rough until the spring comes and Covid is somehow under control."
At the Farm Cooking School, they are still hosting classes, both online and at the farm. Knauer and Wiseman teach many of the classes, but have also been incorporating other experts in various cuisines to present some classes, as a means of broadening their appeal. Recent classes have covered the cuisine of Malaysia, the cuisine of Sicily, and even the cuisine of Maine.
And they are still hosting dinners, although capacity is limited now to eight guests. Knauer and Wiseman make all the dishes with the help of one assistant. Knauer says in a way, he enjoys these dinners more than ever.
"Now that we're cooking for eight people, we can really hit the gas pedal when it comes to creativity and details of each dish," Knauer says. "And the people who are dining really appreciate that too. It's not great for the business. But it's great for the dinner."
He and Wiseman have continued to adapt and try out new things. One new initiative that they are offering is real-time, one-to-one cooking instruction. Knauer says it was Wiseman's idea to offer to coach students via Zoom as they try to make a recipe of their own choosing, or one that Wiseman or Knauer recommends.
Despite all the challenges, these small business owners have not forgotten the communities they serve. Knauer is set to do a virtual cooking class fundraiser in January to benefit CASA, the nonprofit agency that works in the courts on behalf of children who have been removed from their homes because of abuse or neglect. (Date TBD: go to the CASA website for more details or to sign up.)
And the Neris remain committed to PALS, or Pennington Adult Living Services — the nonprofit organization they started that provides services to people with learning disabilities — as well as PALS on Main, the shop that sells things made by PALS clients, which has also endured difficult times during the pandemic.
Even though business like these have survived, that survival has come at considerable cost.
Neri says he's reaching a point where he has to use personal funds to finance operations at the winery, and has had to lay off a lot of staff. Meanwhile the Farm Cooking School is down to just Knauer and Wiseman, until and unless things turn back around.
"The long-term thing that scares me for places like us, or small restaurants, is that larger corporations and online retailers have all been doing great (during the pandemic), to the expense of the local businesses," Neri says. "It's sad that smaller businesses have been hit so much harder than the bigger ones."
Knauer speaks in similar terms.
"The economic future of this is pretty scary," he says. "And I think it will continue to be for a while. It's really unfortunate. I love the people that I used to work with, and I miss them terribly. We're still in touch, but we're not making enough to pay anybody. And that's the reality for many small businesses."