A Trenton Central High School student who works with his father in a construction business took the architecture preparation course (ArcPrep) at Trenton Central High School. Connecting classwork to what he sees in the field, the student hopes to forge a career combining his knowledge of design and construction.
Another Trenton student found her way to ArcPrep because of her talent in drawing, but she gained additional skills. She now works over longer periods of time, has improved her presentations, and has created an impressive portfolio for the future.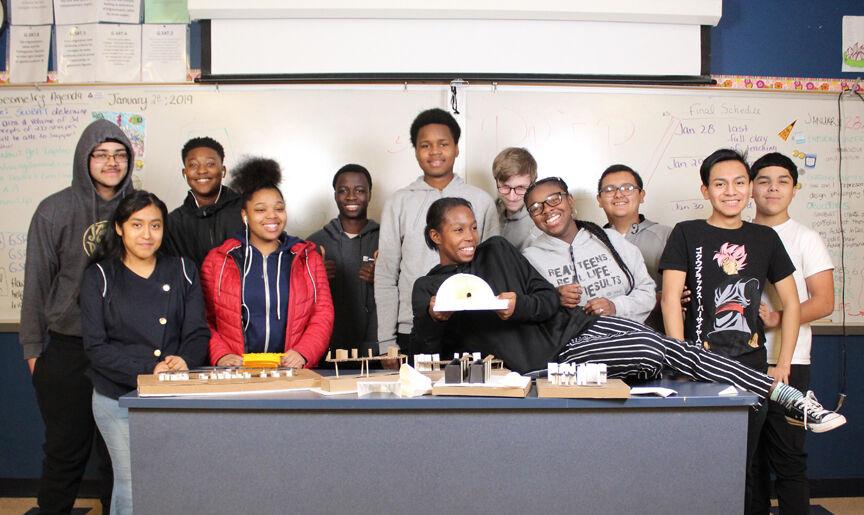 The class, which was new in September, offers a design studio atmosphere to some 15 sophomores each semester in the temporary high school community on East Hanover Street. To take the class students are recommended by their ninth-grade teachers based on academic standing and interest, and those interested in pursuing an architecture career will stay in touch with their Princeton University Department of Architecture mentors. The immersive course is taught four days a week, three hours a day. On the fifth weekday students hear from guest speakers, tour architecture offices, and participate in career and college counseling programs.
During one class in April students sketched three different sound booth design schemes, each with two elevations. They were educated on basic principles such as acoustics, decibel level, noise reduction coefficient (how well a material absorbs sound), reflection and dispersion, and aspects such as where to place an entrance and exit. Program instructor Katie Zaeh, a Princeton architectural design fellow, drew out their creativity by asking, "Do you think this should be on different levels?" and "Where is your sound coming from? Do you think you would want a window?"
"A lot of the course is how to think spatially," Zaeh explains. Each student has a sketchbook, and each class begins with 10 minutes of sketching. The projects also provide lessons in time management, practice with rulers and scale, and measurement.
"An architectural education prepares students for more than a future in architecture," she says. "It teaches students to think spatially, think critically, and present their work, which are helpful skills no matter what fields students pursue. Architecture is naturally cross-curricular and requires students to apply the knowledge they learn in their math, science, and liberal arts classes."
Developed and managed by the Princeton University School of Architecture and funded by the Trenton Public Education Foundation and other donors, the goal of the class is to introduce the field of architecture to students who are underrepresented in the architecture field. According to the American Institute of Architects (AIA), of all registered architects in the U.S., less than 2 percent are African American and only 3 percent are Latino.
Princeton Architecture Dean Monica Ponce de Leon said that the program "is introducing some of our region's most promising students to architecture, a field that has historically lacked diversity." De Leon had launched a similar successful program in Detroit while she was a dean at the University of Michigan.
ArcPrep addresses concerns brought to light in a 2016 AIA study, Diversity in the Profession of Architecture.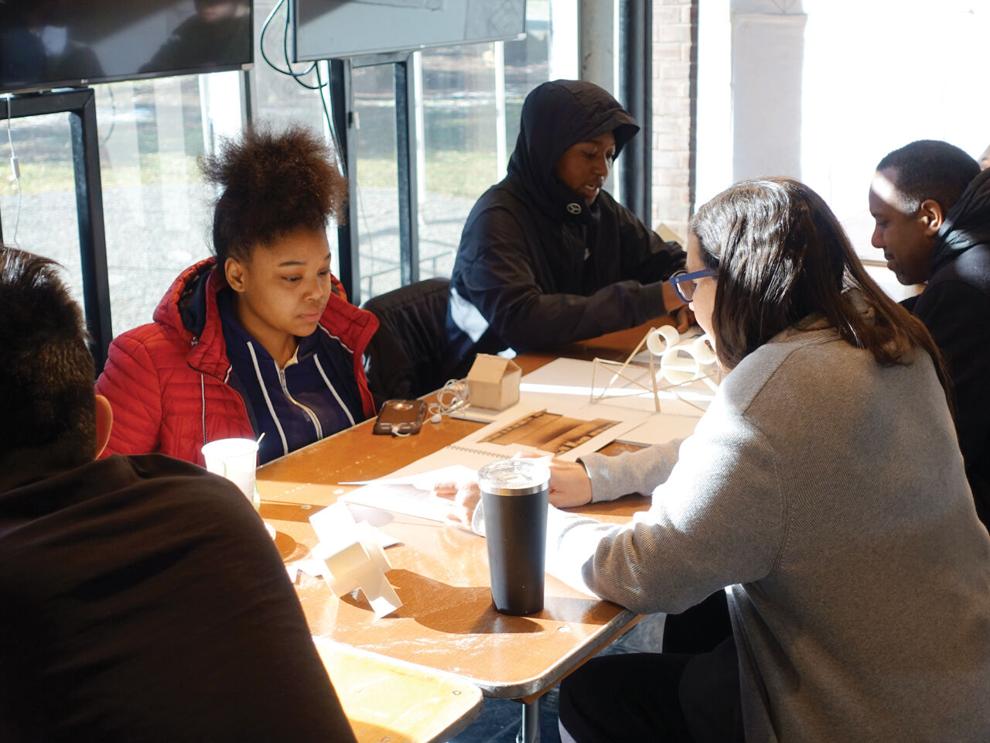 One concern is that inner-city residents may think they cannot afford the costs associated with a degree in architecture. ArcPrep provides architectural training at no cost to students, Zaeh says. "We coach students to apply to colleges wisely and look for those that provide grants and other forms of financial aid that will make it possible for them to afford architecture school. We also help in the college application process through the creation of a design portfolio, which students can use to show they are competitive applicants for architecture school."
ArcPrep also addresses the study's conclusion that there are few role models for people of color in architecture. "We bring in architects, planners, and other professionals of color to act as role models for our students," Zaeh says. "Many of these professionals come from the city of Trenton itself, which helps keep our curriculum locally relevant. We also strive to incorporate the significant contributions of architects of color to architecture when studying precedent buildings in our studio module.
"We want students to see themselves having a future in architecture without having to leave behind their cultural identities or change who they are. The field of architecture needs their unique perspectives."
Field trips and speakers included a tour of the Princeton University campus; a visit and walking tour by Studio Hillier; a Sharbell Development Corp. apartment tour; participation in the Cooper Hewitt Design Fair, where they could speak with college representatives from design programs and meet professionals; and a discussion with representatives at the Social Profit Center at Mill One on the role of non-profits in developing Trenton and its potential for growth. Students took walking tours focused on the history of Trenton through the lens of urban development, and architect John Hatch of Clarke Caton Hintz walked students through local architecture, including the Roebling Lofts project. Lionel Scirven, a Trenton Central graduate, laid out his journey from living on Academy Street to practicing as an architect.
During an earlier class, Zaeh introduced students to the book Invisible Cities by Italo Calvino, which describes cities imagined by explorer Marco Polo. Within the book 55 fictitious differently focused cities are described around different themes. Students designed collages of a selected city, representing it in a visual way. In the book, Polo acknowledges that all the cities reflect his hometown.
"Can you see Trenton?" Zaeh asks the students. "Part of being a good architect is being a good observer. So, yes, I do also hope that students become more aware of the potential of the city around them."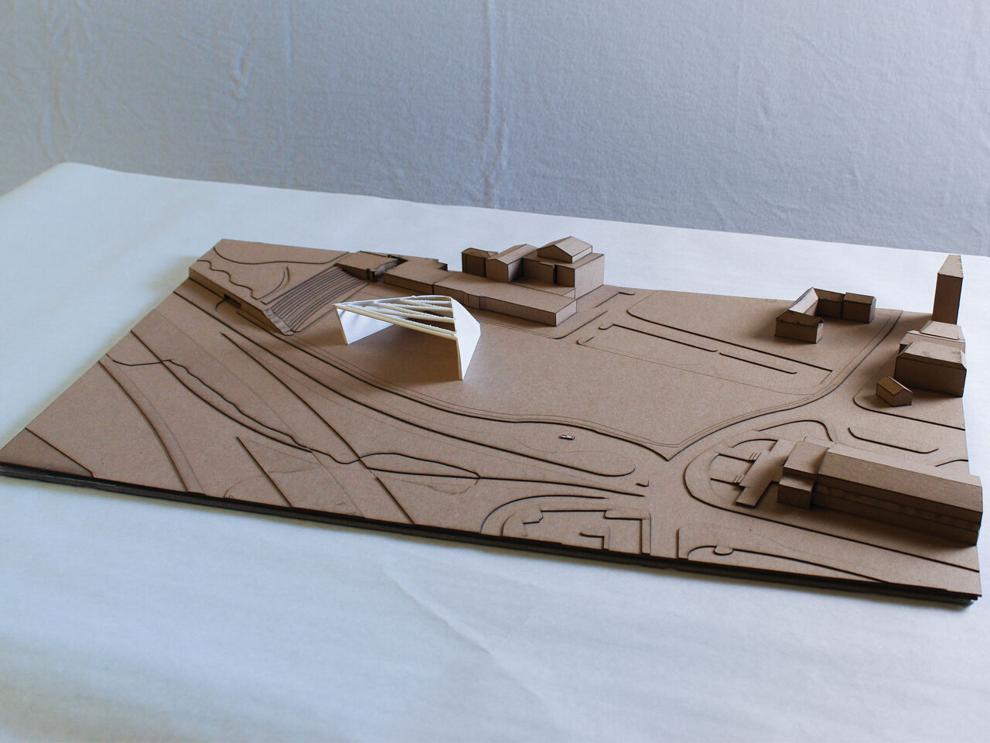 Designing a structure specifically for Trenton is the final class project: a bandshell sited at the field across from the War Memorial near the Capitol complex. This project, says Zaeh, "allows students to apply what they have been learning about sound all semester to a real place we can walk to from our classroom. During one of our field trips we found out from a local architect that plans for the city actually do call for an outdoor performance space in that area. Students were excited to work on an authentic problem and immediately began to wonder if their work would be considered by the eventual designers of that outdoor performance space."
The assignment is for a multi-use design so the bandshells have a life outside of concerts and events. "There were lots of great ideas," Zaeh says of last semester's final projects. One student proposed colorful gazebo-like kiosks overlooking the stage where patrons could watch concerts in comfort and office workers could eat lunch in the afternoon. Another designed a bandshell that incorporated two basketball courts where tournaments could be played, and yet another student designed a bandshell that also served as a skate park and was intended to be covered in graffiti by local artists. There was a band shell inspired by a milk carton that was intended to host a "Trenton's Got Talent" show. A student who loves cars designed a drive-in theater that incorporated the connection to Route 29. And yet another bandshell looked like a comic character's helmet and would host a comic-con, with an area under the stadium housing a comic book store.
The portfolio presentations will be in mid-June at the Princeton School of Architecture.
"Last semester's portfolio day was heart-warming for me as an educator," says Zaeh. "The students shone as they confidently presented their work to graduate-level architecture students, professors, and community members. These were the same students who refused to stand in front of the room to present to our small class of peers back in September. The students got great feedback on their work, and I think it helped them see the value of their designs."
ArcPrep seeks speakers who are involved in the architecture, construction, and design fields, such as architects, engineers, environmentalists, urban planners, landscape architects, developers, interior designers, graphic designers, community activists, politicians, artists, contractors and more. Anyone interested should email arcprep@princeton.edu.