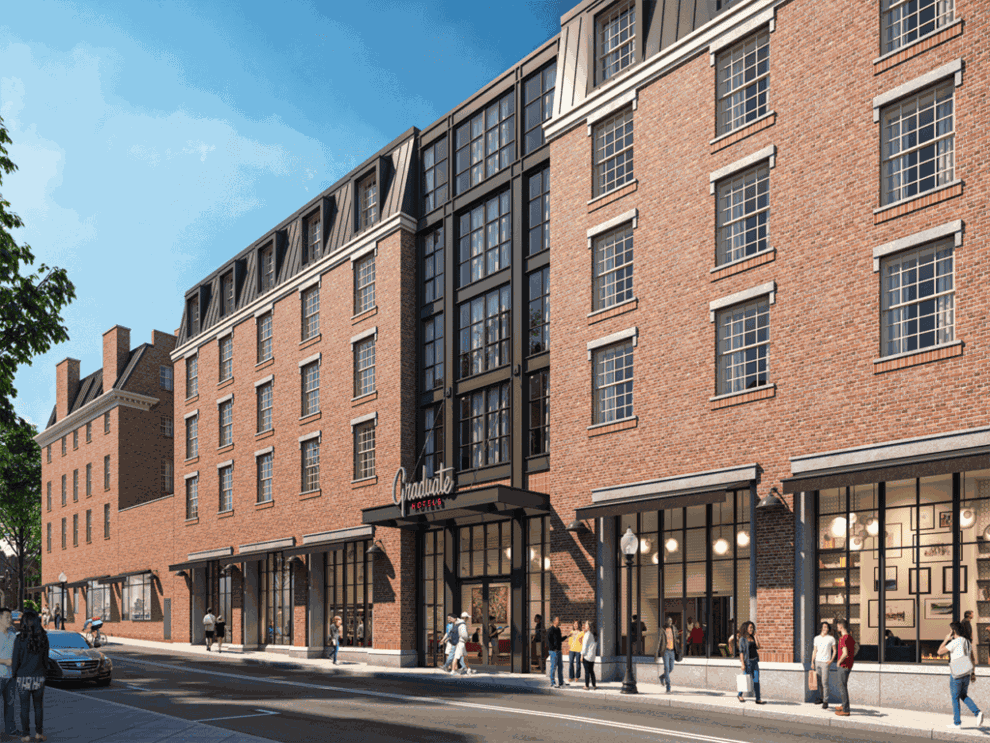 The Princeton Zoning Board has now heard upwards of nine hours of presentations and testimony on the proposed Graduate Hotel at the corner of Nassau and Chambers streets, and they're not done yet.
The hearing will continue at a special meeting on Monday, February 8, at 7:30 p.m. Discussion so far has shown a clear dichotomy: One the one side are downtown business owners, who are largely enthusiastic about the hotel's potential to attract new visitors. On the other are residents of nearby Bank Street, who are concerned about traffic issues, construction noise, loss of sunlight, and other quality of life issues.
Speaking at the January 6 Zoning Board meeting, David Newton, a long-time Princeton real estate developer who owns the building adjacent to the proposed hotel at 16 Chambers Street, framed the hotel as a tremendous opportunity for downtown Princeton, especially at a time when businesses everywhere are suffering.
"Graduate has come in, bought this building, and created in my view an enormous air of excitement," he said. "As the owner of the adjacent building I can't do anything but give this project an enormous thumbs up, and the desire for this board to approve as quickly as possible because this town needs the excitement of the extra activity that's going on here."
Lori Rabon, representing Palmer Square Management and the Nassau Inn, also expressed enthusiasm. "I just wanted to take a moment this evening to say how excited we are to have the Graduate Hotels be coming to town," she said at the January 6 meeting.
"I welcome the competition," she continued. "I think that we've got a great opportunity with the expansion of hotel availability."
Other business owners added their support for the project, including Lauren Ariev Gellman, owner of Milk & Cookies at 20 Nassau Street, who at the January 20 meeting called the hotel "terrific for the town."
But Bank Street residents are concerned that their small but historic neighborhood is being literally overshadowed.
Speaking at the January 6 meeting, resident Harriet Flower summarized the concern shared by many of her neighbors about the building proposed to replace the existing two-story structure at 2-4 Chambers Street.
"This new building is simply too large for this space and in no way approximates the structure it is replacing. The large entrance hall translates into more than five stories for the building overall. No other building this large abuts a residential district that borders on the central business district. There is good reason why existing zoning laws simply would not permit such a structure," she said.
"They planned this hotel without any regard for the unique historical designation of Bank Street itself."
Zoning updates
The Zoning Board was scheduled to hear four applications at its January 27 meeting, after the Echo went to press.
358 Cherry Valley Road. Walter R. and Siobhan C. Johnson, owners and applicants, seek a C1 variance to permit construction of a new single-family home in exception to the required lot area as well as variances for two existing accessory sheds in exception to the required rear yard setback.
35 Shady Brook Lane. Brent and Cara Weiss, owners and applicants, seek C1 and C2 variances to permit the installation of a shed within the required side yard setback.
56 Leigh Avenue. Sarah E. Torian and William B. Whitley, owners and applicants, seek C1 and C2 variances to permit the construction of a second-story addition on a non-conforming lot.
9 Sergeant Street. Marco Sacchi and Sondra Scott, owners, and Marco Sacchi, applicant, seek a C1 variance to construct a second floor addition and dormers in exception to the required smaller side and rear yard setbacks.