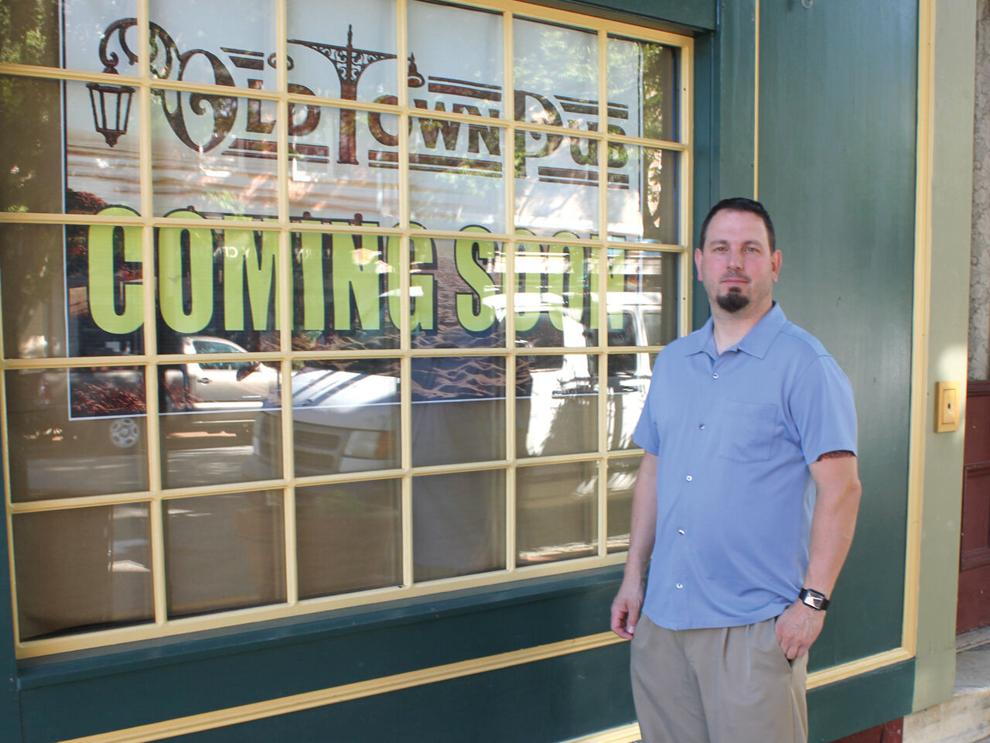 As Mike Scharibone readies to open his Old Town Pub in Bordentown, he is quick to point out that it will not be another version of JoJo's Tavern in Mercerville, where Scharibone spent the past 22 years tending and running the bar.
There will be one similarity, however: The Bell.
Anyone who has ever watched a sporting event at JoJo's knows exactly what The Bell is. When Scharibone is behind the bar, it gets rung loudly whenever the Flyers score a goal, the Eagles get a touchdown or the Phillies hit a home run. It gets rung just as loudly when the Cowboys fumble or the Giants throw an interception and it causes good natured barbs around the bar.
"Don't worry about that," Scharibone said. "We're gonna get a new bell."
And why not? The bell symbolizes fun and camaraderie. It signifies all that is right with a neighborhood establishment. And Scharibone is making sure everything is right before he opens Old Town Pub—the former Farnsworth House—sometime in October.
After purchasing the building in June, Scharibone hoped to open in September before some issues arose. He refused to take shortcuts just to meet that deadline.
"I'm not putting a definite date on things right now," he said. "I'm not going to open until we're ready, I'm not going to rush it. We want to come in and be 100 percent strong. We want to be right. I don't want to make a mistake. We want to give quality and perfect service right off the bat. I don't want to be seen as not being ready."
When he is ready, Scharibone wants Old Town Pub to be a place for everyone. He is putting no label on his establishment, saying it will not specifically be a sports bar, a family restaurant or a fine dining establishment. He wants to cater to men and women; families and sports fans; 20-somethings and 70-somethings. Like so many other new bar owners, he hopes it has the coziness of Cheers, except with lunch and dinner.
'Even though it's a 100-year old building you're gonna feel a nice, positive energy about how new and livelier it looks.'
And the 40-year-old Scharibone could just pull it off, as he has spent his entire professional life working at place exactly like that.
With his last day at JoJo's coming soon, Scharibone reflected upon what it was like to work there. He started tending bar at age 18 and has managed it for over a decade after he and brother Joe—who runs the kitchen and overall operation—took over from their dad, Carmen (who took over from his dad, JoJo).
"I'll just remember the overall clientele, what I learned there," Scharibone said. "There were a lot of good times at JoJo's, I gotta say. I guess the way to describe it now is I feel like I did when Cheers ended. Even though the bar never closed, we didn't have it anymore after the last show.
"Football Sundays were always a great time. You got to watch the games, hear people cheering, hear them arguing but having a good time. It's always fun. In 22 years of doing that I've seen a lot of good things and learned a lot at JoJo's."
One event that stuck out the most is when regular customer "Major Joe" got a promotion in the marine corps. He was stationed in Ewing and wanted to have his ceremony at JoJo's.
"He was promoted in the bar," Scharibone said. "That was one of the greatest things you don't see every day. All these guys in their officer uniforms. It was a pretty cool site to see. That's something that I'll always remember."
And while Scharibone has been an important part of the tavern's fabric, he has long been anxious to go out on his own and incorporate ideas that have been formulating for over two decades.
"It's bittersweet," he said. "JoJo's will be fine without me. It's something that I loved, but now it's time to start a whole new chapter. It's time to start making new memories. And I'm really excited to do that."
It started on June 13, when Scharibone and his partner, 44-year-old Scott O'Brien, closed on the building. The Farnsworth House served its last meal one day earlier, ending a 22-year run as one of Bordentown's finest restaurants. Coincidentally, it opened in 1995, the same year Scharibone began tending bar.
Another coincidence is that the partners graduated from rival high schools as O'Brien graduated from Steinert and Scharibone from Hamilton West. Owner of O'Brien Consulting Services, Scott met Mike while doing IT work at JoJo's. He will run behind-the-scenes operations; making sure the electronics and computers are all running smoothly.
"I do a lot of on-site work," O'Brien said. "Since I don't have a set office my office has been JoJo's. Mike lived behind the bar and I lived in front of the bar for five years. He mentioned going out on his own, I may have had one or two that day and said, 'Hey, count me in.' Then we started doing it. It took a couple years, but it just worked out perfectly. We're in the right place at the right time."
Scharibone, who purchased the permits in late August, has a clear vision of what he wants once they are obtained.
When construction is completed, the first thing customers will notice upon arrival is a pizza oven at the end of the bar, which can cook from 10 to 12 pies at once.
"You're gonna say, 'Wow, there's a pizza oven behind the bar,'" Scharibone said. "You're gonna see the guy making pizza and desserts. And we'll cook some food in the oven other than just pizza. You're gonna see some action going on back there. It will be right at the end of the bar, you're eyes are gonna be drawn to it."
The bar will be 35 to 40 feet long and seat over 20 people. There will be a tap system for 30 drinks that will carry a variety of 20 beers, six wines, two craft cocktails and two taps for root beer as Scharibone plans on serving old fashion root beer floats in mugs (there will also be basic fountain sodas).
On the left side of the room will be high top tables that seat four along the wall. One noticeable difference downstairs will be the missing coat closet, which was removed in favor of a 10-person community table.
And, of course, there will be a fresh new look. Scharibone is keeping as much of the wall system as possible, but he's putting in a new ceiling and has given it a coat of grayish-blue paint.
"You'll immediately notice the brightness and how much new, positive energy is inside of the building," he said. "Even though it's a 100-year old building you're gonna feel a nice, positive energy about how new and livelier it looks."
Moving up the long stairwell, there is also a new look along the hallway with fresh paint and wall paper. The biggest change upstairs—which will be used mainly as a dining room—is that a service bar has been replaced by a public bar that seats 10. The room can also be used for parties up to 45, or for up to 25 using half the room. The menu will the same on both floors.
And it will be a menu with some variation. One of the major focuses is producing a "a really good burger, a nice, hearty, big burger." The plan is also to have salmon, turkey and veggie burgers. Appetizers include the usual fare, such as mozzarella sticks, fried calamari, nachos and shrimp cocktail. Also being created are Old Town Pub's signature tater tots.
Main courses will include steaks that can be prepared with several different sauces; scallops, fish tacos and other fresh seafood. There will be the obvious variety of pizzas, while gourmet pies and flat breads will also be offered.
As an added attraction, Old Town Pub will feature brunch on Saturdays and Sundays, supplementing its regular menu with omlettes, French toast, pancakes, "and Case's pork roll, in honor of (former Bordentown Post 26 manager) Tommy Dolan," Scharibone said, noting Dolan is an executive at Case's.
The bar will be managed by Drew Seery, a long-time bartender at JoJo's and Chickie & Pete's on Route 206. Seery has already been hiring his staff.
"He brings a lot to the table, years of experience. We're gonna release his creativity on drinks. Twist it up a little bit and give a different flair to a bar that we haven't seen in this area."
Also helping out is Scharibone's fiancée, Tricia Gadsby, who has been working hard behind the scenes and plans on helping out with hostess duties and hopefully become a waitress. Approximately 25 bartenders and waiters/waitresses have been hired.
In the end, he wants it to be a home away from home.
"We want the families, we want people to hang out and watch TV, watch sports," Scharibone said. "We want them to have a great meal and an all-around great experience when they come in. I can't wait to get started. Our demolition is done, everything is ready to go. All the layout and design work is ready to go. The minute we get our permit, it will be go time."
And once it's all completed, much like the star atop the Christmas tree, the crowning decoration will be The Bell. A sure sign to let people know fun is on the way.
For more information on Old Town Pub, go to facebook.com/oldtownpubbordentown.