Hobbies come in many forms. We pursue hobbies as a form of relaxation away from work and other work like things.
Some hobbies are more addictive than others. Game playing, role playing and board games are the addictive type of hobby.
Family Fun Hobbies recently moved to a larger space in Clover Square at the corner of Quakerbridge and Sloan Roads. They moved to a larger space because they needed it. On a recent Thursday night, there was a steady stream of customers, coming in to see the new space. They seemed to be as excited as the management. There were young men, couples and families shopping.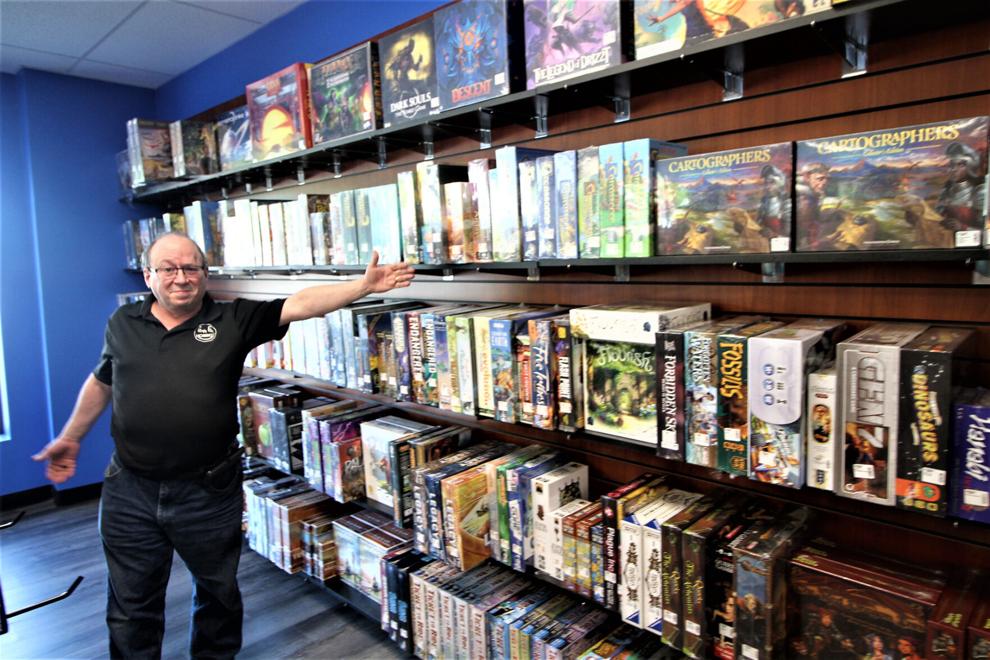 The new store is 5,000 square feet, or two and a half times as large as the previous space. There are long tables and chairs for 36 game players, who can attend one of the scheduled evening gaming sessions.
Owners Rob and Katrina Placer opened Family Fun Hobbies in 2009. The first location was on Route 33, across from the Dunkin Donuts. The grand opening was on May 4, or as Placer says, Star Wars day, alluding to the take-off saying, "May the Fourth be with you."
"We are all nerds," Placer says. "So May 4 seemed quite logical."
Placer grew up in the hobby business. Originally from Brooklyn, he grew up in Holmdel. His parents owned the Hobby Masters store in Red Bank from 1975 through 2020.
"I am a businessman first." Placer says. "I am not a hobbyist who said, 'Hey maybe I can make a living at this.' I grew up in the business and know every facet of this business. I understand that this is a luxury business. I also know that we must supply the customers what they want, and help them understand what we offer."
Katrina Placer is the behind-the-scenes part of the store, handling the all-important social media side of the business. She and Placer have been married for 20 years.
Placer calls the store "100% unplugged."
"There is something to competing in games face-to-face with people across table, in person, that digital gaming does not offer. When you have headphones on and the opposing players may be thousands of miles away, it is just not the same," he says.
Family Fun Hobbies is the store name, but is also the business mantra. The business recognizes that family time may be family game night or a weekly session of gaming. Placer caters to both.
Some of the more popular offerings are trading card games such as Magic the Gathering, all things Dungeons and Dragons, and Pokémon. Jigsaw puzzles, board games, plastic models, paint by number sets, books and arts and crafts are very popular.
Also offered are science hobbies like model rocketry, microscopes and metal detectors.
"We did well during the pandemic, especially during the lockdown." Placer says. "We sold more than 1,500 puzzles. We really had to reinvent ourselves with building out our online store and being able to offer curbside pickup."
After the shutdown, he was able to bring all of his employees back. "We were grateful for that and the business payroll loans that were offered to help us keep afloat," he says.
Family Fun Hobbies employs 10 employees, half of whom work full time. Many were customers first. One is assistant manager Miranda Suarez, 26, of Hamilton. She was introduced to the hobby store by a friend, and joined the staff three years ago, after college.
"We see the same customers in the new space. We also see a huge uptick in walk in business. We are right next to the Robert Wood Johnson Fitness Center, so we now get a lot of parents with young children coming in. Both the staff and existing customers are excited for this much larger store," she says.
Suarez' favorite board game right now is Gen7: A Crossroads Game, which is a narrative sci-fi game where player's choices affect the path and outcome of the game. Placer's favorite board game is Terraforming Mars, which is based on making Mars inhabitable in the year 2400.
The number of board games offered is daunting. This is one reason that Family Fun Hobbies offers board games for rent. Ten percent of the retail cost allows you to rent the game and try it at home for a night. Placer sees it as an economical way for customers to see if they like the game before they purchase it.
With board games costing $30 and up, the option is quite popular. If customers decide to purchase the games, the rental fee is deducted from the price.
The impetus for opening a hobby store was when Rob Placer was laid off after 6 years as a manager at Five Below in the retail world,in 2008. Katrina was a senior planner with Mercer County government. She did all the demographic research to decide where to open the hobby business.
"There is good median income, family oriented, 21 schools. We have already been here for 12 years in Hamilton. People know us here. It was a perfect place for us." Placer says.
People ask Placer how he can compete with online stores like Amazon. "I reply with, 'How can Amazon compete with us?' You can't take the game home with you with Amazon. You can't ask any questions. You can't get intelligent suggestions. Amazon can't compete with us!" he says.
There are scheduled nights for Magic the Gathering, board games, card games, Pokémon, Dungeons and Dragons and miniature gaming. There is a small fee to play the games on the long tables in the store.
Placer is happy to have more seating, and now with the pandemic hopefully in the rear view mirror, fewer restrictions regarding capacity.
One lament from Placer is the store not offering train sets. "In this area, the freight trains run at night. On the light rail line, all the freight trains runs after 11 p.m. Kids don't see trains. They don't count the boxcars and tanker cars at the crossings like I did. They only see New Jersey Transit and Amtrak passenger trains and they tend to be boring, all the same," he says.
"It broke my heart not to offer trains. We can still special order the though."
The plastic models have a huge wall of paint to select from for finishing. The paint is not the old Testors enamel that required paint thinner and was very hard to get right, especially for a young person. The new sets are all water based and nontoxic.
Another big seller is paint-by-number sets. Already strong sellers before the pandemic, the sets are more sophisticated and challenging for hobbyists. Besides the standard colors 1 through 15 there are also letter portions to paint. The letter requires the mixing of two of the numbered colors.
"We are nerds, geeks and we laugh at life. I am lucky to work at a job where I can enjoy myself," Placer says. "The staff are excited, we operate like a real corporation. The customers are excited and the people are happy to be out again in general. In the future we would like to open another location or more. We are happy with the move and the future looks bright. I love this business. I feel like Peter Pan. I never have to grow up!"
Family Fun Hobbies, 3100 Quakerbridge Road, Hamilton. Phone: (609) 838-2049. Email: sales@familyfunhobbies.com.