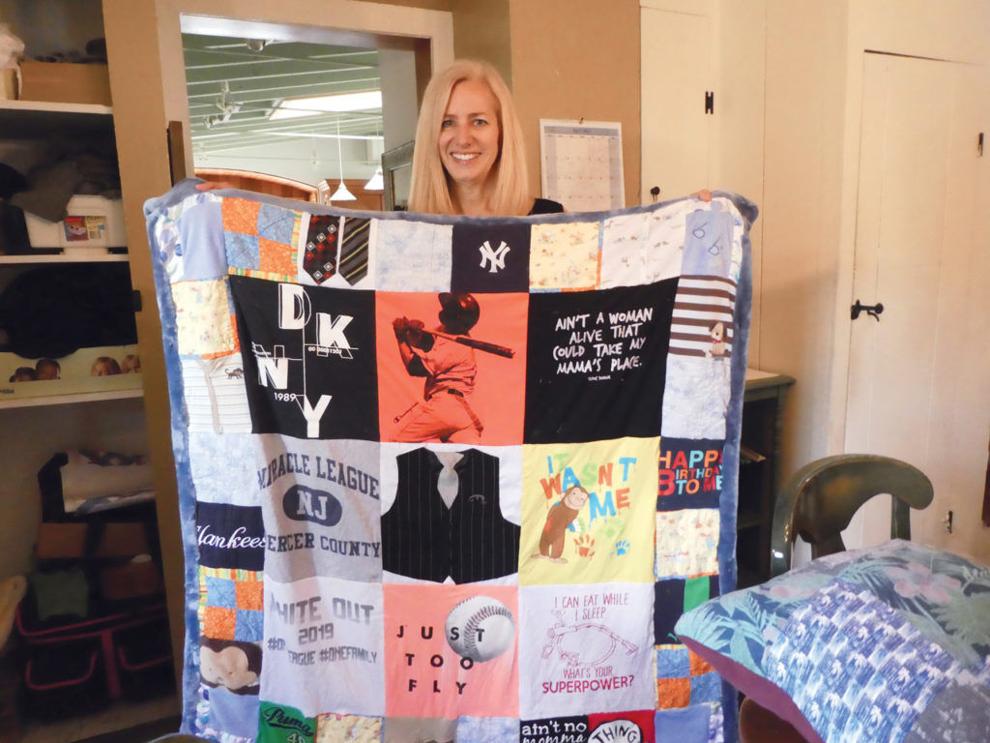 Michelle Schragger stands in the front room of her early 19th century home on Main Street in Pennington and gestures to a large space between a coffee table and fireplace hearth extension, both covered with materials of various brightness and texture.
"This space here is where I lay out everything," says Schragger discussing her business, Memory Quilts by Michelle. "I cut the pieces into squares and lay them out."
The squares are clothing or other fabrics used by a person who is being memorialized after death or celebrating a milestone.
For the former, Schragger says, "There might be T-shirts in there. But there also may be dress shirts and khakis. I've used yarmulkes and bow ties, bathing suits. Pretty much anything that was special, grandpa's favorite shirt — even with the spots on it."
The others commemorate personal milestones, kids graduating from high school or college, and mainly use students' T-shirts as keepsakes.
Although she says the end of the academic year and Christmas are her busiest times, over the past year she has done more than 200 quilts — as well as 2,400 COVID-19 masks.
"This is how I lay it out," she says showing me a cellphone photograph of a multicolor arrangement of squares of three sizes based on the number of 12 inch squares of materials: Throw, 12 squares, $84; twin, 24 squares, $168; and full/queen, 30 squares, $210.
She thn sends the image to the client and says, "That's what I have. Some will say, 'It's okay. Others will move things around to make it more meaningful. I let them shift things around on something that they want to feature. It is collaborative. But sometimes people drop stuff on my front porch and say do what you do."
Picking up another item, a two-tone memory pillow, and showing its design, she says the somber brown section is from the shirt a man was wearing when he died. The contrasting floral arrangements on the other side are from the Hawaiian shirts he loved to wear
She says her clients ask for the memorial or memory-related objects "To have something that they can touch or feel of their loved one."
Pointing to a dark swath of material, Schragger says, "For memory quilts, I use this really soft plush to make it comforting and soft, something you can snuggle with."
As we walk into her sewing room, a small room connecting the front room and kitchen and table with a sewing machine and piles of cloth, Schragger says all the projects in process there are memory quilts for people who have died of COVID, including a young father whose widow asked if Schragger would make matching pillows for their sons.
She says the business grew from doing something for her own now-adult son. "He was turning 12, played every sport imaginable, and had accumulated dozens of shirts. I had a sewing machine and was self-taught I looked up some videos on YouTube and talked to friends and made a blanket from the T-shirts. It worked well. Word got out, and neighbors started asking for (blankets). Then people started requesting memorial blankets, and I thought, 'Sure why not?' That was 11 years ago. What started as a part-time hobby has turned into a full-time job."
Prior to that, the former Hamilton resident and daughter of a public school teacher mother and truck leasing consultant father, used her degree in marketing from James Madison University to work at an ad agency in Lambertville and a country club.
She says after her third child, she became a stay-at-home mother. After 25 years in Hopewell Township, she and her construction manager husband, John, downsized after the children went to college and moved to Pennington.
Reflecting on her practice, she calls it "a combination of art and business. I have to market it and use social media. But (at a former job) I was the person they had to meet with to design interiors — selection not decorating. I started transitioning and used some creativity.
"I am creating something that hasn't been there before. It is a type of folk art. Repurposing and reusing things. It's good for the environment and a popular trend. Instead of people throwing things away they're creating something out of it. I am creating a memory, consolidating all (the client's) memories into a piece of art."
"I tend to like folk art and whirlygigs," she says about her own art preferences. "I live in a world that was built in 1800. Uncle Sam is on the front porch — Americana."
Schragger says there are two answers to the question regarding how long it takes for her to create a quilt: six hours or up to two weeks. The six hours is the actual sewing or physical work. But that's done over a week or two. The rest of the time is cutting, thinking, designing, and, if applicable, adjusting based on the client's input.
There is also a type of emotional processing that Schragger experiences. "Sometimes it is hard to for me to cut the pieces of clothing, especially if it is a baby blanket or from a toddler, or something that is adorable. I have two daughters who were competitive dancers, so friends give me dance costumes that are beautiful, sequins and feathers. It hurts to cut them.
"Also knowing that someone wore these clothes all the time, it is difficult to cut the pieces, although I didn't know them.
"There was a woman whose son died by suicide, that's her words, and she had four other children and had me make blankets with his clothing for all of her children for last Christmas.
"That was a huge project. It took her many years to get to that point. And it was difficult for her — and difficult for me to cut the clothes. But she sent me photos on Christmas morning of her sons holding their shirts and her daughter wrapped in it. That was especially rewarding.
"I was surprised how emotional it can be even when I don't know the person and handling the clothing. I have gotten teary."
Schragger says her clients come from word of mouth or via her website, and while people could go to other websites offering the same concept, they will not receive the personal attention she gives them.
"I would say its 50 percent local and 50 percent that find me online," she continues. "I get a lot of referrals from the Pennington Quilt Works. They do the more traditional quilts for beds, but they refer a lot of business."
Those clients are "mostly women and some men. A man I worked with recently was a runner. He had accumulated T-shirts. He stands out. But it's mostly women. Women are more sentimental and in charge of the graduation gifts."
Back in the front room and standing amidst unfinished quilts and piles of fabric squares, Schragger says, "I guess the commonality is how appreciate people are at the end. No matter how they got to that point (of deciding to make the quilt), they're appreciative and emotional."
Summing up her work, she adds, "It was a hobby that turned into something that people happened to be interested in."
For more information on Memory Quilts by Michelle, visit t-shirtquilts.weebly.com or look for Memory Quilt by Michelle on Facebook.