Hopewell's hopes that there is life after BMS were boosted on Oct. 14 when PTC Therapeutics held a grand opening ceremony for 220,000 square feet of laboratory, manufacturing and office space that it has leased on the former Bristol Myers-Squibb campus on Pennington-Rocky Hill Road.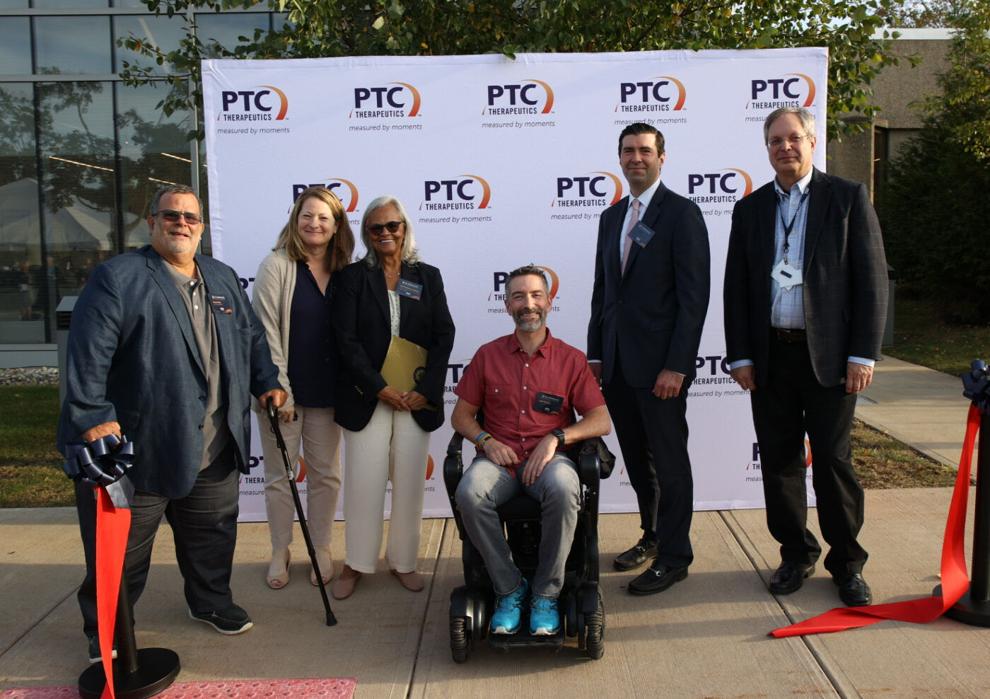 PTC is a biopharmaceutical company that is working to discover, develop and produce gene therapies that can be used to treat rare genetic disorders.
The company says it has spent $20 million on a new biologics facility, and expects to hire up to 250 employees by 2022 to work at its Gene Therapy Manufacturing Center of Excellence, located at what is now known as the Princeton West Innovation Campus.
PTC's headquarters are in South Plainfield. The publicly traded company employs a some 650 people at its locations in New Jersey, and 1,400 in 15 countries around the world. Employees of the company began working at the Hopewell location in July.
Gene therapy is a relatively new field of medicine in which laboratory-developed, therapeutic genes are introduced into patients' cells, with the goal of replacing or correcting defective genes. By replacing faulty genes with healthy ones, therapists can treat, cure or even prevent diseases and medical conditions.
The first time this process was successfully carried out was in 1990. The U.S. Food and Drug Administration first gave its first approval of a gene therapy product in 2017.
As of now, gene therapy has proven most useful in treating rare genetic disorders that have few or no other treatment options. PTC currently produces therapies that are helping patients with Duchenne muscular dystrophy and spinal muscular atrophy.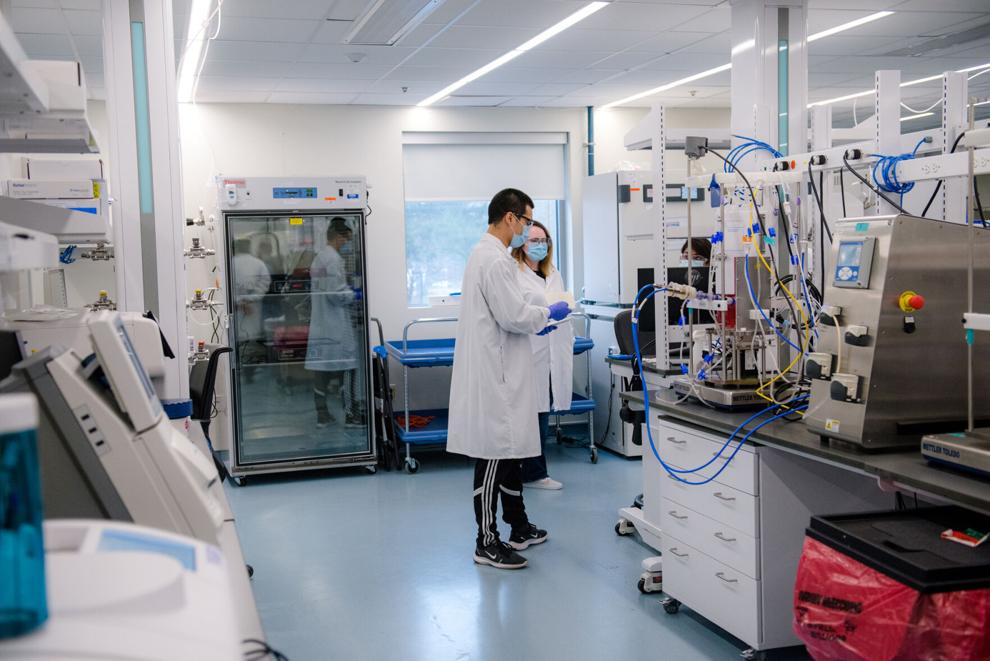 Before founding the company in 1998, CEO Stuart Peltz was a researcher and professor of molecular genetics and microbiology at the University of Medicine and Dentistry of New Jersey, which is now part of Rutgers University.
"I've always felt that PTC is as much a cause as it is a company, and I know that our employees feel the same way," Peltz told the crowd at the ceremony. "We've grown up and worked in the rare disease world. In this world, it's all about the patients — bringing treatments that have the potential to change the patients' lives, treatments that are made with the same passion that we all bring to everything we do."
Recently, PTC leadership decided that the company needed to be able to manufacturer its gene therapy products in its own facility to maximize quality control, capacity and supply. Around that time, the company learned of the opportunity presented by the Princeton West Innovation Campus, Peltz said.
Neil Almstead is the chief technical operations officer for PTC. The Princeton resident has worked for the company since 2000.
He recalls receiving a flyer advertising the available space at his home. BMS had spent millions developing a facility that already offered many of the amenities PTC was looking for, only to then decide to close the facility and move those operations elsewhere. He showed the brochure to Peltz.
"I'm thinking, 'This is only 10 minutes away from home. Wouldn't it be nice if I could convince my CEO to move to Hopewell?'" Almstead recalled in an October phone conversation with the Express.
"To have fully equipped manufacturing and development facility like the one that BMS was giving up? Once we realized what they had, it was almost impossible for us not to take this lease," he said.
PTC executives toured the facility the day before Thanksgiving in 2019. "It was like a little Thanksgiving gift for us all," Almstead says. "We said we have got to have lunch and talk about this because it's so amazing —how could we pass this site up? And after that, we immediately started negotiating."
* * *
In 2016, BMS announced that it intended to vacate its 433-acre, 1.1-million-square-foot Hopewell Township campus by 2020. Knowing that its departure would leave the township with a substantial tax revenue gap, the pharmaceutical giant actively looked to help by marketing its facilities to potential future tenants like PTC.
In June 2020, BMS sold the property to Lincoln Equities Group. PTC signed its lease with Lincoln Equities Group a month later.
PTC is actually not the first biotechnology company to move in. In December, Philadelphia-based genetic medicines company Passage Bio agreed to lease 62,000 square feet of space for laboratories and manufacturing.
Like PTC, Passage Bio develops gene therapies designed to treat rare disorders of the central nervous system. Passage has produced therapies for disorders including Krabbe disease and GM1 Ganglioidosis.
Passage employees began working on the site earlier this year. Company CEO Bruce Goldsmith is a Pennington resident.
By 2023, both companies are expected to be joined on the campus by BeiGene, a biotechnology company that specializes in the development of drugs for cancer treatment that target genes and proteins that lead to cancer.
BeiGene announced in August that it would purchase 42 acres of the site from owners Lincoln Equities Group with the goal of building a new biologic pharmaceutical manufacturing and research and development facility. The township committee voted in favor of a redevelopment plan for the BeiGene site on Oct. 4.
Almstead said Hopewell Township has been supportive from the start. "The first thing we did after we expressed our interest to BMS was, we also connected through to the town committee and the mayor," Almstead said. "I think they liked our story because we are a New Jersey-based company and our growth has been very significant."
Many of these disorders that PTC is working to treat are relatively rare. To be considered rare, a disease has to have fewer than 200,000 patients in the U.S. Almstead the PTC's gene therapy products are treating diseases with patient populations of less than 50,000.
He emphasizes this so that people understand what he means when he says PTC will be manufacturing on a small scale.
"'Manufacturing' scares people. It sounds like there will be tanker trucks full of nasty stuff on the roads," Almstead said. "We're not trying to be a big manufacturer of chemicals. We're doing very small-scale manufacturing of a product sold in a very small vial. We are doing biologics, which is a very clean type of manufacturing. We're using water and other processes, we use very few chemicals at all. I don't want to call any manufacturing green, but it's the kind of manufacturing I want to have in my backyard doesn't produce smells, odors or anything else."
He adds that people should also understand that gene therapy does not alter people's DNA. "It's not becoming part of your DNA, it's not incorporating into your DNA," he says.
Almstead said that PTC has already sponsored some activities at The Watershed Institute and would be looking for other opportunities to support the Hopewell Valley community as well.
He said one thing that the company did last year during the pandemic was develop a large internship program with the aim of creating a talent pipeline and identifying potential future full-time employees.
"We've actually converted a significant number of those interns into employees, and we're really very happy with them. I would say four to six of them work in the Hopewell site right now," he said. "It's a relatively tough job market now, but right at Covid's start, last March, April, May, a lot of people graduating from college couldn't find positions. We were one of the few companies that were hiring. We hired over 50 as interns and we have hired a significant of them permanently, many from local schools."
Almstead said that it is important to Peltz and the rest of the PTC leadership to make the company a great place to work.
"I've been with PTC for 20 plus years, I've known my CEO all that time. One of the things that characterizes PTC apart from many other companies is, even with 1,400 employees, we think of ourselves as a family. When there are floods in the community, like there were a few months back, we have a program to help. We give back to our employees. If there's a fire in their house we assist them. All companies should do those things, but not everyone does. We really do care."