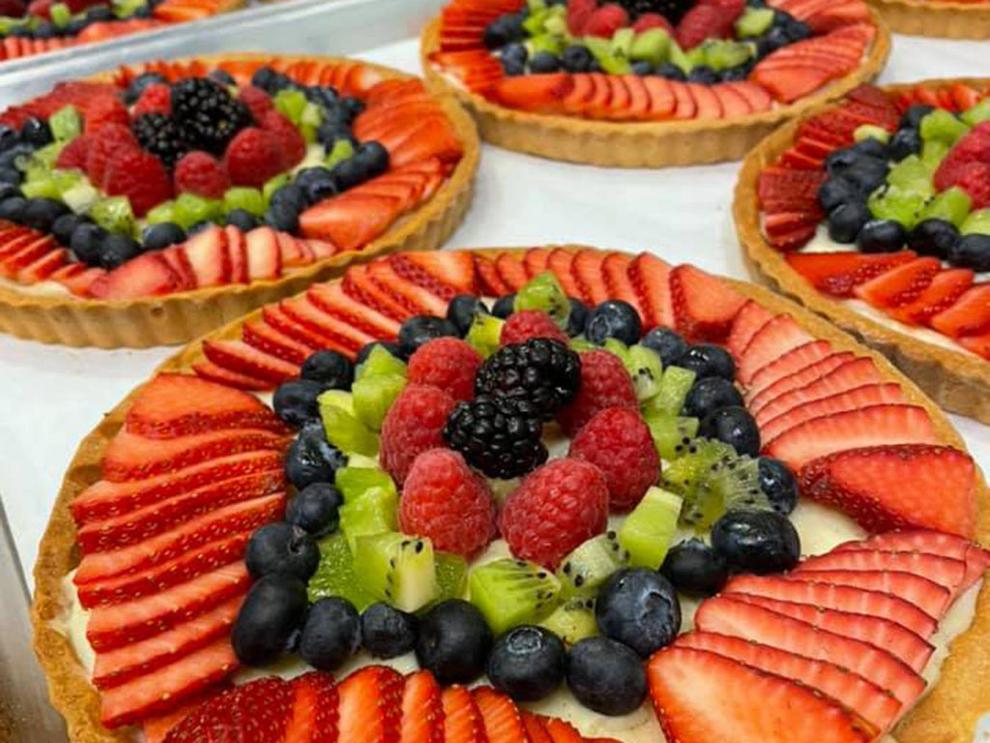 At 5 a.m., K.K. Sweets is already bustling with action for the day … but not because of customers.
Baker-owner Kelsey Krieg is making fresh pastries so the residents of Hamilton can have treats that are never reused from the day before.
K.K. Sweets first opened in September 2020, and despite time delays at the start, has been doing better than expected with their new business.
Their daily menu consists of many choices that are fit for anyone with a sweet tooth. Canele is one of their best-selling items and is almost guaranteed to be sold out by the end of each day. This treat consists of caramelized crepe batter, madagascar vanilla beans, and a sweet taste of rum inside. Most other bakeries don't offer this but K.K. Sweets does!
Aside from this delicious French dessert, the rest of their menu sets the bar just as high. Anywhere from cinnamon rolls to crumb cake, these other desserts are all big-sellers she explains.
"We try to switch up our flavors so we never have anything the same," she says. Working with other chefs at the bakery allows them all to bounce ideas off one another and come up with different desserts that keep customers coming back.
As far as where their ideas take them, they try to stick with what's in season when it comes to fruits and typical favorites around certain times of year.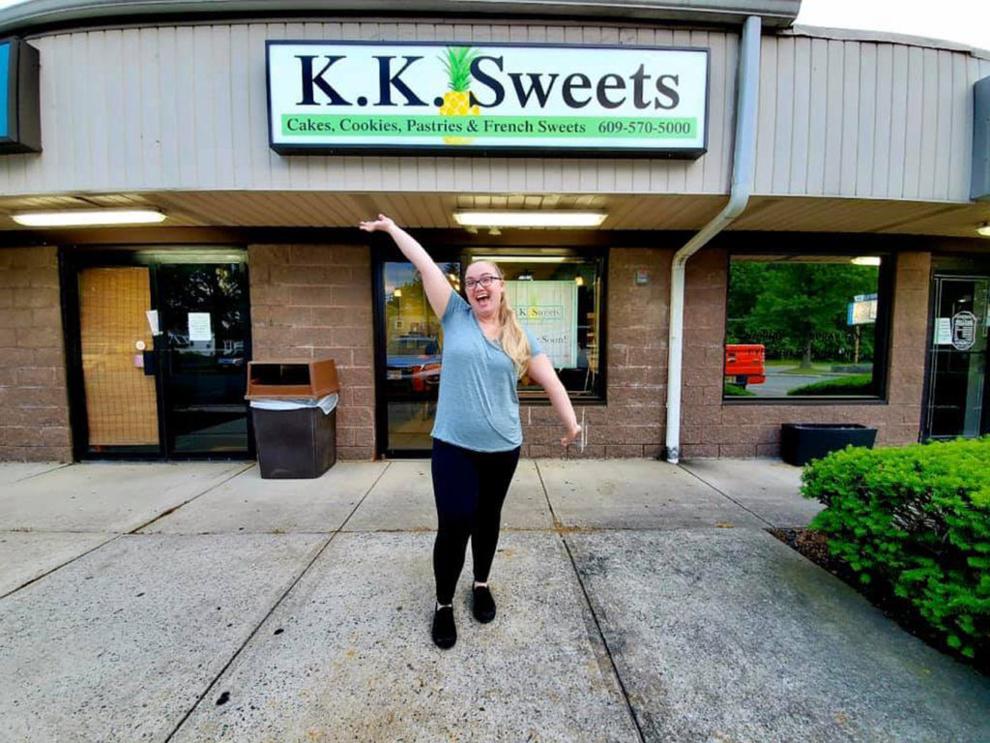 For Mother's Day coming up, K.K. Sweets is planning to offer mini cakes decorated with their own elegant designs as well as fresh flowers on top!
Out of all the baking and decorating done on the daily, specialty custom cakes are Krieg's favorite to make. "It's fun to see people's faces when they get the cake they ordered," she says happily. Their custom cakes feature a list of flavors for customers to choose from such as vanilla or red velvet and are decorated and designed to their liking.
The bakery likes to use simplistic French decorating methods such as drip down effects and macarons on top to keep the design elegant.
Krieg is now 25, but her love of baking started long ago. Baking has always been a passion of hers since she was young. She would help her mother cater different events and from there on out she knew it was something she was interested in.
Junior and Senior year of high school Krieg applied and was accepted into the Technical School's culinary program in Mercer county at the Sypek Center. After her chef instructor for the program, Scott Engle, was a Culinary Institute of America alumnus and gave her insights on the university, it set up Krieg's future path.
It was love at first sight when she toured the campus and the rest was history. Part of the reason she chose CIA, besides from the beautiful campus she says, was the fact everyone was there for the same concentration. "You can go to Johnson and Wales for culinary but if you go to CIA…. you're all there for the same passion," she explains.
She found her passion to be baking over the culinary classes and graduated from CIA in 2015.
Before opening her bakery, her first job three years ago was managing Dry Dock Bistro, a cafe located in Kearny, North Jersey. After Dry Dock Bistro, she began working at Kristine's in Princeton. When Covid-19 hit she was furloughed from her job here which led to the start of K.K. Sweets.
Opening the bakery with all the restrictions brought on by Covid-19 was challenging at first. Her parents were very supportive and helpful throughout the process. Her father, Gary, was able to help find the location that K.K. Sweets is now able to call home. In addition, her mother Robin continues to help with management of the bakery. Robin has 15 years of restaurant experience which is extremely helpful to the new bakery owner.
Even with some help, the delays coronavirus caused were still difficult for the new business owner. With inspections on hold the opening was later than expected.
Despite the delays, the bakery is now open and Krieg says that everyone in her family is very excited about it. Her grandmother Connie was originally nervous about a new business starting in the midst of the pandemic, but is happy with how well the first months have been.
Her bakery now even has a partnership with Kristine's where she once worked, selling them pastries for guests of their restaurant to enjoy.
Krieg says that because she was born and raised in Hamilton, K.K. Sweets means so much more to her than merely opening her own business. She enjoys seeing classmates and teachers come in to see how she's grown as a person and as a baker.
"Having a business in the town I was born and raised in is really cool," she says.
* * *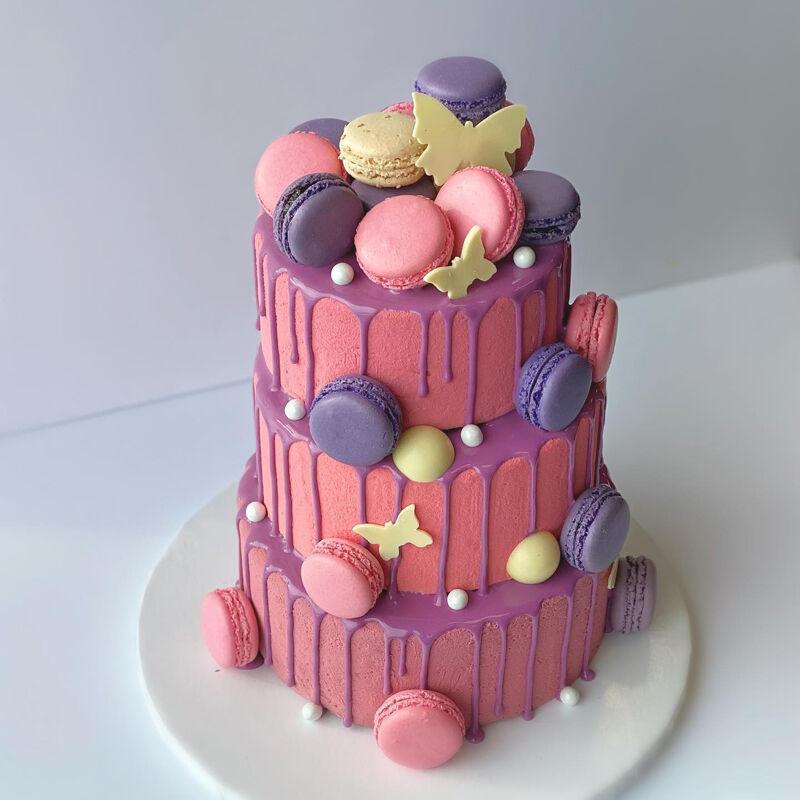 K.K. Sweets is not the only new bakery in town. Lilla Vanilla first opened in November with items such as croissants and petits gâteaux a part of their daily menu items.
Lily Voronina is one of the two pastry chefs that run Lilla Vanilla. Kelly Taglineti is a co-owner and pastry chef as well. About 4 years ago the two took ESL classes together in Princeton and were able to form a friendship because of their different backgrounds. Voronina is originally from Russia, while Taglineti is from Brazil.
They have a variety of treats at their bakery ranging from classic cupcakes to mini mousse cakes and eclairs.
The shop doesn't have a set menu for each day in regards to treats or flavors. Voronina likes to switch up the things she makes.
"We come up with our daily flavors by what we're in the mood for on that day," Voronina says.
The bakery tries to have something that everyone will like on the menu. Croissants are one of their best-selling items, although Voronina says that all their different treats get a lot of attention.
"We always have something chocolate, something fruity, especially mango passionfruit … That's my favorite," she says.
They spend their entire day baking from the morning until after close so they always have fresh pastries and other desserts ready to go.
Despite hardships along the way, Voronina and her business partner have kept working hard to open Lilla Vanilla. The bakery's lease started in 2019, right before Covid-19 hit. The bakery was unable to open with restrictions in place and permits needed to operate. The co-owners had to pay the lease for an entire year without actually having any business. This was a hard time for the new owners but they were sure to keep their bakery dreams alive.
Even though she and her co-owner, Taglineti, had to wait so long, the recent opening and business so far has made things worth it. Voronina loves to make her mini mousse cakes while Taglineti enjoys baking cupcakes best.
With Mother's Day coming up, the bakery will definitely be serving up some special desserts for mom to enjoy. They plan to have a variety of heart shaped cakes in different sizes as one choice. An alternative is different chocolate flower decorations that they are planning to make look as good as they taste.
"I really go here everyday and want to go here everyday," says Voronina as the most rewarding part of co-owning Lilla Vanilla.
K.K. Sweets is located at 3257 Quakerbridge Road Hamilton, NJ 08619. They can be contacted through their website or by phone at (609) 570-5000. Their store is closed Mondays but is open 8 a.m.- 3 p.m. Tuesday- Saturday and 9 a.m.- 2 p.m. on Sundays.
Lilla Vanilla is located at 4607 Nottingham Way, Hamilton Township, NJ 08690. Phone: (609) 528-0631. Their store is closed on Sundays but is open 11 a.m. to 4 p.m. Monday through Wednesday and 9 a.m. to 4 p.m. Thursday through Saturday.