Late on a Friday afternoon in September, Desmond Hayes was putting the finishing touches on a paint job of the interior walls of his new hydroponic vertical farm facility while simultaneously juggling business calls.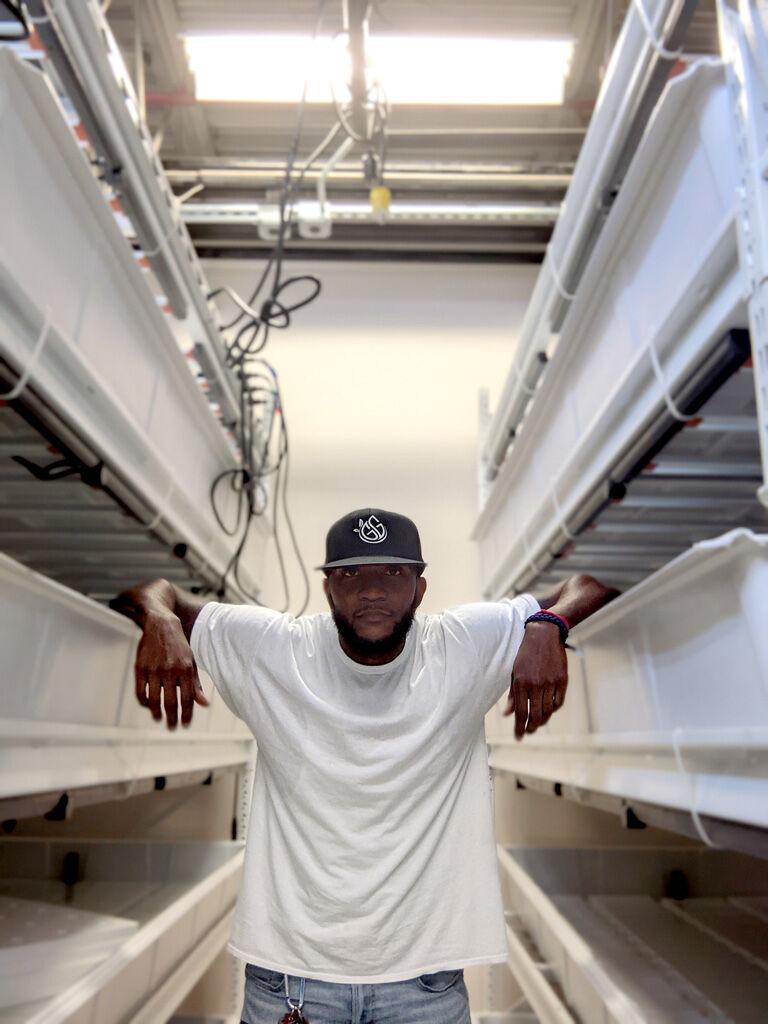 From painting to developing partnerships with local business owners to handling all necessary paperwork, Hayes' entrepreneurial spirit is driving the launch of Geo Greens LLC (previously named Geoponica Greens) in mid-November in Hamilton's Mill One building, located just off Nottingham Way in Hamilton Township.
Hayes is involved in virtually every aspect of getting his new 2,000-square-foot farm up and running. He attributes his faith in himself and his strong convictions about sustainability and ending hunger to getting him to this point.
"It's a risk and a leap of faith, and if you trust in what you are capable of doing, you will succeed," he explains, noting he has experience growing in the hydroponics industry for four years now.
So what exactly is he growing, and what is hydroponics? The process entails growing crops indoors with no soil and using smaller amounts of water. The result is a more potently nutritious food source with a much smaller impact on the environment, according to Hayes.
New Jersey is not new to the hydroponics trend. Two of the largest hydroponics facilities are located in northern New Jersey. Robbinsville became the first municipality in the state to launch its own hydroponics farm in 2017 using containers purchased from Freight Farms.
Instead of using a container farming style, however, Hayes' indoor farm will feature movable, vertical racks that move laterally so that he can have a greater crop yield without being too constricted within the space. He plans on producing two or three tons of leafy greens, herbs, and "microgreens" each month. A microgreen grows only about two inches tall over a shortened 12- to 14-day period. The crop yield also has a larger shelf-life than the produce customers buy in many grocery stores.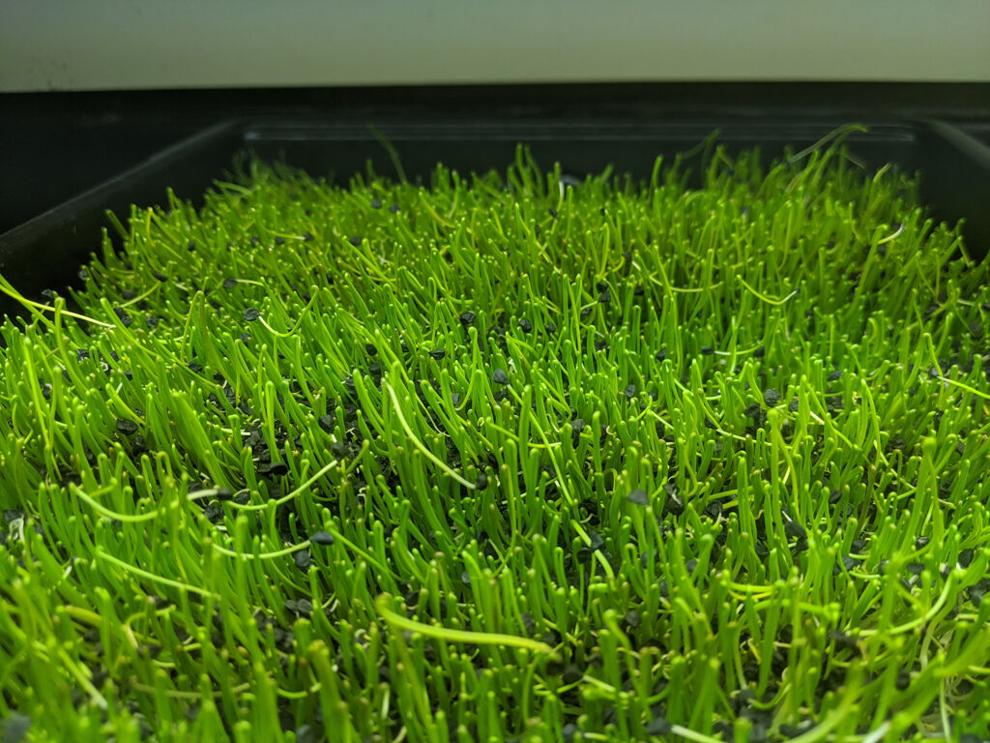 "As soon as you harvest a plant, it starts to die," Hayes says about traditional farming methods. "It may be harvested in a place as far away as California. That could mean four or five days of travel before it even gets to the supermarket, and then another two days before it is put out on the shelves for sale. That's almost one or two weeks of that plant dying before you are consuming or eating it. It's not unhealthy, but it's not as nutritional as when you eat it when it's first harvested."
By 2025, Ernst and Young estimates that the global hydroponics market will reach $5.7 billion.
Hayes speculates the Covid-19 pandemic is contributing to the growth in this industry.
"People now are so conscious of who is handling their food and where it is coming from," he says. Most food in New Jersey is imported from other areas, but with hydroponics, "you can get it cheaper and get it healthier, and you don't have to worry about not knowing who is handling it. I think that is the biggest selling point."
So why is there a risk involved in starting such a business, and why are others scared away? Hayes says the industry is very capital intensive, meaning you need the funding up front for purchasing equipment, installing that equipment, and then waiting for your crops to grow before you can recoup some of the costs. Utilities are the most expensive aspect.
"Your lighting bill will be high because you grow within a controlled environment," he says. "Then there's the HVAC. When you go indoors, you have to be very accommodating for how clean the air is, how cool the air is, and how humid the air is. Those are things that can destroy the whole life cycle of a crop within a few days. When it comes to growing, you have to have the lights on for 18 hours a day for the first three or four weeks. That can be extremely costly."
Luckily for Hayes, choosing the Mill One building gave him an advantage: his landlord had a previous tenant who was looking to create a similar business but pulled out of the site, leaving behind some equipment that he could use, eliminating the need to acquire it off the bat. In fact, it is his landlord's interest in sustainability (the building also features solar panels) that piqued his interest in the building.
"It was my last call on a Friday evening," he recalls. "I had done a couple of different tours with realtors [at other spaces]. I said to myself, 'Let me call this last one before I am done.' After about a month or two and filling paper work out, we got the space."
The site also checks off another sustainability requirement: a reduced carbon footprint. By keeping his customer base to a 60- to 70-mile radius in between the two large markets of New York and Philadelphia, he contributes less pollution for deliveries.
"I am going to be delivering the orders, so I don't need to cover a 200- to 300-mile radius with box truck deliveries," he explains.
His commitment to sustainability is not coincidental. Hayes' background is rooted in architecture, civil engineering, and environmental science. A graduate of New Jersey Institute of Technology, he began his career in construction, first working in Trenton and then in New York for 10 years. He says he always knew environmental science was going to take off after hearing so much discussion in the industry in "green" building and sustainable practices. This led him to study environmental science.
For Hayes, though, it was more than just an opportunity: it was the desire to make a difference. An avid supporter of the United Nations' sustainability goals, Hayes says he began looking for avenues to contribute to achieving these goals within his own business. After researching a business model, he honed his focus on one in particular: green water.
"I felt that if I could try to address one of the sustainability goals, I could have an effect on all of them," he explained. "A few years after I started researching, I started to participate in seminars in green water, and I came upon hydroponics. I saw all of the advantages of growing indoors and how much healthier and more convenient it was."
He latched onto the hydroponics idea because of its connection to many sustainability principles: creating less deforestation for planting crops, using less water, and creating a much healthier output without the use of pesticides. From there, he began building relationships with colleagues in the industry, including befriending the owner of Shore Grove, an Allenhurst hydroponics shop near where he lived. He began practicing and growing his own crops, eventually opening his own business in the shore area before moving to South Jersey.
Now, with experience under his belt, his new indoor vertical farm in Hamilton will achieve many aspects of sustainability while on another important mission. "Being a minority myself, I wanted to give back to a minority community and a food insecure area," Hayes says. "I knew the west side of the state had communities in Camden, Mercer, and Burlington counties where this was the case."
Unfortunately, in many food insecure areas, access to high-nutrition food is too expensive, so cheaper food is the only affordable option. To address this problem, Hayes has a two-fold solution: educate his customers about what exactly they are eating and provide access to highly nutritious greens at an affordable price. Part of that education will be with tours that he will host of his facility once it opens in November.
Similar to brewery tours, Geo Greens clients will be able to book guided tours where he will take them through his farming process, educate them about the benefits of the nutrition value that comes specifically from his methods, and offer them the chance to pick out their own produce to purchase and bring home.
"At that point, that is the healthiest the green is going to be," says Hayes. His yield will feature a variety of lettuces, spinach, arugula, kale, and collards — especially with the Thanksgiving season coinciding with his opening. Additionally, he will have chard, herbs like parsley and dill, and crops of broccoli, onions, chives, and radishes. In total, he plans to grow about 40 difference species. The newest trend is amaranth, and Hayes also plans to grow the pinkish, leafy vegetable as well.
Further contributing to his mission to alleviate hunger in the area, Hayes says Geo Greens was approved just this month as a vendor of the federal Supplemental Nutrition Assistance Program, or SNAP, which provides benefits on a debit card for food-insecure families to use to purchase food. Only certain items are eligible, and now, more nutritious crops from Hayes' farm can be purchased.
Hayes is initially from Philadelphia, but he and his family moved to Chesilhurst in southern New Jersey when he was about 8 years old. His mother worked in the travel agency field (American Express) for more than 20 years. She is currently a teacher's assistant within the Camden County school system. His father died when he was 18. His stepfather works in the assisted living industry in Camden County. His brother is also an entrepreneur in the fashion industry.
He went to Stockton University for the first part of his undergrad, but transferred to New Jersey Institute of Technology, where he got his bachelor's in architecture, master's in civil engineering and a master's in environmental science.
More recently, he lived in Allenhurst, near Asbury Park, for five years while working in New York City construction. He is back living in South Jersey now.
Hayes hopes to grow his business by becoming a preferred vendor at schools and colleges, specifically expanding into nearby school districts with United States Department of Agriculture programs, and generating interest within the assisted living market.
Other key aspects of his business model will include ecommerce, in which customers can make their purchases online depending on how much he has grown and how much he has in his cooler, and subscription-based in which customers can choose deliveries once a week or three times per month.
"It's a trust thing that I am trying to build within the community and with my customers," he says. "As opposed to growing a ton of crops and not knowing where it will go, I will know exactly how much I need to grow instead of contributing to any type of food waste."