According to a U.S. Government Accountability Office study, close to 30 million Americans wrestle daily with the consequences of one of 7,000 rare diseases.
Half of those suffering from rare diseases are children who often don't live beyond the age of 5-years-old; many die in infancy. And nearly 75% of these 7,000 rare diseases are caused by genetic mutations.
Rare diseases are defined by the National Institutes of Health as "a condition that affects fewer than 200,000 people." These diseases are also referred to as orphan diseases because drug companies have shown little interest in research and development for these conditions. In 1983, Congress tried to encourage pharmaceutical R&D for these conditions when it enacted the Orphan Drug Act. But traditional drug regimens usually treat symptoms which can extend a patient's life as opposed to providing a cure.
Now though, horizons look brighter for the millions of people with rare diseases thanks to advances in genetic research. Gene therapy provides new hope for those with rare diseases that they might live longer, and healthier, lives. And some of that very important gene therapy research and development is being done in Hopewell under the leadership of Pennington resident Bruce Goldsmith.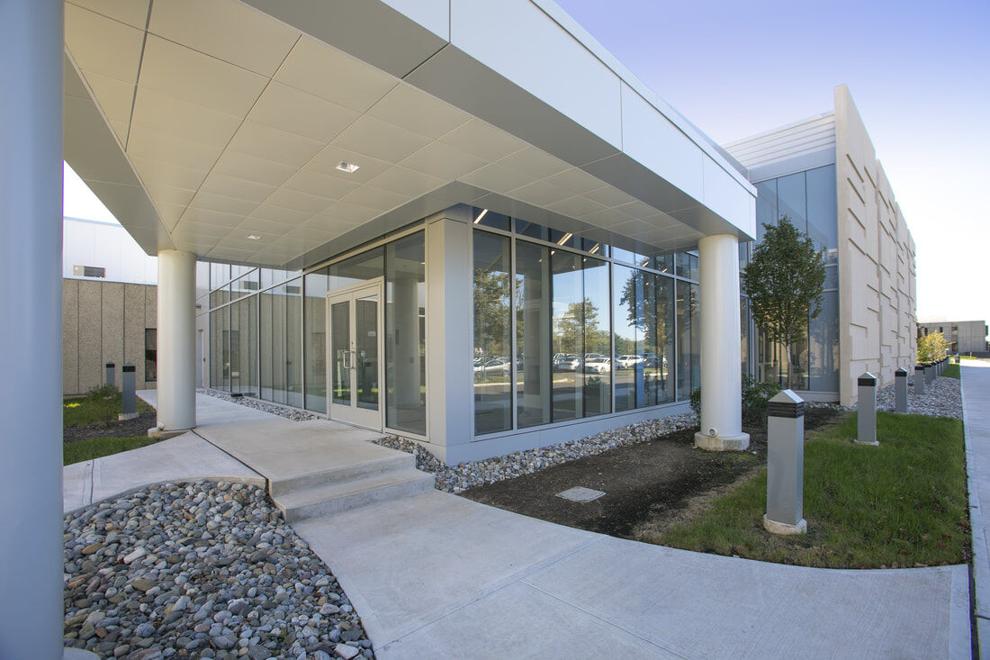 Goldsmith is the president and chief executive officer of Passage Bio, a gene therapy company based in Philadelphia which has opened a satellite location on the old Bristol Myers-Squibb Hopewell campus, now called Princeton West Innovation Campus. Like many biotech firms, Passage Bio is connected to a university research lab; in this case, the affiliation is with UPenn's Gene Therapy program.
While he now resides in Pennington, Goldsmith grew up with his brother and parents in Woodstock, New York, attending schools next door in the town of Saugerties. And no, as an aside, the famous concert did not happen in his hometown; it happened in Bethel, New York, about 90 minutes southwest of Woodstock.
"My mother stayed at home with me and my brother,'' Goldsmith says. "We had German Shepherds. I'm a dog person." He currently has two dogs —Coco, a miniature Australian shepherd, and Blue, a miniature poodle. They often go for walks in the Mercer Meadows and the Rosedale Park areas.
Goldsmith moved to Pennington with his wife, two college-aged children, and pets, which also includes a cat, in 2013, although the family has lived in the area since 1999. Goldsmith's father, an engineer by training, worked for IBM in Kingston, New York. Goldsmith said his father's career evolved over time and he went from being an engineer to becoming a project adviser.
As a project adviser, Goldsmith continued, his Dad learned to use tactical and strategic approaches to projects. The elder Goldsmith's career transition became a model for his son.
"That's how I view myself," Goldsmith said. "I have had many tactical roles in science and biotech companies. I view myself as someone who can float from the very tactical to the very strategic. And I think I got that from my father."
Goldsmith did his senior year of high school at a local community college because he had run out of high school AP courses to take. Working with his high school guidance counselor, he found his next academic home at Colgate University in Hamilton, New York, a small town about 50 miles southeast of Syracuse. After graduating in 1987, Goldsmith thought he would teach at a private school, but that changed when he was accepted to UPenn to study neuroscience.
After securing his Ph.D., Goldsmith followed his wife to Durham, North Carolina where she went to grad school and he worked as a postdoc. Next, the couple were off to Kobe, Japan where she worked for Procter & Gamble, and Goldsmith worked with Novartis. Goldsmith toiled as a research fellow in the neurodegeneration drug discovery group. It was then and there that he was introduced to the business side of the pharmaceutical industry.
He discovered he enjoyed wedding the ability to think scientifically with the financing of research. So when the couple returned to the United States, Goldsmith went to Columbia University to earn an MBA.
From Columbia University Goldsmith went to Johnson & Johnson, where he held a number of positions during his nearly twelve years with the company. Goldsmith then worked with four more scientific operations before being hired to lead Passage Bio in January 2020. And now, he has entered the world of gene therapy which is rapidly appearing in headlines, as researchers try to override genetic mutations with various genetic therapies in order to restore a patient to health.
* * *
The story of Passage Bio is an interesting one. According to a 2019 piece in the Chemical and Engineering News, the story begins when Stephen Squinto; who at the time was a venture partner in Orbi Med; visited the research home of Dr. James Wilson, the director of UPenn's Gene Therapy Program, as well as the director of the Orphan Disease Center.
Wilson is also an interesting story having weathered one of the worst moments a physician-researcher could ever experience–the death of a patient he was trying to save with an experimental protocol. In this case, it was gene therapy. And the moment was not only a gut punch for Wilson, but a gut punch for the entire gene therapy community.
In 2019, writer Meir Rinde, of the Science History Institute in Philadelphia, interviewed Jennifer Doudna, who, along with Emmanuelle Charpentier, won the 2020 Nobel Prize in Chemistry for their work on CRISPR. Doudna remembered well the impact of the event.
"We were all very much aware of what happened there and what a tragedy that was," she told the writer. "That made the whole field of gene therapy go away, mostly, for at least a decade."
Wilson almost gave up on gene therapy until his graduate school mentor, who had become a good friend and colleague, told Wilson he had to find out what had gone wrong. And that's exactly what Wilson did. From the crucible of the patient's death came knowledge that would change Wilson as a physician-researcher, and help to restore efforts to cure diseases using gene therapy. Without this rite-of-passage, Passage Bio might not exist.
Wilson has been committed to curing so-called orphan diseases for four decades, and is overjoyed to see his research, and the research of colleagues, leading to potential cures, as he recently explained in an interview for an internal Penn Medicine publication.
"I feel strongly that academia, when possible, should do everything it can to assure the translation of research and discovery into treatments that will help people. Yet, academic institutions are not in the business of developing drugs, so we need strong partnerships in the pharmaceutical industry in order to accomplish that. Penn is a real leader in partnering with the pharmaceutical industry, which is appropriate, and allows physicians and scientists to see their research evolve into treatments." Wilson said.
In February 2019, Wilson and Squinto created Passage Bio with $115.5M in investment capital. Seven months later, another $110M was raised. By December 31, 2021, Passage Bio had $316M in funding, enough to take the company to the end of the year 2023.
On March 15 of this year, the company announced it would reduce its workforce by 13% in order to extend the use of funding to the second quarter of 2024.
Squinto remained as CEO of Passage Bio until Goldsmith was hired. When Goldsmith came on board as CEO, he tweaked the research responsibilities between UPenn and Passage Bio to further ensure research translated into viable therapies for clinical trials with patients.
"There are generally two areas of research in gene and cell therapy which are both necessary for success," Goldsmith said. "One involves researching the scientific evidence and support for the therapeutic benefit the gene therapy may offer to patients."
That first part of the process, done at UPenn, formulates and lab tests the actual gene therapy to be used in clinical trials.
"The second [part of the process] is research and efforts to show that the product itself is manufactured appropriately, '' Goldsmith added. "For Passage Bio, this second type of research effort had typically started with UPenn, but Passage Bio is participating more and more in this work, which is why the Hopewell labs in the Princeton West Innovation Center are so important to our company."
Essentially, "UPenn does design and conducts the initial research to ensure the programs have the scientific evidence and the required regulatory studies," Goldsmith wrote. "Passage Bio closely collaborates with UPenn, but now conducts its own research on the manufacturing side to ensure the product also meets the regulatory requirements in the U.S. and globally."
Goldsmith has a high regard for Wilson and his decades of research in gene therapy. Wilson is considered one of the pioneers of this science and someone who is dedicated to patient well-being. Goldsmith told me in an interview. "We err on the side of being careful with patients."
That attention to patient needs clearly keeps Goldsmith, and therefore Passage Bio, focused because Goldsmith knows he is making decisions in a space that is still not well-defined, but it's a space he doesn't mind dancing in.
"One of the things I love doing is making decisions constantly in areas of uncertainty," Goldsmith said.
Passage Bio has licensed nine options, out of an initial 17 potential ones, for gene therapies which are connected to research out of UPenn's Gene Therapy Program. All the options involve the treatment of genetic disorders of the Central Nervous System, genetic disorders which are considered rare diseases. Five of the licensed options address pediatric disorders; the four remaining options deal with adult-onset issues.
A lay person might think tinkering with the CNS, which includes the brain and spinal column, would be the last place to begin doing gene therapy. As it turns out, it seems to be one of the best places to start.
In a presentation at the 2019 American Society of Gene & Cell Therapy's Annual Meeting, Steven Gray, a gene therapy researcher at the University of Texas Southwestern Medical Center, explained why gene therapy in the CNS could have great potential.
"The simplest disease to treat conceptually is going to be something where you have a localized delivery, '' he noted. "The delivery is easy and you don't have to target every cell."
Goldsmith described the method Passage Bio uses which is localized to the CNS.
"We are first directing the gene therapy into the central nervous system, which is the area of target for the diseases we are studying," Goldsmith wrote in an email followup. "For Passage Bio's three programs in clinical studies this means delivery directly into the cerebral spinal fluid, the fluid around the brain, using a specialized technique called intra-cisterna magna delivery."
The genetic material gets to its intended destination thanks to–believe it or not given our pandemic adventures– a virus which is used as a transport system.
Viruses, by definition, are a piece of DNA code encapsulated in a protein shell called a capsid. A virus eventually dies off unless it can hijack a functioning cell. That's why people wash their hands and clean surfaces, to wipe out potential viruses before they can enter the body. So, the superpower of a virus is its ability to get inside a cell and replicate. Gene therapies harness that superpower to hopefully invade cells in need of repair. But, instead of carrying the usual viral genetic code causing illness, the virus capsids ferry genes specifically designed to rewrite the genetic codes of a patient's damaged genes.
The genetic therapies used by Passage Bio rely on a very specific virus which is called an Adeno-associated virus, or AAV. When used as a delivery system in gene therapy, the AAV is called a vector. AAVs are small; they only carry a single strand of DNA. The capsid is quite sturdy. AAVs are not known to cause serious illness in humans which is why they get selected for these therapies. There are nine AAV variants. Passage Bio is using its own novel AAV in two studies; a third study relies on the use of a AAV1.
* * *
So how is the vector created?
In email correspondence with Gray, I ask if he could explain how researchers take the AAV virus and strip it of its slightly infectious DNA in order to create the gene therapy. I also asked if he could explain it on a 5th grade level.
Gray, also a very busy scientist doing much the same kind of research as Wilson does at UPenn, wrote back: "It would take a bit of time to try to provide background and explain good answers to your questions for a '5th grade' audience. My short answer to your questions about AAV production is 'magic.'"
I come to realize it's also proprietary magic, much like drug companies have proprietary formulas for the medications we swallow. Suffice it to say, the AAV capsids, containing the genetic material designed to cure, are created in labs.
For Passage Bio, the company charged with creating the "magic" is a global company called Catalent, which is headquartered in Somerset.
Currently Passage Bio has two global clinical trials for what Goldsmith calls "catastrophic pediatric diseases," GM1 gangliosidosis and Krabbe disease. Several participants (infants) have already been enrolled in those trials and additional participants are being sought. A third clinical trial which has opened and needs participants will address frontotemporal dementia in adults.
Passage Bio has other projects in its pipeline. However, before clinical research begins with patients, the company must complete pre-clinical research and an array of paperwork for federal regulatory agencies. Currently, that process is being completed in order to begin a clinical trial for Metachromatic leukodystrophy, or MLD, another rare nervous system disorder. The company expects to submit an investigational new drug application with the FDA by mid-2022.
Passage Bio also intends to expand its workforce at its Hopewell site from 30 employees to 50. "We are in a synergy moment," Goldsmith said in an interview. He talked about the growing excitement not only in the field of gene therapeutics, but also about the revitalization of the BMS site into what he called an ecosystem, much like the one in Cambridge, Massachusetts where he worked as an interim CEO for Civetta Therapeutics.
And he credits part of this building excitement and synergy to the growing presence of biotech companies in Hopewell and the surrounding area.
"There has never been a time when so many potential therapies are being explored," Goldsmith said. "I am focused on the objectives that we have which is to treat patients. The rest will fall into place. I think we are in really good shape."
And that's just the kind of enthusiasm and vision those in the rare disease community want to hear.
Any readers interested in enrolling in a clinical trial should contact the company's patient services email at patientservices@passagebio.com.