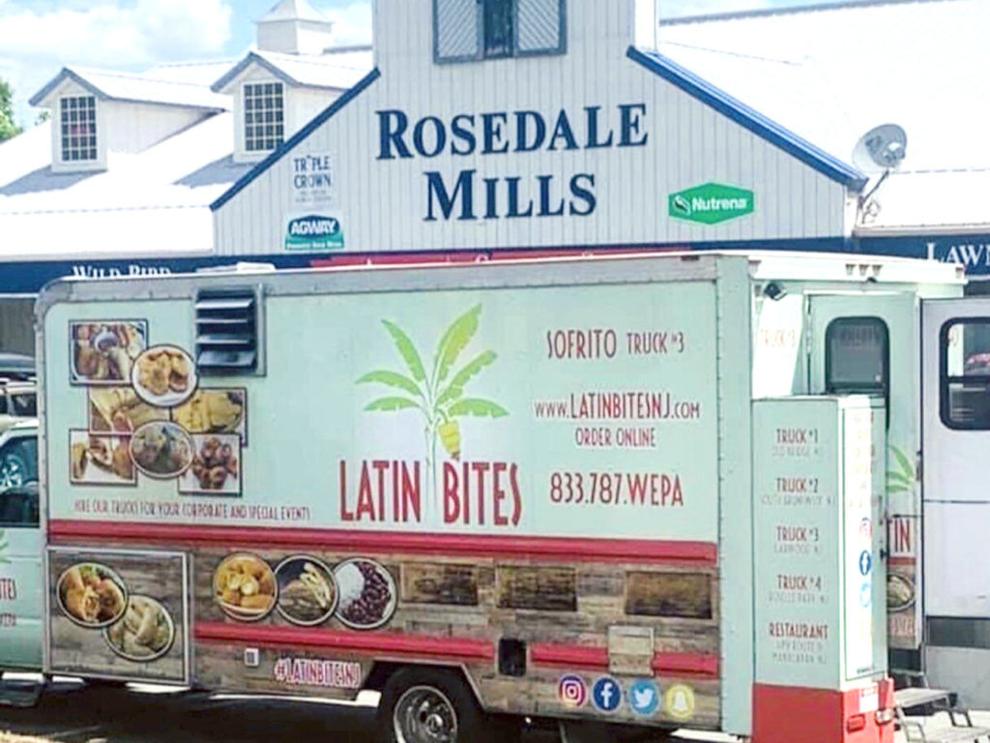 Many shoppers in Hopewell Valley think of Rosedale Mills on Route 31 as one of those stores where you can go to get a lot of different things — something for your pets here, something for your home and garden there. You may even know someone whose life partner ran over to Rosedale Mills for some birdseed one day and came home with a chicken coop.
And for the past 10 years, the Hart family's 71-year-old business has also been known as the seasonal home of the Pennington Farmers Market, which is getting ready to start up again on Saturday, May 29.
But since last year, Rosedale Mills has been attracting customers for a whole new reason — one that is unrelated to the farmers market or its core business.
Since last spring, it has become known throughout the area as a place to pick up some great food from one of the many food trucks that now serve the area.
This year Rosedale Mills plans to host a rotation of food trucks six days a week throughout the warmer months. On the docket for May are a mix of familiar favorites and first-time visitors (a complete schedule is on page 6).
While the coronavirus pandemic may have played a role in the unexpected success of food trucks at Rosedale Mills, the idea to invite them was a pre-pandemic brainstorm. Manager Elizabeth Schreiber came up with the idea.
"She just thought it would be great fun to have different trucks come here and have something available for our customers for lunch," says Daria Williams, the Rosedale Mills staff member who does all the booking for the trucks. "And then with Covid, it turned out to be something safe people could do. They weren't eating out at restaurants, but they could come here."
They set out to bring a truck to the store five days a week. But it was challenging at first. Food trucks like to set up someplace where they can expect to serve enough customers to make at least a modest profit. With no track record, Rosedale Mills had to convince them that a country store was that kind of place.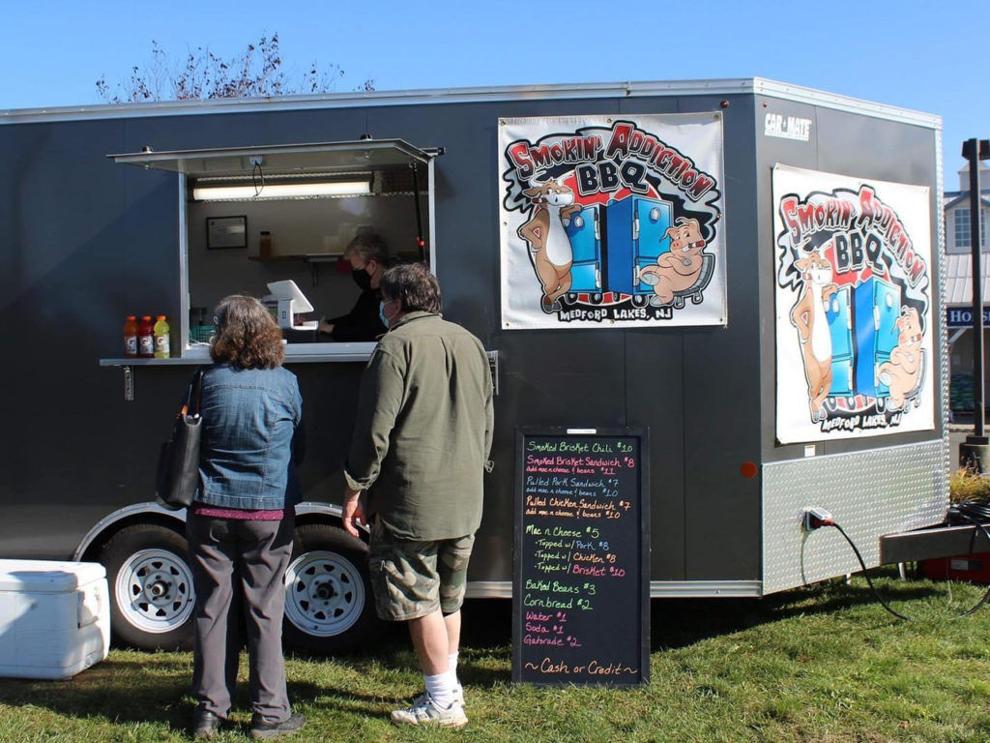 Williams says that the store initially used a consultant to help them connect with food truck operators and convince them to give Rosedale Mills a try. Some of those trucks had enough success that they agreed to return, and Williams says others were convinced by the store's active social media campaigns online.
By late summer, the script was flipped.
"We started advertising that we had food trucks at the store and other trucks saw what a great job we were doing promoting it, and after a while they started reaching out to us," Williams says.
It helped that truck operators were looking for new opportunities after Covid shut down many markets, festivals and entertainment venues.
"The food trucks had lost all their business for concerts and other events," Williams says. "They were struggling and they had to change their business models completely, doing their business at smaller venues like this."
Williams adds that the arrangement has not merely been good for the food trucks' business; the food trucks have also been good for Rosedale Mills. Both the trucks and the Pennington Farmers Market have introduced many new customers to the store in recent years.
"It has definitely helped increase business," Williams says. "People driving by will just pull in because they see the trucks in the parking lot, and also people waiting in line start thinking of something they need to get from the store while they are there. We've had a lot of new people come in the store. They have lunch, come in the store and they say, 'Oh, we never knew you had such a variety of products.'"
Trucks come from throughout the general area. One popular truck, Latin Bites, is based in Manalapan, and serves Cuban and Puerto Rican food. Dan's Waffles is out of Pennsauken, and Doughnut Evolution, which fries its sweet treats to order, is based in Aberdeen Township.
And many trucks are based right here in Mercer County. The Savory Leaf Café is based in Lawrence, and D&D Catering in Hamilton.
Big Sid's Southern Cuisine is one food truck that started going to Rosedale Mills last year, and is returning for another season. Sid Johnson of Big Sid's can sometimes be found at the Paketeria Food Market on South Olden Avenue in Trenton. And when he isn't there, he's on the road serving his seafood and southern comfort food specialties.
"I'd never been up that way to do anything," Johnson says. "After they called me, I rode up there prior to when we started, just to see how it was, and it was pretty busy out there."
Johnson says he saw Rosedale Mills as a good opportunity to reach new customers. "I said, 'Well I'll give it a shot, why not, I had nothing to lose,'" he says.
He says customers responded well to his scratch-made dishes.
"It's a good spot," he says. "How it works out is what we make of it. If we bring quality food, they'll support us, and if we don't, we won't see them anymore. So far we have had a lot of customers returning to us, so I guess they like the quality of what we're doing."
Johnson says he has seen his Trenton customers at Rosedale Mills, and he has also seen people he first served at Rosedale Mills at the Paketeria.
Big Sid's will be at Rosedale Mills on May 28 and 29. The truck is known for its seafood dishes, like grilled salmon, grilled shrimp, fried shrimp, fish po'boys, crab balls ("they're really crab bakes, but they're balls so we call them crab balls," Johnson says), and Johnson's house specialty, seafood rice.
But Johnson says that pulled pork always sells really well when he goes to Hopewell, so he always makes sure to have pulled pork on hand when he's there.
"I think it's a nice place to work at, the people are friendly, the staff is nice," he says. "I like to fish, so I go into the store to get some stuff for fishing from time to time. I use them to get my propane. It's really convenient for me, and I think it's good for them because by us having good quality food, not only do people come up from Trenton to see us, but they also go into their store, which is a good thing."
For now, Rosedale Mills only books one truck a day, Tuesday through Sunday. Their permit allows for two trucks at a time, but Williams says they don't want to pit trucks against one another for customers.
But she adds that in the future, the store could book a savory truck and a sweet truck at the same time, so customers can get both a lunch and a dessert.
Rosedale Mills, 101 State Route 31, Pennington NJ 08534. Phone: (609) 737-2008.
Daria Williams also books food trucks for other venues and events. For more information, call (908) 328-2177 or email dariawilliams@hotmail.com.
Food trucks are always onsite from at least 11 a.m. to 4 p.m. To get the latest updates, follow Rosedale Mills on Facebook.
May food truck schedule at Rosedale Mills
Saturday, May 1: Latin Bites
Sunday, May 2: Dan's Waffles
Tuesday, May 4: D&D Catering
Wednesday, May 5: D&D Catering
Thursday, May 6: Playa Bowls
Friday, May 7: Smokin' Addiction BBQ
Saturday, May 8: Smokin' Addiction
Sunday, May 9: Doughnut Evolution
Tuesday, May 11: Cousin's Maine Lobster
Wednesday, May 12: Latin Bites
Thursday, May 13: Latin Bites
Friday, May 14: Dan's Backyard BBQ
Saturday, May 15: Sweet Concessions
Sunday, May 16: Dan's Waffles
Tuesday, May 18: Latin Bites
Wednesday, May 19: Latin Bites
Friday, May 21: The Savory Café
Saturday, May 22: TBA
Sunday, May 23: Dan's Waffles
Tuesday, May 25: Cousin's Lobster
Wednesday, May 26: D&D Catering
Thursday, May 27: D&D Catering
Friday, May 28: Big Sid's Southern Cuisine
Saturday, May 29: Big Sid's
Sunday, May 30: Maui Lu Hawaiian BBQ