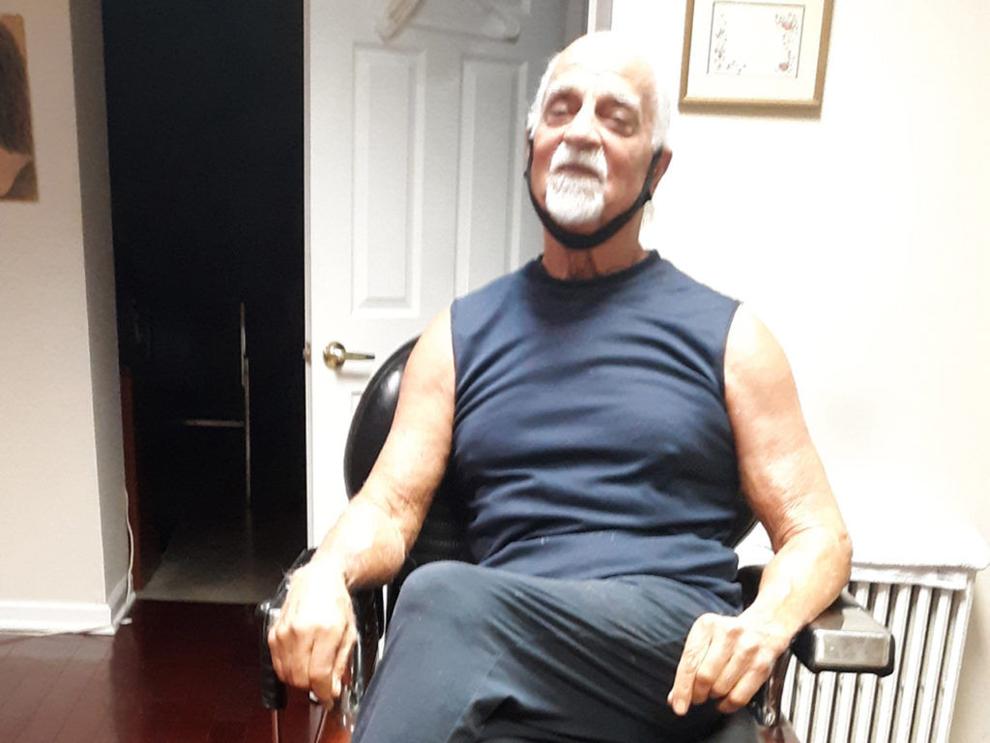 "I'm a professional barber. I make people feel good and look good. Mostly feel good," says Joe Festa — affectionately known as the "Mayor of South Warren Street" in the heart of Trenton.
The appellation comes from Festa's longtime presence as the owner of State Barbershop — now celebrating its 60th anniversary.
"It's a man's barbershop — that's what this is," says Festa, who also recently celebrated another milestone: his 85th birthday.
Standing in a two barber-chair shop that has seen hair fashions and hair lines come and go, Festa, fit and dressed in black tight duds — runs down the shop's services, "Shaves, facials, all haircuts. We make working people feel good."
The clientele runs the gamut from clerks and laborers to state governors, legislators, congressmen, monsignors, and Trenton mayors.
There is also the occasional celebrity drop-in — like former Yankee right fielder Reggie Jackson.
As Festa tells it, the unrecognized Jackson was in town for some unnamed reason, walked in the shop, and asked if he could get a cut.
Festa — a longtime body builder with weights in the shop's basement and a gym behind the building — says it wasn't until he sized-up Jackson's shoulder muscles that he asked if he was an athlete and learned "Mr. October" was under his shop's shears.
Talking about his choice of career, Festa says he started across the street in another shop for an unplanned reason: A judge told him to get a profession or go to jail.
"I was arrested for bookmaking in my young 20s," he says. "I worked for the mob. That was in North Trenton where all the big guys were, the kings."
It's also where Festa grew up in a household of 13 children headed by a Bayer Aspirin black seal worker father from Italy and stay-at-home mom.
"I got an education with (the mob)," he says and the provides examples: "Like 'never be a sucker.' That means people will take advantage of you. And no one takes advantage of me. And 'never argue with a fool,' they get you on their level and then beat with you with their experience."
Festa says when the judge gave him a three-year suspension, another bookmaker, who also happened to be a barber, gave him a job in his Warren Street shop.
"I never took a lesson," Festa says. Instead he got serious, got to the shop early, and learned on the job by cutting hundreds of heads of hair in order to perfect his craft.
"I had to learn a legitimate job. Cutting hair saved my life," he says.
He then mentions a few other choices that helped him get a handle on his life and his profession.
"My success is that I married the right lady," he says of his wife of 57 years, Marie.
Marie, sister-in-law of one of Festa's friends, and Festa courted and were married in Trenton — but now live in Ewing.
"She is more attractive than the day I married," he says of the mother of their three grown daughters and six grandchildren.
Another choice? "Being nice. That's what got me through life."
That includes finding himself the owner of four Warren Street properties because someone appreciated his kindness to his wife.
Since then Festa has become an apostle of kindness and has a personal mantra: "Keep kindness to yourself, it destroys you."
And word on the street and the occasional newspaper article say Festa does more than talk and is involved with helping people get back on their feet by finding them places to stay and finding support.
"If you want to feel good, be nice to someone else," he says, adding "I teach children to be nice to people."
Thinking more about children he says, "We need to work more with the young people. We need to start with the seed rather than the plant. We're starting too late. I'm think it starts at the home. Children don't have the homes we had when we were kids. I think this epidemic came with a message. We need to clean things up."
Festa says he's a happy man working in what he calls an "old fashioned neighborhood" with shoe makers, restaurants, lawyers, and barber shops.
But he also laments that the city seems to have lost its sense of self-direction. "I'm looking at our city where our country started here. But we're not taking care of it. We have a hotel that has been closed for three years. The governor should be doing something."
Taking a more than half-full glass attitude he adds, "But in tough times, that's when you find out what you're about. Things are happening for a purpose."
"We have the 40,000 state workers who haven't been working down here. We're having hard time without the state people. We should be nice to them when we get them back.
"The people who live in Trenton have to want a better city. They have got to want it. There is always a way. We're not giving up."
"We" includes fellow Warren Street area business owners — Classic Books, Giaquinto's Shoes, Smoke House Restaurant, and others who have been supporting one another as the city's fortunes and pandemic restrictions change — like when Festa had to close for several months.
"There's kind of a harmony here (on Warren Street)," he continues. "When you promote your neighbor, you promote your own business."
Upbeat and quick with homespun wit and wisdom, Festa moves to the topic of education and starts with a joke, "Know why Italian women are smart? Because they have to deal with dumbbells like me."
After a few other groaners, he gets serious and says he dropped out of school in seventh grade and recently taught himself to read. "Get the lesson out that it is never too late," he says.
Now one of the joys of his new found skill is learning more about one of his heroes, Abraham Lincoln, represented in a picture near his cutting station. "I love him. I think he's is still here. Life is important, but what is more important is the impression you leave. I'm going to leave great memories."
Some of those memories are also in pictures filling a good portion of the shop's north wall, where clients wait. There, a colorful line of images show Festa with Marie, his daughters and grandchildren, mayors, shop visitors, and images of Festa at his body-building prime.
Then he is quick to point out a single framed card on another wall. It's from one of his daughters and poetically thanks him for "working hard to make my dreams come true."
"I read it every day," he says as he leans against the barber chair and stretches his legs. "Got to move," he says about his actions. "Good health is vital to success. The difference between failure and success is energy. A lot of people don't have the energy. "
But that's not all, "When you're 85 and can put 12 hours in a day, you have to love what you're doing."
Then he goes into his own personal love-fest: "I love this county. I think of the people that helped the country, they're called workers.
"(And) I can't tell you how much I love Trenton. My lifestyle came from Trenton — three cars with college stickers on them. This town has been good to me. I've been here 60 years, and I feel like I'm just starting."
As the interview — and a very close haircut — ends, Festa heads to the door and stands next to the Christmas tree next to the window and says, "It makes people feel good. So it stays up all year."
State Barber Shop, 116 South Warren Street, Trenton. Wednesdays through Fridays, 6 a.m. to 6 p.m. , Saturdays, 6 a.m. to 5 p.m. Cash only. 609-392-2211 or www.facebook.com/statebarbershop.