What's the definition of the perfect cocktail, non-alcoholic "mocktail," or refreshing glass of beer? After two-plus years of spending far too much time confined to our homes, the answer is obvious — it's the one that someone else prepares especially for you.
As more and more of us venture back to our favorite watering holes or discover new ones, U.S. 1 decided to explore what's trendy and trending these days, and who better to ask than the expert mixologists behind a few of the area's most distinctive and coziest establishments. Eavesdrop on our upscale pub crawl and find out what they had to say.
First Stop: The Bar at Anton's at the Swan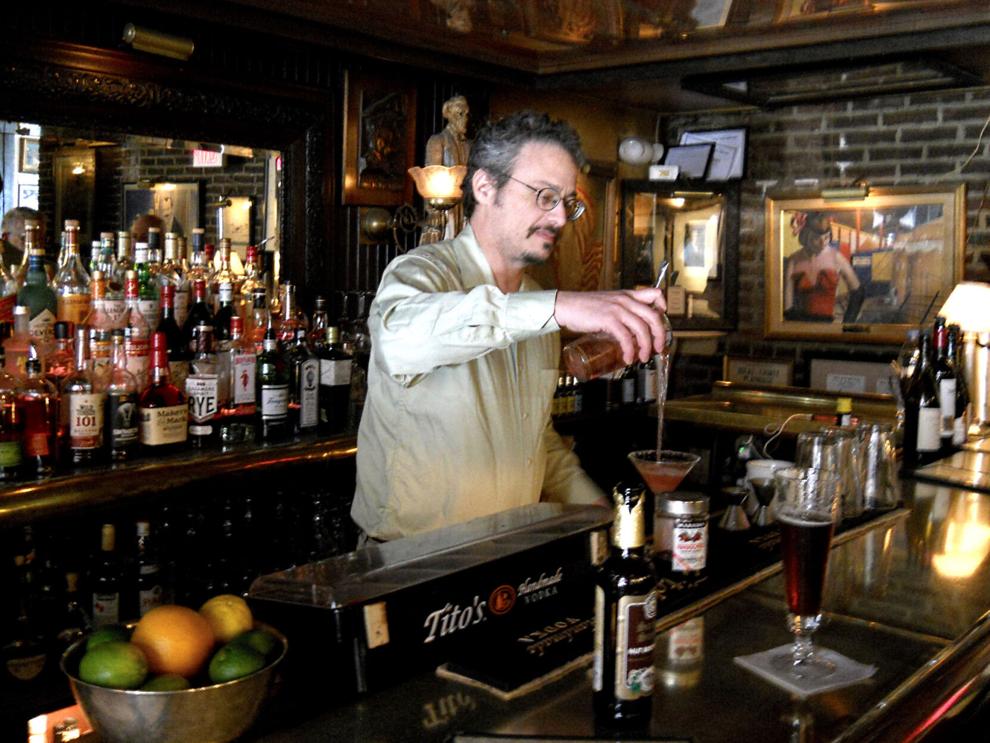 Anton's, a short walk from busy Bridge Street in the charming Delaware River town of Lambertville, bills itself as "New American Comfort Food in a Romantic Setting." The comfort and romance extend to the cozy, welcoming multi-level bar room at the back that one Yelp reviewer called "by far the coolest bar to hang out in the New Hope area."
It would be hard to disagree. The cozy bar, spacious seating area, and open patio were designed by the late Jim Hamilton, long-time proprietor of the local institution Hamilton's Grill Room across town. The bar seats six, 20 more in the surrounding area, still more on the patio, weather permitting.
The crowd? "Where to start? It's a safe place, it's a place where you never know who you're going to sit next to — a politician or a mover, it could be anybody," responds bartender Eric Hammer, an ambassador of cool in his own right. "Everyone is always polite and cordial to each other."
Hammer should know; he says he's been a bartender for about 30 years. "I've been here at the Swan for 18 years, I guess that makes me the new guy," he says with a chuckle. He notes that the Swan has been in business since the mid-60s. Anton joined founder Jim Bolger in the '70s or '80s. "At that point they were serving mainly sandwiches and drinks and thought they'd fancify the place and prepare meals for the people," Eric says. "Anton has moved on to other things, but his name remains."
Hammer notes that the menu served in the adjoining restaurant is also available at the bar, and it's not unusual for patrons to enjoy a meal here. "We have great burgers, a mashed potato & onion pizza, on up to more upmarket entrees like grilled hanger steak and sea bass," he notes.
There's a wide range of offerings on the bar menu as well. "Right now, everybody's drinking cocktails," Hammer notes. "Ever since we started to come back from the pandemic, people are ordering cocktails. Beer and wine too, but nothing like the demand for a cocktail."
To accommodate the full spectrum of cocktail consumers, Anton's offers both an "Old School" and "New School" cocktail menu. "Manhattans and Old Fashioneds fit the old fashioned vibe in the room," Hammer says. "We feature a list of old school drinks and variations on old school drinks as well, like a Pear Ginger Sidecar or an Espresso Martini. We offer an Old Fashioned made with 12-year-old, barrel-aged rum that gives it a Bourbon-y oaky flavor."
A lot of cocktail making involves inventing with what you have on hand, he continues. "For example, I have these beautiful Maraska cherries from Croatia, and when the jar is empty I'm left with this amazing syrup, so I started using that in my cocktail making."
Such invented cocktails include the Fragson, a tasty concoction made with Sagamore rye, Luxardo liqueur, lemon juice, and a splash of Maraska cherry syrup. "It's like a variation on a Whiskey Sour, a Whiskey Sour taken to the next level," Hammer says.
He notes that he strives to offer spirits for guests who are seeking something different, like Contradiction, a wheated bourbon from Smooth Ambler distillery in West Virginia, Sagamore Spirit Rye Whiskey from Maryland ("just incredible"), a blend of high and low rye whiskeys proofed with limestone-filtered water from a spring house built in 1909.
Any call for non-alcoholic mocktails, an increasingly popular drinks category? "Not so much," he says. "Occasionally I get a request for one, usually something fruity. We actually stock some great non-alcoholic beers, next-level non-alcoholic beers, like Run Wild IPA and Upside Down Golden, both from ABC," Athletic Brewing Company in Stratford, Connecticut.
"When it comes to beer, my goal is to stock beers that no one has ever heard of," Hammer says. "We have Stella, of course, and Guinness, but we've never offered 'lite' beers. We do have local brews, like Of Hope & Clouds from Vault Brewery in Yardley, fantastic stuff. We also have one out of Iceland, Einstock Icelandic White Ale. We're looking for a balance of styles as well as geography, as long as it's great beer."
And if you're looking for a worthy IPA that you probably haven't encountered elsewhere, Hammer recommends Elysian Space Dust IPA from Washington State.
At the end of the interview, Hammer generously offers the following recipe for The Fragson, named in honor of Harry Fragson, a turn of the 20th century French composer and piano player whose image holds a place of honor on Anton's wall. While Hammer notes Fragson met a tragic end, ending (or beginning) a visit to Anton's with a Fragson would be anything but tragic.
Fragson
2 0z. Sagamore Rye
Juice of Half a Lemon
Splash of Luxardo Liqueur
Splash of Maraska Cherry Syrup
Shake in a shaker w/ ice
Strain, serve
Anton's at the Swan, 43 South Main Street, Lambertville. Bar Hours, Tuesday through Friday, 5 to 9 p.m., and Saturday and Sunday, 3 to 9 p.m. A full restaurant menu is available at the bar. 609-397-1960 or antons-at-the-swan.com.
Next Stop: Dinky Bar & Kitchen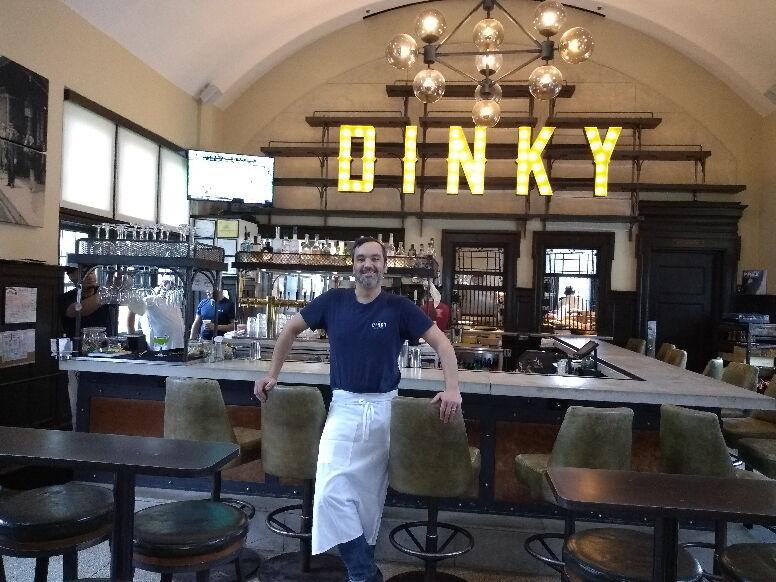 If you know Princeton at all, you know that Dinky Bar & Kitchen makes its home in the original 1918 historic stone station house that connected Princeton to Princeton Junction train station. Today it connects folks with a tasty variety of food and drink in a one-of-a-kind setting.
There are 12 seats at the bar, and the dining room seats around 50. The same menu, described as "approachable comfort food," is available throughout.
Bartender Tynan Craycraft is well qualified to be our guide to the drink side of things. "I've worked in bars and restaurants for about 20 years," Craycraft says. "I started off in Boston, moved to New York City in 2006, and started bartending at Barbuto (Chef Jonathan Waxman's highly regarded restaurant) in the West Village. I worked my way to the top over the course of 11 years, eventually approaching the owners about creating a cocktail list that was comprehensive, seasonal, and in keeping with the level of the fantastic cuisine."
Craycraft notes that over the course of those 11 years he'd created almost 100 different cocktails, some of which were featured in chef Waxman's Barbuto cookbook.
Craycraft notes that the onset of the pandemic motivated him and his wife to settle in Pennington, and after a stint as Mr. Mom, he wound up at the Dinky Bar. "This place seemed to have exactly the kind of atmosphere that I like," he says. "It's casual but elevated. Compared to the anonymity of the city, it feels more like a community here."
"At first I was concerned that this would be a typical 'college bar,' but I found that that's not the case," he continues. "It's an eclectic group of people who drop by; students, graduate students, faculty, people from the theater and sports events. You get a different crowd each day, which makes my job exciting. I enjoy that each day is a new experience."
As you might imagine, cocktails are quite popular at the Dinky Bar, according to Craycraft. "We feature a specialty cocktail list; a few that I've come up with, some from other bartenders in the company, some from our beverage director."
"Our passion fruit gimlet and blood orange margarita are probably the most popular, but what I like, too, is the adventurous people who come into the bar and ask me what I'd like to make for them. That's when I can draw on my knowledge and experience, perhaps resurrect some forgotten classic cocktails, some pre-prohibition, like (the gin-based) Aviation.
"The classics are great drinks because people like variations on them. You can personalize them by changing up the base spirit, making them a bit sweeter, using muddled orange, lemon peel, and that's a great way for me to communicate with my guests, a way to spark conversation."
Keeping to the spirit of conversation, I ask Craycraft if there's a signature cocktail he'd like to share?
"One of the cocktails that I'm really proud of I call the Honey Tea," Craycraft says. "We start with gin infused with dried chamomile flowers for nice floral notes, some honey, fresh lemon, then shake it, strain it in a martini glass or a coupe, and top it off with some nice cold bubbly prosecco to add some effervescence. It's a nice light cocktail that still has some complexity."
Is there much call for mocktails at Dinky Bar?
"Yes, some people come to the bar and don't want an alcoholic drink, but want to have an adult beverage and feel like adults. What I've tried to do is elevate mocktails to where people can feel sophisticated about what they're drinking, offering drinks that are not too sugary or too sweet. One that works really well is something called a 'shrub.' They're also known as 'drinking vinegars' and date back to colonial times as a way to preserve fruits after harvesting in spring and summer through the winter by using vinegar.
"For instance, I make a raspberry shrub by soaking fresh raspberries in champagne vinegar until the flavor is absorbed by the vinegar, sweetening the vinegar, and then adding a little water to it. It almost results in a syrup, but it has that bright acidity that you get from a quality champagne or apple cider vinegar. Two ounces of grapefruit shrub in a highball glass with club soda looks like a cocktail, and isn't sugary sweet, so you can feel like an adult when you're enjoying it."
When it comes to beer, the taps that line the bar attest to its popularity here. "IPAs have been popular for at least past 10 or 15 years," Craycraft says. "Their popularity has grown exponentially with the introduction of a new style of IPA, sort of New England, East Coast, hazy IPAs utilizing hops that impart a citrusy quality and subdue the traditional bitterness. They have a higher alcohol content, which means that you can sip them slowly and feel a bit toasty and warm without having to have three Budweisers or whatever."
"ABV (alcohol by volume) is over eight percent with some double IPAs, with a much more fruity nose, versus the piney notes you'd get from more traditional West Coast style IPAs. It's not unusual for us to have four or five IPAs out of the nine we have on draft, it's a style of beer with variations within that style — one's more piney and resinous, one's a hazy double IPA so the alcohol content's much higher but the brewing technique makes it much more quaffable, much easier to drink."
And, he continues, "As far as trends go, people are asking for sour beers as well, a German style that was almost lost. It's not overly sour. It's not going to bite you. And it has some peppery notes too. It's brewed with lemon peel, sometimes coriander, very approachable, very drinkable. I've noticed that people's palates are trending away from sugary drinks to more citrusy, so sour beers are a great choice. Ciders fit into that category too. These days brewers are bringing lighter, more acidic or bright notes to their ciders, so they're coming out with an almost champagne yeastiness.
"One of the most popular beers we serve right now is an Oktoberfest by Trap Rock brewery, a red beer. It's the only one we offer, so I guess that's why it jumps out at people. And when summertime comes I plan to do a take on a Shandy with some of our lighter beers, maybe do a special take on lemonade as well."
Just as I leave, Craycraft kindly shares the recipe for his Green Lantern Cocktail:
Green Lantern Cocktail
1 ½ oz gin
1 oz Midori liqueur
½ oz lime juice
½ oz Green Chartreuse
½ oz pineapple juice
Shake and strain into a coupe glass
Garnish with a twist of lime
Dinky Bar & Kitchen, 94 University Place, Princeton. Monday through Thursday, 11:30 a.m. to 11 p.m., Friday and Saturday, 11:30 a.m. to midnight, Sunday, 11:30 a.m. to 9 p.m. Full menu available at the bar. dinkybarandkitchen.com.
Penultimate Stop: ONE 53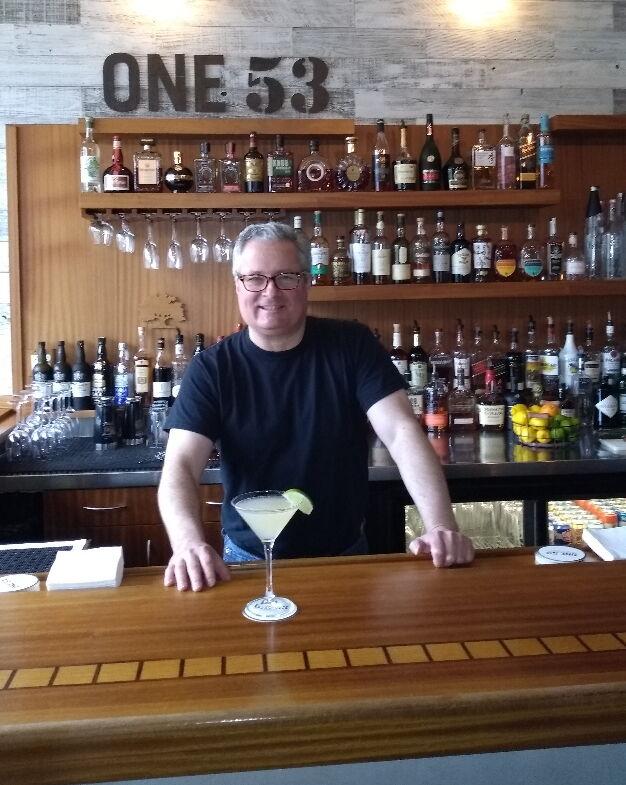 The clean-lined, unprepossessing building at 153 Washington Street in the charming village of Rocky Hill offers few clues to the warm, welcoming atmosphere within — a warmth facilitated in no small part by bar manager Craig Holcombe.
"I started bartending in 1990 at the Rainbow Room in New York City, when Dale DeGrof was still running it," he says. (The website famousdrinkers.com credits DeGroff as one of the founding fathers of the craft cocktail movement). "That was a real education. It gave me an appreciation for using the freshness of ingredients and set the trajectory of the kind of cocktails I wanted to make."
Holcombe returned to the area after graduating from college. "I was on the opening team at Triumph brewpub (in Princeton)," he continues, and worked at the Alchemist and Barrister and a couple of other places in town. Then I went back New York to open Nyla, Brittney Spears' ill-fated restaurant, a crazy time. Then back to Princeton, and the original owners of ONE 53, Joe and Caron (McLaughlin), called me up and said 'come on in.' I said, 'Let's try it out and see if we like each other, and I've been here for 15 years."
The modern-yet-cozy main dining room seats about 75 with room for an additional 25 or so downstairs. The equally cozy bar at the front of the main dining room seats 11. Additional seating is available on the patio, weather permitting.
Cocktails are clearly the main attraction at the bar. "We invent our cocktails for the most part," Holcomb says, "although we're doing a couple of classic New Orleans cocktails right now, Sazerac and Vieux Carre. I can't take credit for them, NPR just devoted a program to them, and Vieux Carre (a combination of rye, cognac, sweet vermouth, Benedictine, and bitters) was credited as the original cocktail in America."
He describes the vibe at the bar as "very friendly, a lot of regulars. I see people greeting friends all the time as they walk to their tables. It's probably best described by a guest who belongs to several clubs who told me that he knows more people here than he does at any of his clubs."
Turning back to cocktails, Holcomb says, "One I really like that I came up with is called Ernesto. We were on a Hemingway kick at the time, making Papa Dobles, things like that, so I came up with something similar to a Paloma but without soda. It's grapefruit, lime, reposada, and Canton ginger liqueur. It's simple, delicious, refreshing — if you don't want another one, I didn't make it right!
"We also do a vodka version of the Ernesto that's really popular here, with vodka, St. Germaine, Lillet blanc, grapefruit and lime. But the ONE 53 Cocktail is the signature of the restaurant, and it's beautiful: 2 oz Magellan Gin, ¾ oz St. Germain elderflower liqueur, juice of half a lemon (trick is to drop the rind in to get the oils), shake, and serve in a martini glass. Outstanding!"
Is there much call for mocktails at ONE 53?
"A little more than we used to," he says. "The one I like the best is a Pimm's Cup. We use ginger ale, bitter lemon is even better if you have it. I cut up a small strawberry, some fresh mint, cucumber, and a wedge of lemon. It's great with the Pimm's, but without it it's fantastic as well. We also do a non-alcoholic Margarita; basically our house-made sour mix, club soda, and the sauce from the chipotle peppers. Real simple, you can make as spicy as you'd like, it's great."
Do you make your own infusions and such?
"Absolutely," says Holcombe. "The two most recent ones are a Spanish brandy infused with black mission figs and vanilla, a take on the Vieux Carre cocktail actually. I use Buffalo Trace bourbon for half of it, the infused brandy with the other, a dash of orange bitters, garnished with an orange wheel or orange twist. I love that drink, beautiful!
"There's another one, with a bourbon infused with dried cherries and vanilla and ginger ale; we call it a ONE 53 Cream Soda. Another is gin infused with cardamom that I use. It's so delicious. Some people prefer to drink it straight."
Holcombe notes that all the food that's on ONE 53's menu is available at the bar. "This is an eating bar," he says. "People will occasionally come in for a drink at the beginning or ending of the night, but in general people dine at the bar. It's a friendly crowd, lots of couples, but occasionally single women will come in because they feel safe and comfortable."
Something you won't find at the bar at ONE 53 is draft beer, but there's a well-curated selection of beer in cans.
"The Rothaus pilsner, a beautiful pilsner from the Black Forest region, is popular," Holcombe says. "It's flavorful, crisp, light, an easy drinking beer. The Fiddlehead IPAs are very popular as well. Sloop Brewing's Juice Bomb IPA has been pretty popular for us too, as are selections from Sixpoint brewing out of Brooklyn. We've carried them for years. No light beers here though, the former owners didn't care for it, and I think they were right."
As a lovely parting gift, Holcombe shares his recipe for the Ernesto:
Craig Holcombe's Ernesto Cocktail
¾ oz grapefruit juice
½ oz lime juice
¾ oz Canton ginger liqueur (or any ginger brandy)
2 oz reposada tequila
Shake and serve in a martini glass
ONE 53, 153 Washington Street, Rocky Hill. Wednesday and Thursday, 5 to 9 p.m., Friday and Saturday, 5 to 9:30 p.m., and Sunday, 5 to 9 p.m. Full restaurant menu available at the bar. 609-921-0153 or one53nj.com.
Last Stop: Brick Farm Tavern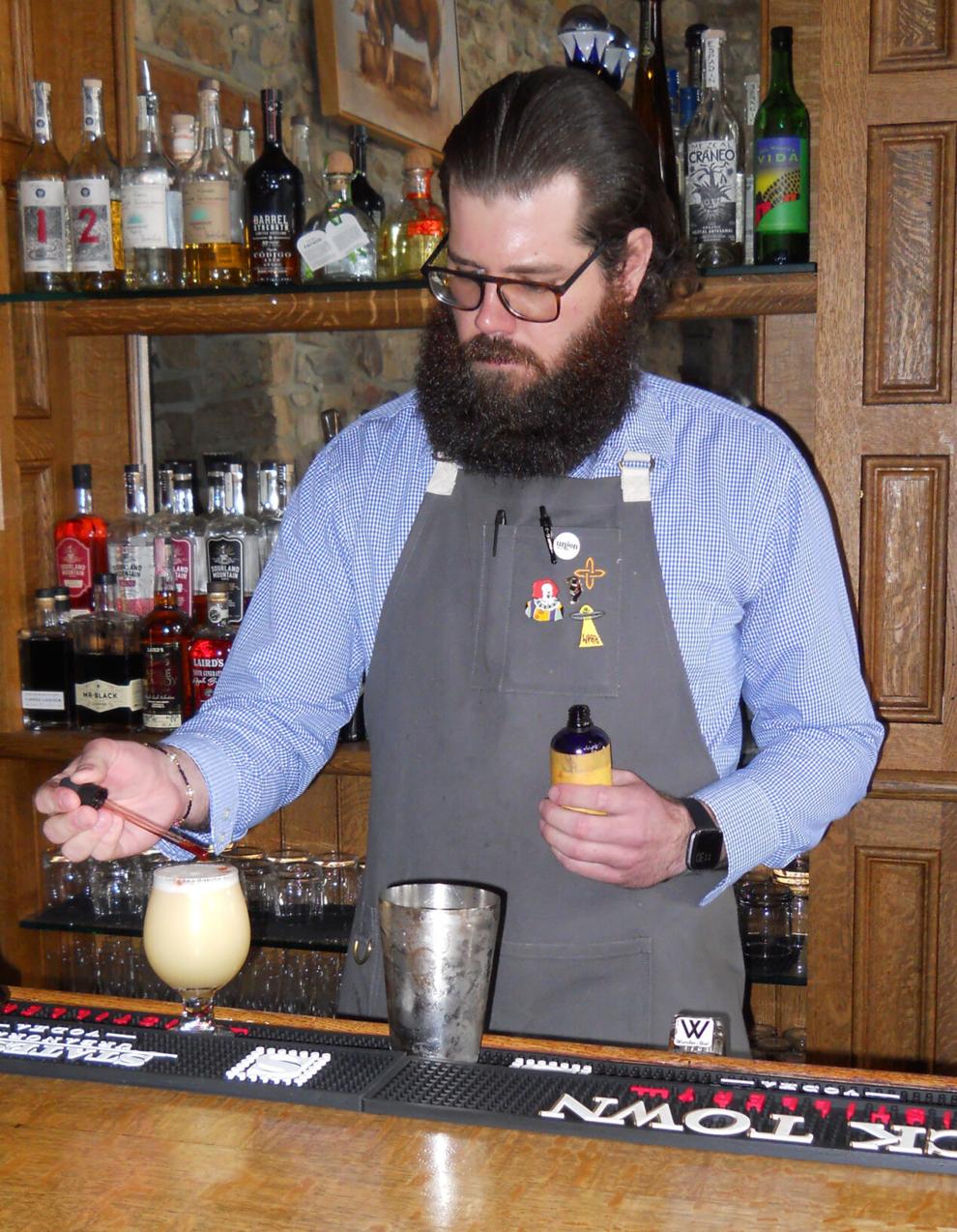 Located on 600-acre Double Brook Farm in bucolic Hopewell, New Jersey, the bar at Brick Farm Tavern is housed in a sensitively renovated 1800s farmhouse. The cozy bar seats 10, with additional table service available in the intimate dining space between the bar and the main dining room. On the day of this visit, outdoor dining is available as well, under a large tent as and in an open picnic area in back, well away from the sound of passing vehicles on Route 518.
Adjacent to the picnic area, Double Book Farm is also home to Sourland Mountain Spirits distillery and "nano-brewery" Troon, each of which is earning a reputation in the burgeoning world of distilled and brewed beverages (see "Bonus Stop" below).
It's hard to believe that Zach Eager has only been tending bar here at Brick Farm Tavern for 15 months or so, given his almost encyclopedic knowledge of the offerings here. "I basically learned on the job," he says. "I formerly worked in the music industry in Nashville. They've got a really cool bar scene there, and that's where I was introduced to craft cocktails and beer. It wasn't my profession, just something I enjoyed, but now that life has taken me this way I've developed a more serious interest in it.
"I was very fortunate. We've had some awesome bartenders here who were really good mentors, who knew a lot about crafting cocktails," he continues. "They taught me to experiment and create something different for our customers, thinking outside the box and not doing the same thing that everyone else is doing."
What about the vibe here? "We've got a really cool bar with one of the best if not the best selections of tap beer in the state," Eager says. "We mainly serve New Jersey-brewed beer. We get some outside breweries occasionally, but we try to keep it local. A large part of our crowd are beer people. But people are really into bourbon, and we maintain an excellent selection as well."
Eager also notes the presence of Sourland Mountain Distillery and Troon brewery on the Double Brook property adds to emphasis on local sourcing — but more about that a bit later…
Eager has a lot to say when it comes to cocktails. "Being a bit newer to bartending, I really enjoy going out to other places and seeing what they're doing," he says. "That's the cool thing about cocktails, you can have the base recipe but then swap out ingredients and create something a bit different and make it your own. I had a Boulevardier en Blanc at a bar in New Hope. It was delicious, and we re-created it last night. A Boulevardier is traditionally rye, Campari, and sweet vermouth. Our recipe is rye, Aperol (a little bit sweeter), and white vermouth. Really nice, easy drinking.
"I like taking a traditional recipe and changing things up to create something new. Recipe books are a bartender's best friend, and having a music background I've learned that a lot of music is sampling, borrowing, and riffing on what somebody did before. For example there's Death & Co, a cocktail bar in New York (in the East Village) that has a cocktail called the Strange Brew. It's like a beer cocktail, and here we've riffed on that, using Sourland Mountain gin and the Troon beer."
What's the demand for mocktails at Brick Tavern?
"We get a lot of mocktail orders from people who can't drink for one reason or another but want to have something fun," Zach notes. "Our menu features a lot of fruit syrups and infusions, all of which we make in-house. When we're making a mocktail we riff on whatever we have on hand.
"My go-to right now is a Passionate Demise, a passion fruit martini. I use passion fruit, pineapple, and mango syrup to create a tropical mocktail, usually topped with soda to give it some fizziness. I also like to do a mock mule, because lots of people like Moscow Mules, with simple ingredients — lime, simple syrup, ginger beer. We also do these Italian Cream Sodas. People see them come out, and no matter what they're drinking they want to know what it is. Sometimes they order one spiked with vodka or another spirit."
Judging by the number of taps, Brick Farm Tavern is serious about beer. "We pretty much exclusively offer draft beer, and our beer list can change daily depending on availability," Eager says. "We have eight taps, so it'll usually be four IPAs, one lower ABV, a sour, two stouts. In the summertime it might be two sours and a stout, depending on what we get in. We're not fussy. We all like beer too, so we like to keep it fun and interesting for our palates as well. We do offer a pilsner in a can for people who aren't craft beer drinkers, and I the summertime we'll carry some craft beers in cans, but the tap list is our main offering. Currently it's all New Jersey breweries, and we try to keep it diversified.
"Because Troon Brewing is here on the farm, we get a lot of IPA drinkers. Everybody loves IPAs, and they're mostly double (higher in alcohol) IPAs. We'll try to offer at least one lower ABV beer. We offer a selection of ten percenters, the Troons are always seven and a half percent or above. One example is called Pain & Suffering, they're a sort of Heavy Metal brewery, so all the names are pretty intense, and sometimes you get a weird look from a customer if they're not expecting it.
"We'll also try to offer a 'sour'" — a catch-all category for a wide variety of tart, acidic beers traditionally made with souring bacteria and/or wild yeast — "on the menu and a couple of stouts, from brewers like Chain and Brick City. There's Silk City, a bourbon barrel aged stout. It's like a variation on a Reese's Peanut Butter Cup. We also offer Morning Bell from Kane Brewing in Ocean NJ — beer with coffee notes made with Porter (more rounded, softer and chocolaty) instead of stout."
When asked what he likes best about his job, Eager doesn't hesitate.
"The creativity. We design our own menus as bartenders, so we all try to make a couple of contributions to the menu. We currently have 10 signature cocktails, so it's hard not to find something you'll like. The demand for espresso martinis has been crazy, so we put one on our menu. Because we have so many bourbon fans we make an espresso old fashioned; we take espresso beans and infuse Four Roses bourbon. We make an orange simple syrup, so you get the orange peel flavor with a shot of espresso.
"We make a brown butter bourbon here that's also been very popular. First we make a brown butter crumb with butter and low-fat milk powder and then infuse bourbon with it. The Paper Plane cocktail has been really popular, super easy drinking. We offer Cosmic Justice, which uses two base spirits — gin and mezcal — pretty non-traditional but really, really delicious, especially considering that gin and mezcal are on opposite ends of the flavor spectrum.
"It's a great place for conversation with like-minded people who are serious about what they drink, I've learned a lot just listening to people talk among themselves.
Brick Farm Tavern's Italian Cream Soda Mocktail
1 ½ oz. Fruit syrup (depending on what's on-hand)
1 oz. Half & Half
Top with cream soda and whipped cream
Brick Farm Tavern, 130 Hopewell Rocky Hill Road, Hopewell. Lunch: Friday and Sunday 11:30 a.m. to 2:30 p.m. Dinner: Tuesday through Saturday, 5 to 9 p.m., Sunday, 5 to 8 p.m., Limited Happy Hour menu available in the tavern Tuesday through Friday, 5 to 6:30 p.m. Full menu available at the bar. 609-333-9200 or brickfarmtavern.com.
Bonus Stop: Sourland Mountain Spirits and Troon Brewing
When it comes to offering locally produced spirits and beer, Brick Farm Tavern has a bit of an advantage. "We've got Sourland Mountain Spirits and Troon Brewing behind us," says Brick Farm Tavern bartender Zach Eager. "The property that we have here is super special and unique, being that we've got the farm to table restaurant on the farm, and some of those same values at Sourland Mountain distillery and Troon Brewing."
"We started the business in 2015 and sold our first bottle in February, 2017," says Ray Disch, a founding partner of Sourland Spirits distillery, and self-proclaimed "birth father" and one of three partners in Triumph Brewing in Princeton in 1995. "There's something very satisfying about making a craft product," he adds.
Since its founding, Sourland Mountain has expanded its offerings to include bourbon, rye, gin, liqueurs, canned cocktails, and more (visit their website for a complete rundown), including their flagship offering, the 2020 Double Gold Medal winning gin, all created under the watchful eye of head distiller Jamie Nicholson.
Tours and tastings are also offered, as are a selection of craft cocktails. An outdoor patio accommodates large groups for parties and other special events, as does a spacious Community Room that accommodates up to 25 guests.
Sourland Mountain Spirits, 130 Hopewell-Rocky Hill Road, Hopewell. Tuesday and Wednesday, noon to 6 p.m., Thursday through Sunday, noon to 8 p.m., or by appointment. Tours, tastings, catered events, and spirits and cocktails to go during store hours. 609-333-8575 or sourlandspirits.com
Unless you are a true craft beer aficionado, Troon, established in 2016 may be one of the best breweries you've never heard of. "Troon, which is a nano-brewery, is super unique in how they release; it's some of the most sought after beer in the region," says Eager. "We have people traveling here from other states just to get Troon beer." He also notes that Brick Farm Tavern is currently the only bar that serves Troon.
Troon also sells its highly limited releases from the brewery, but as the saying goes, "You snooze, you lose."
According to microbrewery.com, "There are two ways in which people interested in sampling their beer can go about it. The first, of course, is on tap at the adjacent restaurant. The second is waiting for them to announce the next can release on Instagram and planning a trip well in advance to lay their hands on them. On an average, 500 cans are sold in each of these releases, and they all run out as quick as 45 minutes." So, good luck with that!
Troon Brewing, 130 Hopewell-Rocky Hill Road, Hopewell. troonbrewing.com
And finally, here's the Brick Farm bonus recipe that uses Sourland Mountain Spirits Gin and Troon Hoppy Ale:
House of Atreides Cocktail
2 ½ oz. Sourland Mt. Spirits Gin
½ oz. lemon juice
1 oz. pineapple juice
¾ oz. Falernum syrup
Dash of Tiki Bitters
3 oz. Troon Hoppy Ale
Shake and serve in a small brandy glass