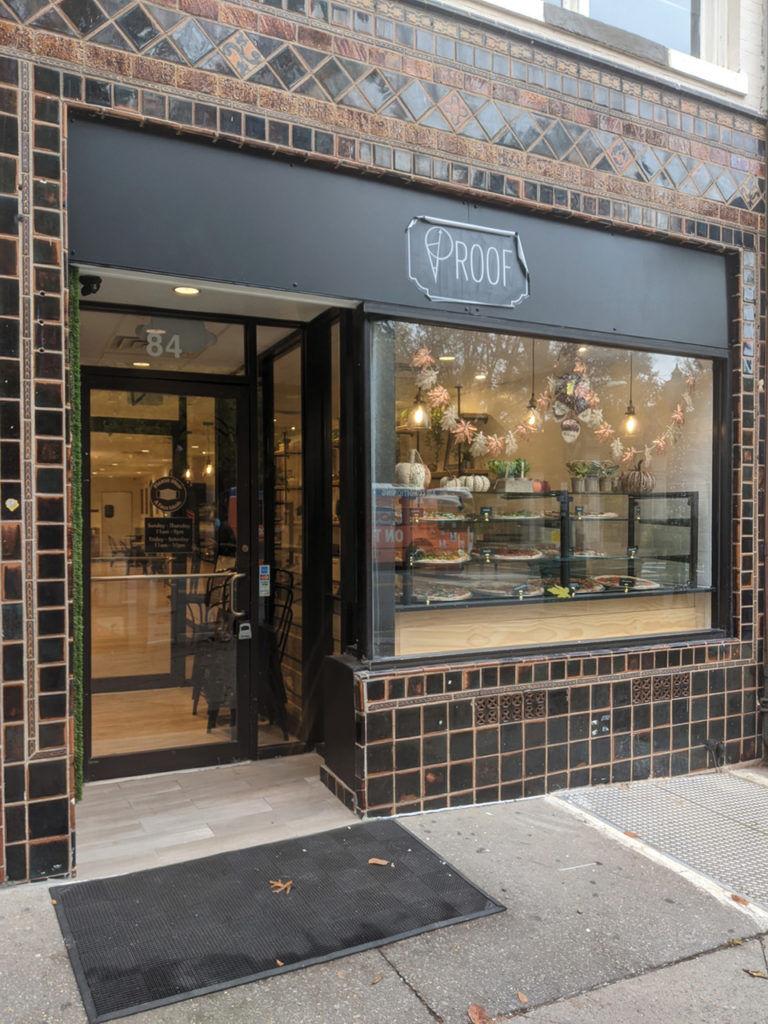 It didn't take long for a new pizza place to take the spot of Princeton Pi, which closed its 84 Nassau Street pizza and frozen yogurt eatery early in the pandemic.
The space has undergone substantial interior renovations, but one need only look in the front window to see the shelves displaying artisanal pizza pies in search of hungry customers.
That was all it took to lure my husband and me in for lunch at Proof on a recent weekday. While we opted for slices to go topped with sopressata, castelvetrano olives, and roasted onions, we had a range of other choices not limited to pizza.
The menu also features salads ($6 to $9), including classic caesar and chopped salads as well as arugula and peach, tomato, and roasted corn. There is also a full "veggies" menu — priced from $8 to $14 — with choices like corn fritters, cauliflower gnocchi, and a twist on eggplant parmesan featuring burrata cheese.
But the stars of the show are the pizzas, available by the slice for $3 to $4 or as a whole pie, starting at $12 for a 12-inch pie and $16 for a 16-inch pie with added cost for toppings. Among the specialty pies ($16 to $24) are a breakfast pie — topped with sausage, bacon, pork roll, and eggs — a fried clam pie, a salad pie — topped with arugula, tomato, red peppers, and basil — and others.
The limited dessert menu includes fried dough-based Italian zeppole ($4) and panzerotti dolci ($7) as well as — of course — a dessert pizza, $6, with sweet ricotta, seasonal fruit, marshmallows, and nutella.
While Proof is the third straight pizza restaurant that has occupied the space, the counter-service restaurant has a different look and feel from previous incarnations. In the past patrons had to walk through the seating area and down a half-flight of stairs to place an order.
At Proof the counter is up front, alongside the window display of pizzas to entice passersby, and a small number of socially distanced tables are available further back. The restaurant's public-facing area is much shallower, and patrons no longer need to navigate any stairs.
Proof is a member of Genesis Hospitality Group, which also operates Chez Alice on Chambers Street and the Peacock Inn on Bayard Lane. It offers delivery (for a $2 fee) as well as online ordering.
READ: New chef restores old pride at The Perch at the Peacock Inn
Proof, 84 Nassau Street. Open Sunday through Thursday, 11 a.m. to 9 p.m.; Friday and Saturday, 11 a.m. to 10 p.m. 609-497-7663.
Authentic Thai and innovative vegan fare
Proof is not the only restaurant to have opened its doors in Princeton amid an ongoing pandemic. Amazing Thai has opened at 260 Nassau Street, the former location of Tiger Noodles.
The restaurant offers authentic Thai fare including curry, fried rice, and noodle-based dishes. A lunch special, $10.50 to $14.50, is available weekdays from noon to 3 p.m. and includes an appetizer and an entree served with jasmine rice.
Specialty entrees, like the Amazing Pad Thai packed with jumbo prawns, crab meat, and chicken ($35); Phuket Crispy Half Duck ($32); and Bangkok Curry Fish ($24) range from $20 to $38.
Amazing Thai is open for indoor and outdoor dining as well as takeout for lunch and dinner seven days a week. It joins Thai Village and Lil Thai Pin as Princeton's purveyors of Thai cuisine.
Amazing Thai, 260 Nassau Street. Open Monday through Sunday for lunch, noon to 3 p.m. Open for dinner Sunday through Thursday, 4:30 to 9:30 p.m., and Friday and Saturday, 4:30 to 10 p.m. 609-454-3593.
Coming soon to Princeton is the Planted Plate, a vegan restaurant taking the space at 15 Spring Street that has been vacant since Savory Spice Shop left at the beginning of 2018.
Planted Plate is part of the same family of vegan restaurants that operates Kaya's Kitchen, serving lunch and dinner in Belmar, and Kaya's Kitchen Vegan Cafe, serving breakfast and lunch in Asbury Park.
Menu items include soups, salads, and entrees based on products like tofu, seitan, and tempe.
A fall opening is anticipated for what will be Princeton's only fully vegan restaurant.