For almost 50 years, Brothers Pizza on Route 33 in Hamilton has been serving quintessential New Jersey pizzas. The flavors, textures and perhaps most of all, the aromas of the unofficial state comfort food are as familiar to residents as their own faces.
In recent years, however, many pizzerias, including Brothers, have added a new feature to their menus: traditional pizza, baked in wood-fired ovens that can reach temperatures in excess of 800 degrees Fahrenheit. Ovens as hot as these can finish a pizza in three minutes or less.
Burning embers of hardwood imbue these pies, or anything cooked in the oven really, with a smokiness that only enhances the flavor of the food.
For five years now, Brothers has had a custom-built wood-burning oven on premises to allow the family-owned and operated restaurant to satisfy customers' cravings whether they like their pizza the old-fashioned way — or the really old-fashioned way.
But Brothers has been preparing wood-fired pizzas for longer than that. It started with a wood-burning pizza oven that they purchased for their catering operations. Pasquale Carannante of Brothers Pizza wanted to be able to make pizzas to order while on catering jobs, and he found an oven large enough to make a couple pies at a time.
The oven wasn't easy to move around, though, so one day Carannante asked George Litynskij, a sales rep with local company Hotfoil-EHS, if he thought Hotfoil-EHS could make him a rolling cart to help make the oven more mobile.
"We needed a cart for a mobile oven," Carannante says. "George took the measurements for the cart, but he said to me, 'You know we can probably build you an oven like that.' I said, 'If you can build the oven, let's build the oven.'"
And with that, the Garzio Oven was born.
* * *
Hotfoil-EHS makes and sells stainless steel shelving and other equipment for the restaurant business. But the Hamilton-based company is best known for its heat-treating and industrial heating equipment, including furnaces.
Matt Richards is the president and owner of Hotfoil-EHS. He says the first thing he did was find out what Carannante would want to see in an improved oven.
"We saw that there were changes that we could make to improve the oven greatly, for instance by strengthening the stainless and having it be a lot thicker," Richards says. "We could use different insulation to insulate it better, and also we made it larger on the inside, so that he would be able to cook four 12-inch pizzas at once, instead of one or two."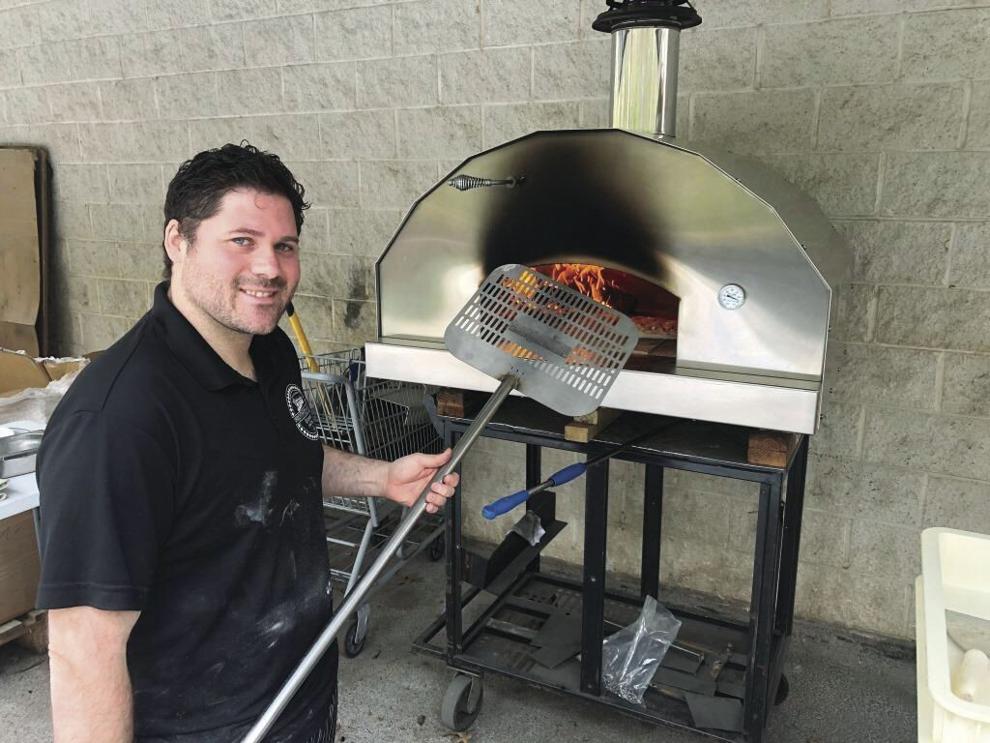 Hotfoil-EHS also designed its oven with a damper on the front of the oven, so cooks didn't have to lean over and risk burning themselves to adjust it up on the flue.
Traditional wood-burning ovens are made of brick, clay, ceramic or stone — materials that get hot and stay hot. A well-known weakness of steel ovens, Carannante says, is that they don't retain heat well. But he says that between the heavy-duty food-grade bricks that Hotfoil-EHS used for the cooking surfaces, along with the thicker stronger grade of steel, helps set the Garzio Oven apart from other options.
"It heats up quickly, it maintains temperature really well, it makes a great pie," Carannante says. "It does its job. Sometimes you have smaller ovens that don't get the job done the same way (a larger oven would)."
Carannante was pleased that Hotfoil-EHS was able to increase the interior size of the oven without really changing the outside dimensions significantly. He says that mobility is a key to Brothers' catering success. "We're not a food truck," he says. "We can roll into people's backyards. We can literally set it up near your pool."
Brothers preps food ahead of time in the restaurant before a catering job, but wood-fired pizzas cannot be prepared ahead of time. So having the ability to make the pies onsite is a real attraction.
And the oven can be used to make more than pizzas, and Carannante also uses it to finish wings, sausage and peppers or really anything else — steaks, calzones, even a turkey.
Operation of the oven is simple: to get things going, you just set a stack of wood in the center of the grill and get a fire going. After a half hour or so, you slide the red hot embers to one side, wipe the ash off the bricks, and start cooking.
Richards sees that mobility, flexibility and ease of use as a key for any potential customer, whether for restaurant or home use. Hotfoil-EHS has produced 10 ovens so far — all built entirely in the company's Hamilton facility — and Richards says they have sold units to professional chefs as well as casual users.
"You can put it right in your backyard, like several people have done," he says. "It's sitting there just like a barbecue or your wood-fired grill."
Hotfoil-EHS has a batch of 10 more in production now, and Richards says eventually he sees the company producing smaller versions of the oven as well. For now, there is a single design available with either a wheeled or stationary cart that has space to stack wood.
Carannante and Joe Scharibone of JoJo's Tavern in Mercerville have helped get the word out about the oven.
"I've been very good friends with Joey at JoJo's for 15 or 20 years," Richards says. "He was nice enough when he saw it to say, 'Hey, I'm going to put a link on my website and let people know they can buy one of these ovens.'"
* * *
Hotfoil-EHS itself has a long history in Hamilton Township. Richards originally moved to Hamilton from the United Kingdom in 1977, with his parents, Neville and Irene Richards. Richards was 9, and his sister, Sarah, was 4.
Neville Richards worked for a British company called Hotfoil, which had asked him to move to New Jersey and help the company enter the U.S. market. Hotfoil was originally located in South Plainfield.
Matt Richards graduated from Steinert High School in 1986. One day in 1987, his father asked him to help out in the warehouse for a few weeks. "But that two weeks turned into another week, and another … and with that, my Hotfoil journey began," Richards says.
In 1993, Neville Richards purchased Hotfoil's U.S. operations from its U.K. based owners and went into business for himself, renaming the company Electric Heating Systems, Inc. "In the beginning, the only employees were myself, my father, a secretary and a part-time accountant, working out of a 3,000-square-foot space in South Gold Industrial Park in Robbinsville," Richards says.
After a year, the Richardses reclaimed the Hotfoil, Inc. name, and in 1996 they expanded the business to include heat-treating equipment, starting a new division again with the Electric Heating Systems name. Both divisions have thrived over time, and were merged into a single company in 2012 called Hotfoil-EHS.
After Neville's retirement, Matt became president of the company. Today, Hotfoil-EHS has more than 60,000 square feet of office, manufacturing and warehouse space in Hamilton, Chattanooga, Tennessee, and LaPorte, Texas, and more than 40 employees.
The Garzio Oven is named in memory of one key employee — Frank Garzio. Garzio was a welder and fabricator who had worked for many years in the sheet metal shop at the General Motors plant in Ewing. In 2002, Garzio was retired from GM and living across the street from Matt Richards.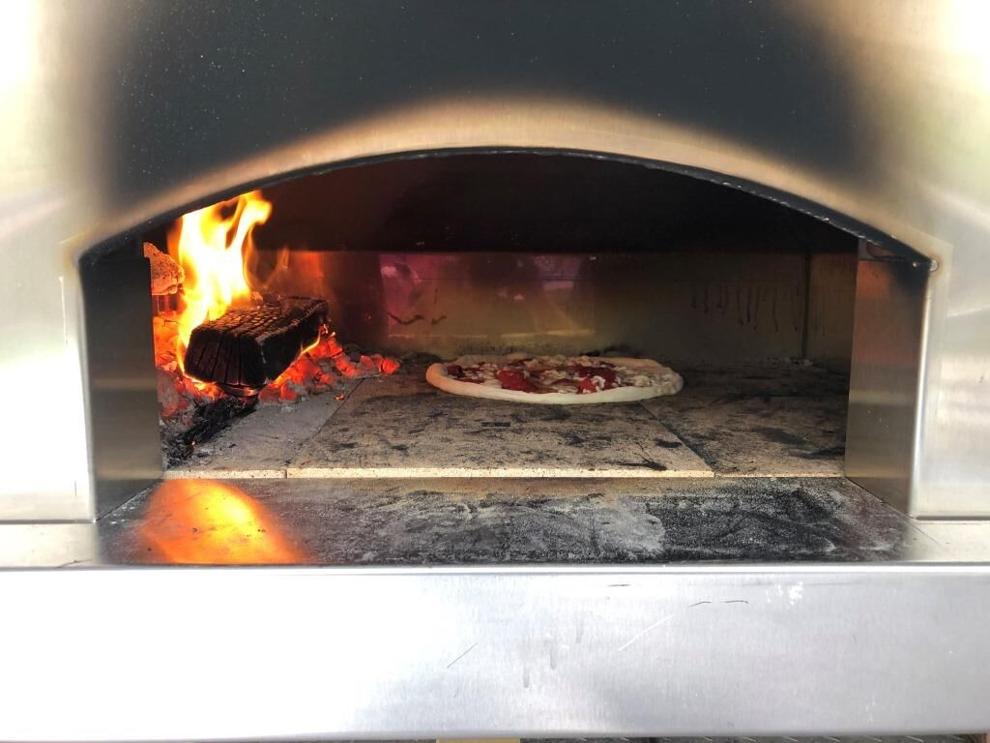 Richards says Garzio loved to talk business and took an interest in his company. He credits Garzio with helping Hotfoil-EHS establish a welding and fabricating outfit of its own.
When Garzio learned that Hotfoil outsourced the production of its equipment, he suggested that the company could save money by moving manufacturing operations in house and offered to help get it started. Richards says that what started with "Garzio and a welding machine in a corner of the warehouse" grew into a nine-person shop taking up 20,000 square feet of space today.
Garzio died of cancer in 2014. The weld shop at Hotfoil-EHS is named after him, but Richards wanted to honor him further by naming the oven after him as well. Garzio "single-handedly changed the course of the business forever," Richards says.
Richards still resides in Hamilton with his wife, Susan, and sons Evan and Kyle, 21 and 18. His parents also still live in Hamilton, as does his sister, her husband and their daughter. Susan has been the office manager of Hotfoil-EHS for the past 16 years.
For more information about the Garzio Oven, call George Litynskij at (609) 495-6677 or email george@hotfoilehs.com. Or you can stop right into the Hotfoil-EHS fabrication and welding center at 2960 E. State St. Extension, Hamilton NJ 08619 to take a look.