Walking into the Flying Pig Tavern on Route 130, the aroma of bacon is inviting. Very inviting, as it pulls you into the spacious main room that has a good sized crowd on a weekday at noon.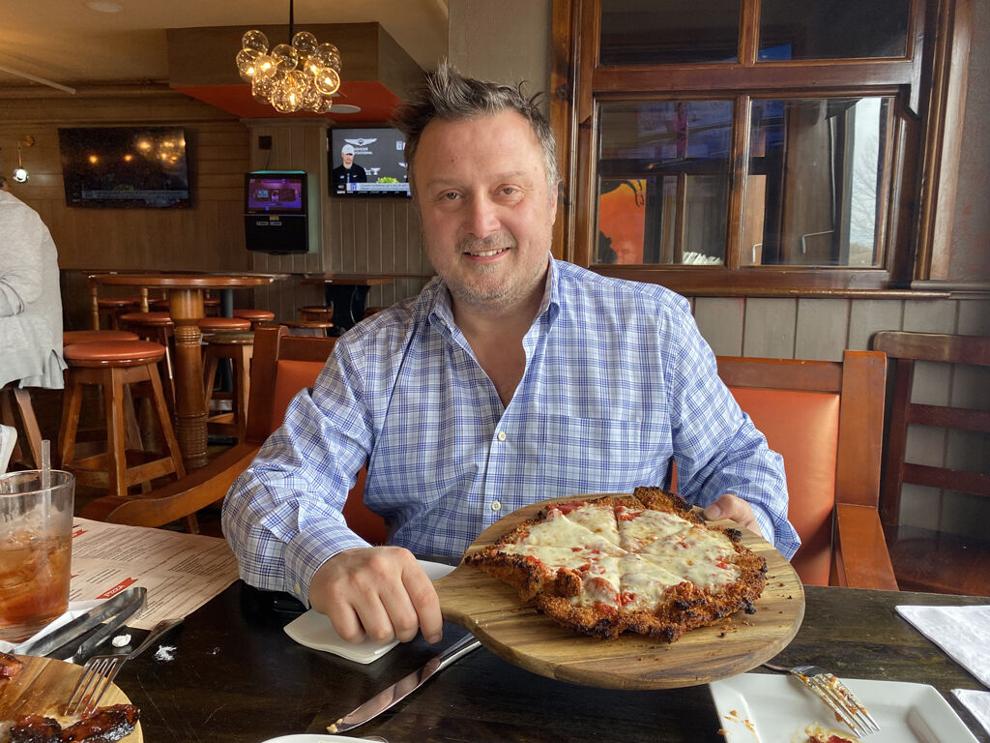 That the new restaurant was able to acquire more than 2,000 Facebook followers in the month since opening reflects what old fashioned word of mouth can do for an eatery, especially in an area with high culinary expectations. Following a six-month renovation and a soft opening in January, the Flying Pig Tavern is hitting full stride as a go to place for a new twist on comfort food.
Principal owner Tim Kalavruzos grew up in the restaurant business and is relaxed and knowledgeable about every aspect. "For us it is all about the food. We want you to see it, feel it and enjoy it. We know that is what makes the difference. It's all about the food for us," he says.
Kalavruzos is relaxed because the restaurant is off to a great start, but also because he has a lot of experience and knows what works. As a teenager Kalavruzos was cutting up prime ribs at his father's restaurant the Town and Country Diner, which was a little further south on Route 130.
"Seventeen slices per rib, one with a bone, the next one without, and cut nicely so they look good for the customer. On prime rib night, I was cutting all night," he says.
Tim and his partners said they would open another restaurant when pigs fly. That was big talk until the pandemic hit and their regular catering businesses were closed down due to quarantine. With the catering and wedding business on hold, opening the restaurant seemed like the right path.
The Flying Pig clientele seems happy that the choice was made. "Open only for a month we have regulars already. One couple swears they will be in until they try everything on the menu," Kalavruzos says. "Everything is homemade, right down to the mozzarella sticks. It makes a difference. There are eight chefs in the kitchen right now cooking for tonight and tomorrow. Many dishes take more than one day to prepare due to marinating and slow roasting."
Where did the menu ideas come from? In the middle of the pandemic, Kalavruzos and 10 family members went on a cross-country car trip. "We tried food all over the country and brought back ideas to try and refine. We took local favorites from around the country and modified them to our tastes. The bacon trio, we saw in South Carolina, but they only had one flavor offered. We revised it to three flavors; Maple chili, honey sesame and candied bourbon. Each one distinctly different, and the dish is very popular."
He is referring to a shareable appetizer which presents three thick slabs of bacon hanging from an arbor made of black piping. The arbor is mounted to a hickory butcher block and comes with a sharp knife for cutting.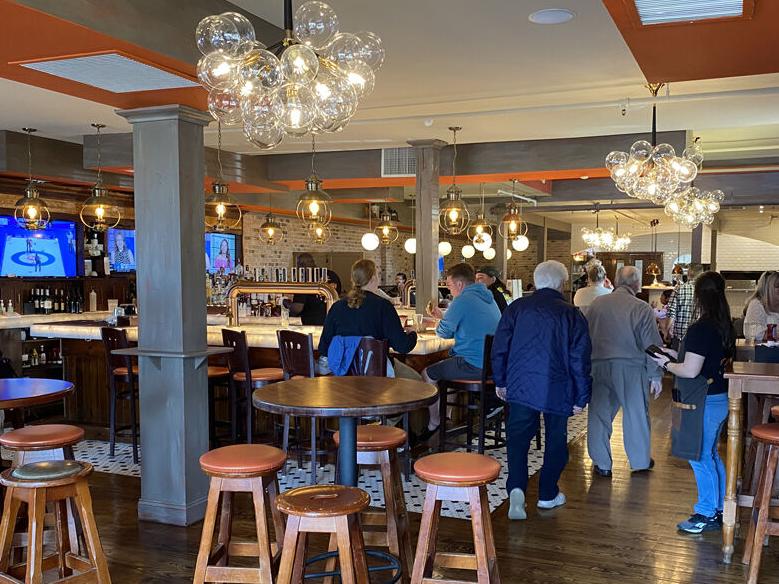 Kalavruzos grew up in Hamilton, and graduated from Steinert High School. He is also a lawyer who with his partners who have an office on Quakerbridge Road. After graduating from Fairleigh Dickinson University and getting his law degree at Seton Hall, he never got far away from the family business. He is also very happy to speak about his Greek heritage. "We are Greeks. Feeding people is in our blood, it's what we love to do," he says.
From working at the Town and Country Diner, with his father Gus, Kalavruzos learned the diner/restaurant business from the ground up. "We buy the freshest ingredients. You have to. Fresh bread every day, the best meat and everything homemade. When we run out of something we are out. We bring the food out when it is hot and fresh, some may be served before others but we don't have platters sitting under a heat lamp waiting. We want you to relax, eat and have a drink," he says.
Of the 16 draft beers at the Flying Pig Tavern, 14 are local craft brews. "We have all local beers. People really enjoy this. The craft brewing is really taking hold. New Jersey is really embracing these specialty beers," he says. There is also the Flying Pig logo on all of the pint beer glasses, a nice touch.
The Flying Pig has two floors and can accommodate more than 200 diners indoors and another 50 at the outside seating area. There is live music on weekends of different types. The upstairs room can host private parties of up to 100.
The bright yellow building has a logo of a large flying pig sporting sunglasses on the side. There is also a life-size rampant pig sculpture complete with golden wings and sunglasses, in front of the building that was commissioned for the tavern. The tavern employs 12 to 20 people, depending on need, and is still awaiting some specifically ordered lighting that is late due to the supply line issues.
While the chefs are still adjusting the menu one month in, there appear to be some candidates to stick around. Pretzels regularly sell out, the Bacon Trio has been popular, and Chicken 65, a spicy Indian dish, has also been popular.
Another popular dish is the Chicken Parmigiana Pizza. A possibly misleading name, as there is no pizza dough underneath. "We take marinated shredded chicken, run it through a tortilla press, then bread it and top with the cheese. It is served like a pizza, hence the name," Kalavruzos says.
Like many Greek restaurants, the Flying Pig Tavern has a partnership of families. "We could not do it without these guys and their families; William Diamantakos, Vasili Kolovos and John Hatzicostas." Kalavruzos says. "It is great to work with these guys. We are a large family."
His own family is supportive and pitches in. Kalavruzos' and wife Georgia have three teenage sons. "The boys will be here working before long," he says.
He also credits his wife with some of the restaurant details. "She likes to get salads when we go out to eat. It seems the plates or bowls were always too small. When she would mix up the salad, it would spill out of the bowl. When I ordered the bowls for the Flying Pig, I made sure they were extra-large and that would not happen here. My partners asked why so big. When I showed them, they all agreed. These are the level of details we aspire to. We want you to have the best time here," he says.
Steve Boytis, from Yardville, his daughter and a couple of friends dined at the Flying Pig Tavern last week. "It is awesome," said Boytis, "It was my second time there. I went solo first and sat at the bar. I ordered the pork chop. I was almost embarrassed when the brought it, it was so big. It was served on a giant cutting board. Delicious. I actually got that pork chop on both my visits," he said.
The Flying PIg is not taking reservations yet, though they Kalavruzos says they plan to do so soon. They are not offering take-out yet either.
"Come on in, sit down and enjoy the food. Have a drink. Relax. It's what we do!" he says.
Flying Pig Tavern, 167 U.S. 130 North, Bordentown, NJ 08505. Web: flyingpigtavern.com. Phone: (609) 899-7447.