If you've ever wondered about the vastness of the night sky, the Amateur Astronomers Association of Princeton might have just the thing for you. After being forced to pause meetings more than a year ago due to the COVID-19 pandemic, the club is finally back and looking at the stars. 
Founded over 50 years ago, AAAP looks to share the fascination of the night sky with members and the public through their events and informational meetings.
The club owns the Simpson Observatory in Titusville, within the New Jersey half of Washington Crossing State Park, and they were recently allowed to operate the facility under near normal conditions. There is no occupancy limit on the observatory grounds, and up to 12 people are allowed inside the building for visual observing.
The observatory is home to multiple permanent large telescopes that are open to the public for free during the AAAP's public Friday nights that run from April through October. The club resumed its public nights last month, and people of all interest levels are encouraged to join members and other attendees after sunset at the observatory, where they can attend night sky tours led by AAAP members.
Public nights are only held when the twilight sky is clear. To verify that the observatory will be open, call the observatory at (609) 737-2575 on Friday evenings or check the club's Twitter (@princetonastro)  for the current status.
Members bring along their personal telescopes to share the night sky through different lenses. Set up around the observatory, these members have varying levels of interest and different backgrounds that have led them to join the club.
Contrary to what some may assume, not all members have science or technical backgrounds. While all have a curiosity and passion for astronomy, some come from completely unrelated professional fields. Others that have been part of the club for just a short time have increased their knowledge and enthusiasm for astronomy.
Members from Plainsboro and West Windsor include Sushant Chadha, Pauline Guenard and Ritvik Rangaraju.
David Reis, a Hamilton resident of seven years and two-year member of the AAAP, said that he didn't have an interest in astronomy before 2017. Taking up the hobby in the summer of that year, Reis recognized that he would need to immerse himself in the subject matter to take to it.
"That's when I realized if I'm going to learn this at all I really have to be around those who know what they're talking about," Reis said. "Just not rely on myself as an expert."
Sometime after the passing of his father, he recalled sitting on his back patio when he and his wife noticed a very bright object in the sky. His wife stated that she thought it to be Jupiter. Reis shrugged off the comment, but when he proceeded to look up what it was, his wife was correct.
Reis thought back to how his father had wanted to get a telescope and never got around to it. He decided to do what his father never did. He went online in search of some information on the topic and stumbled upon the AAAP.
Almost from the start, Reis got involved with running the observatory, taking on the position of keyholder, where he was trained to open and operate the observatory and placed on a team to do so once every six weeks. Reis now owns his own telescope, which he brings to the public nights, and looks forward to spotting more planets.
Reis explained that his work as a custodian at Monmouth Junction in South Brunswick has no relation to this hobby, although the sciences had always been intriguing to him. It was important to him that potential attendees to the public nights not shy away because of their knowledge on the subject.
"Don't let your lack of expertise or knowledge in the area stop you from joining…They're not looking for other astronomers, just anybody who would like to learn about the night sky and the cosmos," Reis said.
Rex Parker , director of the AAAP and 25-year resident of Titusville, has been involved with the club since the 90s. He retired in 2014 as a senior research fellow from Bristol-Myers Squibb and is a biochemist by training. Always having an interest in understanding the origin of life transferred over to the question of life on other planets.
Astronomy and astrophotography are some of Parker's areas of interest and knowledge that he brings to his position as director, which he held back in the 90s, again in the early 2000s and now for the past six years.
In his role, Parker oversees the club's organization and development overall and has pushed for modernization of electronics and video used at the observatory.
"One of my main projects over the last half dozen years as director has been to acquire new, higher technology equipment and to train and coax the members and the keyholder trained members, teach them how to use it and get them enthused about using it so that we can improve the quality of the experience of astronomy by the public as well as by members," Parker said.
He explained that the issue of light pollution, especially in densely populated areas such as Trenton and Philadelphia, has made it difficult for younger people from those areas to get interested in the night sky. This makes it all the more important to use astronomy dedicated cameras and forms of video astronomy to show real or near real-time imagery through a telescope. Their ability to cut through some of the light pollution allows for a greater experience for the viewer.
"What we've realized is that you can't just bring a person out and show them a view through a telescope and expect them to get it because light pollution makes it very difficult to see objects that are being presented in the scope," Parker said. "In other words, you have to be almost trained to understand these relatively faint sites that you see in the eyepiece of the telescope."
The tours of the night sky that goers can take for free on the public nights are just one of the ways the AAAP is attempting to share their love of deep space.
Along with his push for modernizing the observatory's equipment, Parker was responsible for creating the board position for keyholders, the observatory co-chairs.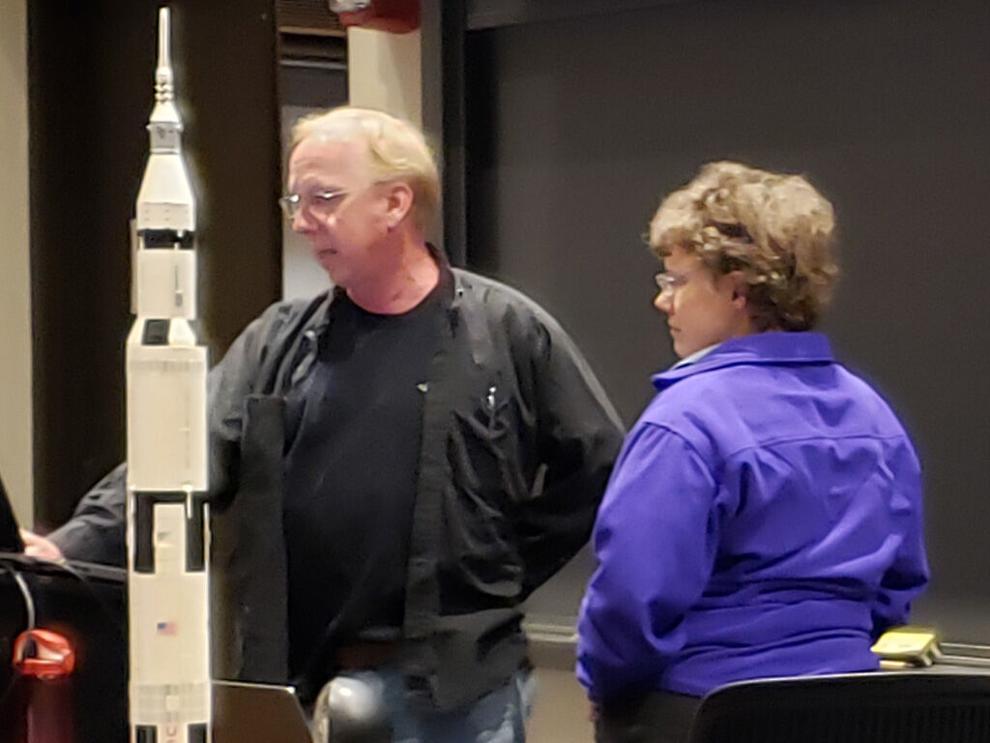 Jennifer and David Skitt, the current observatory co-chairs and residents of Ewing since 1996, both have backgrounds that lend themselves to their interest in astronomy.David Skitt has studied geology and environmental consulting, while Jennifer Skitt has a degree in biology and secondary education.
After being married for a few years, the Skitts discovered their shared intrigue in astronomy. It was in 2010 though, when Jennifer Skitt was going through treatment for breast cancer that she began visiting the observatory in Washington Crossing State Park.
"I would go out to the observatory and just sit and that way I could look up and enjoy the sky, I could get up when I wanted to to go look through the telescope," she said.
Using a children's astronomy book, she began to identify constellations, then dove further into research to see when she could find satellites and the international space station overhead.
The couple of 25 years found the AAAP online and once involved started to learn about how the observatory ran. What started out as a distraction from her diagnosis turned into a long-standing passion.
Both holding their chair positions for over three years, gaining the titles not long after the position was created, the two are in charge of running the observatory, training new keyholders and organizing the teams of keyholders that are on a six-week rotation.
It is up to the team that's on duty and the Skitts whether or not the Friday public night will be open depending on weather and other circumstances. The couple is almost always in attendance and pushes young people to check out what the observatory has to offer.
"A lot of people…if they're in more of an urban area, they don't have the experience of a dark sky and then a truly dark sky and that's what we try to offer there at the park," David Skitt said. "Get away from whatever light pollution that you're in and experience the sky."
Most people have a natural curiosity to inquire about what they see in the night sky. Skitt explained that these public nights are an opportunity to explore astronomy without worrying about the level of knowledge and using the sky as an "ice breaker."
"People have an affinity to look up…You don't have to become an expert just come out a couple of times and experience it," David Skitt said.
Sharing their passion for the night sky is a common thread among members, including Ewing resident Jeffrey Pinyan who is involved in the AAAP's education and outreach arm. He has taken his teaching to the people, from setting up his personal telescope in Campus Town at The College of New Jersey and showing onlookers the stars to lecturing to children at Mercer County libraries over the summer about constellations and identifying planets.
Pinyan shared how the hobby doesn't have to be an overly expensive and time consuming one. He gives constellation walks on the free public nights, pointing out the well-known constellations, showing how to find more and even diving into some of their mythology.
"I'm not a teacher by profession but I've always enjoyed being able to pass on knowledge that I've learned, so because I'm particularly passionate about astronomy and I have decent equipment, I'm more than happy to go somewhere and provide free of charge the access for people to look at the night sky through a telescope who maybe never have before," he said.
With his first child born this past September, Pinyan eagerly awaits the day that he will be able to show his new son the stars through his telescope.
His professional background is in software development and it wasn't until a few years ago that Pinyan picked up his interest in astronomy. He decided to drive down to South Carolina in 2017 to witness a total solar eclipse and has been hooked ever since.
Not long after, he discovered the AAAP and joined in 2018. He sees the public nights as an opportunity for people of all ages to come and discover how great the area of study is.
"For the new members and prospective members, it's really a chance to learn about something that's really out of this world," Pinyan said. "The stuff that you see in the sky is unlike anything you see on earth."
The club has a long history of loyal, enthusiastic participants, some of whom have been with the AAAP for many years and some newcomers with their own stories of how they found the local group. One member who used to belong to the club over 20 years ago has recently rejoined to share his continued enthusiasm for science and astrophysics.
Lifelong Lawrence resident Nick Mellis has had a passion for the science of astronomy for years, even outside of the AAAP.
"Kiddingly, I feel like I've gotten a PhD of astrophysics from YouTube," he said.
He said he enjoys bringing his gained knowledge to the club's monthly meetings and being able to participate in the guest lecturers' topic of discussion. Mellis frequented the AAAP's observatory back when he was involved 20-some years ago and recently rejoined.
The professional driver, who currently does transportation for an adult medical daycare center, originally left the AAAP due to scheduling conflicts. Not being involved with the club didn't stop him from sharing his hobby in astrophysics though. He would put on star parties at his local church, where people would get together to stargaze through a telescope.
"I just simply enjoy space, stars, planets," Mellis said. "It's just totally fascinating to me."
Mellis said he looks forward to sharing members' equipment at the public nights and the observatory's equipment once he is trained to use it. Without a telescope of his own the Friday free nights are a great opportunity for him to view the sky along with other enthusiasts.
"I would bring the family out to a nice clear night and look up and enjoy the universe," Mellis said. "Just look straight up on a clear night and you can see infinity, it's a beautiful thing."
The AAAP is well known in the astronomy community due to their connection with Princeton University, although the relation is informal. The club's monthly meetings, held in Peyton Hall, home to the Princeton University Department of Astrophysical Sciences, regularly feature a professional lecturer in astronomy, which often is a faculty member or professional related to the school.
For more information, go online to princetonastronomy.org/public_nights.html. The observatory can also be reached for inquiry at (609) 737-2575. The AAAP Simpson Observatory is located in Washington Crossing State Park in Titusville and opens when the twilight sky is clear and closes around 11 p.m.