Each year, the Burlington County Division of Parks leads a countywide search for residents, organizations and municipalities that have a passion for history. The History Recognition Program looks to honor those who have taken steps to explore, record and reveal history in unique, engaging and accessible ways—keeping local history alive.
This year, the county honored the Bordentown Historical Society, not once, but twice.
"We were grateful for the recognition, not only as a commendation for the volunteers of the Bordentown Historical Society and Building Bridges that put the time and effort, heart and soul, into assembling these events, but, for the opportunity to elevate the visibility on this history," said BHS director Tim Rollender.
Awards are handed out in a number of categories: Published History, Achievement and Leadership, Education, History Project, Historic Site and Organization of the Year. The Bordentown Historical Society's Untold Stories program won for History Project, which recognizes excellence and innovation in educational programs dedicated to Burlington County history. The Harrowing History program also received the Education award, which looks to highlight new approaches and perspectives that help expand the scope of the county's past.
"More often than not, people treat history like a collection of facts on a page, or dusty artifacts on a shelf," said director Kristi Kantorski. "Sure, it's interesting and telling to see how the pieces fit into a bigger, global historical period. To be able to explore a remarkable episode of our shared history on a personal level with the people that lived it is rare."
Untold Stories is an exhibit and speaker series that took eight months to build, Rollender said. The eight-part series focused on School No. 2 and the Bordentown Manual Training and Industrial School. The historical society solicited and recorded personal histories from former students, experts, residents and relatives who had or heard about experiences with the school.
"It was a chance to capture this knowledge and experience with those that lived it and share it with those who didn't," Rollender said.
It came about through a collaboration with Building Bridges. Leah Shaw had reached out about School No. 2, while Dr. Connie Goddard wanted to talk about the Bordentown Manual Training and Industrial School. Both had questions about the schools.
"There has been little preserved history of these two institutions—or Black history, in general, in Bordentown—as was the case in many locales at that point in history," Rollender said. "With those initial sparks of interest and the opportunity to collaborate we had the motivation and wherewithal to conduct interviews, to build the knowledge we had of the two schools and tell the story to an audience that wanted to know."
The series kicked off in February of 2019 with screenings of the PBS documentary A Place out of Time and Compromised by Conflict. It also featured a visit to the Underground Railroad Museum—which includes an MTIS exhibit—and conversations with alumni of both schools. Campus visits and a discussion with Dr. Mildred Rice Jordan, the granddaughter of MTIS's founder Reverend Rice, wrapped up the series.
"The Bordentown Historical Society's mission is to preserve, teach and inspire curiosity about Bordentown's rich history," Rollender said. "This was an opportunity to shine a light on these two underserved institutions and understand the tremendous impact they had locally and nationally. The Manual Training School for example, was a nationally recognized institution that hosted visits from greats like Eleanor Roosevelt, Albert Einstein and many, many other dignitaries. To hear the graduates of both schools, speak of their formative years really offered the best understanding of the quality of education and life lessons earned."
Kantorski agreed.
"For Untold Stories, in particular, there are people that impacted, and were impacted, by the circumstances of the day still with us," she said. "It was an honor and a pleasure to recognize this history with them. It was a humbling experience to be recognized in education for Harrowing History. We are always striving for new ways to connect to the public and reach beyond the expected in teaching our local history. To be recognized for our efforts in this manner is inspiring."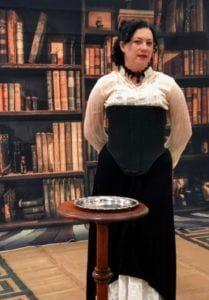 The Harrowing History program is a 90-minute costumed storytelling showcase that focuses on the seedy underbelly of Bordentown's past—scary (and quiet) history of murder, mayhem and tragedy. Each show lasted an hour and a half and consisted six stories and a Q&A session with the audience and performers.
The program, held last fall, took two years and a ton of research to develop. Kantorski and other members of the historical society combed through over 300 newspaper articles, Census records, genealogy reports and books to come up with the stories.
"Harrowing History is a way to broaden people's understanding of their local history and to reach out to those who might otherwise overlook a historical event offering, seeing it as 'boring' or 'stuffy,'" Kantorski said. "We wanted to not only give all the elements of a gripping story, but also tie it to a larger historical picture of the time period. When all these different elements come together, only then do we have a comprehensive historical view, and a really juicy narrative. By presenting the research via a theatrical storyteller performance, we aim to educate the audience in a creative and entertaining way."
While Untold Stories was a one-off event, Harrowing History will return this fall starting on Sept. 18 at the cafe in the former Divine Word administration building—featuring new sets and costumes.
The program will be held indoors, something the society is looking forward to. Members are beyond excited to get back to normal as things are able to open up more and more, said co-president Bonnie Goldman.
"In the simplest terms, it's exhilarating," she said. "Bordentown is a treasure trove of history and creativity, enough to captivate audiences of all backgrounds. With the ease of COVID regulations, we are once again able to open our doors and invite people to discover why Bordentown is so special. One of the Bordentown Historical Society's goals is to preserve, teach, and inspire curiosity about our local history. Now, we can once again set to accomplish that mission. "We are thrilled to have the opportunity to once again host our Annual Garden Tour which was one of the many fundraising events that we had to cancel last year. Slowly but surely, we hope to return to normalcy, by reopening our Friends Meeting House to visitors, creating, and displaying exhibits about Bordentown's rich history."