Clara Barton became an internationally famous feminist pioneer in the decades after the American Civil War. She gave lectures about her experiences as a battlefield nurse, ran the U.S. Office of Missing Soldiers and, in 1881, founded the American branch of the Red Cross.
Those are just some of the many noteworthy things she accomplished in her life. But years before she was known throughout Europe and the United States for her work as a humanitarian and suffragette, she was known locally in Bordentown as the person who had created New Jersey's first successful free public school.
The Bordentown Historical Society plans to honor Barton on Dec. 4 with a special event to mark the occasion of her 200th birthday. The festivities will be held at the historical society's headquarters, the former Friends Meeting House at 302 Farnsworth Ave. and include an outdoor exhibition celebrating Barton's many accomplishments that is already on display.
There will be activities for kids, Clara Barton-themed items for sale, and an appearance by Barton herself (actually society co-president Bonnie Goldman in period costume).
And there will be an exhibition of Clara Barton memorabilia and artifacts on display inside the headquarters building, and the city has also said that it plans to proclaim Dec. 4 "Clara Barton Day."
The historical society also plans to participate in the Bordentown City Chocolate Walk the night before, on Friday, Dec. 3 from 5 to 8. BHS will offer homemade treats and Clara Barton-themed items during the holiday walk. (For more information on the Chocolate Walk, turn to page 3.)
"We're so happy that she touched our lives here in Bordentown. She's a person who suffered from depression and mental illness and probably had post-tramautic stress after being on the front lines in the Civil War," Goldman says. "The fact that she accomplished so many great things notwithstanding the challenges — she's just an amazing person, and so many people, every time they learn one more than about her they just are amazed. She's an American icon, and that's all there is to it."
Barton was born on Christmas Day, 1821, in North Oxford, Massachusetts. She was an educator in the early part of her life, and was teaching in Hightstown in 1852 before moving to Bordentown to form a new free public school — the first such school in New Jersey.
Much effort has been spent by historical society members in recent years on the upkeep, restoration and retrofitting of the Clara Barton Historic Schoolhouse, which is located where East Burlington Avenue meets Crosswicks Avenue in the city and is owned by the historical society.
The historical society replaced the schoolhouse roof last December, but that was just one of many projects BHS hopes to complete in its mission to make the building more comfortable for visitors.
Although BHS has recently been awarded a grant from the State of New Jersey to help with the projects, it is a matching grant that requires the society to raise funds from other sources until they meet the match amount requirement.
Goldman says that while BHS has been very successful in raising awareness for its planned schoolhouse projects, it needs to continue to reach new donors if it is to gain access to the funds. The $109,000 grant from the New Jersey Historic Trust requires matching funds of $74,000, and Goldman said that as of mid-November, the society was still some $20,000 short of its goal.
Members of the historical society have combed the historical record to compile a history of the building. The one-and-a-half-story schoolhouse was built in 1839, and Barton began teaching there in 1852, at which time it was already being described as "dilapidated" by contemporary sources.
A new, larger schoolhouse was built in 1853, after which the original spent many years out of use. In 1919, perhaps to spare it from the wrecking ball, a Mr. and Mrs. George Swift purchased the building in a sheriff's sale for $300.
In 1920, they sold it to the president of the state board of education for $1 with the stipulation that it be forever preserved as a memorial to Barton, who had died in 1912.
The state raised more than $3,400 ($55,000 in today's dollars) to fund a restoration effort, and on June 11, 1921 — almost 100 years after Barton was born — the Clara Barton Schoolhouse was dedicated in a ceremony that was attended by the governor as well as members of Clara Barton's family.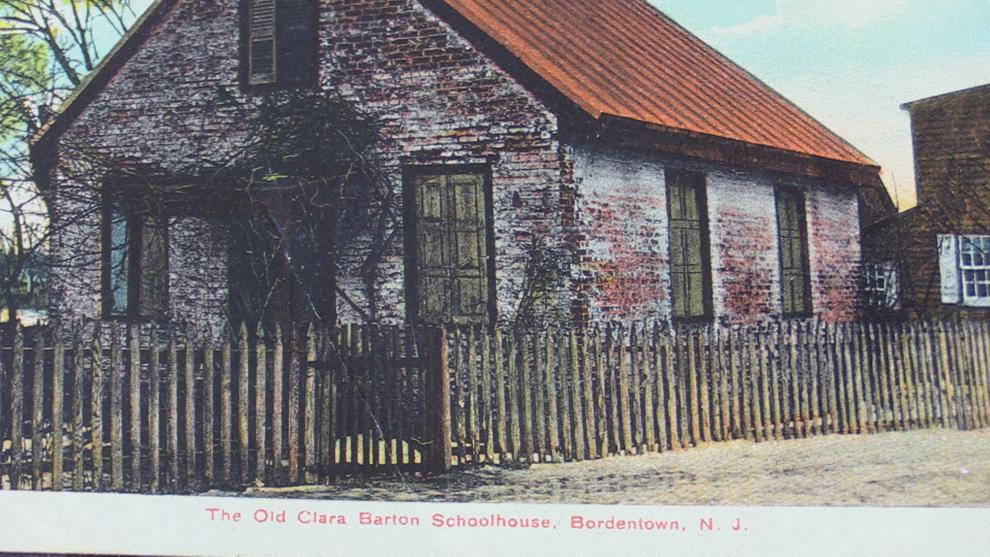 In 2005, the Bordentown Historical Society became stewards of the building, responsible for its upkeep and preservation. Today, it attracts tourists from around the area and indeed throughout the world who are interested in learning more about Clara Barton.
"Prior to Covid, a lot of school kids would come in, Girl Scout troops, groups like that. We would show them the schoolhouse and tell them about the accomplishments of Clara Barton," Goldman says.
Goldman began portraying Barton for storytelling events and historical presentations in 2018, when she took part in an event for Women's History Month. "We had a number of women that got together to do a program. I volunteered to be Clara Barton, and I think somebody else was Dorothea Dix and somebody was Patience Lovell Wright," she says. "I had read and studied a lot about her, and since I was involved with the historical society, that became my gig."
She says that when Clara Barton appears at the Dec. 4 event, she will be wearing a new outfit. "She complained to me that since 2018 she has been wearing the same thing," Goldman says wryly. "She thought for her 200th birthday, maybe she could get a new outfit. It's a vintage outfit from a place in the Golden Nugget Flea Market, that's where I got my original outfit."
Adult women sometimes contact BHS to request tours, saying that they had read about Barton when they were children and want to stop visit a place that was a part of her story.
"She is a person who has inspired a lot of people. Particularly girls, but she could inspire anybody because of her lifelong accomplishments," Goldman says. "She founded the American Red Cross in 1881 and she ran it for 18 years. In 1840, she said that although she would gladly teach for nothing, she would never do a man's work for less than a man's pay. She demanded equal pay for a teaching job in Massachusetts when she was 19. She told the town that if she wasn't paid the same amount as a male teacher, she wouldn't do the job. And she got the money."
(For more about Clara Barton's life in Bordentown — including the reason she left town in 1855 — turn to Doug Kiovsky's "The Bend in the River" column on page 22.)
Unfortunately, Goldman says, when winter rolls around, the lack of heat and light in the building makes visitation all but inadvisable even when there is no global coronavirus crisis. Restoration of the facility would go a long way toward making visitors to the building more comfortable.
"One of the things we need is HVAC — it gets very cold in there. Winter is a challenging time for any group to come visit because there is no heat in the schoolhouse. HVAC is one of the things we're going to tackle with our first grant," Goldman says. "We also need to make the schoolhouse handicapped accessible. The front door has rotted wood outside and we have no lighting. We have quite a few needs."
And Goldman says fundraising for the schoolhouse restoration will continue even once the grant match is met.
"This won't be last grant we need," she says. "We need a handicapped-accessible bathroom. There's a lot of repairs to the bricks that have to be done in the future. Most people look at the schoolhouse and think it looks pretty cute, and it does. But they can't see that it has no lights, has no heat, has hardly any electrical, and in order to make it a much more functional space to teach kids and show videos, we need to do more."
* * *
While the upcoming Clara Barton event and the schoolhouse restoration have taken up a lot of the time and energy the members have to dedicate to the historical society in the last few years, those things have also been catalysts spurring a recent surge in membership for the organization.
Last July, the Bordentown Historical Society had around 160 members on its books. Today it has 353, says Steven Lederman, Goldman's husband and co-president of the society.
"The fact that we started this fundraising campaign for Clara Barton — I think a lot of people really got behind us," Lederman says. "During the deepest, worst davs of Covid in 2020, we raised over $40,000, which was quite incredible."
Lederman believes that the nonprofit has helped itself grow with a number of other initiatives unrelated to Clara Barton as well. One is the decision to use a membership management program to help coordinate the society's communications. "I would say that our ability to communicate with members increased by an order of magnitude since we did that," he says.
He also believes that corresponding secretary Cathy Forbes has done a great job recently with the BHS Instagram and Facebook accounts.
"Cathy Forbes has done an incredible job on social media, getting the word out about what we are doing," Lederman says. "She has had nothing but positive comments from so many people regarding what she's been posting and how much she's engaged people who view our social media accounts. That has helped significantly."
The historical society was formed in 1930. In 1999, Summit Bank donated the Bordentown Friends Meeting House — built circa 1740 — to BHS to be used as a permanent home. The society uses the building to host community events like the one planned for Dec. 4, as well as for exhibitions of Bordentown memorabilia, artifacts and archives.
Goldman, a retired judge, and Lederman, a retired cardiologist, have been co-presidents since October of last year. Other officers include Forbes as well as vice president Doug Kiovsky (a regular contributor to the Current), treasurer Larry Denney, and recording secretary J. Steinhauer.
Kristi Kantorski, Chuck Pesce, Michael Skelly Sr., Peter Tucci and Suzanne Wheelock serve as directors, with Kathy Finch and Doris Gorman serving as directors emeriti.
In addition to its work on the schoolhouse, the historical society is also helping the D&R Greenway Land Trust in its efforts to restore the Gardener's House, the only remaining intact building of Joseph Bonaparte's Point Breeze Estate.
Bonaparte, the brother of Napoleon Bonaparte, lived in two large mansions at Point Breeze from 1823 to around 1840. His Point Breeze estate was purchased from Divine Word Missionaries through the combined efforts of the D&R Greenway Land Trust, Bordentown City, and the Department of Environmental Protection. D&R Greenway is the sole owner of the Gardener's House.
BHS hopes to transform the Gardener's House into a first-class historical and cultural attraction in Bordentown.