This article was originally published in the April 2017 Princeton Echo.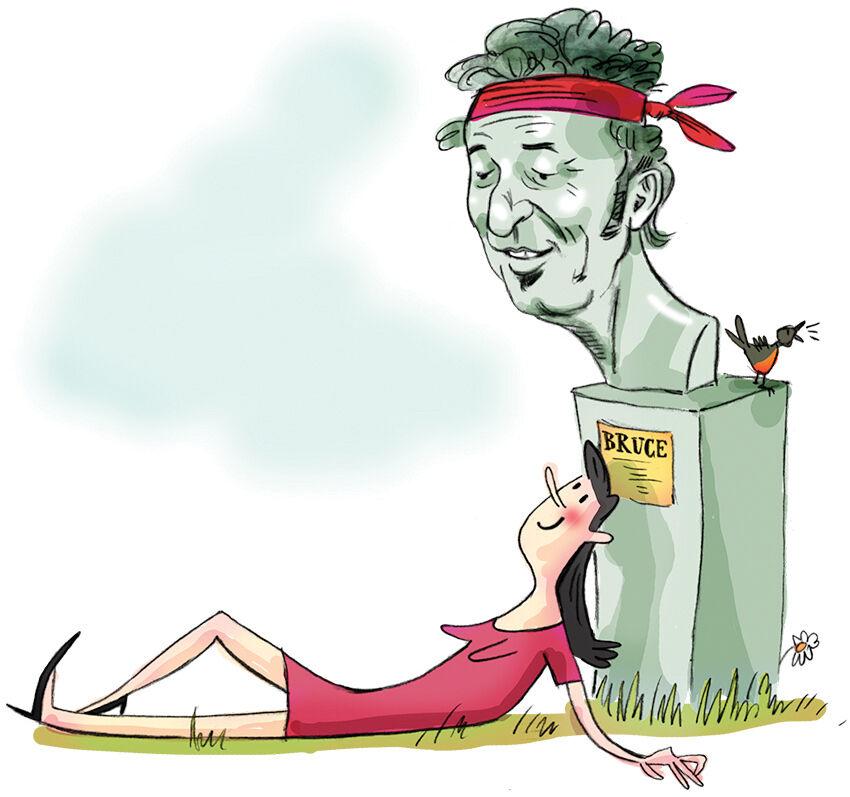 Along the streets near my childhood home in the Limburg region of the Netherlands are roadside chapels with statues of the Virgin Mary. The most devout Dutch will pause in these places of reverence to offer their Hail Marys before going on to work or to play. So, too, in Princeton and in many towns across New Jersey, roads are festooned with statues honoring the Garden State's own patron saint. People press their fingers on these statues as if they are holy relics.
Bruce Springsteen is New Jersey; New Jersey is Bruce Springsteen. I tell my friends in Holland that is the one unassailable thing I have learned about the state I now call home. Springsteen embodies this gritty state's ideal citizen — a man of the people who has won world-wide fame but has never forgotten his hardscrabble background. A working child who grew up amid the economic turmoil of the 1970s but still gave everyone hope.
Barb Webb, who works at the beautiful Morven Museum & Garden, leads me around the current exhibit of photographs of the Boss. "Like everyone else who grew up in New Jersey my life is completely intertwined with him," she says to me, her voice thick with emotion. In the background, I imagine guitars tuning up to play Springsteen's album, The River.
Related article: When Springsteen is your brother, taking photos comes easy
"I am a Jersey Girl," she tells me with a wistful look. "In 1973, when I was 15, I was elected to my high school's cheerleading squad. Suddenly I was being looked at by thousands of kids for the first time. One of them was Alfie. My first love."
She closes her eyes. "Alfie played Springsteen's music for me night and day on his record player. I became obsessed — first with Alfie, then with Bruce. I thought Alfie looked like him. Two years later I saw a Springsteen concert at the Tower Theater, outside of Philadelphia. Alfie had broken up with me, so I went with my girlfriend. It was an evening I will never forget."
I can imagine the young Barb in front of me, dancing in her cheerleader outfit. Completely happy, she is singing,
We'd ride out of this valley down to where the fields were green,
We'd go down to the river,
And into the river we'd dive.
"What is the soul of New Jersey?" I ask her.
"Everyone thinks that New Jersey has no soul," she says sharply. "That this state is only composed of exits on highways that go from New York to Philly. But those exits are not endings. They are entrances. Go down them and you find hundreds of fascinating places, each with its own character, its own history. The old industries, the working poor in Asbury Park but also utopian communities like Roosevelt, filled with socialists. Springsteen wrote for everyone."
Barb stands quietly in front of the photograph in the exhibit that touched her most. A scrawny boy plays guitar in a working-class kitchen. Cheap lace curtains are at the window. A doily on the table. "So many kitchens in New Jersey look like his," she says. "We all wanted to escape. Born to Run. He put it into words. Springsteen is a belief," she says. "His lyrics are our gospel. He is our patron saint."
On my way home, I stop at a gas station. Next to the station is a bust of Bruce on a pedestal, with a red bandanna wrapped around its head. An older man with the name "Bill" stitched on his blue overalls walks over to pump my gas. "Please say hello to The Boss, huh," he says with an unmistakable Joisey accent. "Well, a lot of people stop here. And some steal the bandanna as a souvenir. Annoying, but I understand."
I look at the deep lines in his face. He must be about the same age as Springsteen. His eyes are sad. Everyone was once young and dreaming. For many people those dreams die early. That's why they love Springsteen, for the dreams he lets them keep.
Back in my car, I put on "The River":
Now those memories come back to haunt me,
They haunt me like a curse
Is a dream a lie if it don't come true
Or is it something worse?
Bruce Springsteen: A Photographic Journey will be on exhibit at Morven Museum & Garden until May 21.