Editor's Note: Central Jersey-based nature photographer and painter Anna Gerwel writes on her website that "Looking at soothing images of nature evokes serenity, relieves stress, and stimulates positive feelings." Below she reflects on springtime beauty on the Princeton campus, which inspired her painting pictured at right.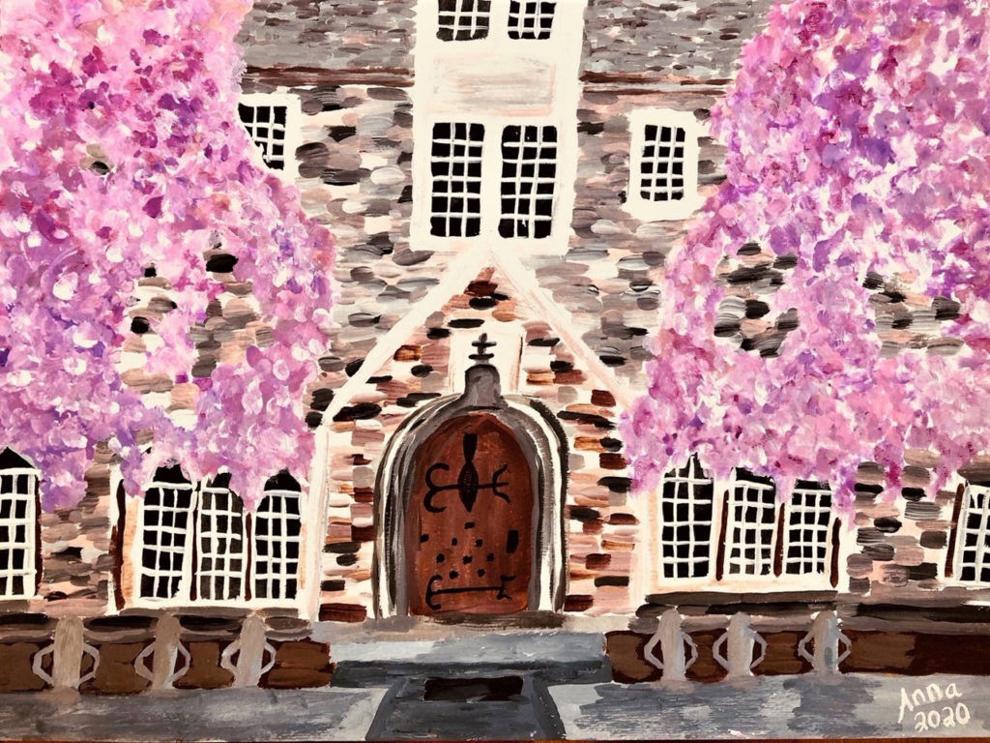 'A garden, large or small, must be treated in the impressionist manner. Plants are to the gardener what the palette is to the painter." — Beatrix Farrand, 1907
Strolling through the Princeton University campus in the spring is a "spectacle extraordinaire." Espaliered wisteria adorns the collegiate Gothic buildings throughout the campus. Its blooming soft pink flowers beautifully accentuate the stone walls of brown and yellow hue. Japanese yews planted along the old Dinky Station and the Blair Walk, Chinese magnolias in Pyne Hall courtyard and masses of forsythia welcome you to the university in grand style.
These are just a few examples of the genius of Beatrix Farrand, Princeton's first consulting landscape architect in the years 1912-1943. Her style is characterized by trees used to complement and emphasize the architecture of the neighboring buildings and lawns to create open spaces. Personally observing where students most often walked, she designed countless pathways. Farrand planned her blooms and colors for the winter, fall, and spring, when the university was in session. Even in the coldest months, red berries abound. She also pioneered the use of native trees, such as sugar maples and beeches that are planted among more exotic species. Farrand's motto emphasized practicality, simplicity, and the ease of maintenance.
In February, 2019, Princeton University honored Beatrix Farrand by naming a courtyard between Henry, Foulke, 1901, and Laughlin halls after her. In a small garden installed some time ago, a stone bench inscribed with "Her love of beauty and order is everywhere visible in what she planted for our delight" can be found on the northern side of the university chapel.
Born in 1872, during the Gilded Age in New York City, Beatrix, a niece of Edith Wharton, grew up surrounded by artists and writers. She developed her love for garden design at the age of 11 while observing landscape planning at Reef Point, her family summer house in Bar Harbor, Maine. Having five generations of garden lovers in her family served as a great inspiration.
At a time when women were not allowed to obtain a university degree, the determined Beatrix hired tutors in the fields of surveying, sketching, and design. Under the tutelage of the acclaimed botanist Charles Sargent, she acquired knowledge and skills and designed gardens in Bar Harbor, Maine, among others. Farrand's talent, skill and attention to detail were evident early on. Recognizing Beatrix's inner gift, her mother took her on a world tour, where she visited and took extensive notes on 150 gardens. In 1899, Farrand was the only woman invited to be one of the 11 founding members of the American Society of Landscape Architects.
Farrand's collaboration with Princeton University began by designing landscape at the Graduate College. Most of her plantings are still intact today.
As you approach the Cleveland Tower of the Graduate College, it gradually appears and disappears from behind the planted trees, symbolizing the never-ending quest for the truth.
"One may discover the essence of the Graduate College in the dialog between the architecture (intended to inspire) and the landscape (intended to sooth) between stone and leaf, and between the rational and the romantic." — Robert Spencer Barnett