When Clara Barton arrived at the Bordentown train station in May of 1852, her hope of finding a suitable job dwindled within a matter of days. Alone with her thoughts, she frequently noticed children aimlessly darting between horse driven carriages on Main Street.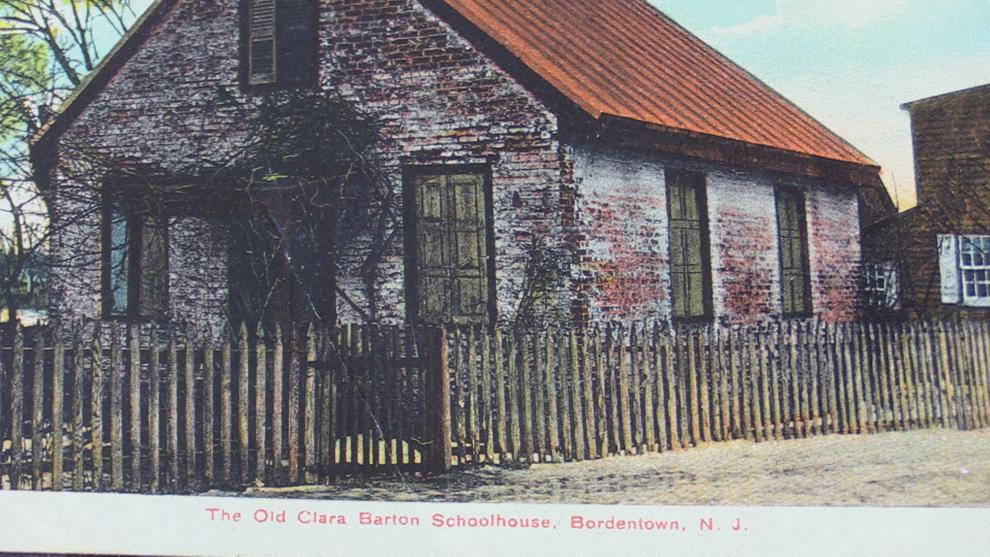 One day as she observed these routines, she looked at the signboard for the Bordentown Register perched above a store window and sprang into action. Her lone crusade to start a public school system had begun. With her head held high, she knocked on the door of its editor, Peter Suydam, and concisely expressed to him why an article on public education was important.
Favorable or not, such an article would attract the attention of town officials. She argued that after speaking with several boys on the street, they explained that the basis for their antics was born out of boredom. Listening intently, Suydam responded with reasons of his own against the formation of a public school system.
However, he was so inspired by her determination and proposal to teach children without pay, that he agreed to call a meeting of the school board on which he served. Needless to say, the members hesitantly voted to support a school system. An abandoned brick schoolhouse, built in 1798, was chosen as the site of this experiment.
Mobilizing volunteers with buckets and tools, they worked vigorously to remove debris, cleaned the floor and walls, installed maps and blackboards, and built new benches for seating. By early July, the school was ready to open with announcements printed in the newspaper by Suydam.
The first day of class consisted of six boys. Entertaining them with her charm, Clara eased the children into an atmosphere of fun and adventure. As their fascination of learning grew, so did the attendance.
Within a week, 40 smiling faces were greeting her at the door of the schoolhouse. Then benches and desks were strategically rearranged as the number rose to sixty students. Without a doubt, the need for a public school joyfully exceeded Clara's expectations.
Classroom space had exceeded its limit as well. The only way to alleviate the matter was to have a classroom for younger grades outfitted above the first floor. As the school committee addressed the need by interviewing possible teaching candidates, Clara persuaded them to hire a childhood friend from her hometown of North Oxford, Massachusetts. Her name was Frances Childs (1834-1926), but she went by the name of "Fanny."
From the moment when Fanny was greeted by Clara at the Bordentown train station, there was so much to talk about. Uncontrollably, they laughed about the stories that had enriched their young lives. It was one thing to write letters to each other, but another to be captivated by conversation.
It was a short walk from the station to the boarding house in the center of town where Clara stayed and now they would share as roommates. They were simply giddy with delight as they approached the main entrance door of the Washington House. With its distinctive hip-shaped roof, it was an old establishment of food and drink that entertained the likes of Thomas Paine and a young Benjamin Franklin as they traveled through town and needed a place to rest.
In Clara's day, it was operated by Peter Jacques and his wife, Maria, who was considered by patrons and boarders as an excellent cook. One of the boarders happened to be Peter Suydam, who relished Clara's achievements with the school children and was always pleasant with his commentary. Indeed, Clara was energized by a renewed faith in herself and in the world. With friends surrounding her, the anxieties and fears that kept her up at night for years were melting away.
1853 began as an exceptional year. The school committee informed the state of the great progress that was accomplished under Clara's leadership. As more and more students filled the schoolhouse, town residents voted on a plan to raise $4,000 for the construction of a three-story school that could accommodate 600 students. This action culminated with members of the school committee offering Clara and Fanny a salary of $250 per year upon which they generously accepted.
By late spring, she was smiling as she witnessed laborers construct the frame of the new school. What she wasn't prepared for was that fate awaited her once again like the formation of storm clouds on the horizon. There was no warning for escape.
By fall, Schoolhouse Number 1 was completed and ready to open. With its clean plastered appearance and the hiring of new teachers, it was the town's shining achievement of the year. And yet the light dimmed for the person that made it a reality. Clara, with the understanding that she was going to head the new school, was shaken to the core to learn that an outsider named J. Kirby Burnham was chosen as principal. All of her hard work had vaporized in that moment.
The rejection had nothing to do with her teaching skills. It had to do with the fact that she was a woman. Classified as a "female assistant," she would never rise above the salary of other teachers. And yet, Burnham's salary started at $600 a year solely because he was a man.
To complicate matters, their working relationship was extremely strained since he was a firm believer in strict discipline and had little regard for the opinions of others. Fanny and another teacher were outspoken as well, but loyalties were split among the teachers for fear of losing their jobs.
Day by day, the tension and hostility intensified within the school to the point that Clara's health collapsed. She gradually lost her voice, her enthusiasm, and her spirit. Her only hope in escaping further agony and depression was to resign. Fanny felt the same.
Despite cries of protest from many town residents pleading for them to stay, in February of 1854, they packed their belongings and departed by carriage for the train station. With her teaching careers in ruins, Clara especially seemed too mentally and emotionally distraught to go home in defeat again. Although Bordentown proved to be the latest chapter in her book of disappointment, somehow she always found the courage to rise above the turmoil. Washington seemed to be the next blind destination of choice due to its therapeutic climate for her throat ailment, public access to the Library of Congress, and many blocks of available boardinghouses.
By May, Clara's brother, Stephen, wrote to her that he had heard through general acquaintances that Bordentown had lost faith with Burnham's harsh methodology of teaching and abruptly dismissed him along with several other teachers. Upon reading this, Clara was relieved that she had done the right thing by taking the prudent stance of resigning. If nothing else, her time in Bordentown resulted in the bonding of new friendships with her students that lasted until her twilight years.
In July, she entered the workforce once again with the assistance of a congressman named Alexander DeWitt, who also happened to be a distant cousin from Massachusetts. With an inquisitive mind and sheer tenacity, she was offered a clerical position with the U.S. Patent Office. Hired as the first female within the federal government, her position was unusual in that she was paid the same salary as her male counterparts.
By living in Washington and becoming acquainted with the political system, Clara's life would be propelled through the horrors of the Civil War, touring through Europe, and establishing the American Red Cross. Despite great obstacles, this flawed super hero never gave up in caring for others.
As for Fanny Childs, she returned to the classroom to teach and later fell in love with Bernard Vassall (1835-1894), who was the son of Clara's last surviving sister, Sally. They married during the Civil War in 1863 after he was discharged as a 2nd Lieutenant with the 15th Massachusetts Volunteer Infantry. The marriage took place in the town of North Oxford before they decided to settle in the nearby city of Worcester. Barton corresponded with Bernard on a regular basis and often referred to him in her letters as her favorite nephew.
After Clara Barton's death in 1912, the Rev. Percy Epler of Worcester delivered an elegant funeral address that included her time spent in Bordentown:
"When just a girl, she began to teach. It was just such an intellectual conscience that touched a school-less town—in the streets of Bordentown, NJ, and made six truants become 600 good pupils in a year…the hand may vanish but the tender touch remains."