On Jan. 1, 1859, an entrepreneurial young man by the name of Samuel Engle Burr (1836 -1917) christened the frigid New Year's morning by tossing firewood into the pot-bellied stove that graced the center of his rambling three-story general store.
Grasping an iron poker with one hand, he gingerly rubbed the frost from the window of the doorway with his other sleeve, gazing at Bordentown's snow-covered Main Street (Farnsworth Avenue) with anticipation for his first customer to arrive. Two months earlier he married his girlfriend, Sally Richardson (1834-1894), and now he was about to embark on his first day as a business owner.
This was his first day of many to come that would greet customers with lively conversation and advice, thus becoming an essential fixture in town.
As the wood from the stove popped, releasing glowing streams of embers against the metal casting like a posse of fireflies, Samuel's mind drifted from the warmth of the room. Reflecting on what life must have been like a century earlier when the old store was owned by the prominent son of the town's namesake, Joseph Borden, for a brief second he thought that he captured the subtle scent of gunpowder instead of smoke.
This wasn't a figment of his imagination. since the large room once housed the gun shop of Robert Jackaway, a master gunsmith known for fashioning firing pins to the wooden barrels that were launched against British ships as they occupied Philadelphia in 1778. This effort inspired Francis Hopkinson, Borden's son-in-law, to compose his famous satirical song, The Battle of the Kegs. Now it was Samuel's turn to manage the future of the store.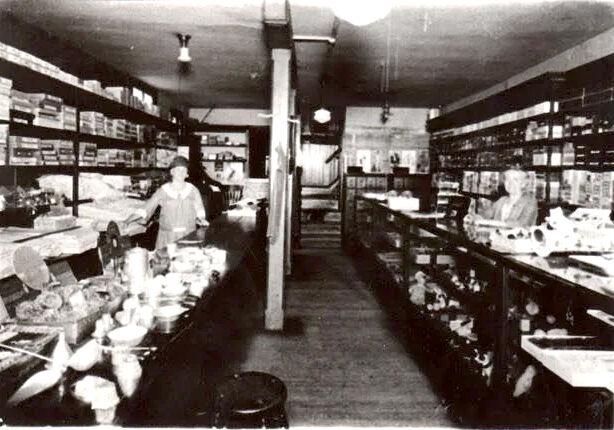 Although its location on Main and Crosswicks Streets was always referred by residents as "Borden's Corner," Samuel's easy manner and reputation would eventually justify its new name as "Burr's Corner."
It was a fortunate coincidence that Samuel bought the old store when it was available. Working as a salesclerk under his stepbrother, Alfred, who was a shopkeeper in Moorestown, he was anxious to start a business of his own. It was also here where he met his future bride, Sally.
The towns of Burlington, Medford, Mount Holly, and his hometown of Jacksonville were considered ideal choices, but Bordentown flourished as a major transportation center that experienced industrial and commercial growth due in part to the railroad and the canal. Any prospective merchant knew that store goods could be transported to and from the regional Philadelphia and New York markets, therefore extending their trading territory.
In this gradual progression of life, Samuel's store became a fundamental component of daily communication. It was the focal point for citizens to interact and discuss the business matters of the day. The site was so important that some of the functions normally performed by the post office were actually handled at the store.
Communication efforts further advanced when the store became one of the earliest businesses in New Jersey to receive telephone service. Knowing the potential marketing aspects in the telephone, Samuel wrote letters to agencies that could help in this quest.
His perseverance paid off. In 1882, a 50-line magneto switchboard was installed near the corner window of Samuel's office by the Delaware and Atlantic Telephone and Telegraph Company. As telephone subscribers increased, it brought more business for the store. Soon Samuel became quite overwhelmed as a telephone agent that he had to hire a switchboard clerk. Within a short amount of time, the front section of the store's vacant second floor was operated by the telephone company and a separate stairway was installed.
Samuel's dedication to see Bordentown grow and prosper not only pertained to the telephone company but with the construction of a new city hall as well. He was a mover and a shaker in the business community and felt that Bordentown's presence as a developing city should be reflected in the opulence of a new building.
And so he began a stringent campaign to engage with his customers on why and where a new city hall should be constructed. City officials eventually agreed with most of his view points and in 1888, a new city hall complex with a Seth Thomas clock was erected. The old town hall, in the center of Walnut Street, became a furniture repair shop.
Samuel's first day of business was so brisk with customers that he immediately decided to hire a man and a woman for salesclerk positions. The man was responsible for selling the groceries and hardware while the woman took care of the dry goods and notions.
As the need arose, additional sales clerks were hired. On occasion, Sally would assist. The store was open daily from 8 AM until 7 PM. Although the hours were long, the work was extremely productive.
During the Civil War, economic shockwaves resonated through the country as most goods and commodities increased their market values to nearly 100 percent. As this frightening trend developed, Samuel thought of the welfare of his family and invested all of his money into large stocks. In the wake of the war's aftermath, he made a profitable return more so in thirty six months than he would have in thirty six years.
This afforded him the opportunity to pay his creditors in full for purchasing the store. Furthermore, he sought expert advice on how to diversify his profits so they wouldn't be lost if the burdens of war led to a major economic collapse. Although a devout Quaker in the firm belief that human slavery was immoral, Samuel condemned armed conflict as nothing more than a legalized form of mass murder in which he refused to participate. And so he never served in the Union Army.
However, he did express empathy for a distant cousin, Varina Howell Davis (1826-1906), who served as First Lady of the Confederacy and the second wife of the President of the Confederacy, Jefferson Davis. Varina's grandmother, Keziah Burr (1758-1835), was born and raised in Burlington County.
Every morning, farmers from surrounding farms delivered vegetables, meats, cheese, butter, flour, and other food products to Samuel Burr's store by horse and wagon. Behind the meat counter stood a large icebox for storing meat while supplies of coffee, tea, spices, and sugar were stored below the coffee grinder at other end of the counter. At the far end of the store, shelves and tables were stocked with an assortment of dress materials, lace, ribbons, Muslin, dry goods, and notions.
The middle aisles contained a variety of hardware tools and kitchen utensils. The room was fifty feet square and divided into two sections. The second level had three bedrooms and a stockroom in addition to the telephone company.
Samuel's residence was on the first floor of the building and divided by a brick wall. There were two bedrooms, a dining room, and a sewing room. Despite the building's odd configuration, the residence was spacious and personal. It was filled with joy after Sally gave birth to their son Charles in 1868 and sorrow after she died 26 years later following a brief illness.
Almost 36 years to the day when he opened his store, Samuel married a lovely young woman by the name of Lizzie Thompson (1858-1941). Later that year, she gave birth to their daughter, Sarah Jane, followed by the birth of their son, Samuel, Jr. in 1897. Charles became a fire chief and fire insurance agent for Bordentown, helping his father operate the store when he was available. The years seemed to come and go at a vigorous rate.
Samuel, on the other hand, strained and lagged in stocking the store shelves with his wrinkled frame as he reached his twilight years. Despite age, he still enjoyed tending to the pot-bellied stove on cold winter mornings. He couldn't resist waiting for the next customer to arrive.
When Samuel Burr passed away in 1917, he left a large void in the local community. Although he was deeply missed, the small town spirit of Burr's Corner remained the same. Today, the small town spirit of Bordentown continues to thrive as well.