Artist and poet Thomas Buchanan Read was a talented individual that walked the rugged path of loss and fame throughout his life.
Born in 1822 in a small Pennsylvania hamlet called Corner Ketch, his genetic bloodline was related to one of the signers of the Declaration of Independence. It was this inherited sense of valor and the hilly landscape north of Downingtown in Chester County that left an indelible impression on Read's youth.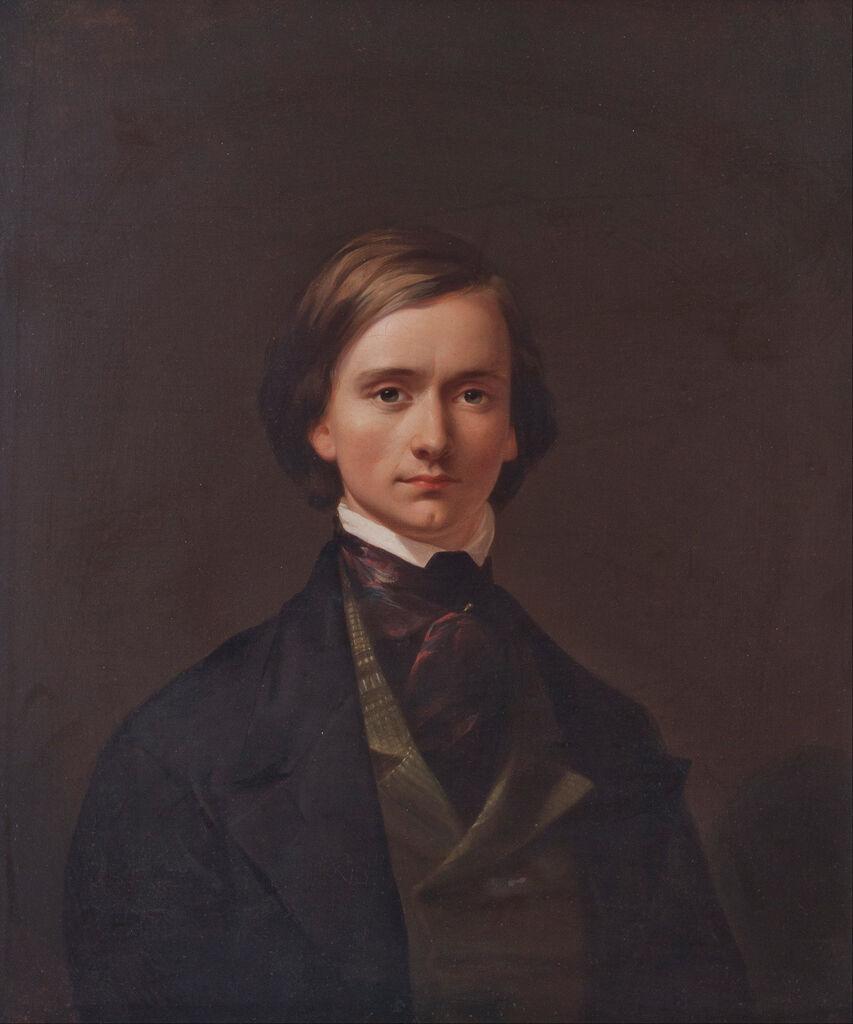 The worn terrain was as rural as it could be. While he enjoyed many aspects of nature and fished along the banks of the East Branch of the Brandywine Creek, life proved to be uncompromising as well. His slender frame and lack of muscular strength left him with the inability to confront his farm duties. Instead, his life lessons were nurtured by passages of the family bible and by his schoolteacher, a pedagogue who voiced the power of the textbook during the week and who, as a minister, voiced the power of the Gospel on Sundays at the local Methodist church. This ritual didn't last long, as the death of Read's father plunged the family's standard of living into chaos.
At the age of 10, Read found himself apprenticed to a tailor with a mean disposition. Realizing that his only option for liberation was to run away, he did so and traveled by himself to Cincinnati, Ohio where his older sister lived. There, he took a position as a clerk in a grocery store, rolled cigars for a cigar maker, and painted and lettered business signs.
Read gradually discovered his natural ability for art and would walk to the Miami and Erie Canal to paint images of the boats and water birds as they drifted passed him. It was through a chance encounter that a wealthy citizen named Nicholas Longworth recognized the talent of this eighteen-year-old and offered him his studio to express his creativity. Commissioned to paint his first full length portrait, Read won praise for his image of US Presidential candidate, Gen. William Henry Harrison.
Despite accolades from Harrison's colleagues, the young artist referred to his work as a "sad daub" and decided to move to Boston by the end of 1841 to study painting techniques. Upon his arrival, he met Henry Wadsworth Longfellow, the celebrated poet and Harvard professor who befriended him for the rest of his life. It was Longfellow who encouraged Read to hone his skills as a budding poet and submit his work for publication.
Almost two decades later, in 1859, Read collaborated on a project with Longfellow. He painted a portrait of the poet's three young daughters to be used as an illustration for Longfellow's whimsical poem, "The Children's Hour," which was published in Atlantic Monthly the following year.
Besides Longfellow, Read's unselfish devotion to others gained the attention of a young woman by the name of Mary Pratt. As a recent college graduate of Bradford Academy, one of the finest female institutions in Massachusetts and New England for teaching Christianity, Mary, a native of Ohio, had a deep proficiency in literary classics. Sharing their love for the arts, their faith, and each other, the couple was blissfully wed in 1843.
By 1846, as Read's reputation as a premier painter continued to grow, they had decided to move to Philadelphia. In addition, so did his family with the birth of his daughter, Alice. Another daughter, Lilian, would be welcomed into the world two years later.
In 1850, the family moved again. They boarded for passage across the Atlantic Ocean and settled in the ancient stone-carved metropolis of Rome, where Read freely continued to explore painting techniques and subjects. Always restless, he returned to America whenever he could.
In 1852, he opened an art studio at 215 Chestnut St. in Philadelphia, but sought for inspiration outside of the city. He chose to settle in Bordentown and commute to work by train or steamship. The old brick home that he purchased on Main Street (Farnsworth Avenue) appealed to him, since its location near the top of a hill captured golden sunsets and accessibility to the steamboat landing along Crosswicks Creek where he spent the day fishing.
On occasion, his daughters would join him for an afternoon of relaxation as well. The scene, along with the boat traffic of Delaware and Raritan Canal, reminded him of how the tranquility of the waterways comforted the calamity of his youth.
His admiration for the wildlife that thrived in the marshland, ignoring the constant infringement of man, energized his soul to write one of his longest and most beloved poems. Entitled, The New Pastoral, its plot seized the essence of Read's childhood in rural Pennsylvania, the beauty of the land, and the unwavering character of our pioneers and immigrants. Although the poem wasn't completed when Read resided in Bordentown, another poem entitled "The Closing Scene," was.
In autumn 1853, a strong European market for his paintings and health issues prompted Read and his family to move to Florence. Two years later, "The New Pastoral" received great reviews after its publication in Philadelphia. As quickly as fame reached his doorstep, so did a raging cholera epidemic that claimed the lives of his wife and Lilian, then seven. With loneliness casting shadows through the empty corridors of his home, Read was overwhelmed with loss and left to sail for America once again.
In less than a year, he met and married Harriet Denison Butler, the daughter of a prominent merchant from Northampton, Massachusetts. Despite their 15-year age difference, she proved to be an equal in every way. This new surge of vitality plus financial earnings from his paintings and poems afforded the couple the luxury to travel between Italy and America for five years before the turbulence of the Civil War stirred within him to enlist for duty.
Moving to Cincinnati once more, Read became a major in the Union Army and was attached to the staff of Gen. Lew Wallace, future author of the novel, Ben Hur. Read's weak physical stature impeded his role for battle so he turned to the steel of his mighty pen for mustering recruitment with spirited vigor.
In 1864, he composed the poem "Sheridan's Ride" after seeing Thomas Nast's dramatic illustration of Union Army Gen. Philip Sheridan in a copy of Harper's Weekly. When he shared the image with his brother-in-law, it was stated, "There is a poem in that picture." Sure enough, there was, and Read feverishly worked on the poem throughout the night. Within two weeks it was ushered into national newspaper circulation, where it drew critical praise.
Following the war, the Union League of Philadelphia commissioned him to execute a canvas portrait to accompany his poem. Valuing the same name as his poem, Read made a series of attempts to work on it. It wasn't until 1870 when he returned to his studio in Rome that this vibrant vision of oiled master strokes was completed. Regarded as one of the best known portraits to emerge from the Civil War, it depicts Sheridan's horse, Rienzi (later Winchester), courageously carrying the saber-wielding general into battle with all four legs heavenly suspended. Read was so impressed with the subject matter that he sculpted a bust of Sheridan as well. This was the only known work of art that he ever sculpted as he preferred to shift mediums between pen and brush.
After the former commander of the Union Army, Ulysses S. Grant, ran for the U.S. presidency and won, he purchased "Sheridan's Ride" with the intention of hanging it in the Executive Mansion. It remained with the Grant family until 1939, when it was donated to the National Museum of American History. Today it's on exhibit in the National Portrait Gallery of the Smithsonian Institution.
As for Thomas Buchanan Read, his fate wasn't as kind. The blows that he suffered during his life weakened him in the end. In 1871, he was critically injured when a carriage that he was riding in suddenly overturned. Almost a year later and still recovering, Read and his family left Italy and sailed back to America. Along the unstable voyage home, his health deteriorated and he contracted pneumonia. Upon reaching the waterfront of New York City, his condition became so grave that it was impossible for him to travel further. He died a week later on May 11, 1872 with Harriet at his side. He was 50 years old. Harriet survived him for another 63 years, dying in 1935 at age 98.
Read was gifted with the extraordinary genius of conquering two distinct fields of art, but his personal happiness never exceeded that of his talent. Ralph Waldo Emerson, fellow poet and mutual friend of Henry Wadsworth Longfellow and Read, was once quoted with this perspective: "The purpose of life is not to be happy. It is to be useful, to be honorable, to be compassionate, to have it make some difference that you have lived and lived well."