Looking at the paintings of Barbara Courtney Jaenicke, you are transported to a specific spot, that you had to hike to get to.
You see a specific vista, a river, a far-off mountain that you stopped to admire. You can tell it's morning by the way that light filters through the trees and settles on the snow. You are transported because her compositions are so engaging, that you wish to see around the next bend even more.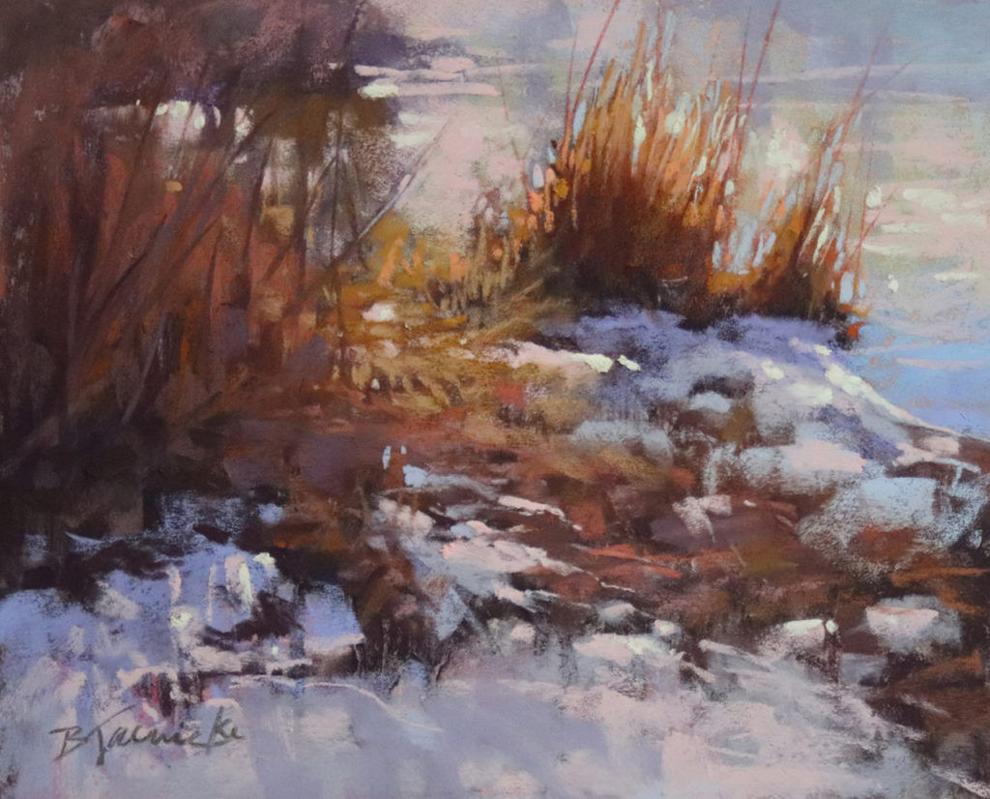 I have seen these works for years and they still make me stop and gaze. Now living in Bend, Oregon, Jaenicke grew up in Mercerville. Her work is represented here by The Artful Deposit Gallery in Bordentown.
How did you get started painting, and at what age?
My grandmother, Pauline Courtney, was an accomplished oil painter who lived in Mercerville, and my childhood was surrounded by her beautiful paintings. In high school and middle school, I took every art elective I could, but I credit the late Juanita Crosby of the Firehouse Gallery in Bordentown, NJ with teaching me a strong foundation of painting basics during my high school and college years.
What are you communicating with your art?
I strive to communicate the beauty of the world around us. My motivation for most of my landscape paintings is to capture the effects of light and overall mood of the scene in a painterly/impressionist style, rather than merely record the subject matter image.
What media do you use and why?
I work in oil and pastel. I worked for about a decade almost exclusively in pastel, but still loved the qualities of oil paint and gradually became equally skilled in both. I love working with varied edges in my paintings, and each medium has particular characteristics that allow me to manipulate those edges.
Who were you influenced by?
I am drawn to the lively, colorful, painterly work of the early impressionists. Modern day influences include such painters as Clyde Aspevig and Richard Schmid.
Do you paint plein air, or in the studio?
Both. I tend to paint slowly and methodically, and so most of my finished work is done in the studio. However, I'm also an avid plein air painter and keep a fairly frequent practice of painting outdoors. These small, quick field studies allow me to better understand light and shadow in the landscape, and accurately interpret the reference photos I gather when I'm out painting or hiking.
How do you decide to paint in oil or pastel?
I often try the same subject in both media so I can more thoroughly explore an idea. It also sometimes simply has to do with particular upcoming oil or pastel shows for which I need to produce work. But occasionally there are certain effects—usually pertaining to handling edges—that I can visualize working better in one medium vs. the other.
Which is your favorite season to feature in your paintings?
I'm pretty much a snow scene junkie. After growing up in New Jersey, I lived in Atlanta, Georgia for a little over 20 years and eventually missed the colder, snowier winters. In 2015 I convinced my husband and son to move to Bend, Oregon, where it snows often enough to find winter imagery to last me through the year.
What fight/struggle do you have regarding your art?
When we moved from Atlanta to Bend, we needed to downsize quite a bit. My much smaller studio size is definitely a struggle, but the tradeoff is the upgraded beautiful surrounding landscape in central Oregon.
What one attribute should all artists have?
Persistence. Even the most noteworthy artists whom I greatly admire will always admit that their success has resulted only from the multitude of failed paintings that they pushed beyond. I can certainly relate to that.
What is on the horizon?
In general, I look forward to seeing how far I can push my skill level over the next 5 years…10 years…20 years. But more specifically, I've been enjoying producing various instructional materials, such as videos and online lessons, and I have more of those projects in the works, including a soon-to-be-released new video on painting snow scenes.
To learn more about Barbara Jaenicke, follow her on Facebook (@barbarajaenickefineart) and Instagram (@barbaracourtneyjaenicke).