Mary Yess has a long and distinguished list of arts leadership and accomplishments in the Mercer County area. Predominant in her art are the old industrial buildings from the East Coast's manufacturing heyday. Her art, based on real buildings, diverts into simplified abstraction, with terrific compositions and a limited palette. The resulting images are quite beautiful.
Her work can be seen now through June 6 in Women Artists, Trenton Style, at the Trenton City Museum.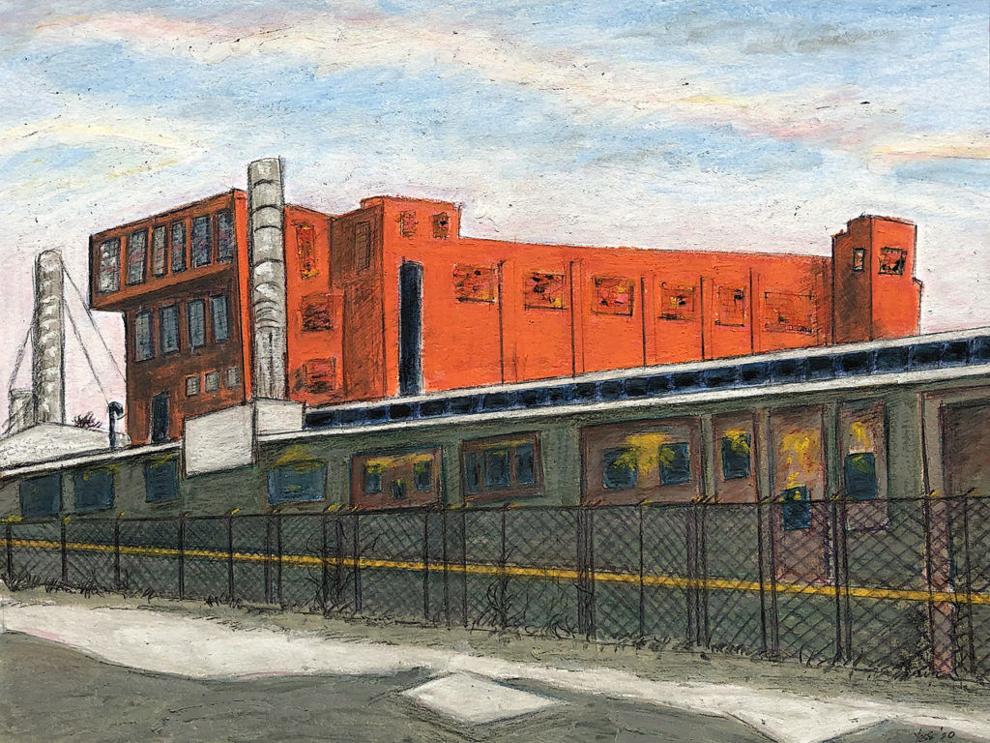 What are you communicating with your art?
Color, light, evocation. I have a very visceral connection to color, so that aspect is probably most important to me. Subject matter is not as important; it's more a carrier or vehicle to show the relationship between colors, between forms and lines.
But I do like to capture the beauty and sadness of industrial buildings and their surroundings. They are majestic relics and are so evocative, like lost cities. They amaze me: all the bricks, each made and placed by hand to create those mammoth buildings. They are palaces to me, and hence the title of one of my series, "American Versailles."
What media do you use and why?
My work often falls under the category of mixed media, but the pieces are primarily oil (tube paint or oil sticks). I also use ink and pencil, even in paintings on canvas. I like lots of layers and pentimenti. I have another series, the "Oxford Codex/Lares Industria" series, where I use old file dividers as the base, incorporate discarded circuit boards on them, and paint landscapes or totem-like figures over all of it.
Who were you influenced by?
Classics like Velazquez, also Richard Diebenkorn, Joan Mitchell, David Smith, Willie Cole, Gee Bend quilters, Louise Nevelson, Bill Traylor, Jasper Johns, aboriginal art, and Persian miniatures.
Where do the ideas come from?
The starting point is usually a particular light or specific vista. Sometimes the vistas are used directly as images. Sometimes just their elements get added to my personal forms catalogue: particular building shapes (clerestories, mushroom-shaped vents), tree types, urban landscape elements (guard rails).
Do you paint on site or in the studio?
Many of the buildings I paint are in abandoned locations, and/or along very busy highways; so, it's almost impossible to paint on site. I have to use photographs and drawings, and then do the work in the studio. But, oftentimes, I am creating the buildings and other landscapes from scratch, so those are coming from my own vocabulary of building types, tree types, etc.
Briefly describe your process.
I start with a pencil drawing, then use ink to create some of the hard lines I want to show through, then oil and oil pastel, and finally some colored pencils to scribe lines, add color or texture. Layers are important.
How have you seen the arts evolve in this area?
I've been involved in the Trenton area arts for many years (director of Artworks, president of TAWA, on the boards of Ellarslie and various arts commissions, and exhibiting extensively). There seem to be waves of activity. To paraphrase Ian Malcolm from Jurassic Park, "Art finds a way."
Do you feel the arts are appreciated in Hamilton?
Hamilton is a tough community because it has no center. There're no galleries here, except at the Grounds for Sculpture. What the Hamilton Arts Commission is doing gives me hope.
What drives you to paint?
It's very absorbing, it is exploration, and it takes you into another domain.
What fight/struggle do you have regarding your art?
I'm very fortunate to have a great studio space. What's tough is not being able to work on site (as mentioned above). But I'm not a "realist" painter, so I don't mind using photographs as a jumping-off point.
What local attraction(s) do you love to visit or inspire you?
Any place that has industrial buildings. Trenton has a treasure trove, but also Buffalo (NY), Erie (PA), or along the train route from here up through Boston.
What is most fun about being an artist?
Taking reality and transforming it into something else.
What is on the horizon?
I want to push further, maybe even into abstraction. Am also looking to find a place where I can do welding again.