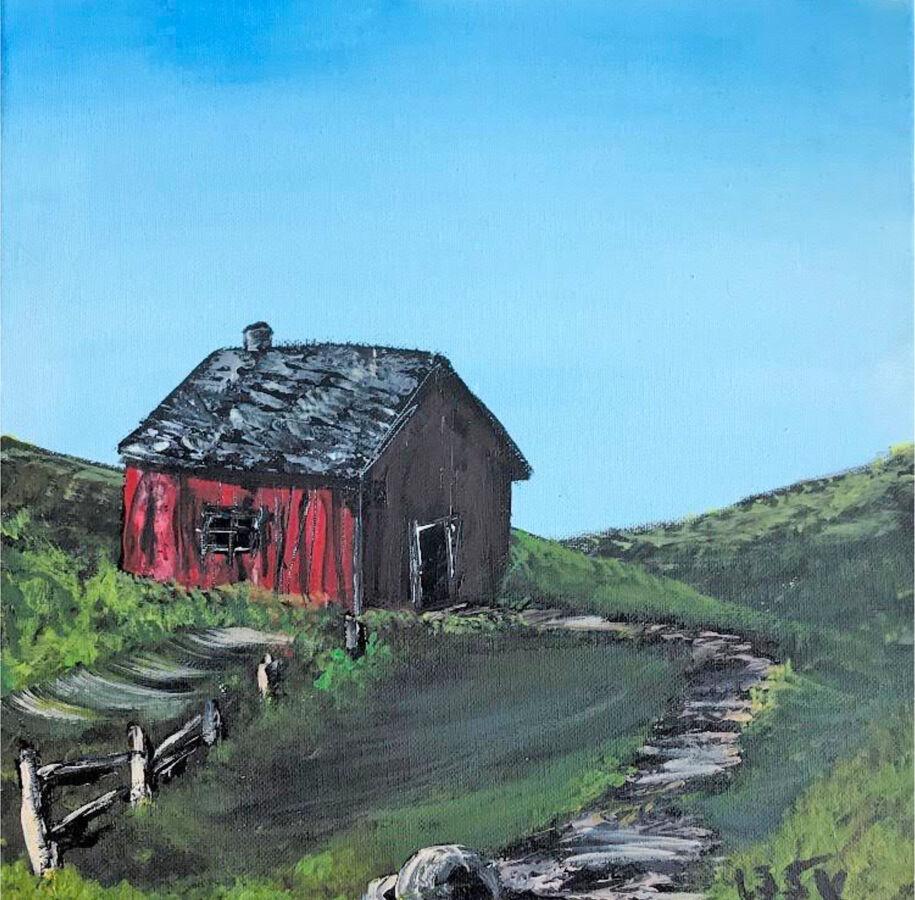 It's 3 o'clock on a Saturday afternoon. I place a cap on my head, stretch my arms and take off. A few fleeting moments later, I'm climbing the highest mountains. Snow lays on top of them, creating the most enticing glimmer on the rocky terrain.
I then set sail on the great vastness of blue rivers and seas. Rowing in the gentle flow of water beneath my wooden raft. It is a marvelous time. Suddenly, the dinner bell rings from downstairs. It's time to eat!
I throw my brushes in a cup of water and place my palette on the dresser next to me. Making such effortless travels certainly can build up an appetite.
Landscape painting has not always followed my young life. Oh yes, on a few blue moons I had picked up a few spare brushes and approached the blank canvas. And on even fewer, I would fill the canvas. I began painting mountains and valleys at age 16, finding it to be an extraordinary junior year pastime.
One day, I walked into a small closet in my basement and decided that it was time. Within two hours, everything was set up. Rusty paint tubes filled Tupperware, stacked onto one another. My palette and brushes rested unevenly upon a dresser drawer.
What do you think was in the middle of this disarray? A century-old easel, a wooden chair and a perplexed artist. Scraggly hair and a fixated face accompanied him. That artist was me.
With a restless energy, I mixed a few colors, dipped the brush in them and touched the white canvas. There was a kind of magic that captured me immediately. Gracing a blank surface with a beautiful blue sky excited me. It awoke a creative spark in me that insisted I place mountains in front of it. Then, a grass hill and a barn that sat on top of it. Then, anything my imagination would allow.
In a flash, summer was out and senior year was in. A stack of school work fell right in front of me, blocking my view of the canvas. It was months until the warm spring sun entered my neighborhood and my tired eyes turned toward the canvas yet again.
With the distress of self-quarantine in April of 2020, my desire to pick up my paints only grew further. Painting was an incredible method of relaxation for me. Hamilton Township serves as a vital inspiration for my paintings. Our very own Veterans Park provides me with incredible serenity every time I visit. The animals hustle and bustle about. Trees surround the simple rocky paths.
There are the most magnificent flowers blooming at this time of year. And I don't believe that there is any grass that is greener anywhere else. Vast plains of it as well.
I find myself sitting in the midst of it, looking in every direction I can to absorb what I see. After several long hours, I walk home. Most often, I ride my bike through Veterans Park. Up and down the side streets until I cut through and enter. Traveling miles and miles as my heart races with the wheels.
Often I feel that I'm spending too much time looking ahead, instead of above. Tree branches silhouette another wise clear blue sky. But there's no time to stop and look. I keep pedaling and my hands grip firmly to the handles.
Beyond the crowd of birch trees, I always find the most beautiful lake. I stop to admire the geese that gather in it. The pavilion overlooks it. It is beautiful beyond words. With moments spared already, I quickly climb onto my bike and head on. It won't be long till I cross a few streets, smile at a few neighbors and finally arrive home.
I place my cycle in the backyard, throw a tarp over it and head upstairs.There's landscapes to be painted! I use every image that has been given to me by my journey. The scenes that I have described are ones I almost always place on my canvas. It is there that I feel free.
I feel free to paint what I find most breathtaking in the park. It is with that beauty that I find it difficult not to get to work. But it isn't work. Landscape painting for me is a pastime that reaches into my soul.
I find it easy to soothe the day-to-day troubles of my life. Thinking and painting help me to understand what I can about them. In hours, I have painted something deep and close to my heart. That is special to me.
And so I sit in my room typing this. Posters, magazine clippings, mementos and paintings fill my walls. My curly hair dangles before my freckled face. A painters' cap rests on a wooden shelf. My mountains, my valleys and my cabins surround me. They're great company at that. Each one is telling a story to me.
They are stories about the little things in life. A depiction of a world that I can create for myself. Most importantly, a large window is right in the center of them. A bright, pale light sparkles it's outline and the green trees flutter in a cool breeze. I look through it every day and see a boundless, vast town. A town that speaks to my every artistic desire.
A constant inspiration to my young self. I can do anything, on a canvas and far beyond it.
Liam Simonelli, a 2020 graduate of Hamilton High School West, illustrates Hamilton Funnies for the Hamilton Post.