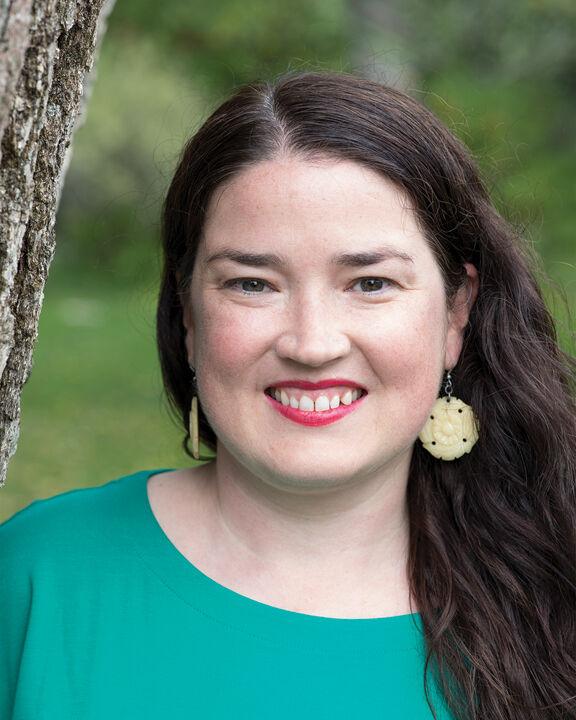 Throughout the month of May, poet Colby Cedar Smith has worked with every Hopewell Elementary fourth-grader as part of the Artists in Residency Grant Program, a co-sponsored project of the New Jersey State Council on the Arts and Young Audiences for Learning.
In June, the students will participate in an outdoor culminating event as part of the HES Nature Harmony Project.
When I caught up with Colby Cedar Smith, she was in the throes of planning a book tour with her publisher Andrews McMeel. Though her debut young adult novel, Call Me Athena: Girl From Detroit, won't be released until August, major online booksellers, as well as Simon and Schuster and Amazon are already providing feature and pre-order pages. Customers who pre-order through The Bear and the Books in Hopewell or Labyrinth Books with received signed copies.
We began by discussing the outdoor culminating event. The Nature Harmony Project was conceived as "an outdoor sensory path that will create a collaborative space for positive mental health practices using nature as a place for creative thinking, restoration and healing," by award-winning STEM teacher and Friends of Hopewell Valley Open Space Force of Nature recipient Helen Corveleyn.
NHP is an outdoor learning area in the FoHVOS Community Conservation program. By providing ecological consulting and grant funding, FoHVOS seeks to not only promote native plants for building habitat, but also involve the community to make personal connections to the land.
Smith explained how Artists in Residency fits within these objectives. "Our main mission of the residency," she explained, "is to help students connect with the beauty of the earth and the power of the imagination in an outside learning environment. We believe this will improve mental health and increase connectedness within the school and the larger community."
She emphasized that her personal connection to the land was directly responsible for her decision to become a poet. "I come from a hiking and outdoor family. My imagery is derived from the natural world. I find inspiration and heartfelt connections."
Growing up in the Midwest, Smith enjoyed her parents' lakeside cabin outside of St. Paul, Minnesota. She often went out alone and laid in her canoe to watch the herons. At eight years old, she snuck out in the middle of the night to take in the beauty of the night. She came back all muddy and wet and climbed into bed with her parents to announce, "I'm a poet!"
She didn't stray much from that path, always knew she wanted to write, and that connections to the land remained an inspiration. Smith attended Colorado College, as a creative writing major, surrounded by the majestic mountains of Pikes Peak. When she could, she visited Garden of the Gods Nature Center to do homework amidst their red rocks.
After college, Smith moved to Boston while her husband was pursuing his doctorate at MIT. She organized author events as a community relations coordinator for a local bookstore. During her time at bookstores, she realized that becoming more proficient at building community would help her become a better writer. So she opted to attend the Harvard Graduate School of Education, Arts in Education program.
She later moved to Hopewell. With an infant child in tow and knowing no one, Smith credits the Hopewell Library with providing a supportive community replete with children's programs that introduced her to the friends she still has today.
She served on the library board for almost 5 years. For the past 11 years, she has taught creative writing for Arts Council of Princeton, and enjoys watching her students blossom.
Smith believes that everyone "brings their best self to class to connect on both a literary and emotional plane." She tries to create a place in the world that is connected, emotional, and empathetic.
I had the pleasure of reading through an advance copy of her book, which is a novel written in verse. Each poem is strong enough to stand alone. The writing easy to read, yet the emotion easily shines through. I appreciate her accessible writing style.
Smith discussed her transition as writer. "That accessibility you noticed is deliberate. I am a person of the heart, of deep emotions, of connectivity of the land. In my 20s and 30s, I was trying to craft imagistic, abstract intellectual poems. I was trying to write poems that didn't fit who I was."
Things suddenly she changed when her daughter had an accident at 4 weeks old. Smith wrote every day for a year as she worried about whether the baby would recover. The resulting collection became her first book for adults.
"I was using my own writing as a cathartic way to heal. And as soon as I gave myself permission to forget what poetry was supposed to be, and write through a nurturing, connected, mothering, healing place…poetry became a totally different beast.
"After I had a lot of near successes with that book, a local writer, Abigail Rayner, asked if I ever considered writing a novel in verse."
Smith had not, but was intrigued by the idea. Her poem, "Immortal Jellyfish," provided the basic plot for the book. Previously published in the MidAmerican and a finalist for a James Wright award, the poem was about her grandmother and daughter carrying generational trauma and working through what can be learned.
Smith wrote the first draft of her new book in just six months. She found that mixing poetry and prose was a really enjoyable learning process.
Perfecting her written voice was a long journey that began with an appreciation of outdoors. Now, under The Nature Harmony project, Colby Cedar Smith shares her passion for nature as a guide for lucky students to find their own voice.
Lisa Wolff is the executive director of Friends of Hopewell Valley Open Space. Email: lwolff@fohvos.org.