This article was originally published in the April 2018 Princeton Echo.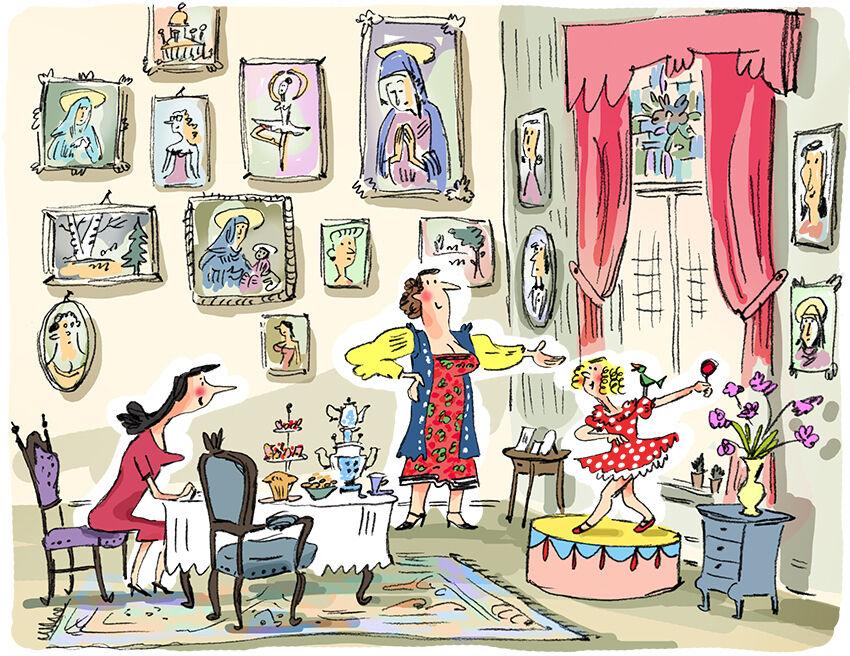 Vasilisa is waiting for me at the front door. The 10-year-old girl wears a red dress with white polka dots that covers a fluffy petticoat. Her blonde hair is set in tight curls that frame her round face. Before I can say anything, she drops into a curtsey and hands me a red lollipop. The green parakeet perched on her shoulder looks at me expectantly.
Then her mother rushes in, swathed in a Russian robe covered with embroidery. She greets me warmly and with her outstretched arm beckons me to a table filled with delicacies. It is Monday afternoon.
When I sit at the table and sample the biscuits and pastries, I notice that a stage has been set up between a side table and cupboard pushed to one side. I wonder what is to come.
But first Vasilisa leads me around the living room, which is nothing like a typical house in Princeton. Most of them have bare walls with a huge TV, a huge sofa and a huge coffee table. But here in Vasilisa's house are ornate antique chairs, red damask curtains, and walls cluttered with hand-made religious icons, embroidered with small beads by the mother. In addition, there are photographs of Vasilisa as a humble child in a nativity scene in a Russian Orthodox cathedral and her mother in various poses as Bolshoi ballerina. There are historic manuscripts written on birch bark. I feel as if I am not in Prince­ton, but in the heart of Moscow.
Then the mother claps her hands. The performance is about to begin. "In memory of Shirley Temple!" she announces. Vasilisa hops on stage, the music turns on, and she launches into Shirley Temple's croquettish song, "When I Grow Up." And indeed, under my eyes this singing and tap-dancing Russian girl turns into the famous child actress from the 1930s, America's little darling.
Cultural icons move around the world like waves over the water. And sometimes they wash up on the other side of the pond. When Vasilisa's mother grew up in Russia, the films of Shirley Temple were a symbol of hope for a new life in the promised land of America. She fantasized about a life as a movie star for her daughter. But now Vasilisa is all dressed up and has nowhere to go. No one remembers after all these years who Shirley Temple was except for the diminishing number of elderly people in the nursing homes where Vasilia performs her shows on Sunday afternoons.
Now there is a sign on their house. For Sale. They have not had much success in Princeton. Vasilisa is going to try her luck in Hollywood. And so what goes around comes around. The circle is unbroken. The real child star Shirley Temple later traveled from Hollywood to Russia in her second career as an American diplomat.
I will miss her, this little Russian girl with the pipe-stem legs, who one day will stop being small … "when I grow up in a year or two or three." But this afternoon I never forget, traveling with mother and daughter on "The Good Ship Lollipop." Later that afternoon the tired, danced-out little girl falls asleep on the couch with a gingerbread man clutched in her hand. On the edge of the table, the green parakeet watches this scene, looks at me, and tilts his head.
Pia de Jong is a Dutch writer who lives in Princeton. Her memoir, "Saving Charlotte," was published by W.W. Norton in 2017. She can be contacted at pdejong@ias.edu.