David Orban just won Best in Show at the Mercer County Artists juried exhibition. No small feat with the numerous talented artists submitting to this exclusive juried exhibition. He uses oil paint to render elaborate still life pieces with very interesting lighting. Besides painting, Orban also fronts the modern blues band, The Mojo Gypsies.
What are you communicating with your art?
In my work over the last 40 years, I've concentrated on the interplay of objects in contrived, artificially-lit interior settings. This stems from assignments I had developed for undergraduate painting classes, in which I sought to teach students how to 'see' with their eyes and not with their brains.
Over time, I became so interested in the process itself that I began to utilize it in my own work, first with live models in elaborately constructed, colorfully lit environments, and later, taking the same approach and focusing on smaller scale still life arrangements.
I enjoy the juxtaposition of playful objects — antique toys collected over the years and colorful balloons — against utilitarian objects such as machines and old hand tools. There's no implied narrative in these works, leaving them completely open to each viewer's individual interpretation.
You worked with noted modern realist Phillip Perlstein. Was he an influence on you and your work?
I've been fortunate to have had some terrific teachers over the years. At Mercer County College, it was Mel Leipzig and Frank Rivera. At Trenton State, it was Wendell Brooks and Hiroshi Murata. At Brooklyn College, it was Philip (we both share a fascination with antique toys and unusual objects), Lois Dodd, and Sam Gelber. But one of the most influential teachers I had at Brooklyn wasn't a painter, but rather, a sculptor: Al Terris. He pushed me to allow my personality to come forward in my paintings, rather than to merely emulate those whose work I admired.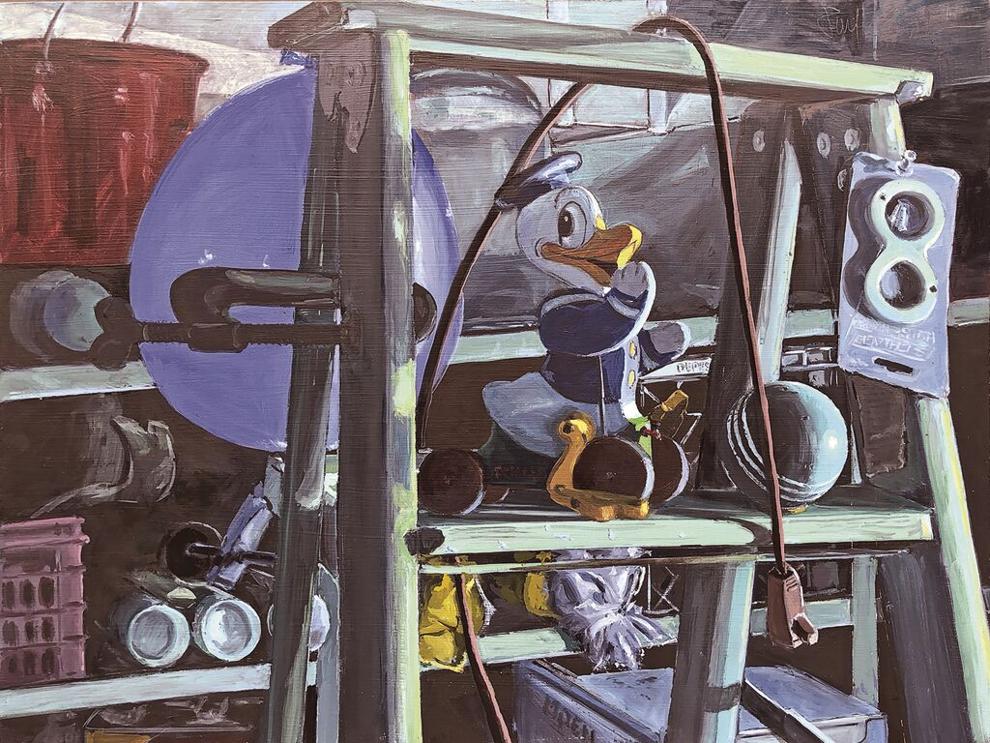 What drives you to paint? Tell us about your hiatus and getting started again.
Back in the 80s, I had one-person shows in NYC, and I was always producing work for my next show. As my business career took off, I stopped both painting and making music, and focused on work and family. It wasn't until the mid-90's that someone with whom I'd played music in my younger days encouraged me to get back into it, which I did.
In 2010, I got a call from my old NYC gallery, inviting me to participate in an anniversary show. And that was my first attempt at painting in 18 years. In returning to both painting and making music, the differences were stark. I remembered nothing about making music, not even how to tune a guitar. But with painting, it was as if I had never even put down the brush. I just picked-up where I had left off.
How have you seen the arts evolve in this area?
Back in the late 70's, my wife (the artist Mary Yess) and I were very much involved in the founding of TAWA, the Trenton Artists Workshop Association. Mary later went on to become executive director of the Princeton Art Association, and a few years later, was absolutely instrumental in the creation of Artworks, here in Trenton. There was a great deal of local art being made in those days, and there appeared to be a great deal of community support.
Over the years, that has diminished somewhat, but I feel as if a resurgence is starting to bubble-up, at least based on the activity I see on Facebook and Instagram.
Do you feel the arts are on the right track in Hamilton?
I'm not sure the arts are on any track here in Hamilton. There are not really any galleries to speak of, just the occasional restaurant that allows an artist to hang a few pieces. Artworks still mounts shows, as does the Trenton City Museum and the Gallery at MCCC, but within Hamilton's borders, I am not aware of much in the way of artistic or cultural activity. Of course, I would love to see that change.
What fight or struggle do you have regarding your art?
For me, it's just the limitations of time. I'm still employed full time in a job that is mentally challenging, and once we get past this pandemic, will return to being physically challenging, with travel to conferences and events. So when I'm not working, I have to decide whether I'm going to make art, make music, or make my way to the sofa to see what's on Netflix. It is an ongoing challenge.
What one attribute should all artists have?
Inquisitiveness. The need to look at things from different perspectives and challenge yourself to approach a problem in many different ways. That same attribute has served me well in my career as a technology marketer, allowing me to approach problems in a way that's very different from those who've had a more classical business training.
What is on the horizon?
I would very much like to have the opportunity to be able to display several pieces in a gallery context. My last one-person show was in 1991 at Rider University, and I would love to be able to see a group of pieces in that context.
Web: saatchiart.com/davidzorban.com Facebook: DavidZOrban. Email: dorban@optonline.net.