This month we leave behind Pat Whitehead Stoner's 1940 reminiscences and stories of life in late 19th/early 20th century rural Ewingville, and instead reflect upon and express gratitude for people like Ms. Whitehead, who share their experiences to bring the past alive to us all these years later.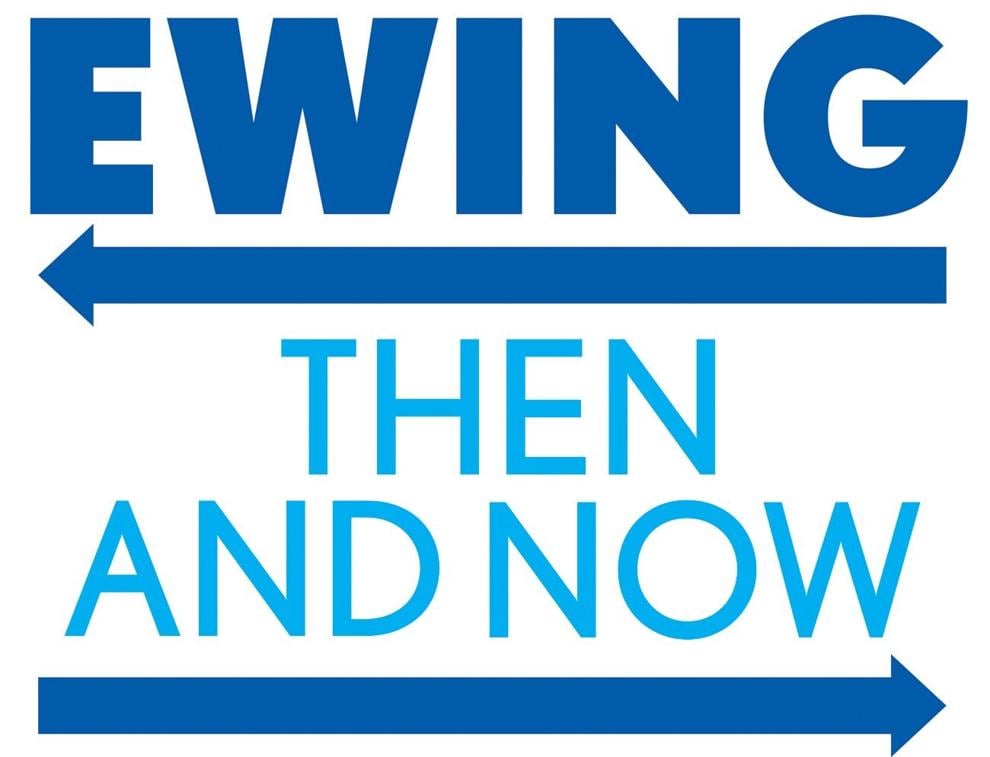 As I write this in mid-May, the Ewing Township Historic Preservation Society is hosting its annual Sarah Temple Tea.
The event, named in honor of the second wife of Benjamin Temple, recognizes and celebrates those people who have contributed in a significant way to the Society and to our community in preserving the history of Ewing, whether it be through contributions of time, energy, expertise, artifacts, or other gifts.
At this year's 8th annual celebration, the honoree is the Reverend John Allen, who has served as an advisor and board trustee to the Society, as well as a generous donor and active participant in events and activities.
Reverend Allen's life—as a history major and ordained minister—has been a testimony to his dedication to people past and present: to improving the lives of living individuals through his call as a pastor, and to learning from those who have gone before us.
These passions came to fruition for him as the former pastor of the First Presbyterian Church of Trenton, where he lifted up and celebrated the long and significant history of that congregation, as well as lifting up the people of the congregation and the community, by facilitating the hosting of meals, food banks, job fairs and other physical and spiritual support activities for Trenton residents.
But as a Ewing resident, John has also been involved with the Ewing Historic Society, based in the 18th c. home of Benjamin Temple on Federal City Road.
He initiated the "Colonial Sampler" event held in the past, has portrayed Benjamin Temple several times, and has hosted members' picnics at his home.
John has not only generously donated time and financial resources, but has also donated various colonial items, toys and artifacts, and several books to the society's collection. Most importantly, he has always been generous with his expertise and knowledge. He is a most deserving honoree, and is greatly appreciated by so many!
Others have similarly been honored at this Tea in the past, including Carol Hill, Grace Starrett, Don Cox, and the late Jim and Judy Peoples. Each has contributed significantly in their own way to preserving the history of Ewing, and the Society is so very grateful for it.
Through the work of gracious donors such as these, we can learn more of the lives of the people who have come before us, here in Ewing and elsewhere.
The gifts do not have to be great and impressive. Currently, the Society continues to encourage people to share their experiences and challenges due to the COVID pandemic through their "Voices of Ewing" project. These can be in the form of writings, drawings, poems, diary entries, photos, videos - however you are comfortable in sharing into our archives your experiences with current and future researchers.
The Society also welcomes your willingness to offer donations—of photos, books, diaries, postcards, artifacts and other such memorabilia—related to life in Ewing and the surrounding area.
While the future Ewing Museum will not have space to accommodate everything which may be offered, the Board is always willing to consider the items for display or archival purposes. And of course, if you have a Ewing story or memory to share, there are folks ready to listen and record it for future generations.
The Sarah Temple Tea annually recognizes the "historic" generosity of a particular member of our community. But we know there are so many more people able and willing to share!
If you are one of them, please contact the Ewing Township Historic Preservation Society at info@ethps.org. The Future will thank you, as will we!
Helen Kull is an adviser to the Ewing Township Historic Preservation Society.